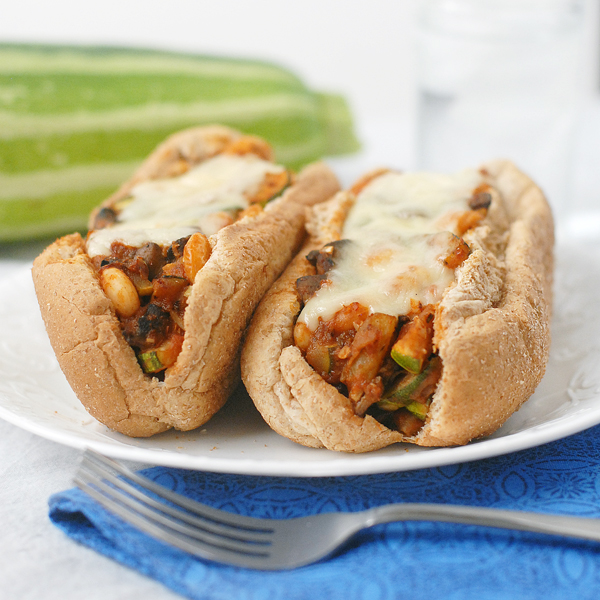 This recipe might be my favorite way to enjoy zucchini.  Zucchini is my favorite summertime produce, which is great because when you grow zucchini, you tend to end up with a lot of them!  I started making these Italian zucchini mushroom sub sandwiches long before I became a gardener, and I have perfected the method over the years.  What is your favorite way to enjoy zucchini?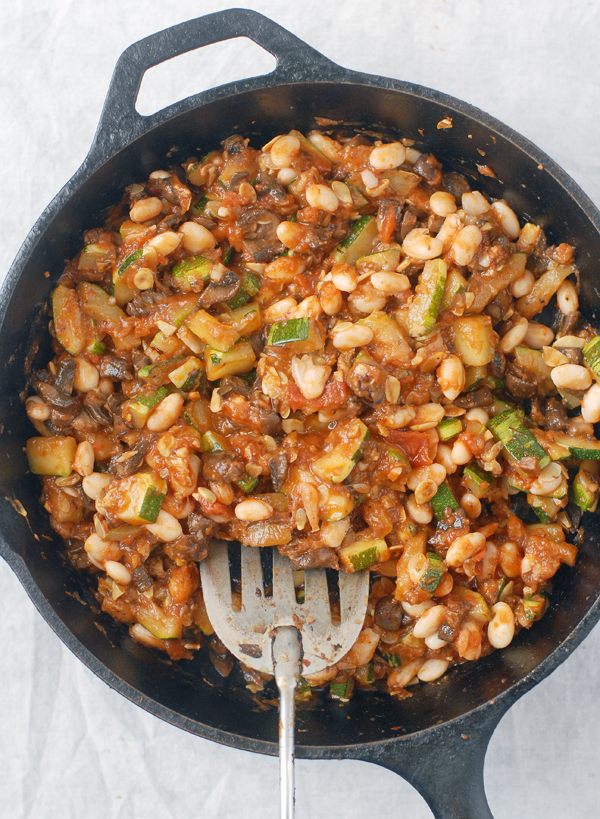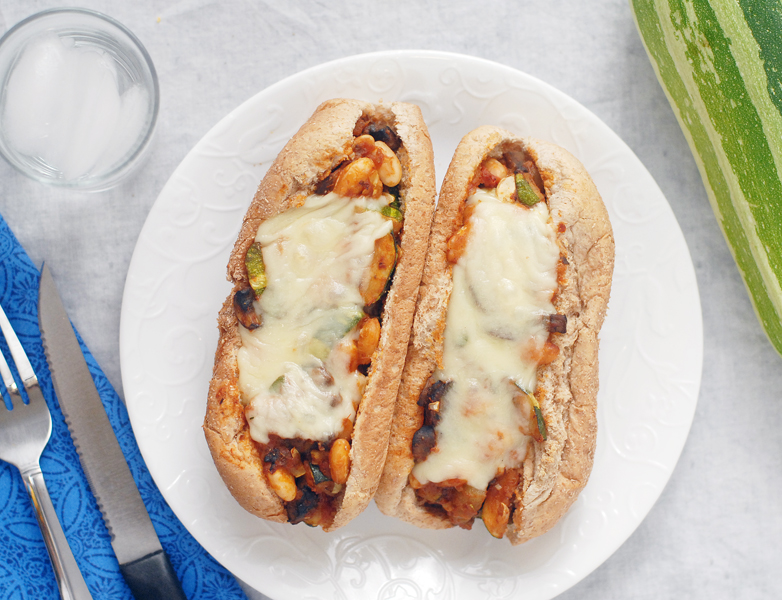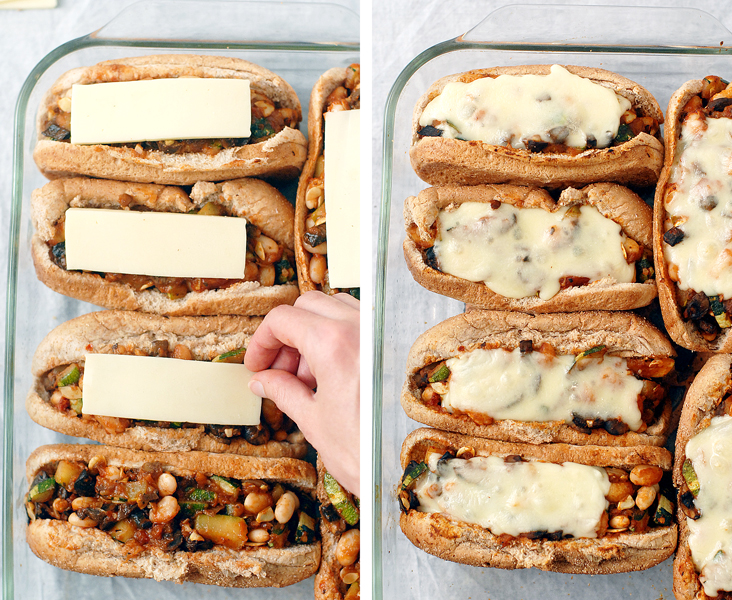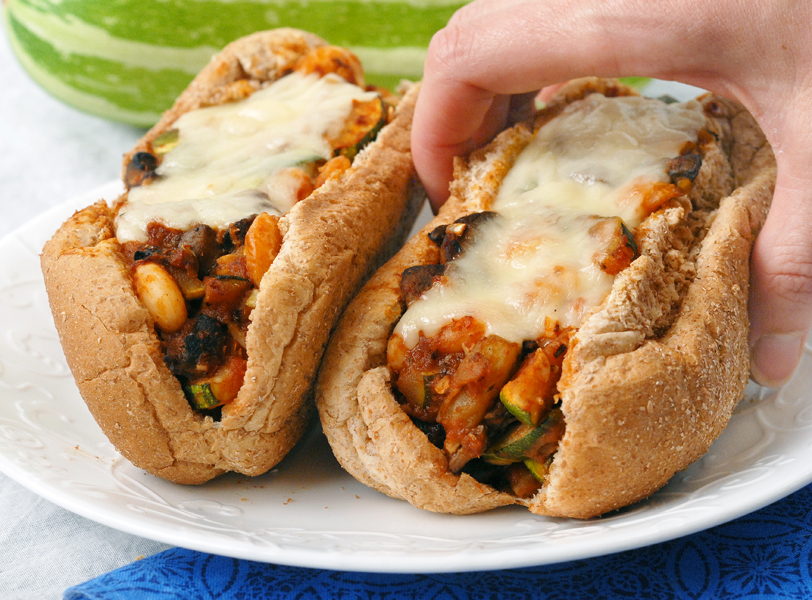 Zucchini is so versatile, it soaks up flavors well so you can pair it with your favorite things.  I love the marinara and mushrooms in this recipe.  The bread gets a little crusty when you bake the subs, and the cheese gets all gooey; it's simply fantastic.   Some other great zucchini recipes to try include: zucchini, corn, and black bean enchiladas, zucchini pesto, enchilada zucchini boats, and chocolate zucchini muffins!
Tips and Tricks for the Italian Zucchini Mushroom Sub Sandwiches recipe:
The subs get soggy as leftovers, so only make the number you will eat.  I use a small pan for a half batch, or a large pan for a full batch.
If you want to treat yourself to a super indulgent meal, try Alfredo sauce instead of marinara.
I prefer hoagie buns to make this recipe because they can hold more filling.  If you can't find them, hot dog buns will work, and they make smaller portions for kids.
Italian Zucchini Mushroom Sub Sandwiches
This recipe might be my favorite way to enjoy zucchini. Try my Italian zucchini mushrooms sub sandwiches for a quick and easy meatless weeknight dinner!
Author:
Alison's Allspice
Ingredients
1 TBS butter
8 oz baby portabella mushrooms, diced
¼ tsp black pepper
½ tsp crushed red pepper flake
Salt, to taste
1 lb zucchini, diced (about 3 cups)
3 garlic cloves, minced
1 cup cooked white beans
1 cup marinara sauce
6 whole wheat hoagie buns
9 slices mozzarella cheese (off the block, about 5 oz)
Instructions
Preheat oven to 325 F.
Melt the butter in a large heavy bottomed skillet over medium heat. Add the mushrooms and cook until their liquid is released.
Turn heat up to medium high. Stir in black pepper through garlic. Cook stirring occasionally until the zucchini start to brown, about 5-10 minutes depending on the skillet.
Mix in white beans and marinara.
Place hoagies buns cut side up in a 9x13 inch pan. Cut 3 slices of mozzarella in half and place one half into the bottom of each hoagie. Fill each hoagie with the zucchini mushroom filling. Top with a full slice of cheese.
Bake in the preheated oven for 15-20 minutes, or until the bread is crusty and the cheese is melted.
Leftovers
Leftover filled hoagies will get soggy. To make leftovers, use a smaller 9x9 inch pan and only fill the number of buns you will be eating. Refrigerate leftover filling until ready to enjoy again.
When baking the leftovers, you will need to add 5 more minutes baking time if the filling is cold.