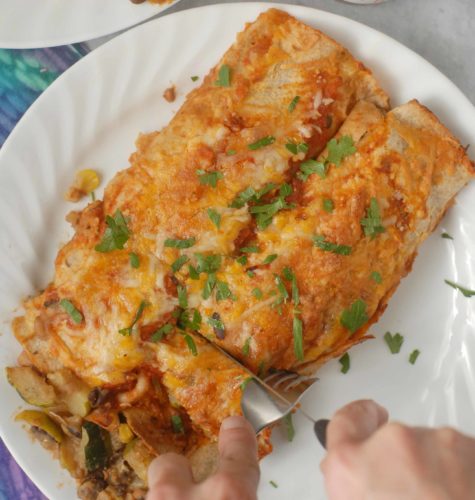 Happy New Year everyone!  This is my first post of the new year, and I'm so excited to share my plans for the year.  As I shared in my best of 2016 post, I recently made a move into a house where I have lots of space.  Now that I have space, I'm very excited to be able to establish a large garden.   Last year I joined a CSA because I knew I wouldn't get a garden planted in time.  I did get to grow a few plants, but this year I want to see the garden expand with lots of vegetables, including some spring and fall crops.  One of my favorite veggies to grow is zucchini, which is the inspiration for today's recipe.  Zucchini corn and bean enchiladas are simple and easy, especially if you have zucchini growing in your garden.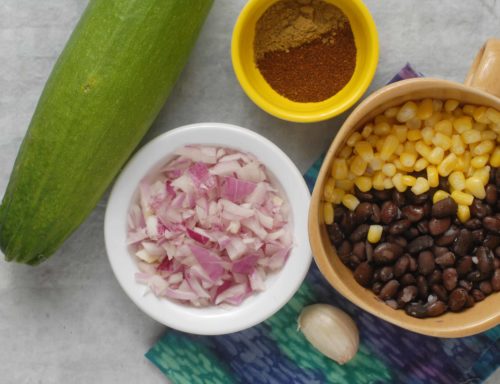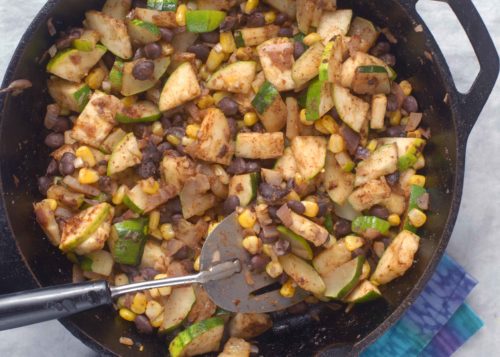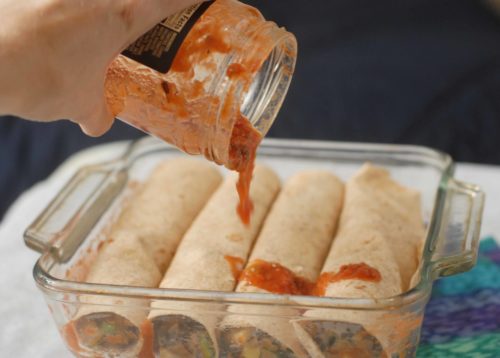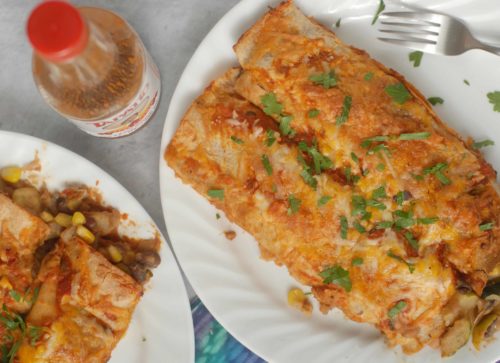 Some of the vegetables I hope to grow include cucumbers (to make these dill pickles), tomatoes, peppers, eggplant, green beans (we love Green Bean Fries!), broccoli, cabbage (for these tacos), potatoes, and of course zucchini. If I have space, I may plant butternut squash, spaghetti squash, and cantaloupe as well!  Oh, and wouldn't some leafy greens, carrots, and radishes be fun!?! I am definitely going to have to work on my garden plan.  I may be an over zealous first time gardener, time will tell.
Variations to the Zucchini Corn and Bean Enchiladas Recipe:
It took me a long time to figure out how to keep the enchiladas together.  Don't be tempted to skip the refried beans.  They hold together the filling.  Black beans can be substituted with your favorite type of protein.
Summer squash would be a great alternative to the zucchini in a pinch, or butternut squash could be used as a seasonal variation.
To make this recipe gluten free, try it with corn tortillas instead of flour tortillas.  If your corn tortillas are 6 inches, you will want 6-8 tortillas for all the filling.
Zucchini Corn and Bean Enchiladas
Author:
Alison's Allspice
Ingredients
1 small onion, diced
Splash olive oil
2 garlic cloves, minced
1 medium zucchini, diced
1 cup frozen corn, thawed
1 cup cooked black beans
1 tsp cumin
1 tsp chili powder
½ cup refried beans
1 cup salsa (I used red) or enchilada sauce, divided
4 whole wheat tortillas (8 inch)
1 cup shredded Mexican cheese blend or Vegan Cheese
Instructions
Heat oven to 425°F.
Combine olive oil and onion in a heavy bottomed skillet. Saute until the onion is translucent, about 3-5 minutes. Stir in garlic and zucchini, saute about 5 more minutes, stirring occasionally.
Add corn and black beans to the skillet. Saute until heated through. Stir in cumin, chili powder, refried beans, and ¼ cup salsa or enchilada sauce.
Prepare a 9x9 inch baking pan by spreading about ¼ cup salsa or enchilada sauce across the bottoms and sides.
Divide the filling into 4 portions. Scoop each portion down the center of a tortilla. Roll and place each tortilla seam side down in the baking pan. Sprinkle cheese over the enchiladas.
Bake in the preheated oven for 20 minutes, or until golden brown on top.
Notes
Serve with a side dish like Mexican rice to make this recipe into 4 servings.
Try this recipe with my
homemade refried beans
! This recipe was shared that the
Weekend Potluck Link Up
 and the
Meatless Mondays Link Up
.