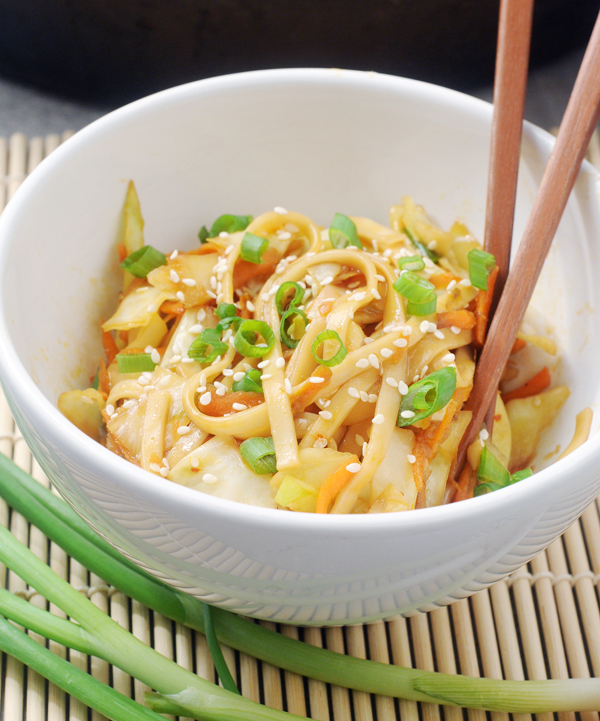 Cabbage is one of my favorite veggies I keep in the fridge for fast easy meals.  This week, I am sharing a Chinese green cabbage noodle stir fry recipe.
Red cabbage is my go-to cabbage variety.  Green cabbage has a little less flavor, and of course, less color.  Sometimes, I find green cabbage harder to use because of what it is missing in comparison to red.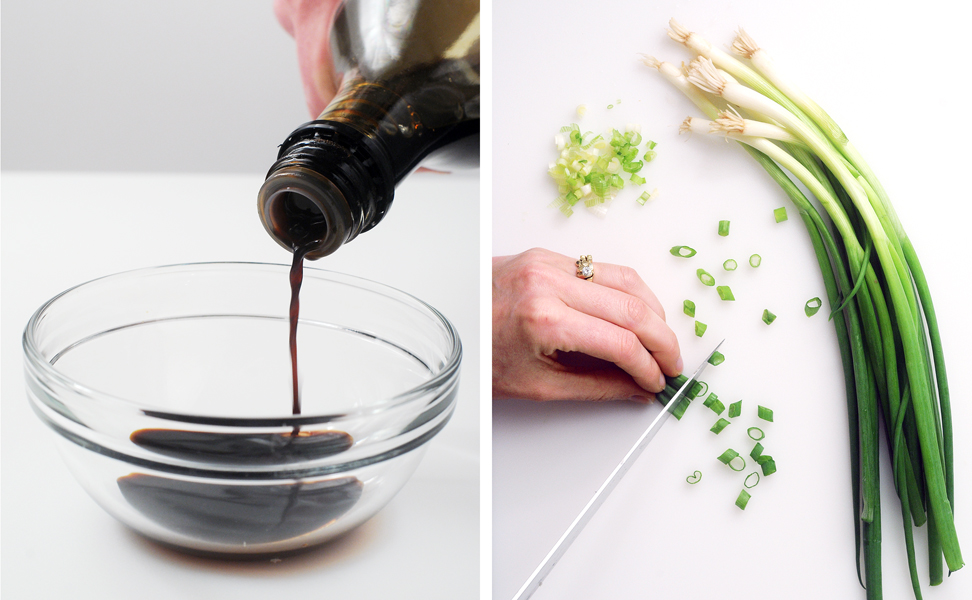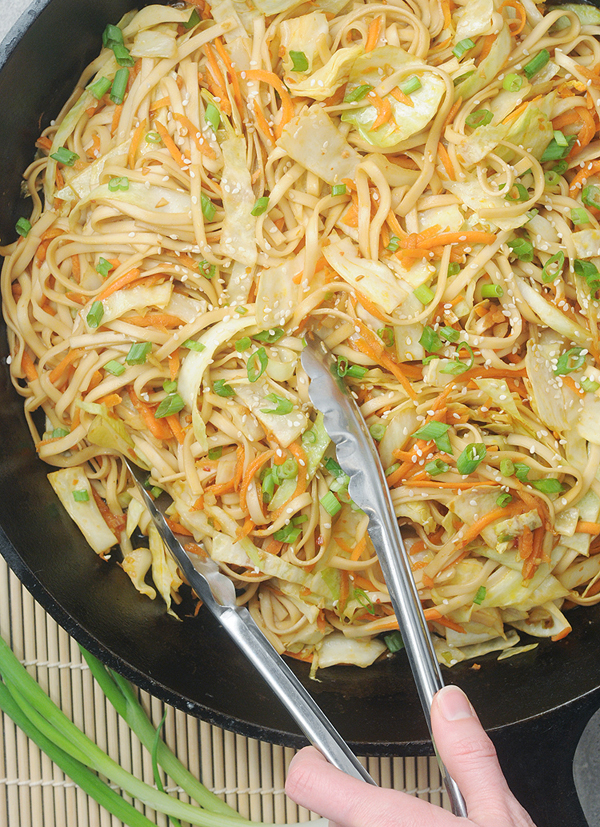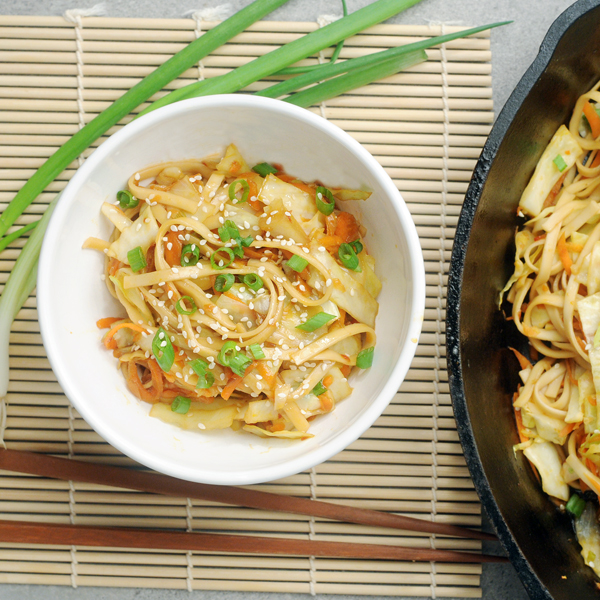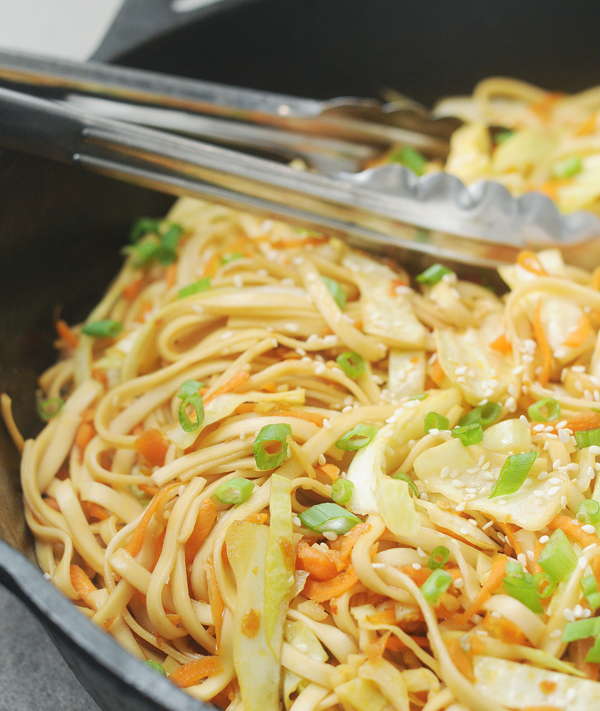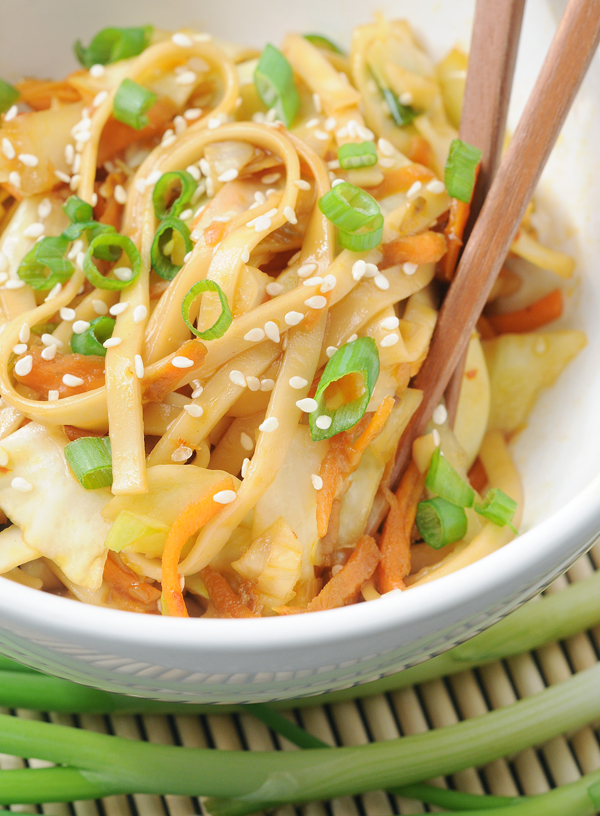 The great thing about green cabbage, however, is that it's mild flavor pairs well with bold flavors.  This noodle stir fry has bold flavors from ginger, garlic, chili paste, and soy sauce.
Looking for more bold recipes to use up a head of green cabbage?  Check out my Asian baked egg rolls, blackened fish tacos, or chipotle cauliflower hummus tacos!
Variations to the Chinese Green Cabbage Noodle Stir Fry recipe:
Use your favorite noodles.  Ramen noodles, lo mein noodles, or rice noodles are all great options.
Gluten free: swap tamari for the soy sauce, and choose rice noodles.  I recommend a wide rice noodle over a vermicelli (very thin noodle).
Add protein: My protein choices for this stir fry would be teriyaki baked tofu or shelled edamame.  Use your favorite protein!
Chinese Green Cabbage Noodle Stir Fry
Cabbage is one of my favorite veggies to keep in the fridge for quick, easy meals. This Chinese green cabbage noodle stir fry is loaded with bold flavors like garlic, ginger, and chili paste, and takes only 30 minutes to make!
Author:
Alison's Allspice
Ingredients
Sauce
¼ cup reduced sodium soy sauce
¼ cup rice vinegar
1 TBS each: chili paste, sesame oil, and brown sugar
¼ cup water
1½ tsp corn starch
Stir Fry
1 small bunch green onions, divided and minced
1 TBS minced ginger
3 garlic cloves, minced
Splash olive oil
6 oz noodles (ramen, lo mein, or wide rice noodles)
5 cups roughly chopped green cabbage (1/2 a small head)
2 cups shredded carrots
Instructions
Mix together the soy sauce, rice vinegar, chili paste, sesame oil, and brown sugar. In another small container, whisk together the water and corn starch. Pour the corn starch slurry into the sauce and whisk to combine.
Cut the root off the green onions. Mince the white and light green part of the onion, set aside. Slice the green tops, and set aside.
Cook noodles according to package directions. I used lo mein noodles and found that I only needed half the cooking time instructed on the box, so watch your noodles carefully! Rinse under water to keep the noodles from sticking together.
Meanwhile, in a large skillet (I used a 15 inch cast iron) over medium heat, combine a splash of olive oil with the ginger, garlic, and minced white and light green parts of the green onions. Cook until fragrant and starting to brown, 1-2 minutes.
Mix in cabbage and carrots. Cook another 2-4 minutes, or until the veggies are tender crisp.
Stir in cooked noodles.
Give the sauce another whisk to lift any settled corn starch. Poor into the skillet and stir to combine. Cook 2-3 minutes or until the sauce is thickened and the cornstarch is cooked.
Divide the noodle stir fry among 4 plates, and top with the sliced green onions. Serve.
This recipe was shared at
Fiesta Friday
and The
Weekend Potluck!