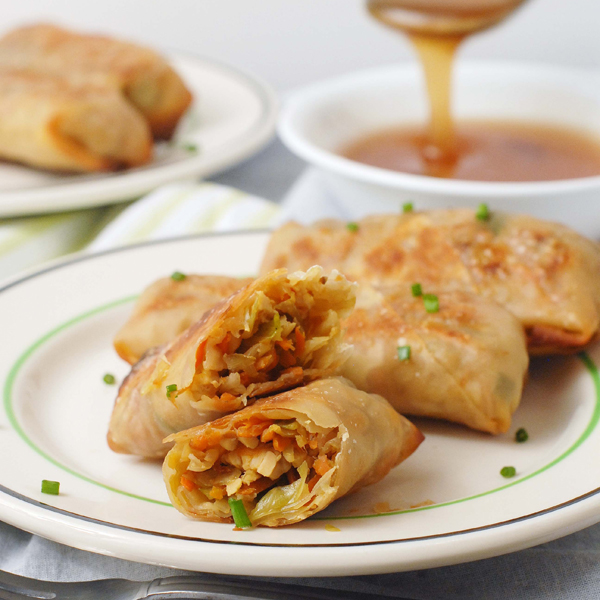 I'm not really a side dish person.  I love to cook.  It's a great release at the end of the day to come home and find my rhythm in the kitchen.  However, I find it most enjoyable when there are fewer pieces of the puzzle to keep track of.  Side dishes don't fit that routine well, therefore I tend to make and eat a single thing every night.  These Asian cabbage baked egg rolls with tempeh fit that theme perfectly.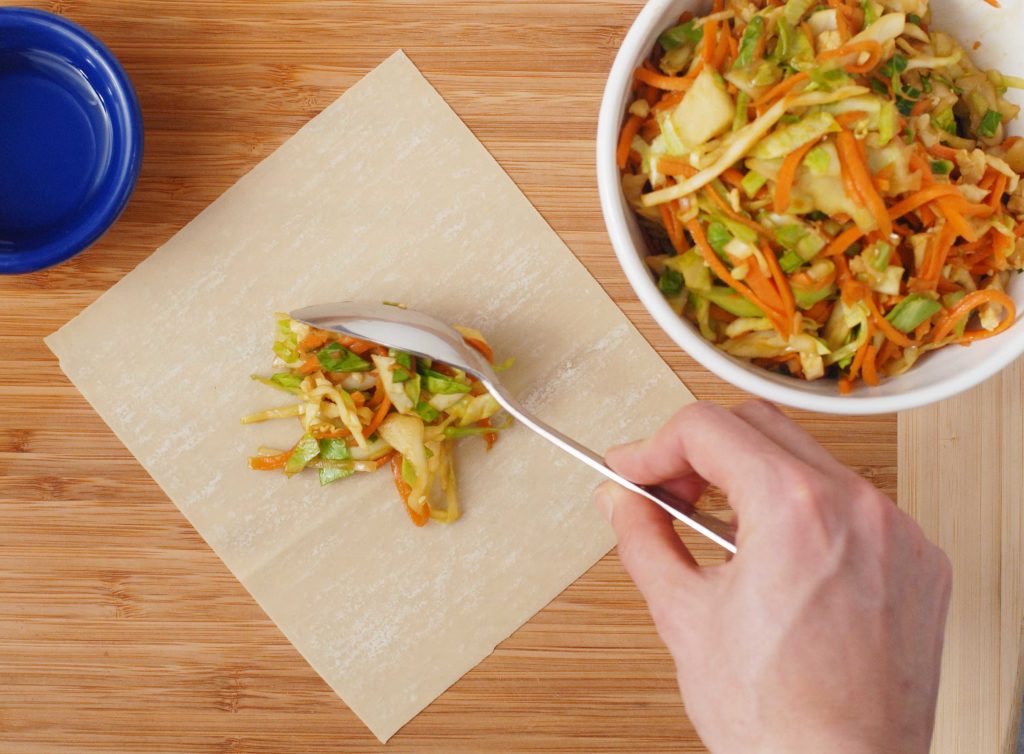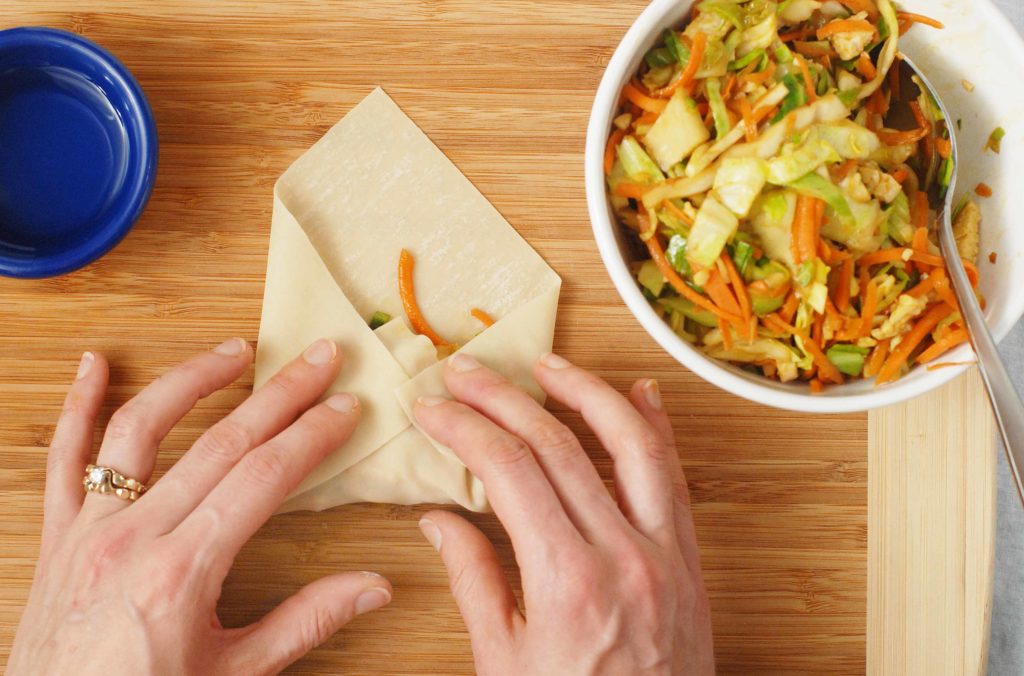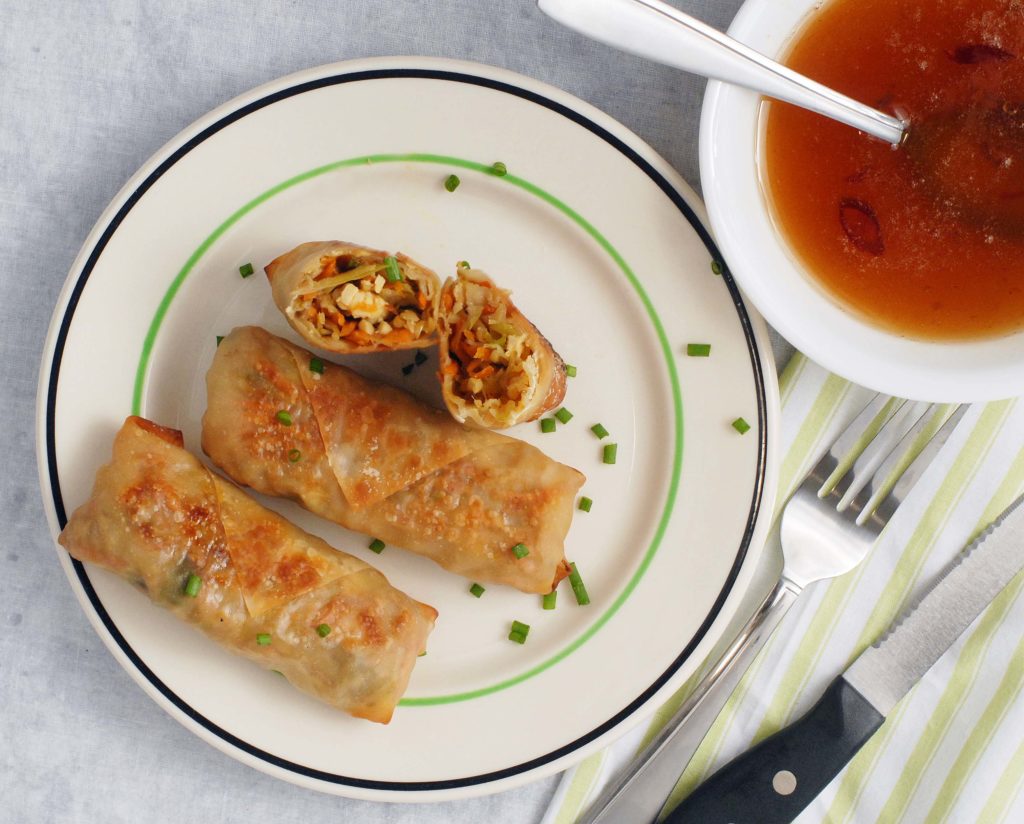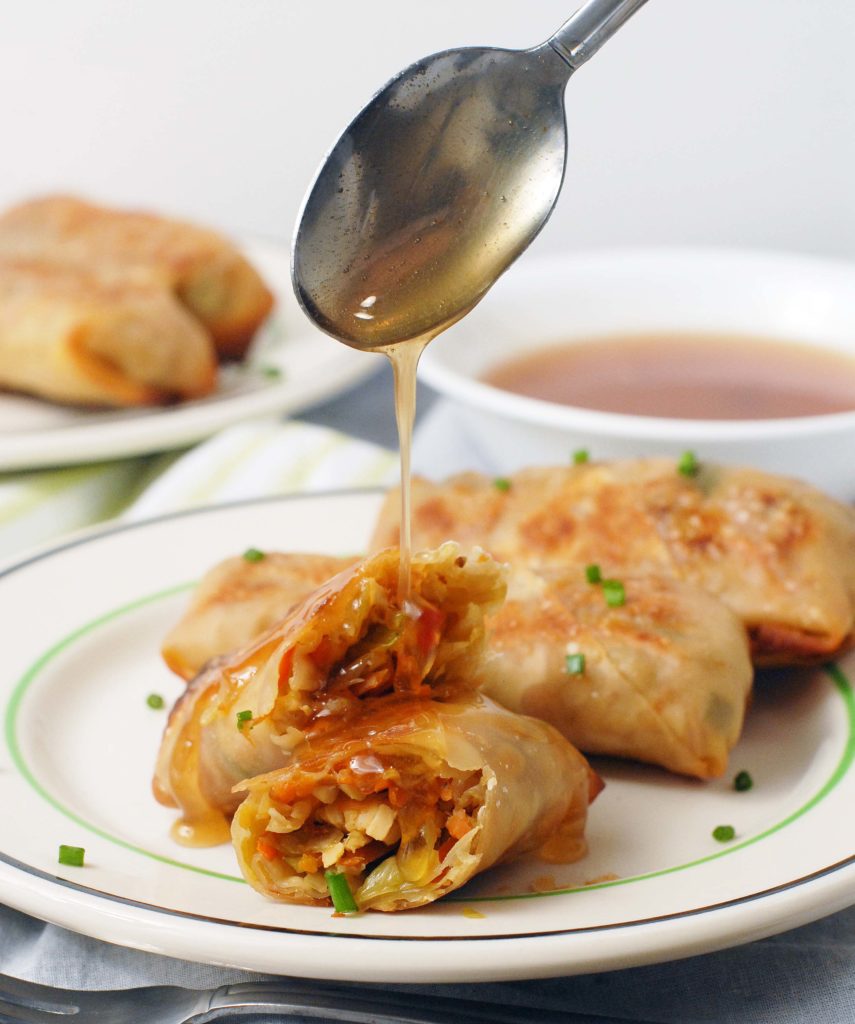 Do you ever imagine only eating egg rolls for dinner?  That's how we do it at my house.  These egg rolls are loaded with veggies as well as protein for a well rounded meal, no side dishes necessary.  If I have time, I will make a homemade dipping sauce while the egg rolls are in the oven. If life is a little busy, I will use a pre-made plum sauce or sweet and sour sauce.  I have even used salsa, because I enjoy salsa with my southwest baked egg rolls.
Variations to the Asian Cabbage Baked Egg Rolls with Tempeh recipe:
Sometimes I sub a couple cups  fresh mung bean sprouts for some cabbage.  If the store doesn't have fresh sprouts, I grow them myself, which is another post for another day!
I have tried this recipe with veggie chiken starters, TVP, tofu and tempeh.  Tempeh is by far my favorite, use whatever protein you like.
 I prefer this recipe with lots of ginger. Use ginger to taste, and maybe add some garlic.
Asian Cabbage Baked Egg Rolls with Tempeh
These baked egg rolls are a great meatless main dish that will satisfy the whole family. Try them with your favorite dipping sauce!
Author:
Alison's Allspice
Recipe type:
Appetizer or Entree
Serves:
20 eggrolls, or 5 entree servings
Ingredients
8 oz tempeh
8 cups sliced green cabbage
2 cups grated carrot
2 TBS minced ginger
1 TBS olive oil
¼ cup tamari or soy sauce
2 TBS cornstarch
½ cup water
20 egg roll wrappers
2 TBS peanut oil, or other high smoke neutral flavored oil
Instructions
Bring 1 inch of water to a boil under a steamer basket. Add the tempeh block and steam for 5-10 minutes.
Mix together tamari or soy sauce, cornstarch and water. Set aside.
Heat a large heavy bottomed skillet over medium high heat. Add olive oil and ginger and saute about 1 minute. Add cabbage and carrots and stir to combine. Saute 2 minutes.
Pour tamari mixture in with the cabbage mixture and stir until thick, about 30 seconds.
Finely chop or crumble the tempeh and stir into the cabbage mixture.
Preheat oven to 400 F.
Place a single egg roll wrapped on a working surface. Use your fingers to dap some water over the edges to help it seal when folded. Add about ¼ cup filling to the center of the wrapper. Fold up the bottom corner, fold in the two side corners and roll the wrapper up until sealed. Place seam side down on a parchment lined baking sheet and continue with remaining wrappers and filling.
Brush the tops and sides of the egg rolls with peanut oil.
Bake in the preheated oven for 12 minutes. Turn over and bake for another 5 minutes, or until golden brown and crispy.
Serve with sweet and sour sauce, or plum sauce.
Notes
Nutrition information is approximate. It will highly depend on the brand of egg roll wrappers you use. I used Nasoya for my calculations.
Nutrition Information
Serving size:
5
Calories:
469
Fat:
14 g
Carbohydrates:
62.5
Sodium:
1020 mg
Fiber:
5.5 g
Protein:
21.6 g
I shared this recipe at 
Melt in Your Mouth Monday
,
Tasty Tuesdays
, and
Cook Blog Share
, and
Meat Free Mondays
!