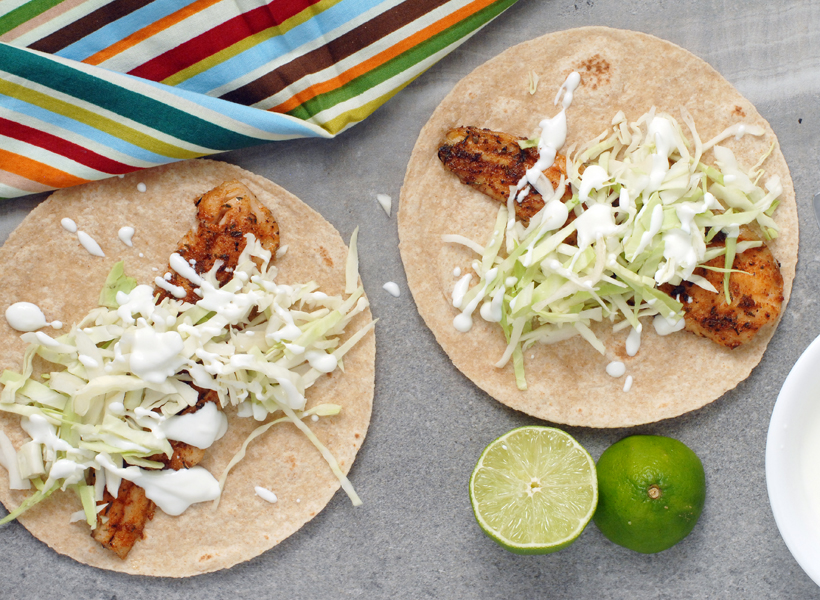 When I was a kid, one of my parents favorite meals was blackened salmon.  I always remembered that meal because the first time we tried it as a family, we didn't realize how spicy the seasoning was going to be!!  It was so flavorful, but I remember downing glasses of milk try to keep my mouth from catching fire.  In subsequent trials, my parents learned the right amount of seasonings to use, and used it sparingly for us kids.   Today blackening seasoning is still a favorite of mine, so I decided to try it in one of my favorite foods, fish tacos.  These spicy blackened fish tacos with lime crema were a hit at my house!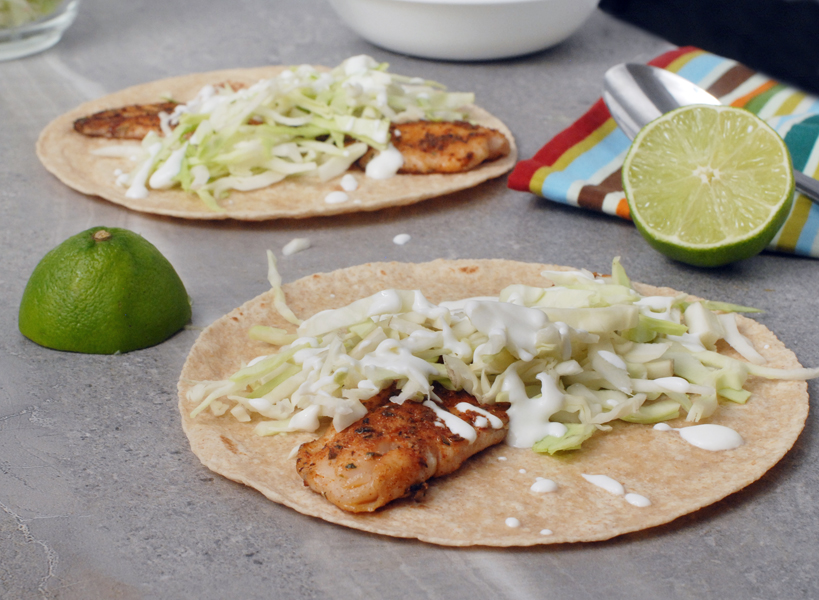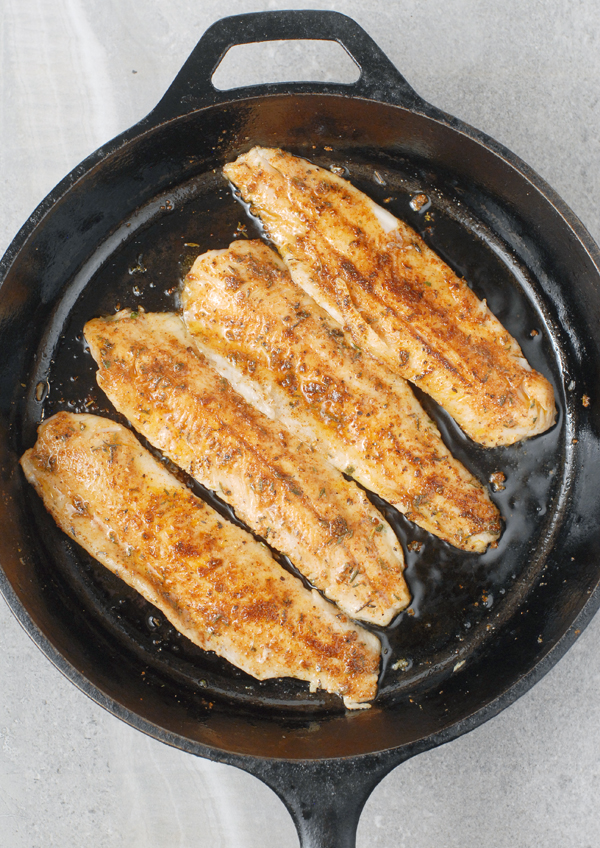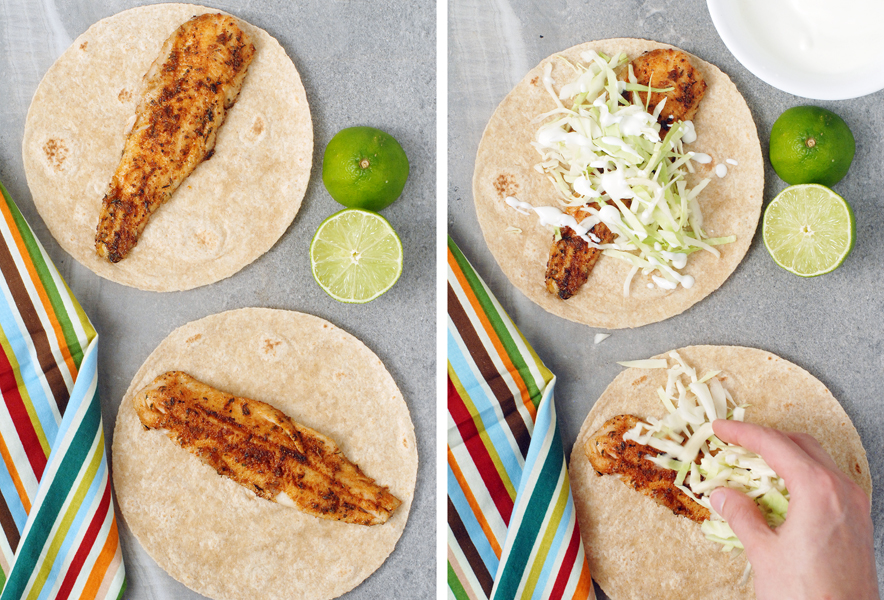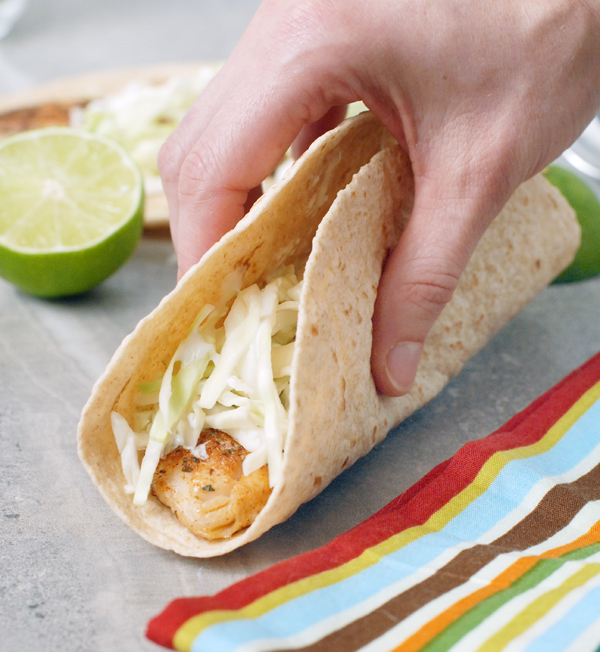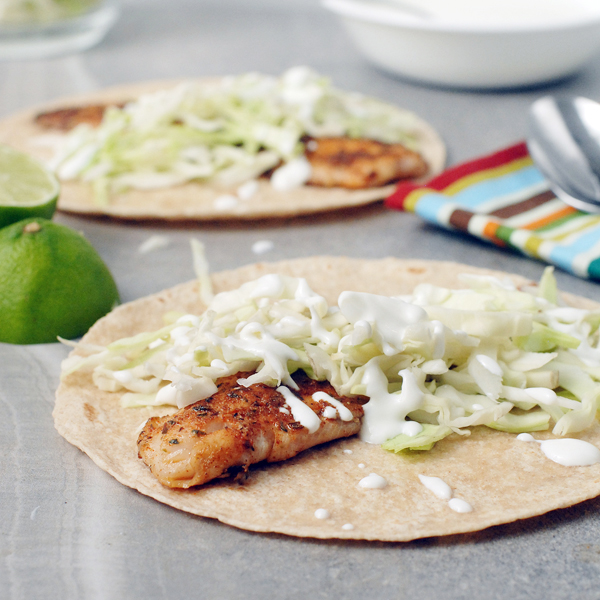 Whenever I use blackening seasoning, I love to pair it with something cool and creamy.  It adds nice balance to the dish.  In these fish tacos, I seasoned sour cream with lime juice to add a little tangy flavor as well.  In my black and blue veggie burgers, the blue cheese does the trick.  What's your favorite way to use blackening seasoning??  Share with us in the comments!
Variations to the Spicy Blackened Fish Tacos with Lime Crema recipe:
Spicy: In my blackening seasoning I hold back on the cayenne pepper so that you can taste all the other seasonings as well.  If you want it to be really spicy, add the cayenne to taste by doubling (or tripling) it.  On the other hand, if you want a milder seasoning omit it completely.
Vegetarian: If you don't eat fish, you could try this taco with tempeh strips, pressed tofu cubes, or roasted cauliflower florets.
Crunch: I used green cabbage to add texture.  Red cabbage or julienne kohlrabi pieces would be a nice swap.  You could also try lettuce and tomato.
Fish: I always use trout as my fish of choice.  Almost any kind of fish will work in this dish.  Talapia, cod, catfish would also be great choices.
Crema: Use mexican crema in place of the sour cream.  I find mexican crema can be difficult to find at the store, but it is more traditional than using sour cream.
Spicy Blackened Fish Tacos with Lime Crema
Spicy fish is paired with a cool, creamy sauce in these amazing spicy blackened fish tacos with lime crema! Try them with your favorite type of fish!
Author:
Alison's Allspice
Serves:
4 tacos or 2 servings
Ingredients
Lime Crema
½ of a large lime, juiced (1-2 TBS)
¼ cup sour cream
Blackening Seasoning
1 tsp paprika
½ tsp black pepper
¼ tsp onion powder, garlic powder, and salt, each
⅛ tsp cayenne, thyme, and oregano, each
Tacos
½ lb fish of choice, cut into 4 long strips
2 tsp canola oil, or other nuetral flavored oil
4 6-inch whole wheat tortillas
2 cups green cabbage, sliced
Instructions
Mix together the lime juice and sour cream. Set lime crema aside.
Mix together all ingredients for the blackening seasoning. Rub the seasoning evenly over all sides of the fish.
In a large heavy bottomed skillet, such as cast iron, heat the oil until shimmering.
Gently place the fish in the hot skillet and cook 2 minutes on each side, or until the fish is opaque and cooked through.
Heat tortillas according to package directions. (I microwave mine for 15-20 seconds)
Top each tortilla with a piece of fish and ½ cup sliced cabbage. Drizzle with lime crema and serve!
Recipe inspired by
Foodess
.  I shared this recipe at the
Weekend Potluck
,
Fiesta Friday
,
Sugar and Spice
, and
Foodie Friday
.
Please Pin if you enjoyed this recipe!