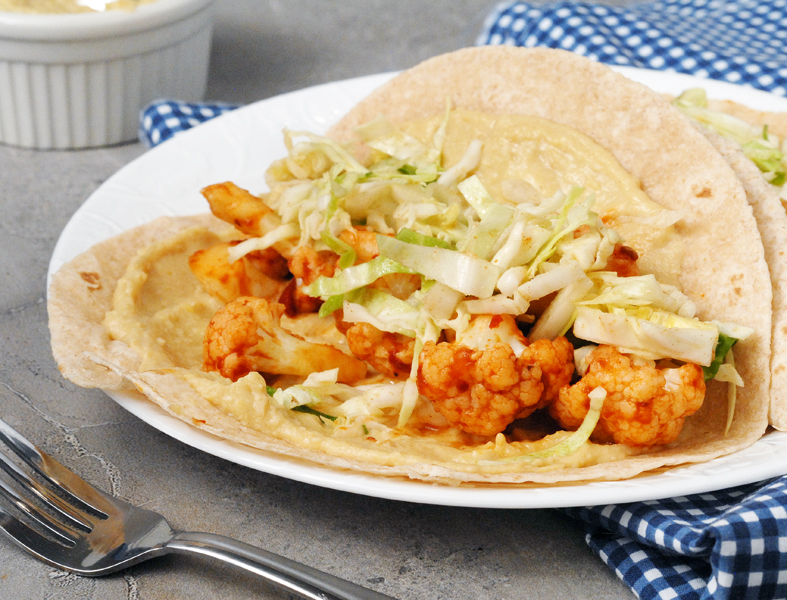 One of the most fun things about recipe development is taking a recipe you love, and adapting it.  Sometimes it's about making it healthier, or adapting it to fit different diets.  If you read here often, you know how much I love fish tacos.  However, a lot of readers here are not looking for fish based recipes (I don't post many).  Therefore, I created chipotle cauliflower hummus tacos with cumin slaw to be vegan, and just as delicious!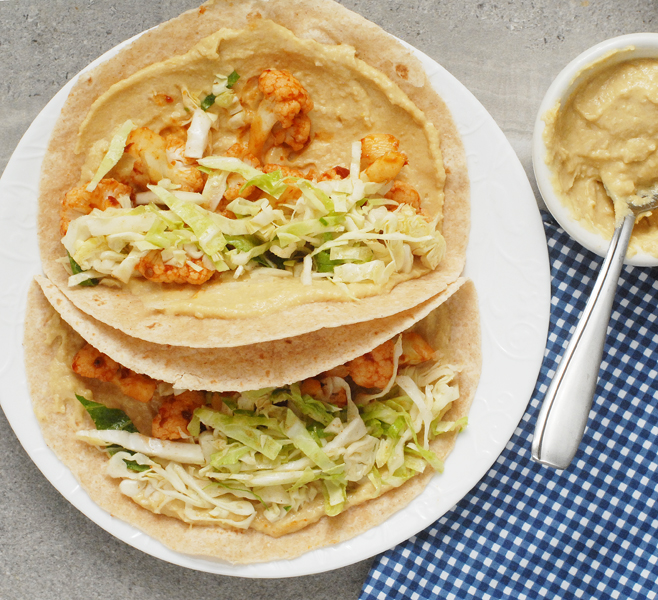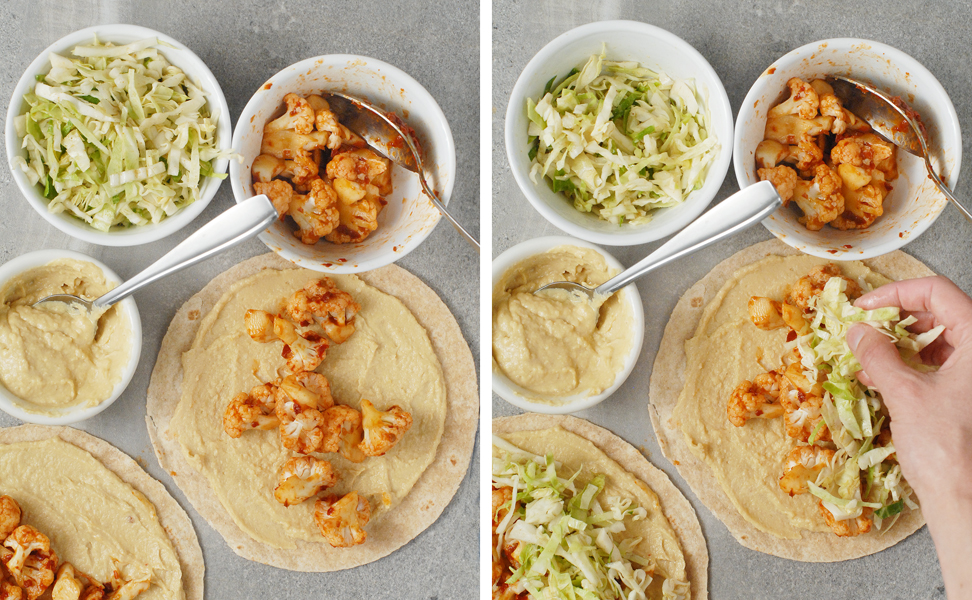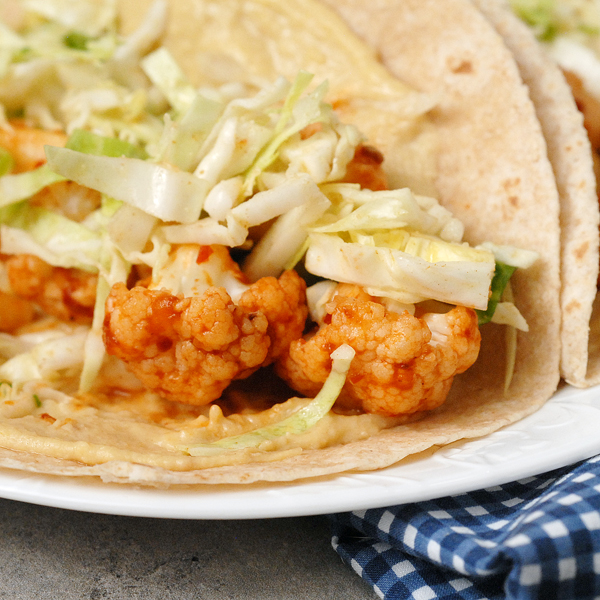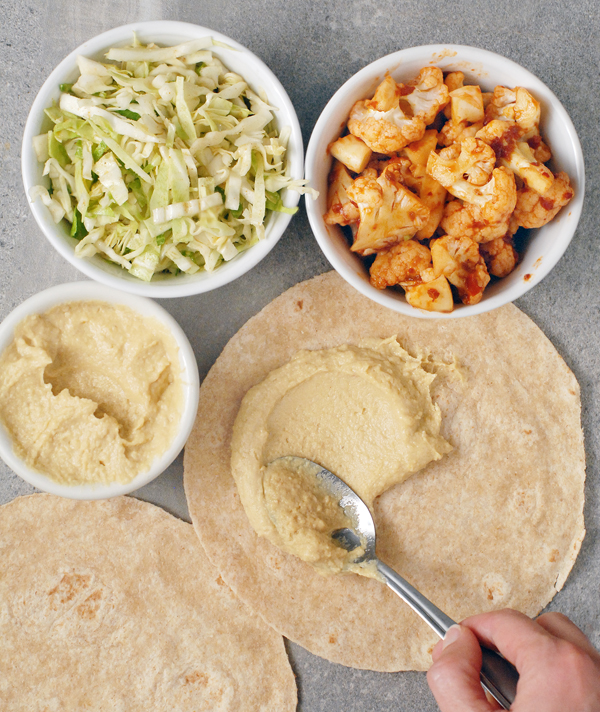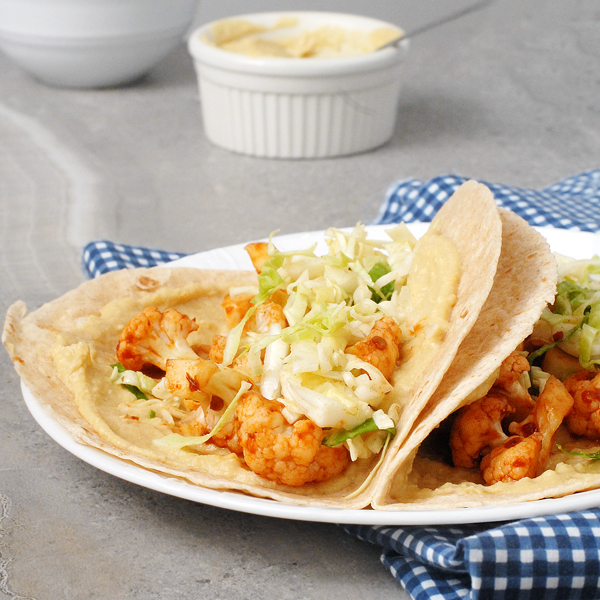 In this taco, the cauliflower serves as a great vehicle for the chipotle pepper.  Hummus adds creaminess and lots of moisture to keep the taco from being dry.  Top it with crunchy slaw, but not just any slaw.  The cumin slaw adds a hint of toasted flavor that pairs beautiful with both the chipotle cauliflower, and the hummus.
Variations to the Chipotle Cauliflower Hummus Tacos with Cumin Slaw recipe:
 To make these gluten free, try corn tortillas in place of flour tortillas.
Winter vs Summer: In summer, I like to steam veggies in the microwave to avoid heating the house. In winter, try roasting the cauliflower in the oven instead of microwaving it.
Optional Cheese: Add crumbled queso fresco if you are a cheese lover.
It would be delicious to bread and fry the cauliflower, but not as healthy.  Do whatever works for you.
Chipotle Cauliflower Hummus Tacos with Cumin Slaw
Try these chipotle cauliflower hummus tacos with cumin slaw on your next meatless Monday! You can make them in less than 20 minutes!
Author:
Alison's Allspice
Serves:
4 tacos, or 2 servings
Ingredients
½ a head of cauliflower, cut into florets (about 3 cups)
1 large Chipotle pepper, minced
1 TBS adobo sauce
2 cups shredded green cabbage
½ TBS olive oil and lime juice, each
½ tsp cumin
Salt to taste
1 cup classic hummus
4 8-inch whole wheat tortillas
Instructions
Place cauliflower florets into a large microwave safe bowl. Add a splash of water and microwave for 1-2 minutes, or until crisp-tender and steamy. Drain any excess water and pat dry.
Toss cooked cauliflower with the minced chipotle and adobo sauce. Set aside
Mix together olive oil, lime juice, cumin, and salt to taste. Pour over cabbage and stir to coat.
Spread ¼ cup hummus over each of the tortillas. Top with ¾ cup of chipotle cauliflower, and ½ cup of cumin slaw.
Recipe inspired by
Feeding Your Beauty
. This recipe was shared at Meatless Mondays with
Fit Foodie Mama
and
Confessions of a Mother Runner
.  Check out my new
sharing page
to see all link parties I share with.
Please Pin if you liked this recipe!