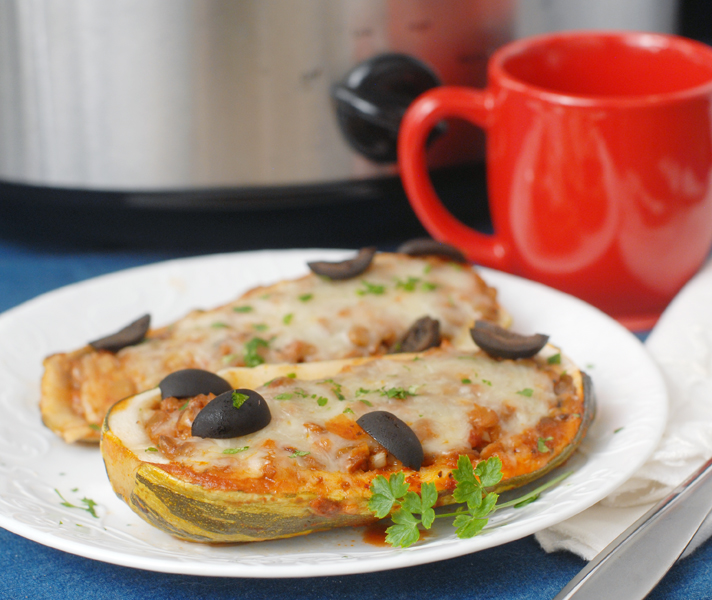 This month's theme for the recipe redux was to avoid heating up the kitchen by using a cool cooking appliance (ie not the oven).  I love my big slow cooker for soups, but I don't eat many soups during summer.  The zucchini in my garden have been plentiful for a few weeks now, at one point I had a pile of 14 on my kitchen counter!  Therefore, zucchini boats were in order.  To fit in with the redux theme, I made slow cooker Italian lentil stuffed zucchini boats!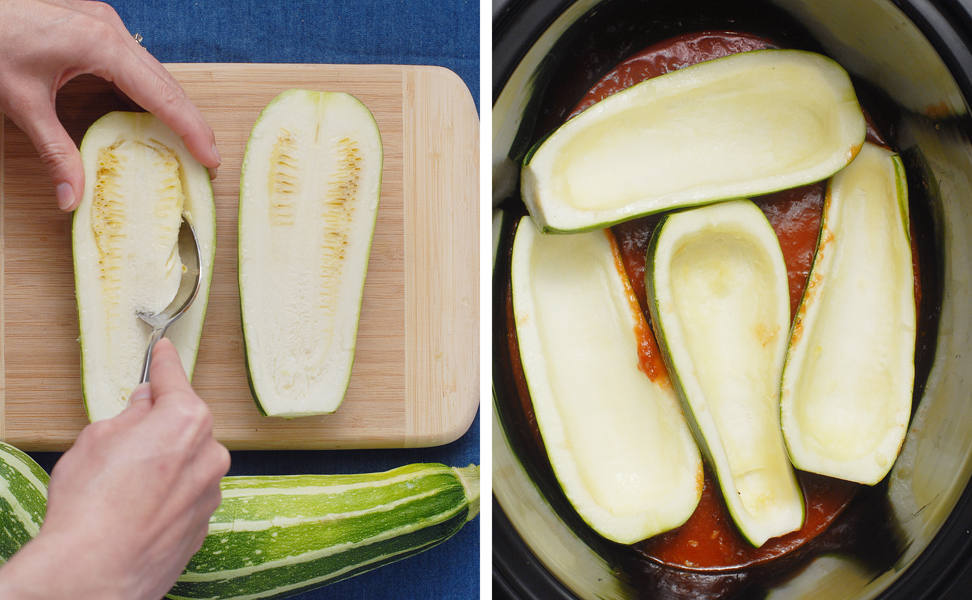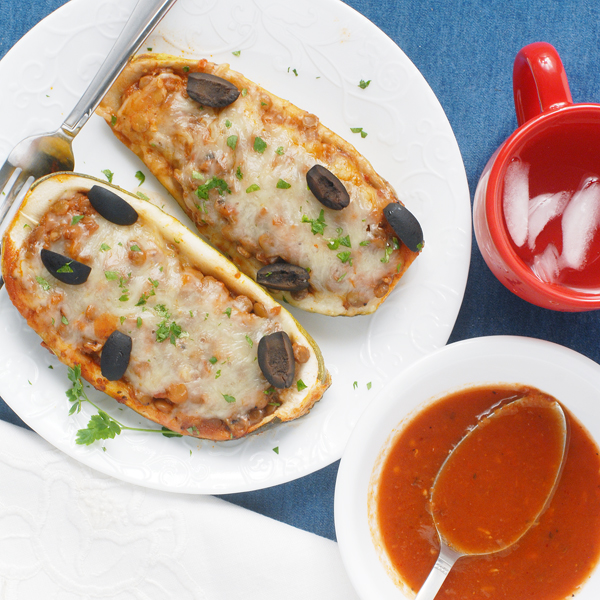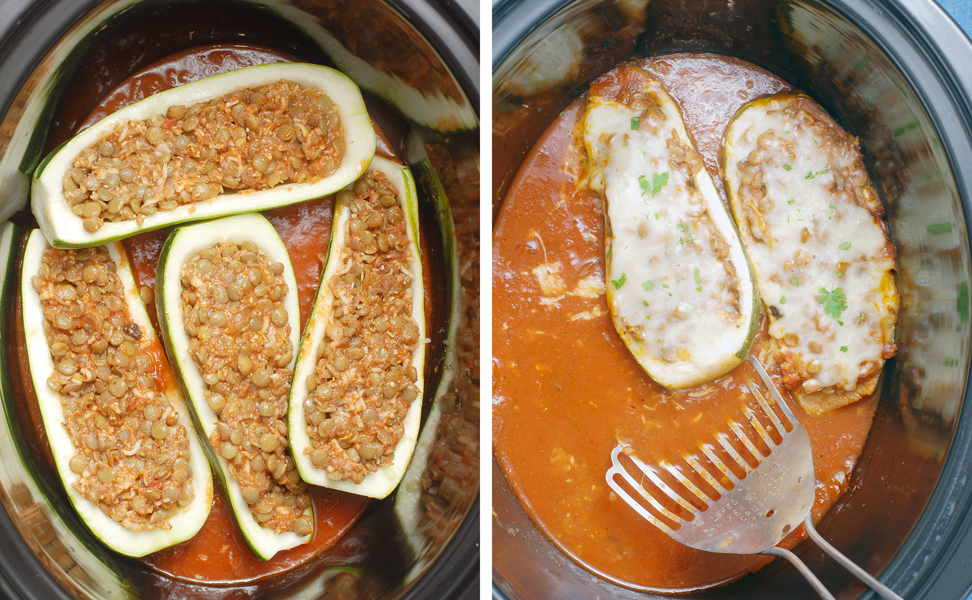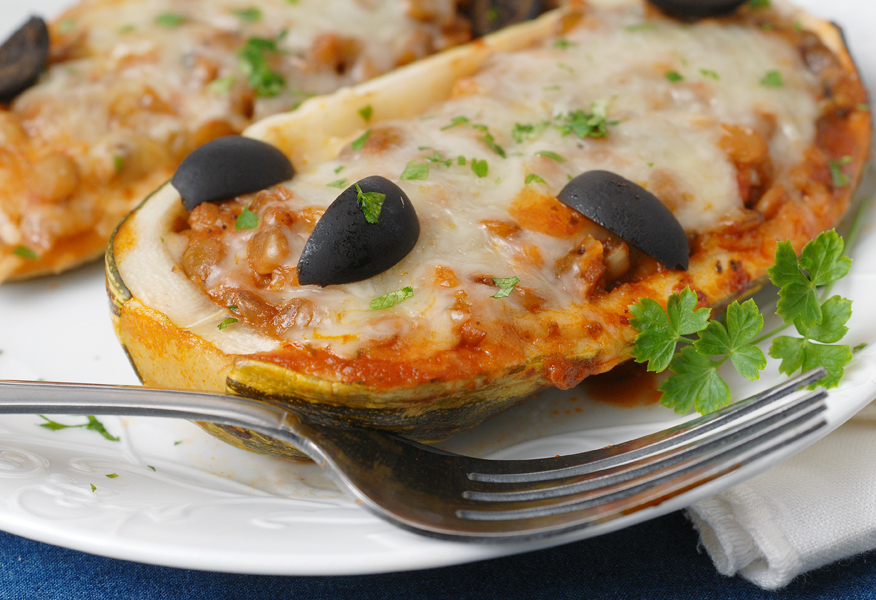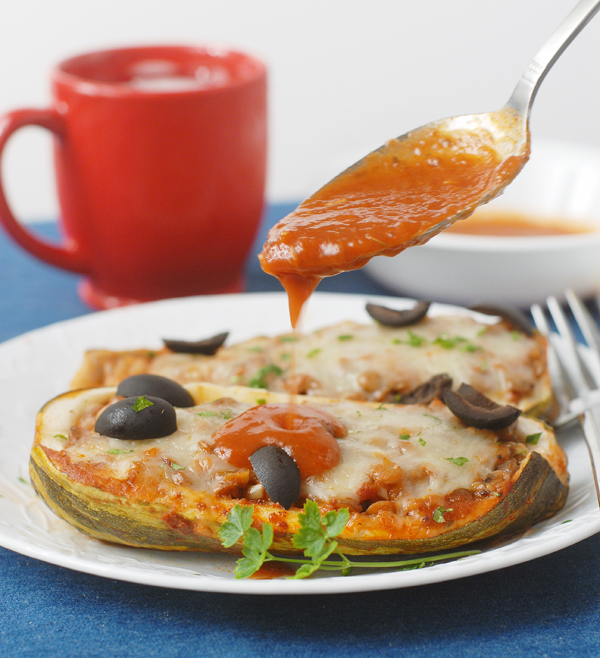 Have you ever tried zucchini boats in a slow cooker?  It has it's pros and cons. Con: Fitting them into the slow cooker requires one with a large surface area. Pro:  Zucchini boats don't get crispy in the oven, so they aren't loosing anything by slow cooking.  In fact, it gave a longer time  to allow flavors to develop, which was perfect for my Italian lentil variation.
Variations to the Slow Cooker Italian Lentil Stuffed Zucchini Boats recipe:
If Italian lentil isn't your thing, try my enchilada zucchini boats.
I used canned lentils to avoid heating up the stove top.  If you want to cook your lentils, try making a large batch and using them throughout the week in other recipes such as lentil salad, or enchiladas. 1/3 cup dry lentils makes 1 cup cooked.
Later this fall, try this recipe to make spaghetti squash boats instead of zucchini boats.
Slow Cooker Italian Lentil Stuffed Zucchini Boats
If your garden is full of zucchini's this summer, you don't need the hot oven to cook them. Try slow cooker Italian lentil stuffed zucchini boats instead!
Author:
Alison's Allspice
Ingredients
15 oz can lentils (drained and rinsed), or 1½ cups cooked
2 cups marinara, divided (I used mushroom marinara)
¾ cup shredded mozzarella cheese, divided
2 garlic cloves, minced
2 TBS grated Parmesan cheese
1 tsp Italian seasoning
¼ tsp red pepper flake
¼ tsp black pepper
pinch sea salt
2 medium zucchini
Black olives, for garnish
Fresh parsley, for garnish
Instructions
Mix together lentils, ½ cup marinara, ¼ cup mozzarella, garlic, Parmesan, Italian seasoning, red pepper flake, black pepper, and salt.
Cut zucchini in half and scoop our the flesh leaving a ¼ inch shell. Set flesh aside for another use. (see my zucchini burgers recipe)
Pour remaining 1½ cups marinara into the bottom of a 6 qt oval slow cooker (or another slow cooker with significant surface area). Arrange zucchini in the slow cooker and fill with the lentil mixture. Cook on low for 5-6 hours, or high for 3 hours.
Sprinkle remaining mozzarella over boats. Garnish with black olives and parsley. Serve with crusty garlic bread and extra marinara sauce.
Notes
Serve each boat with a side dish to make 4 servings.
This recipe was inspired by
Valerie's Kitchen
, and adapted from
Allrecipes
.  Recipe shared at
Meatless Mondays
. See my
sharing page
to find all link parties I share at.
Please Pin if you liked this recipe!