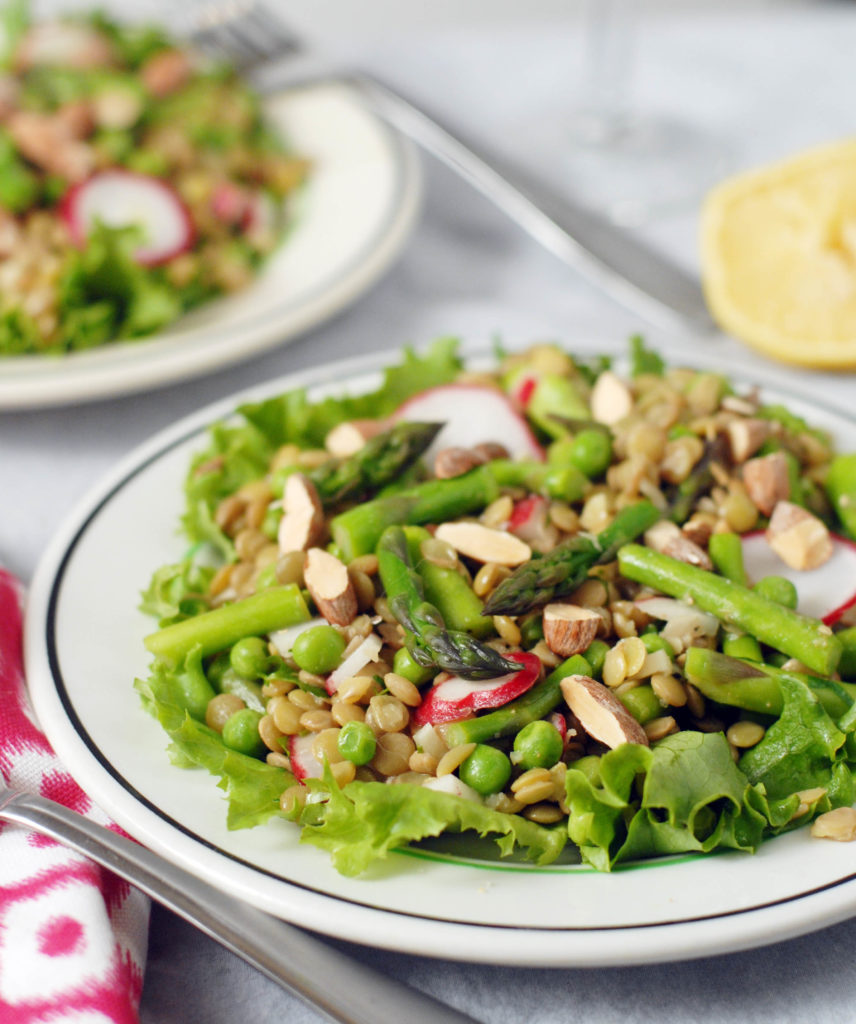 I really love asparagus.  I think it is the seasonality of it, the fact that it grows for a short time and then it's gone for the season.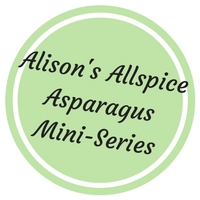 Growing up, I ate farm fresh picked asparagus and now I refuse to buy it from the store; it just doesn't taste the same.  I love asparagus so much that I created an Asparagus Mini-Series last year that I am challenging myself to continue!  Today I am sharing Lentil salad with Asparagus and Radish for the first Asparagus Mini-Series of 2017!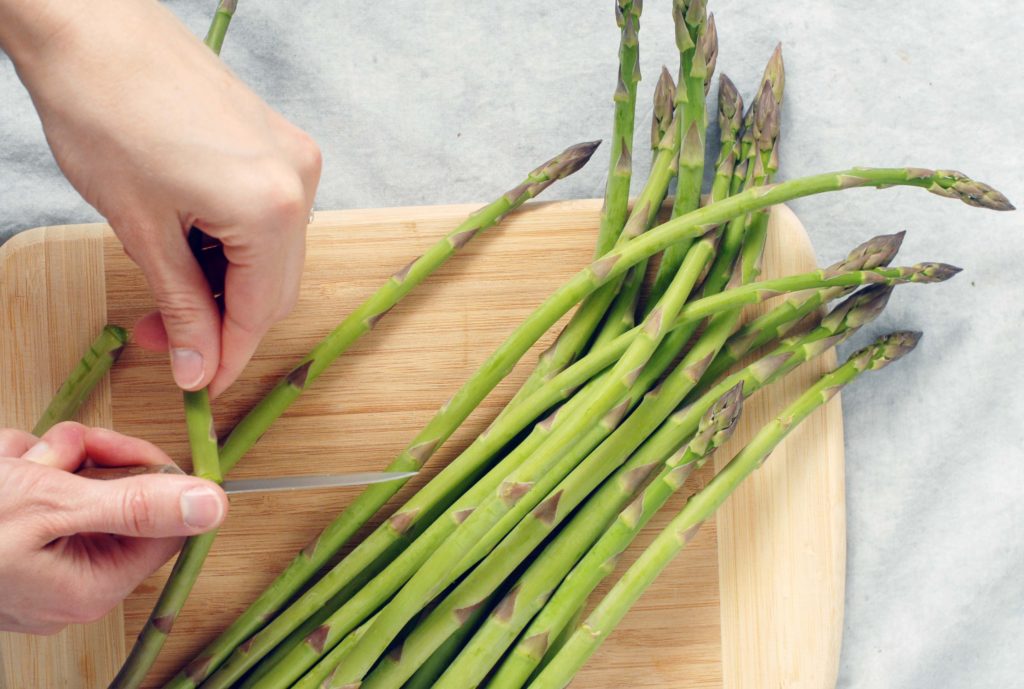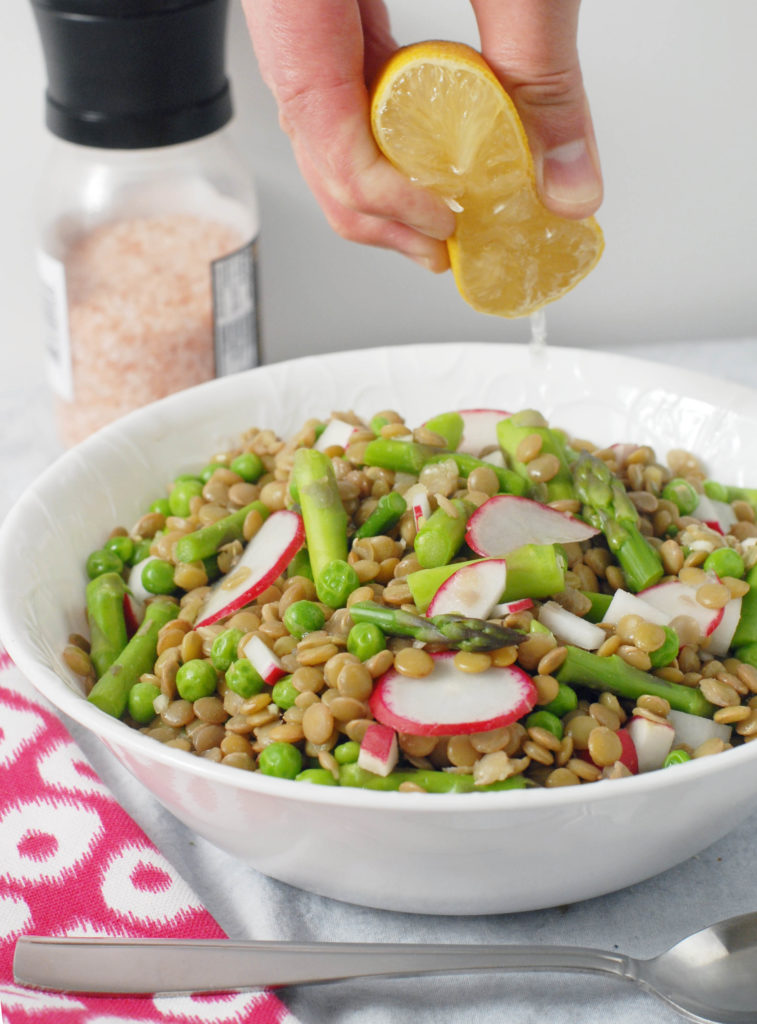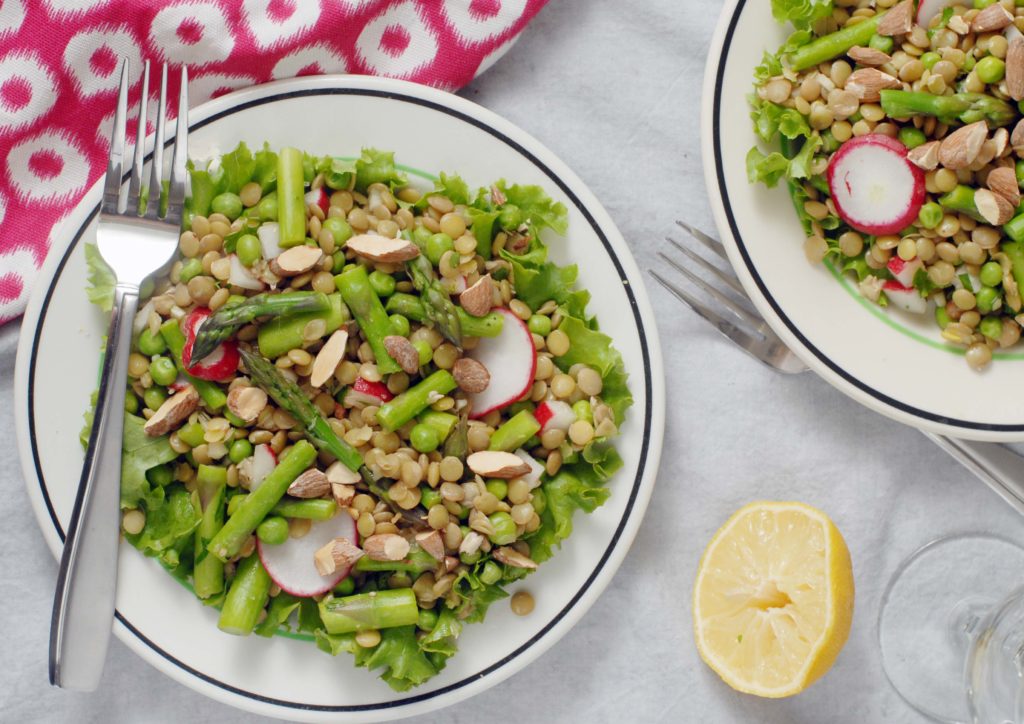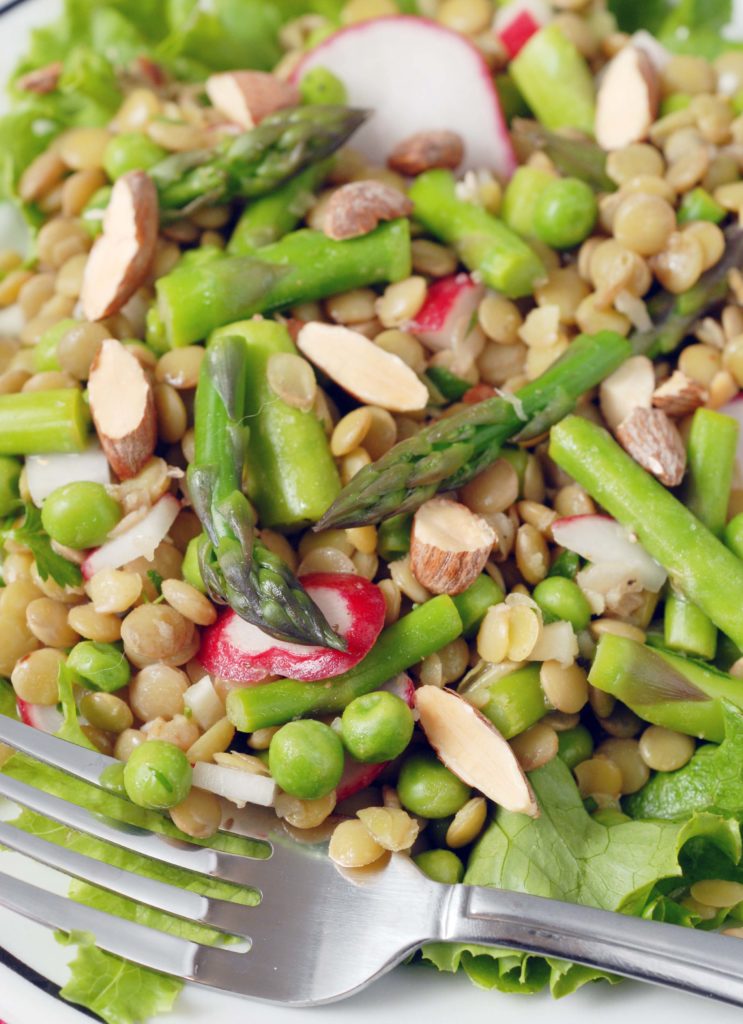 This salad is simple and full of spring flavors.  I love lentils because they are so healthy, and cook very quickly in comparison to other beans.  I rounded out this salad with a lemon dressing and topped with crunchy salty nuts for more texture and punch of salt.  The asparagus and radish do not stay crisp in this salad as it sits, therefore I recommend only making as much as you are going to eat.
Variations to the Lentil Salad with Asparagus and Radish recipe:
Choose vegetables for this salad based on season. Here are some suggestions: in summer, try green beans and cherry tomatoes.  In fall, try kale and apples and in winter, butternut squash and dried cranberries.
I love to use fresh herbs to brighten dishes, but I wanted to let the subtle spring flavors shine here so I didn't use a lot.  Feel free to add more herbs and increase quantity to taste.
I thought this salad needed a salty component to round it out.  If you don't eat nuts, try roasted salted sunflower seeds or feta cheese.
Swap spinach in for the lettuce, or 1/4 cup fresh onion for the onion powder.
Lentil Salad with Asparagus and Radish
This Lentil Salad with Asparagus and Radish is a perfect light meal for spring. Serve it to any guest because it is vegan, gluten free, and paleo!
Author:
Alison's Allspice
Ingredients
1 cup dry lentils
1½ cups asparagus, cut into 1 inch pieces (from 15-20 trimmed stems)
1 cup green peas (frozen, thawed)
½ cup radishes, diced, sliced, or both
Juice of 1 lemon (about 2 TBS)
1 TBS olive oil
2 cloves garlic, minced
1 tsp Dijon mustard
½ tsp pink sea salt
½ tsp black pepper
¼ tsp ground coriander
¼ tsp onion powder
2 TBS minced fresh parsley
1½ cups torn lettuce, optional
¼ cup salted roasted almonds, chopped
Instructions
In a medium pot, cover rinsed lentils with water. Bring to a boil and simmer 15 minutes, or until just tender. Do not over cook the lentils or the salad will be mushy. Meanwhile, prep all your vegetables.
Preheat a steaming basket in a pot over water. When boiling, steam asparagus for 2 minutes. Remove basket from the pot.
In a bowl, whisk together lemon juice through onion powder. Set aside.
When the lentils are cooked, rinse under cold water to reduce the temperature. Combine cooled lentils with steamed asparagus, radishes, peas, dressing, and fresh parsley.
If using the lettuce, evenly spread it across 3 plates. Top each with ⅓ of the lentil salad. If no using the lettuce, divide the lentil salad among 3 bowls. Garnish each serving with almonds.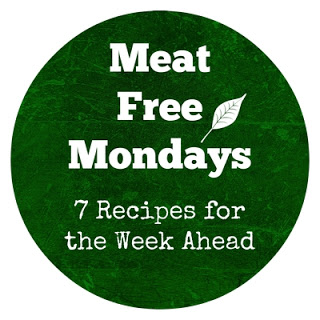 This recipe was shared at
Meat Free Monday
, 
Full Plate Thursday
,
This is How We Roll
, T
he Healthy Living Link Party
,
The Weekend Potluck
and the
Plant Based Potluck
.
Thanks to Meat Free Mondays for featuring my recipe!