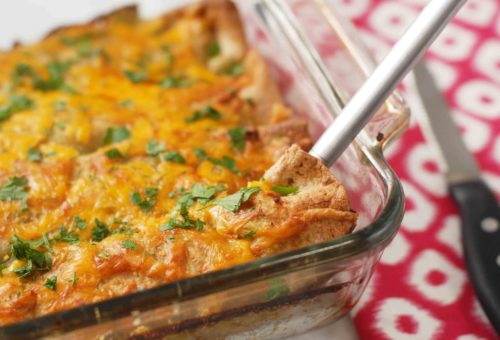 Enchiladas is one of those dishes that you can throw just about anything into, and it still comes out awesome.  I filled these chard potato lentil enchiladas with extra produce from my CSA, and added some lentils for protein. I cover mine in my favorite salsa verde and top with cheddar cheese, so easy, and so yummy!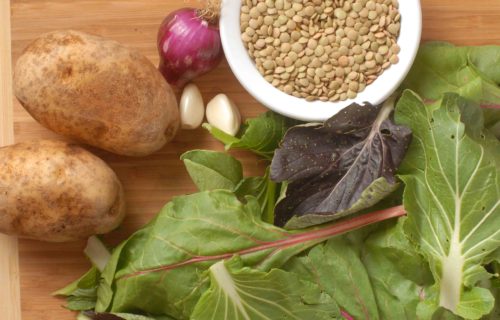 Did you know that 2016 is the International Year of Pulses?  Lentils are included int the pulse family, and I'm glad they are being highlighted this year as an awesome food.  They cook super fast, are high in protein AND fiber, and are inexpensive. Bonus – they fit perfectly into many dishes such as these chard potato lentil enchiladas!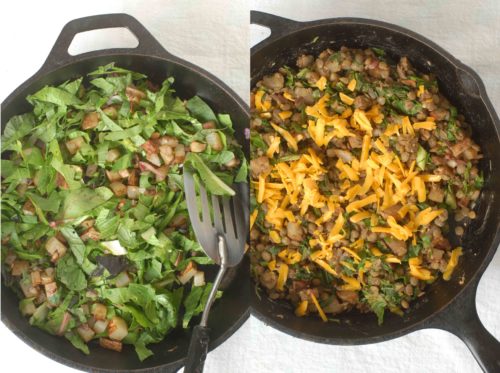 Variations on the Chard Potato Lentil Enchiladas recipe:
You can use any leafy green in place of the chard.  Kale or spinach are great examples.
Try a different carbohydrate if you don't have potatoes.  Brown rice or quinoa are great whole grain options.
I love to use salsa verde as an enchilada sauce, but you can use your favorite enchilada sauce or salsa.  Make your enchiladas to suit your tastes!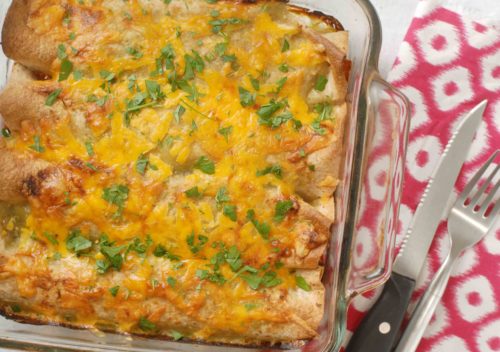 Chard Potato Lentil Enchiladas
Author:
Alison's Allspice
Ingredients
½ cup dry lentils, rinsed and drained
1 medium potato, diced
Splash olive oil
½ cup onion (about 1 small), diced
2 garlic cloves, minced
2 cups packed sliced chard leaves, including stems
½ tsp cumin
½ tsp chili powder
salt to taste
¾ cup salsa verde, divided
¾ cup shredded cheddar cheese, divided
4 whole wheat tortillas, 8 inches wide
Instructions
Preheat oven to 425°F.
In a small sauce pan, cover lentils with water. On the stove top, bring the lentils to a boil. Reduce to a slow simmer and cook for 20 minutes, or until tender. Drain well.
Meanwhile, combine the olive oil and potato in a heavy bottomed skillet (I prefer cast iron). Heat over medium heat until the potato starts to brown. Add the onions and stir. Continue to cook, stirring occasionally, until the potato is tender, about 10 minutes. Mix in garlic, chard, cumin, chili powder, salt to taste, ¼ cup salsa, ¼ cup cheese, and cooked lentils. Stir until combined and remove from heat.
Coat a 9x9 inch baking pan with grease to keep the tortillas from sticking (I use a misto with olive oil, a spread of butter will also do). Divide the lentil mixture into 4 portions. Scoop each portion down the center of a tortilla and place seam side down in the prepared dish. Top filled tortillas with salsa and cheese.
Bake in the preheated oven for 20 minutes, or until the cheese is starting to brown on top. Let cool for 5 minutes before serving.
Notes
Make this dish into 4 serving by adding a side. I like prepping the vegetables while the lentils simmer to eliminate the need for prep work.
This recipe was inspired by
Making Thyme for Health
, and was shared at the
This is How We Roll Link Up
, and
Meatless Mondays
.