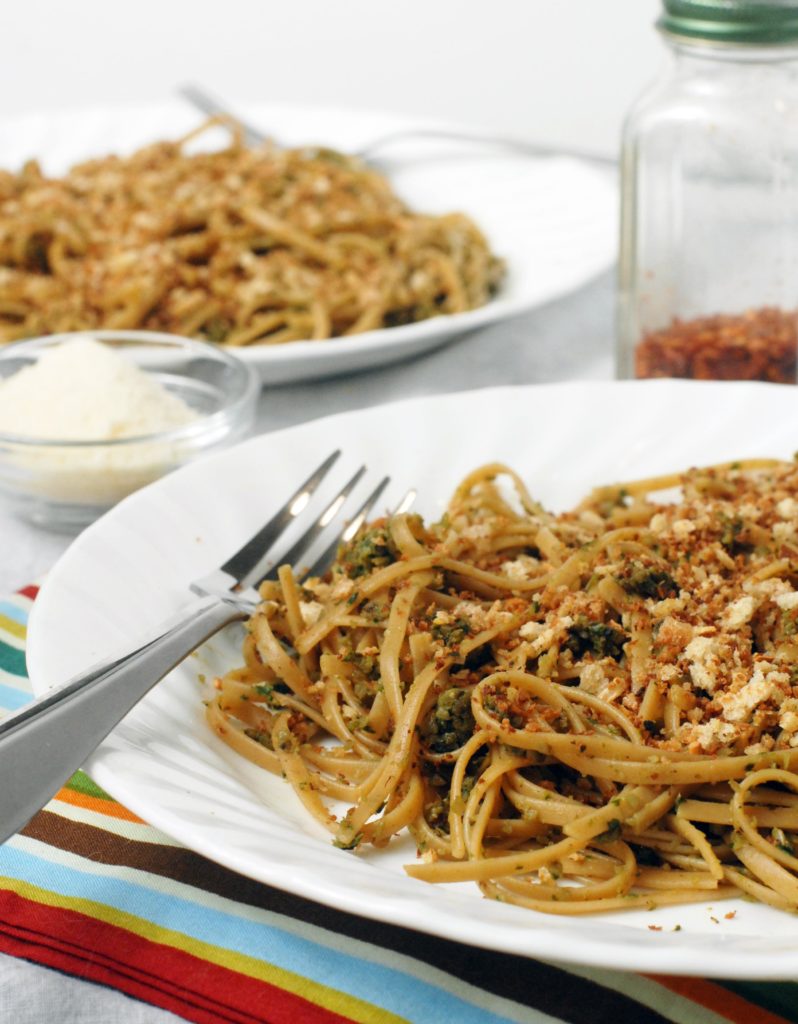 Leafy greens are one of the hardest foods for me to consume regularly.  Spinach and kale are the easy ones.  I devour kale salads when I bother to make them, and I try to mix spinach into dishes like quesadillas or lasagna.  I mixed chard into enchiladas before, but I was inspired by Joanne@Eats Well with Others to try a pesto!  This spicy cauliflower Swiss chard pesto pasta recipe was amazing!  Seriously, I surprised myself with how much I loved it, and I found a new way to enjoy more leafy greens like chard.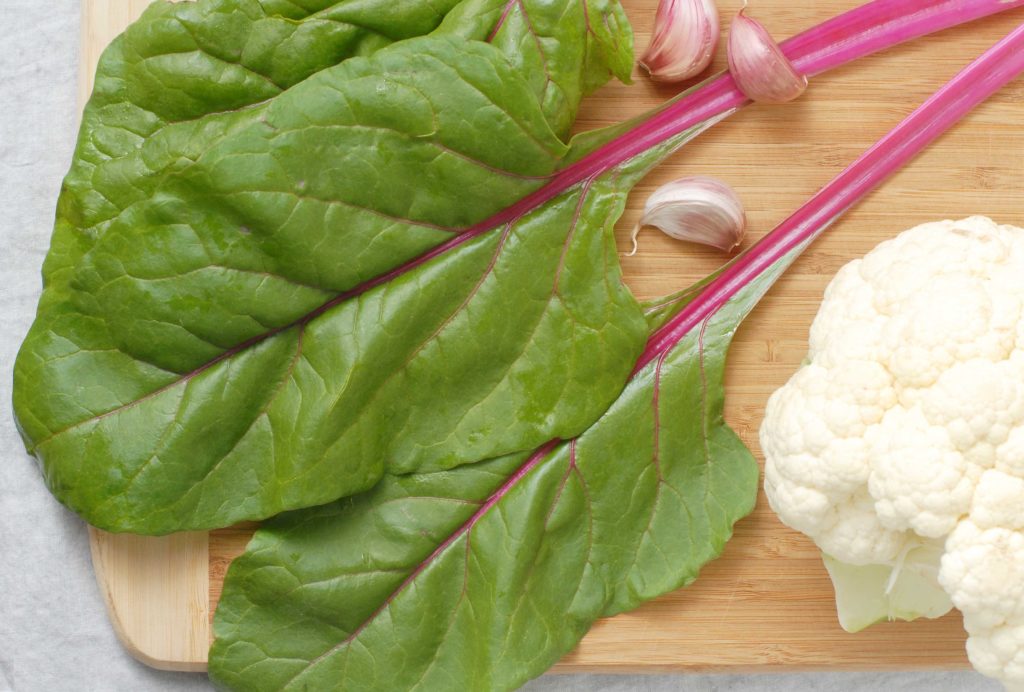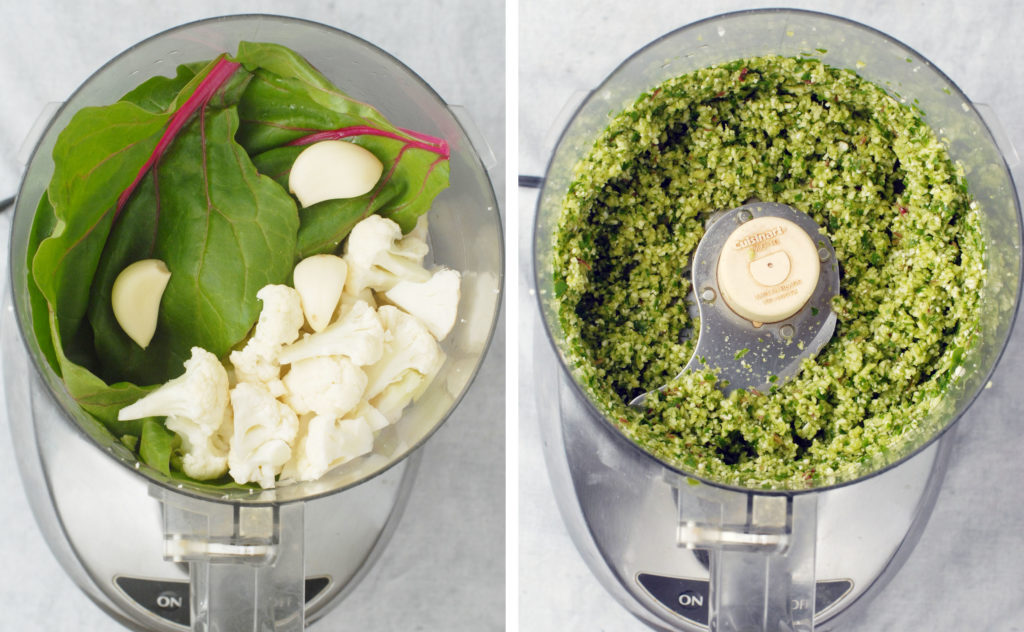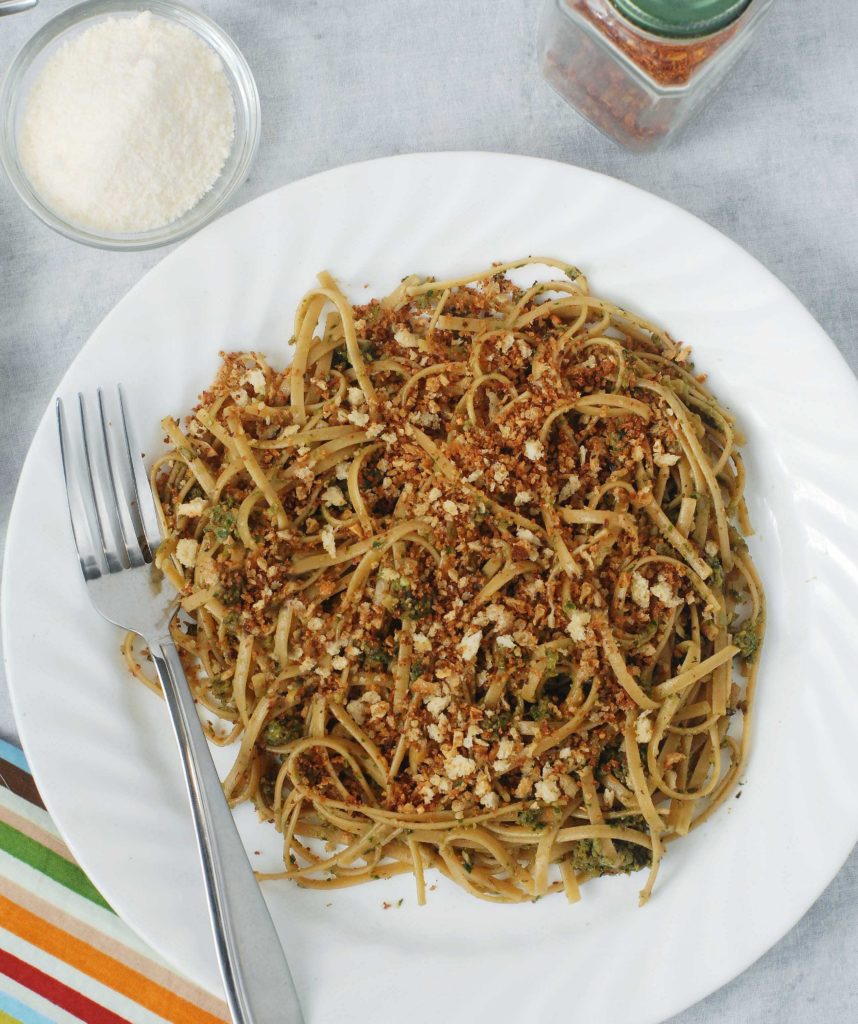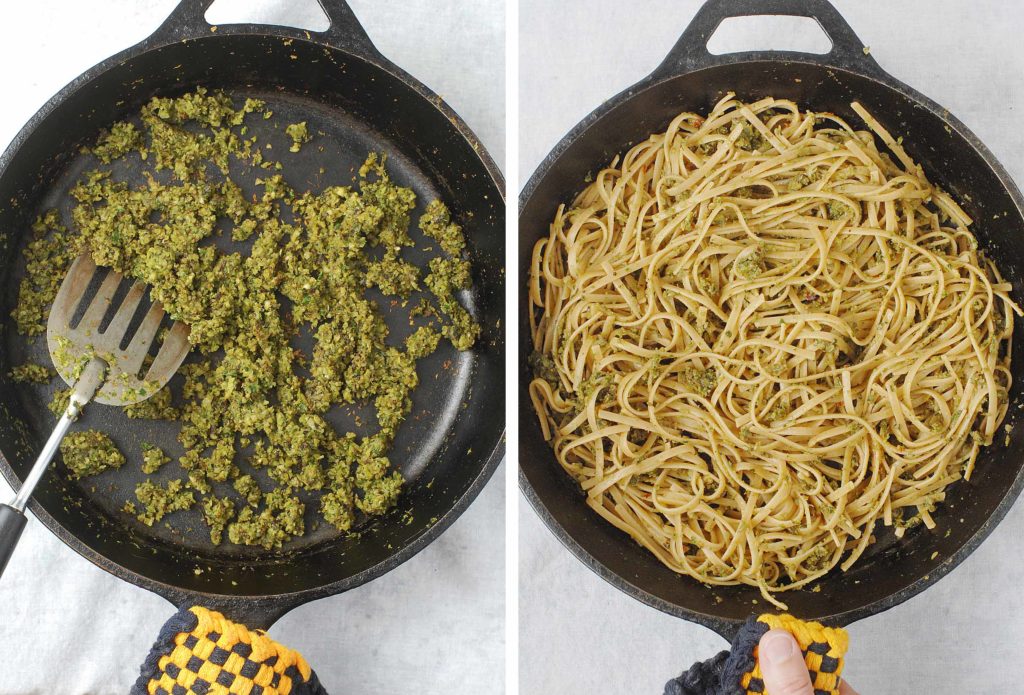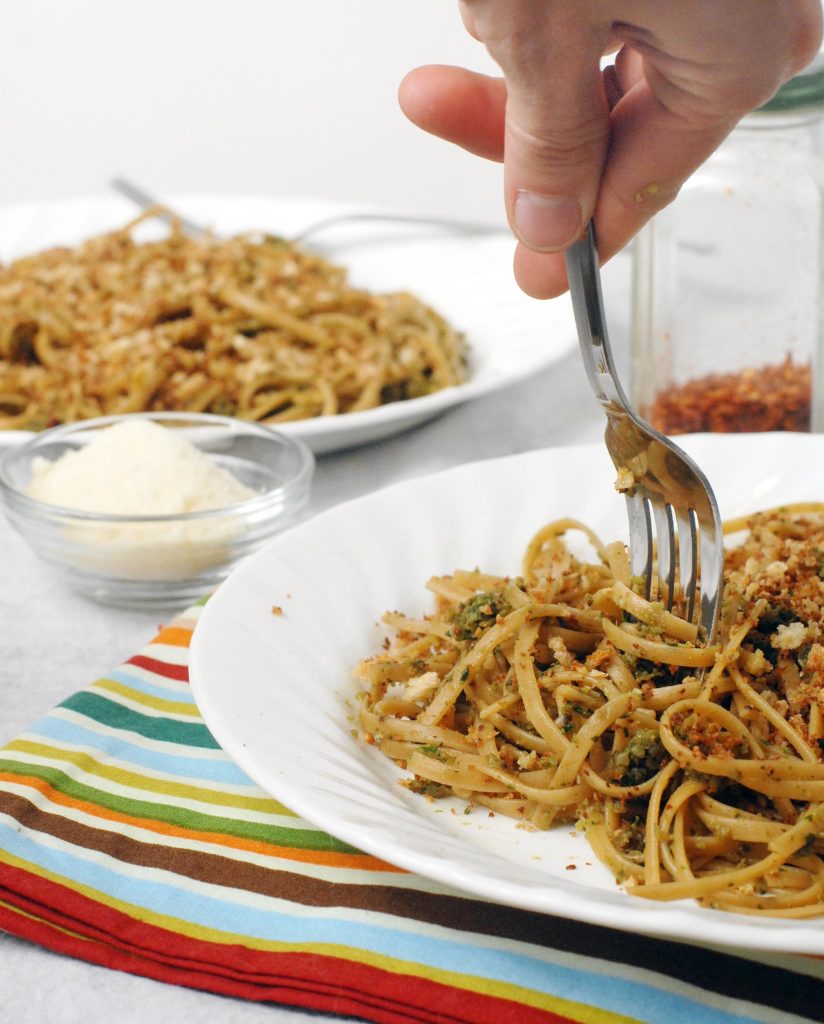 I did two special things with this pesto.  First, I used mostly cauliflower stem pieces.  Because I was blending it into a pesto, I thought it would be a good way to use up the stems and save to florets for a recipe like Buffalo Cauliflower.  Second, after making the pesto, I seared in a hot skillet to remove any bitterness from the chard, and give the raw garlic a little toasting.  I topped the pasta with toasted garlic breadcrumbs to add a little more texture, and my husband even asked for seconds of this veggie filled dish!
Variations to the Spicy Cauliflower Swiss Chard Pesto Pasta recipe:
Try this recipe with other greens.  Beet greens, turnip greens, or spinach would be good choices.
If you don't want a spicy pasta, omit the red pepper flake, cut back the garlic, and use more cauliflower florets than stems.
This dish has a lot of garlic. If your not a garlic lover, you can omit the garlic from the pesto and/or toasted bread crumbs.
Spicy Cauliflower Swiss Chard Pesto Pasta
Spicy cauliflower Swiss chard pesto pasta is a great way to enjoy leafy greens. Top your pasta with garlic toasted bread crumbs for a truly delicious meal!
Author:
Alison's Allspice
Ingredients
Pesto
3 large chard leaves, stem removed below the leaf
3 large garlic cloves
1 cup cauliflower stems, chopped
½ cup cauliflower florets
¼ tsp salt, black pepper, and red pepper flake, each
1 TBS olive oil
Toasted Bread Crumbs
1 garlic clove, minced
1 tsp olive oil
½ cup whole wheat bread crumbs
Pasta
5 oz whole wheat pasta
¼ cup grated Parmesan
Instructions
Pesto
Place chard, garlic, and cauliflower in a large food processor and run until very finely chopped and almost paste-like.
Add salt, pepper, and red pepper flake. Pulse a few times to mix.
Heat a large heavy bottomed skillet over medium high heat. Add olive oil and pesto, stirring to combine. Cook for 10 minutes or until the chard starts to stick to the pan. Remove from pan and wipe clean.
Toasted Bread Crumbs
Add garlic and 1 tsp olive oil to the hot skillet. Saute until the garlic turns golden brown, about 30 seconds. Stir in bread crumbs and stir to coat with oil. Toast in skillet for 3-5 minutes, stirring frequently, until the bread crumbs are golden brown and fragrant.
Pasta
Cook pasta according to package directions. Drain well.
Toss pasta with pesto. Divide between two plates and top with toasted bread crumbs. Serve immediately.
Notes
Nutrition information is approximate based on the brands I buy.
Nutrition Information
Serving size:
2
Calories:
522
Fat:
22g
Carbohydrates:
53.5 g
Fiber:
18g
Protein:
29g
Recipe adapted from
Joanne-Eats Well with Others
.  I shared this recipe at
Meatless Monday
,
Meat Free Monday
,
Made by you Mondays
,
Melt in your Mouth Monday
, and
Tasty Tuesday
.