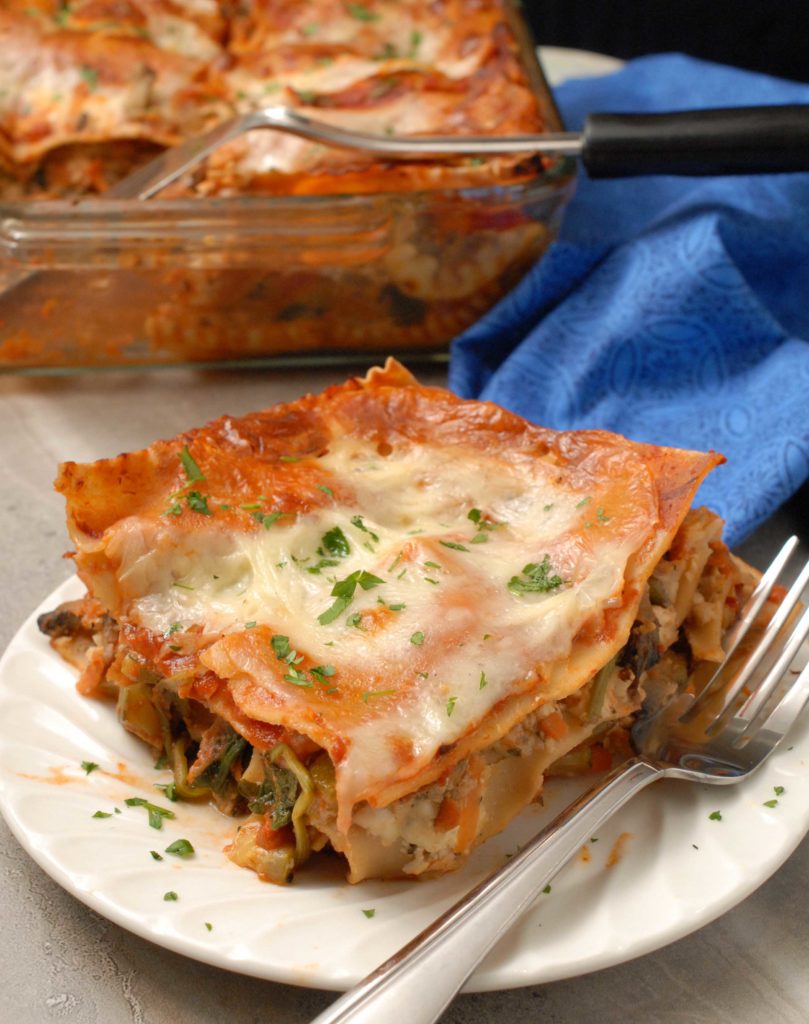 Back when I posted my Lentil Loaf recipe I told you all that meatloaf was a favorite food of mine as a child.  Well, my other favorite food was lasagna.  Mom would always ask us what meal we wanted to have for our birthdays, and I always chose lasagna.  Now I make a veggie version, and I love this small batch veggie lasagna because it only makes 4 servings.  With only two of us in the house, we don't have to eat lasagna until we are tired of it!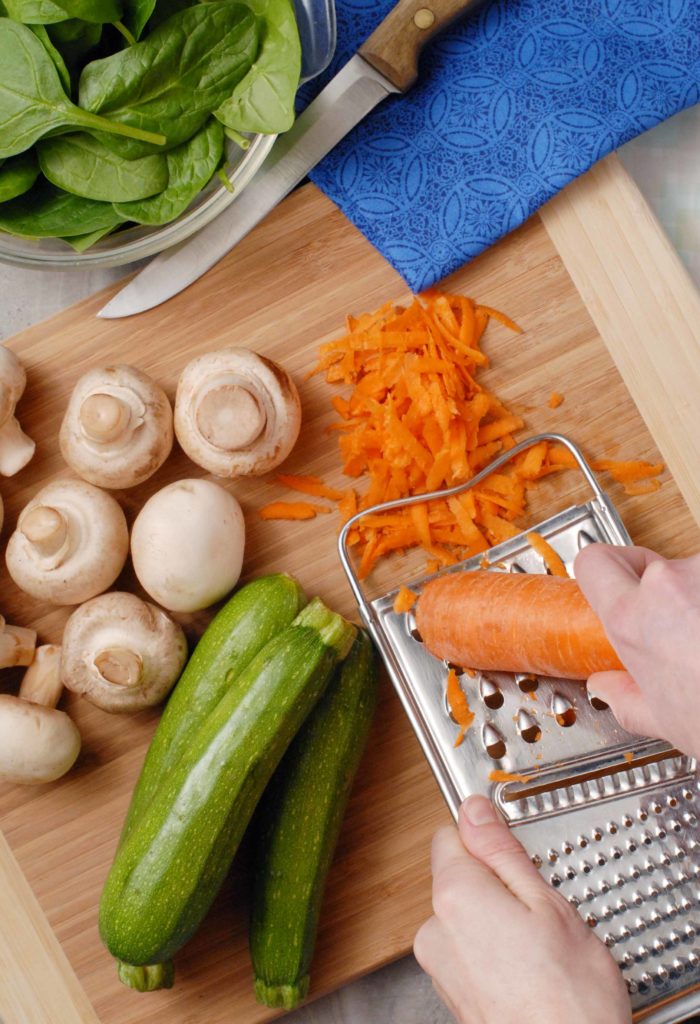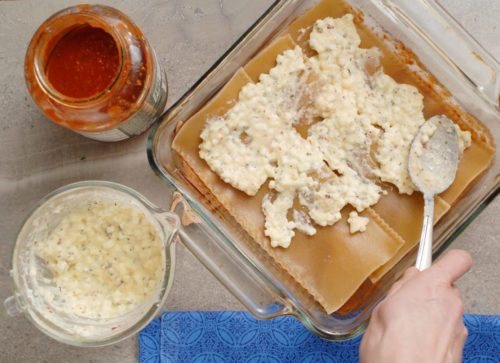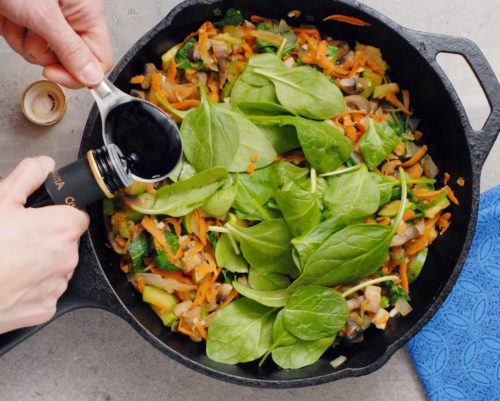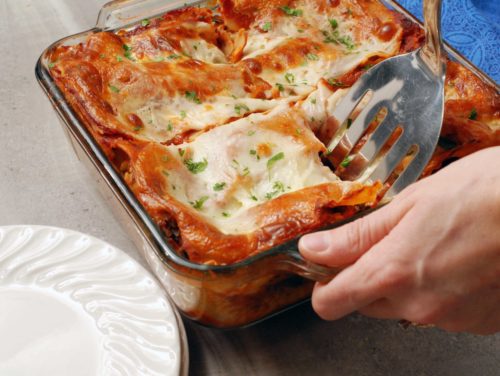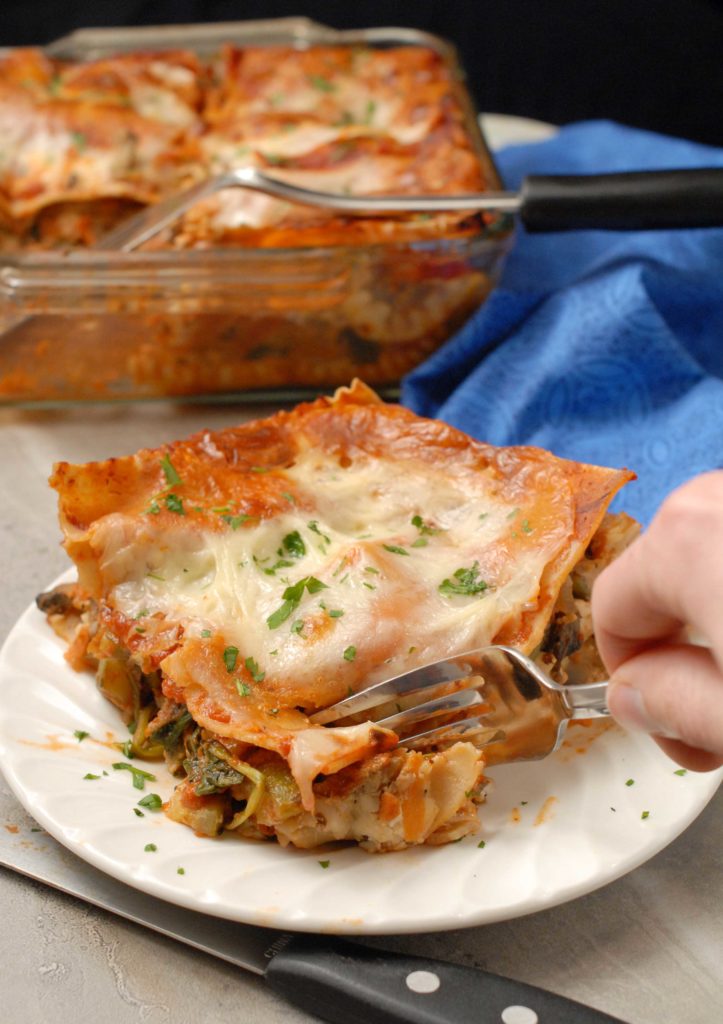 What are your favorite veggies to put into a veggie lasagna?  Most people use mushrooms because they add so much umami flavor, and spinach is another traditional lasagna veggie.  I love to add zucchini for some bulk; it doesn't cook down as much as the other veggies.  Finally, carrots are a must in my lasagna because they add a subtle sweetness that pairs well with the marinara.
Variations to the Small Batch Veggie Lasagna recipe:
If you want to make a full 9×13 inch pan of lasagna to feed a crowd, increase the recipe by 50%.  If you double it, you will have too much!
Adding a splash of vinegar to the veggies increases the complexity of the flavors.  I used balsamic vinegar, however, red wine vinegar or sherry vinegar would also work well.
Ricotta cheese is more commonly used in lasagna, but I prefer cottage cheese.  Use which ever cheese you like the most.
Small Batch Veggie Lasagna
Author:
Alison's Allspice
Ingredients
Veggie Filling
1 small onion, diced
Splash Olive oil
8 oz mushrooms. sliced
3 garlic cloves, minced
2 small or 1 medium zucchini, diced
1 cup grated carrot
3 large handfuls spinach (2-3 cups)
1 TBS Balsamic vinegar
Salt and pepper to taste
Cheese Filling
1 cup cottage cheese
1 large egg
¼ cup Parmesan cheese, grated or shredded
1 tsp dried basil
½ tsp dried oregano
¼ tsp salt, pepper, and red pepper flake, each
Lasagna
9 whole wheat lasagna noodles
16 ounces marinara (2 cups)
6 slices provolone cheese
Instructions
Veggie Filling
In a large heavy bottomed skillet, saute the onion in a splash of olive oil until translucent. Add mushrooms and garlic. Saute until the mushrooms release their liquid, about 8 minutes.
Add zucchini to skillet, and cook another 5 minutes. Mix in carrots, spinach, balsamic, salt and pepper and stir until the spinach is wilted. Remove from heat.
Cheese Filling
In a medium bowl, combine all ingredients for the cheese layer.
Lasagna
Cook noodles according to package directions.
Spoon about a ½ cup sauce into the bottom of a 9x9 inch glass baking dish.
Place 3 noodles over the sauce so that they are overlapping. Spread half of the cheese filling on top of the noodles, top with half of the veggie filling, and top veggies with a ½ cup marinara sauce.
Repeat step 3 one more time.
Top lasagna with the final 3 noodles, remaining sauce, and provolone slices.
Cover the lasagna with foil and bake at 400 F for 25 minutes. Remove the foil and bake 15 more minutes, or until the cheese is starting to brown. Let cool some before serving.
Notes
Lay cooked lasagna noodles out on parchment paper so they are not touching while you are layering the lasagna.
This recipe was shared at the
What's Cookin Wednesday Link Up
 and the
This is How We Roll Link Up
!