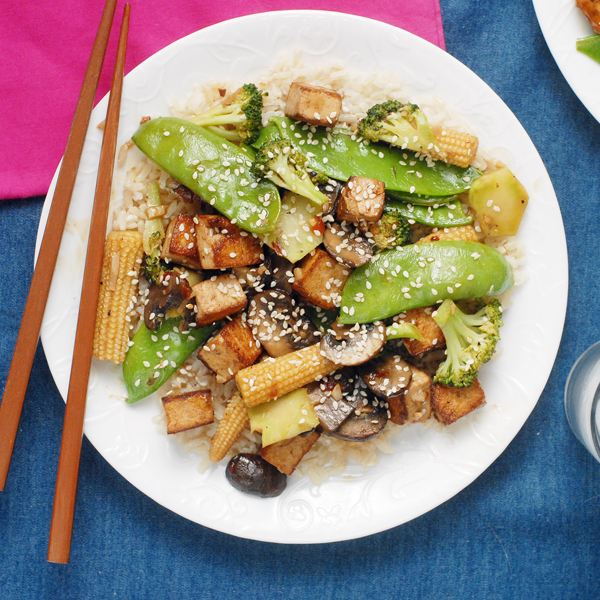 Do you guys ever get a feeling that you want to dive into a pile of veggies to reset and refresh??  Eating meals that are heavy with vegetables helps me to feel my best.  I can dig in until I'm stuffed and not feel weighed down.  Veggies are totally guilt free as well.  Recipes like this early summer vegetable stir fry with crispy tofu was one of my favorite things to eat when I was trying to loose weight.  Now this meal is a total comfort food, and I love to indulge myself with it!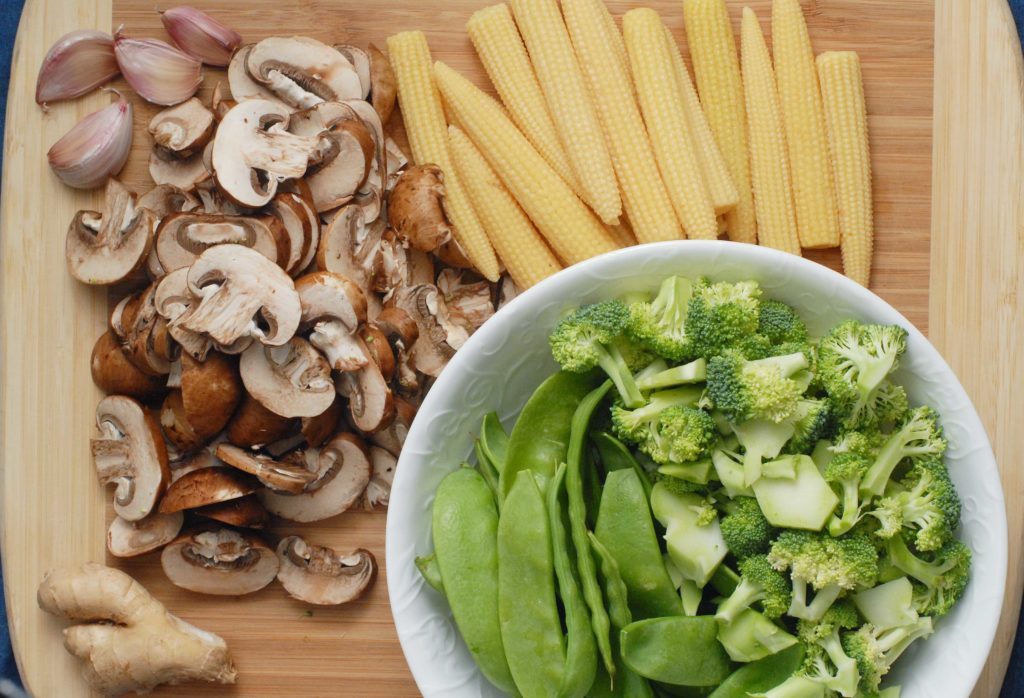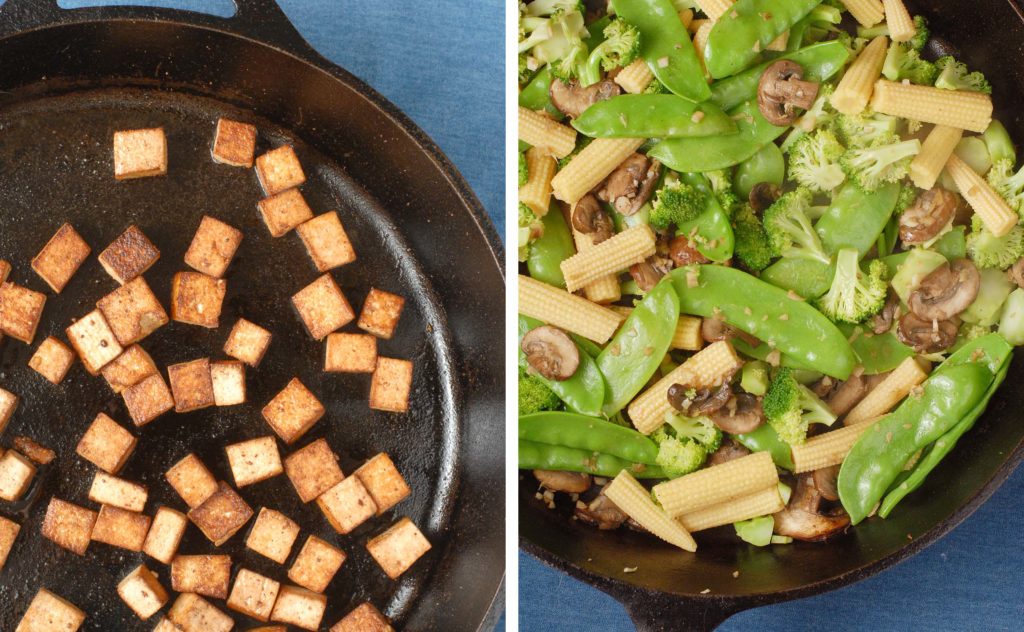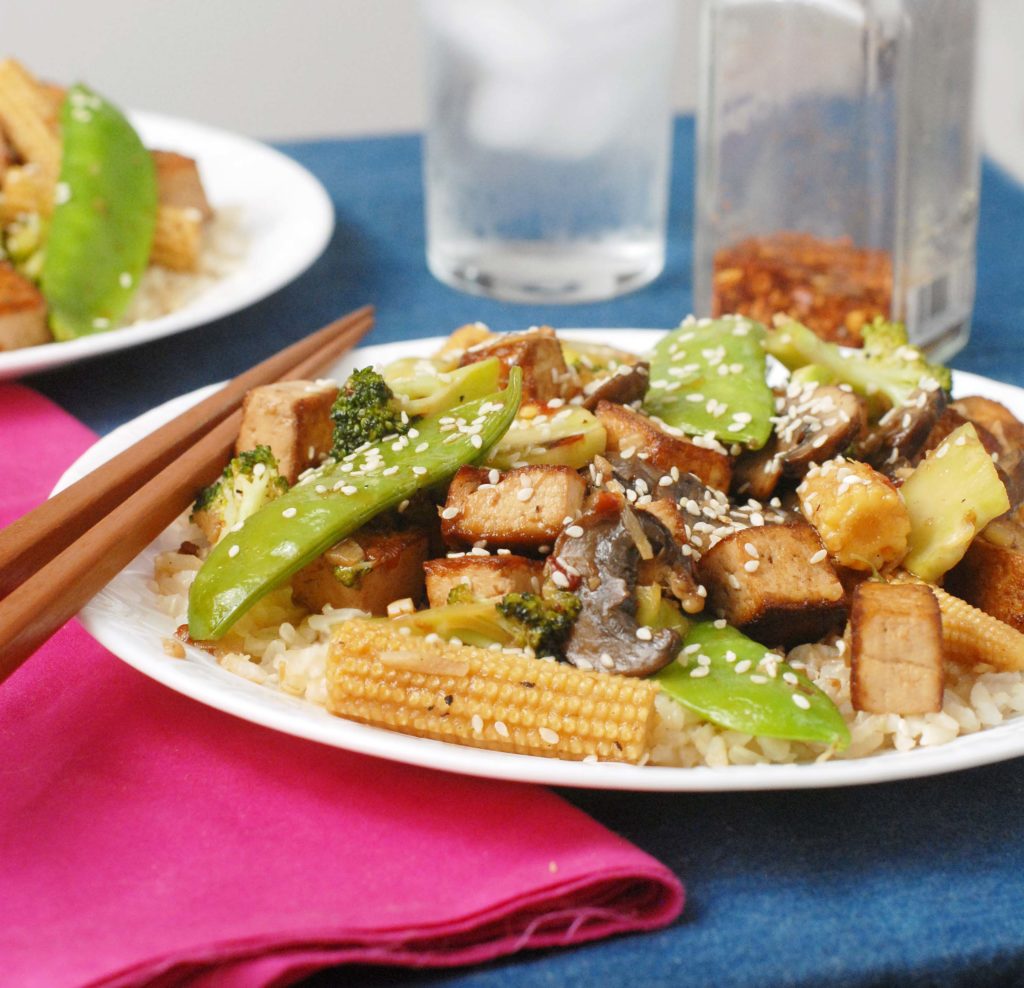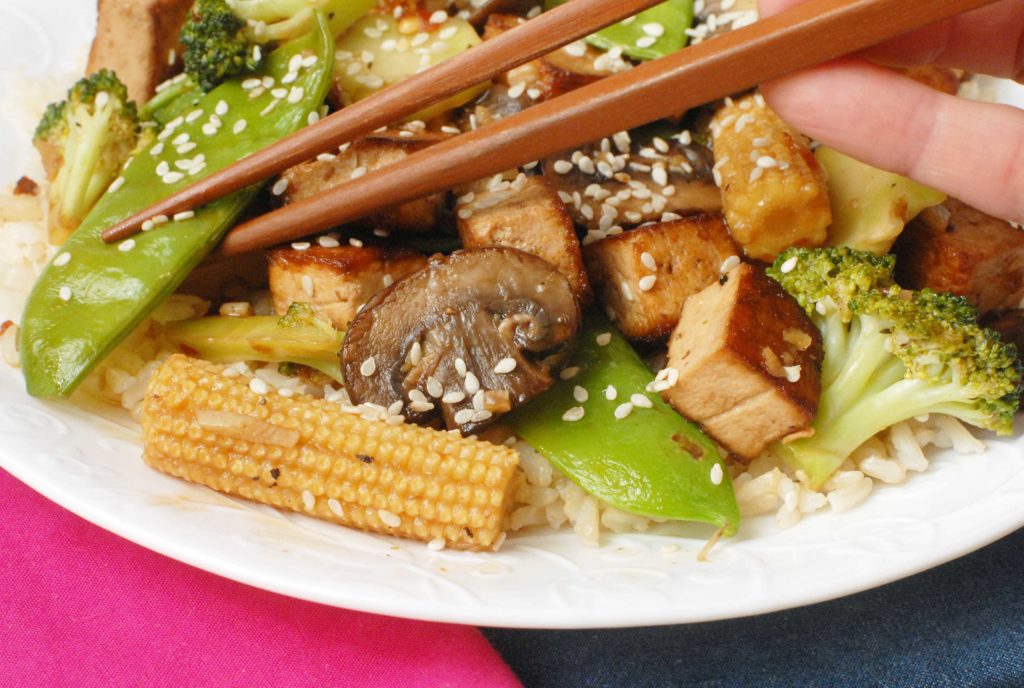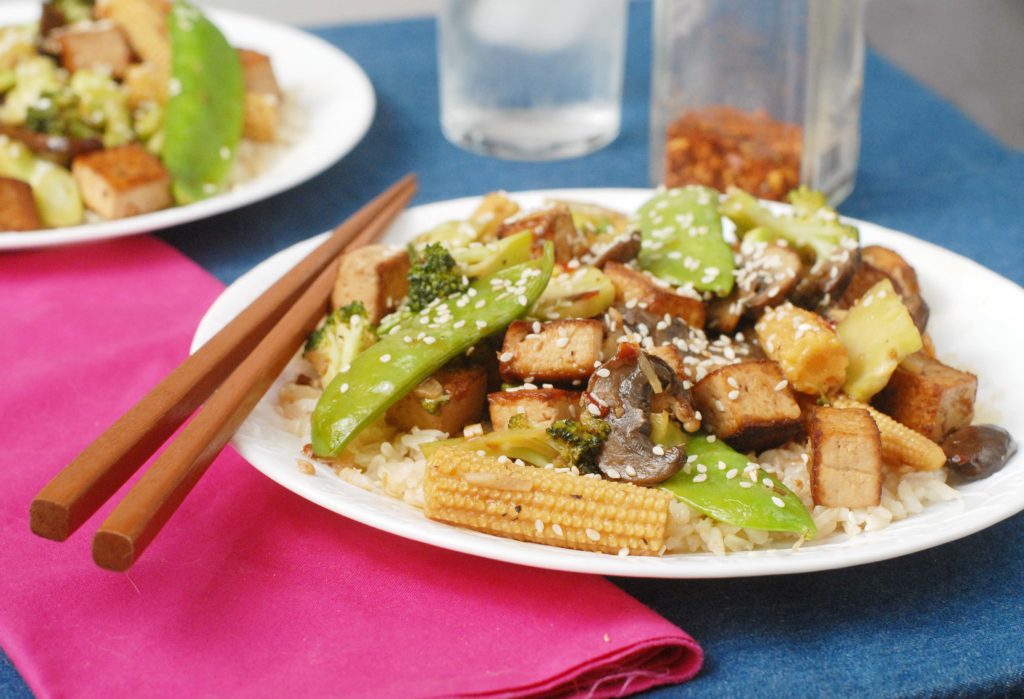 I find a lot of inspiration for my food from my local farmers market.  Right now it's filled with summer's first veggies like broccoli and snow peas.  I added mushrooms for umami, and baby corn for a little more color.  I love the crispy tofu in this stir fry as well.  The secret is to use a large pan and cook in batches so that the tofu doesn't steam. The tofu needs lots of space and a cooking surface that will hold heat well.  I like this 15 inch Lodge Cast Iron Skillet
 because all the veggies will fit into the pan as well.
Variations to the Early Summer Vegetable Stir Fry with Crispy Tofu recipe:
Use vegetables that are in season.  Later this summer bell pepper and summer squash will be great options.

If you don't like tofu, use your favorite protein.  I might suggest tempeh or chickpeas.

To make this really

spicy

, mix in another tablespoon of red chili paste, such as

Sambal Oelek

.
Early Summer Vegetable Stir Fry with Crispy Tofu
This early summer vegetable stir fry with crispy tofu is a delicious way to enjoy your vegetables. Pan fry the tofu in an over-sized pan to make it crispy!
Author:
Alison's Allspice
Ingredients
1¼ cups dry brown rice
16 oz block tofu
¼ cup reduced sodium soy sauce or tamari, divided
¼ cup rice vinegar, divided
1 tsp sriracha
1 TBS red chili paste (such as sambel olak)
2 TBS brown sugar
2 TBS water
1 tsp corn starch
1½ -2 TBS canola oil. divided
4 large garlic cloves, minced
1 inch fresh ginger, peeled and minced (about 1 TBS)
8 oz mushrooms, sliced
1½ cups snow peas (25-30 peas)
1 large broccoli crown, cut into stem pieces and florets
15 oz can baby corn, rinsed, drained, and cut in half
Sesame seeds, for garnish (optional)
Instructions
Cook rice in a rice cooker according to manufactures directions.
Press tofu between two plates, placing something heavy (28 oz canned food) on top to press. After 15 minutes, drain tofu and cut into cubes.
Mix together 1 TBS soy sauce or tamari, 1 TBS rice vinegar, and 1 tsp sriracha. Pour over the tofu and toss to coat. Let this marinade for 20 minutes or until most of the liquid is absorbed.
Meanwhile, mix together the remaining soy sauce or tamari and rice vinegar with the red chili paste and brown sugar. Mix together water and corn starch. Pour into the soy sauce mixture and stir until combined. Set aside.
Heat a large heavy bottomed skillet over medium high heat. Add 1 TBS canola oil (or other high heat oil) and half of the tofu. Cook uncovered flipping the tofu pieces every 4-5 minutes, or until browned and crispy (~15 minutes total). Remove from pan and add the second half of the tofu and cook until browned. Add some additional canola oil if necessary (I did not need to add any more, but this will vary based on tofu brand and skillet).
Add ½ TBS canola oil to the hot skillet. Stir in garlic and ginger. Saute 30 seconds, and mix in mushrooms. When the mushrooms start to release their heat (about 3-5 minutes), add the broccoli and snow peas. Cover and cook until they turn bright green, about 2 minutes.
Whisk the soy sauce mixture to lift any settled corn start. Mix it and the baby corn into the stir fry. Cook 1 minute, or until the sauce starts to bubble. Remove from heat and serve over rice. Garnish with sesame seeds if desired.
I shared this recipe at Meat Free Monday,
Meatless Monday
,
Melt in your Mouth Monday
,  
Made by you Monday
,
CookBlogShare
, 
Tasty Tuesday
,
Two Cup Tuesday
,
Plant Based Potluck
, and
Healthy Living Link Up
.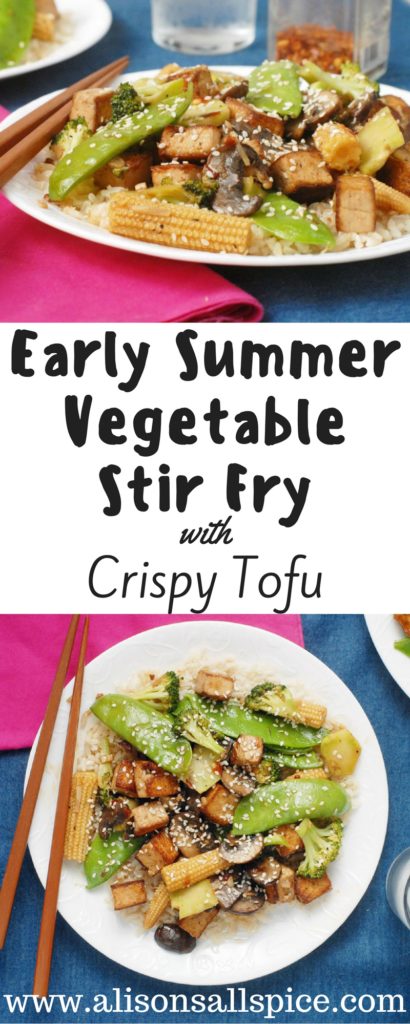 This post contains affiliate links for products I use and recommend. If you purchase through those links, I may earn a commission at no additional cost to you.  Thank you for supporting Alison's Allspice.