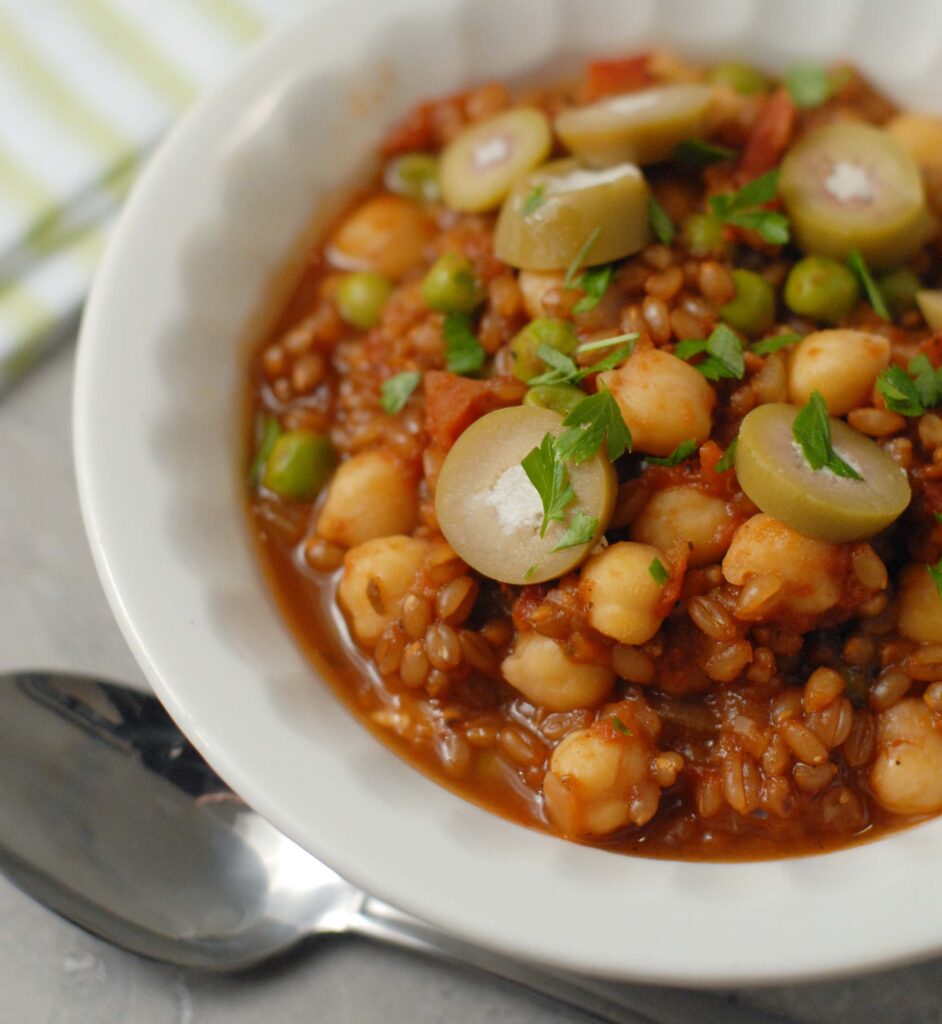 Wheat berries are my favorite grain to cook with.  They are inexpensive, and the texture is outstanding!  I feel like they get overlooked so often because gluten free grains are popular right now.  Also, fancier wheat grains are often used by recipe developers, so they get all the hype.  I have tried both farro and kamut (ancient wheat grain varieties), and I don't think they are worth the extra money when compared to standard wheat berries.  This one pot Spanish wheat berries with chickpeas and olives is a take on arroz con pollo, made vegetarian of course!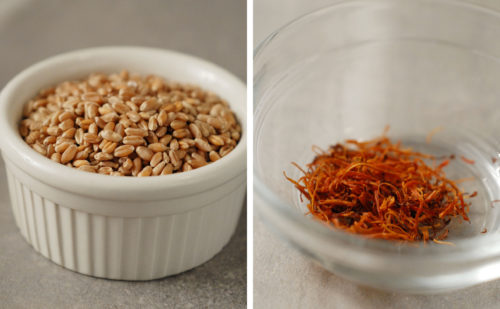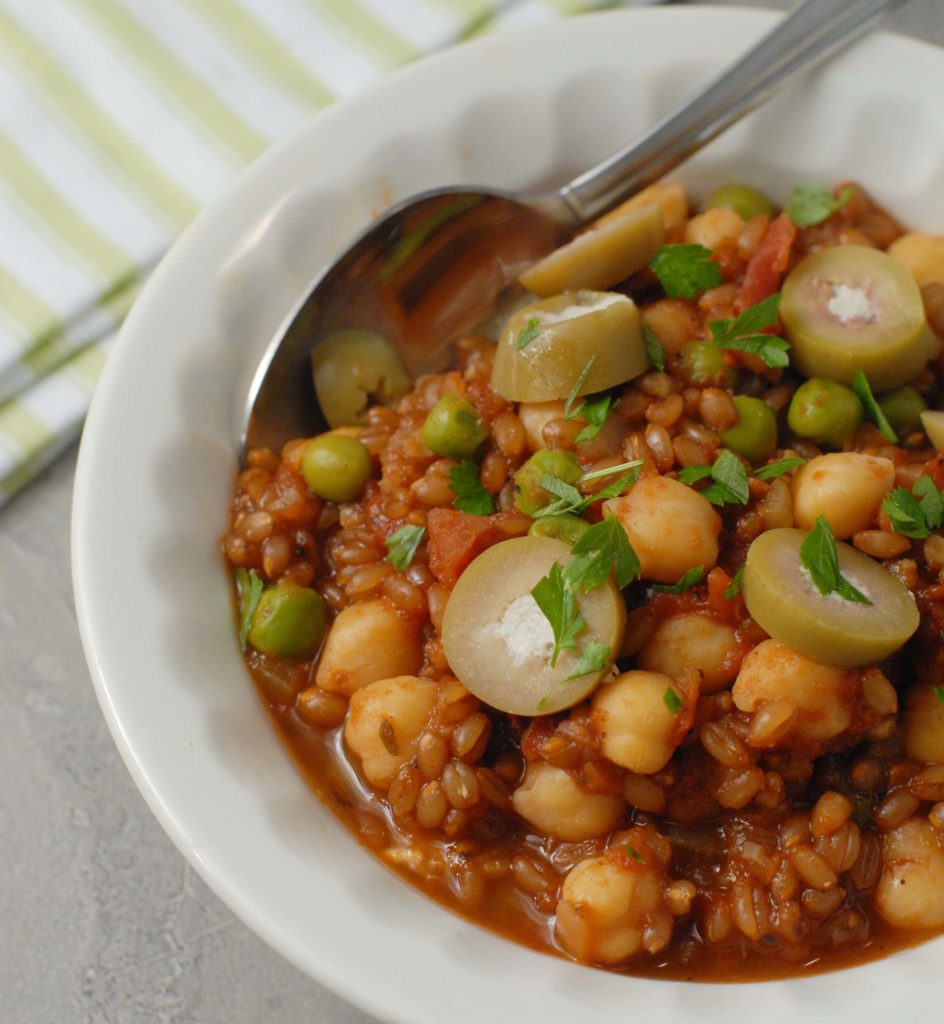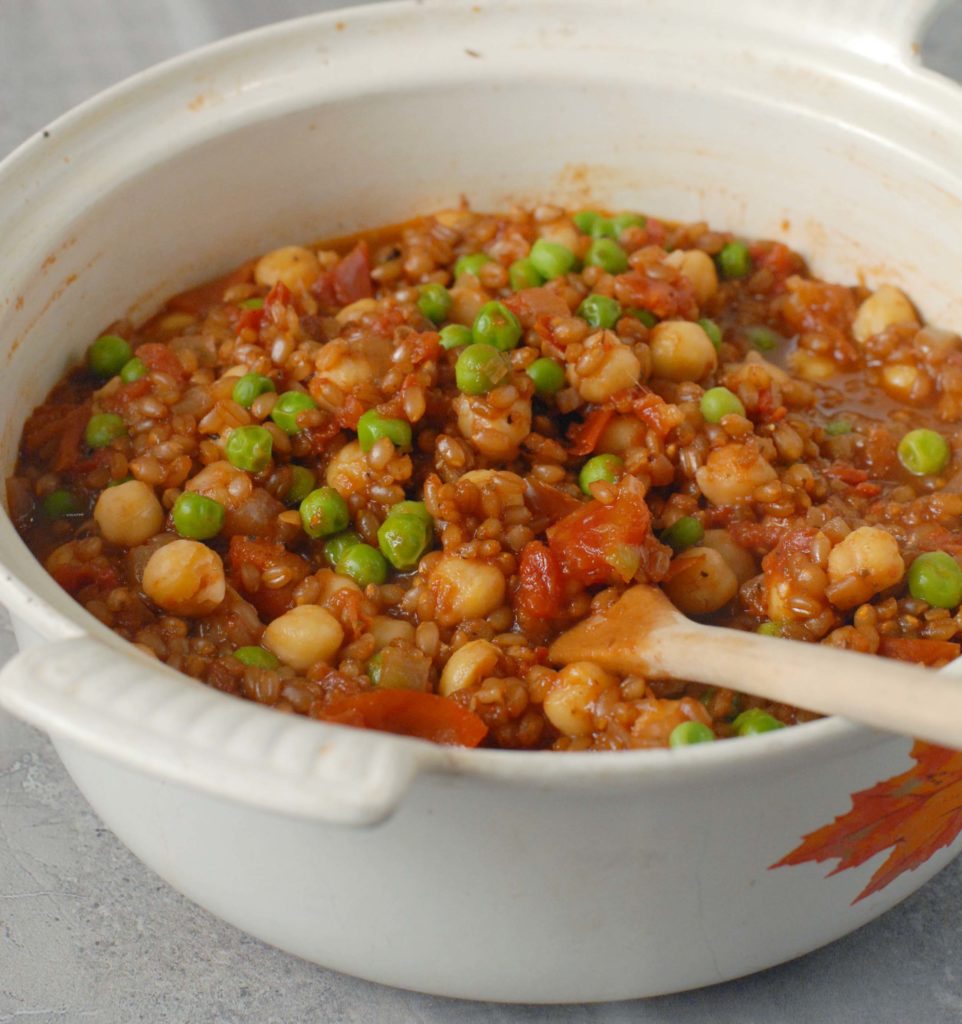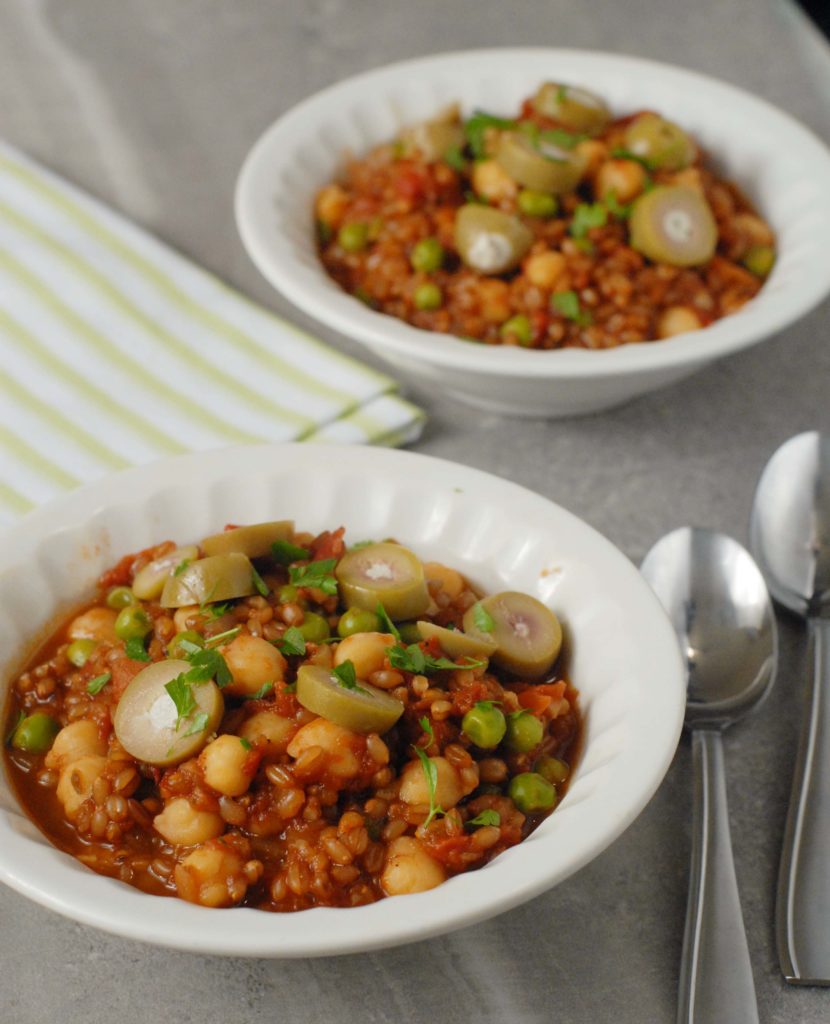 So what are wheat berries you ask?  Great question!  They are the whole grain produced by wheat plants.  Wheat berries can be ground to make wheat flour or left whole to cook. Wheat berries are cooked just like any other grain, but they take a bit longer.  You need to simmer them in water for 45-50 minutes to cook them fully.  If you like really chewy texture, you might stop the cooking at about 40 minutes.  I always taste test my wheat berries to make sure I have cooked them to the right texture.  Enjoy!
Variations to the One Pot Spanish Wheat Berries with Chickpeas and Olives:
Use your favorite type of olive for garnish.  As you can see in the photos, mine were stuffed with blue cheese! Garlic stuffed green olives or Kalamata olives would also be excellent choices.
 Saffron is an expensive, but tasty seasoning.  Use it sparingly because too much will make the dish bitter.  You can also substitute with turmeric.
I love the chewy texture of red wheat berries for this dish.  Softer white wheat berries would also be great.  If you need to finish dinner in a hurry, try a quick cooking grain, like bulgar or quinoa.
One Pot Spanish Wheat Berries with Chickpeas and Olives
Author:
Alison's Allspice
Ingredients
1 cup onion, diced
Splash olive oil
5 garlic cloves, minced
1 tsp oregano
½ tsp salt
½ tsp cumin
¼ tsp black pepper, red pepper flake, and saffron, each
Splash sherry wine or white wine
2 cups broth
14 oz can diced fire roasted tomatoes
1 cup hard red wheat berries
1½ cups cooked chickpeas (or 1 can, rinsed and drained)
1 cup green peas (frozen and thawed)
1 TBS apple cider vinegar
12 green olives, sliced
Parsley, for garnish
Instructions
In a large pot or dutch oven, combine onion and a splash of olive oil over medium heat. Saute until the onion is soft, about 5 minutes.
Add garlic through saffron and saute 1 more minute. Deglaze the pan with sherry or white wine.
Mix in tomatoes, broth, wheat berries, chickpeas and peas. Simmer for 45-50 minutes, or until the wheat berries are tender.
Remove from heat and stir in apple cider vinegar. Divide mixture among 4 bowls and top with olives and parsley.
This recipe was inspired by
Cooking Light
. This recipe was shared at the
Sugar and Spice Link Party
,
Healthy Vegan Friday
, and featured at 
Plant Based Potluck Party
, and
Meat Free Mondays
!
My recipe was featured at: