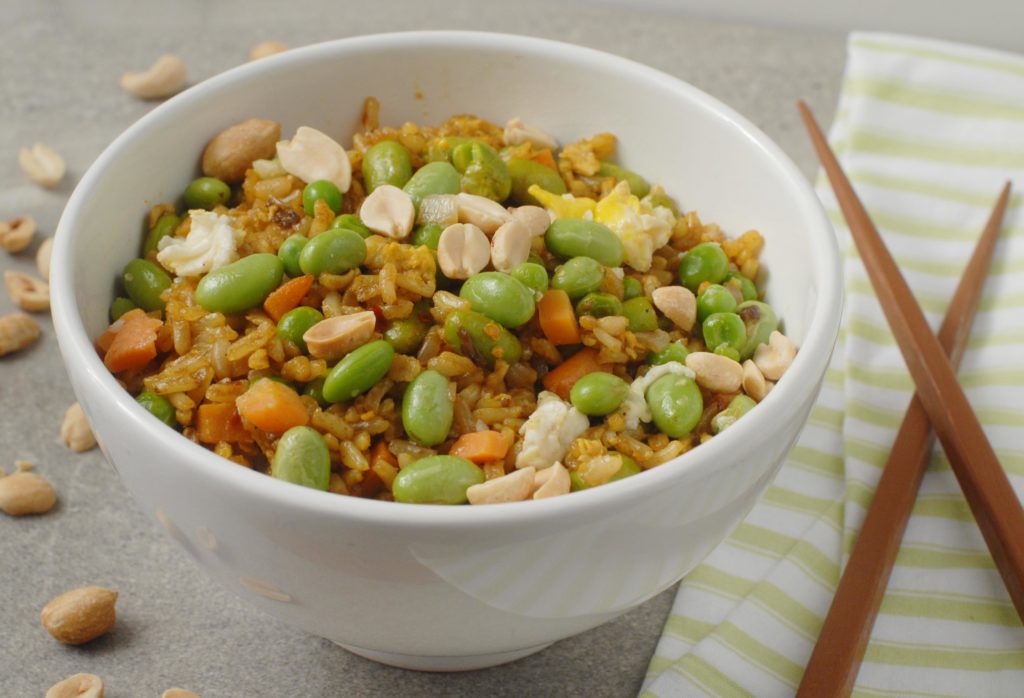 Turmeric is all the craze right now because of its huge number of health benefits.  Have you heard about all the things turmeric can do for you?  It is most well known for reducing inflammation, but also reduces risks of Alzheimer's disease, and has been equally as effective at preventing and treating cancers as pharmaceutical drugs (Duke 2007).  In the past, I have only used turmeric in my curry dishes.  Now, I am trying to put it into more and more dishes to enjoy it's health benefits.  Try it in my turmeric fried rice with edamame  recipe!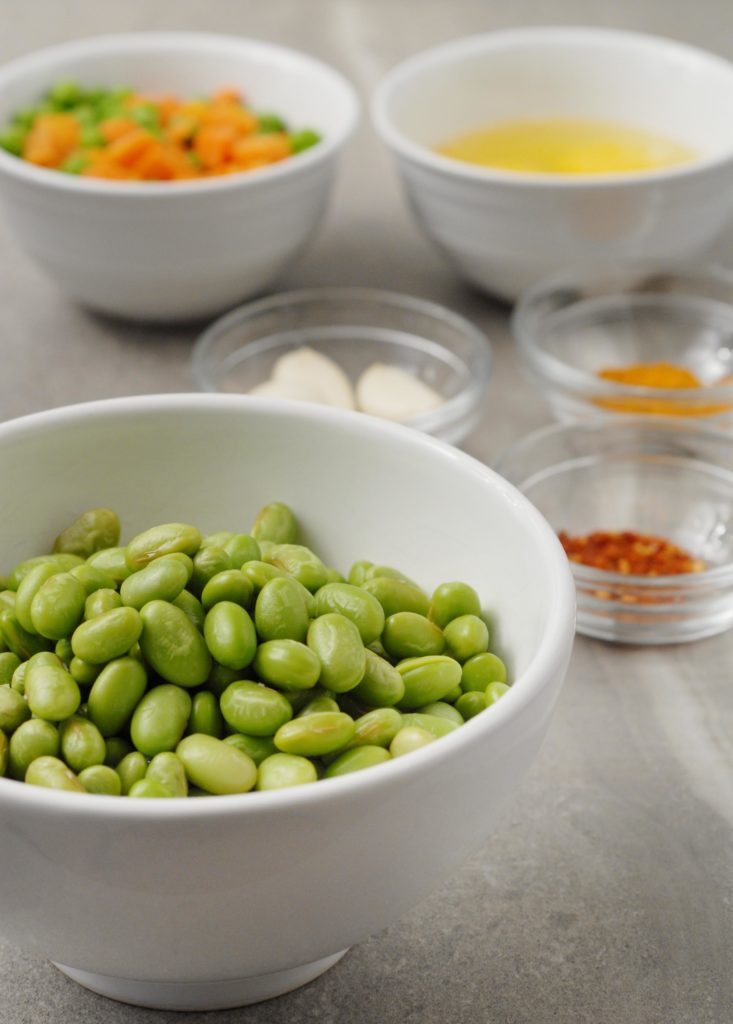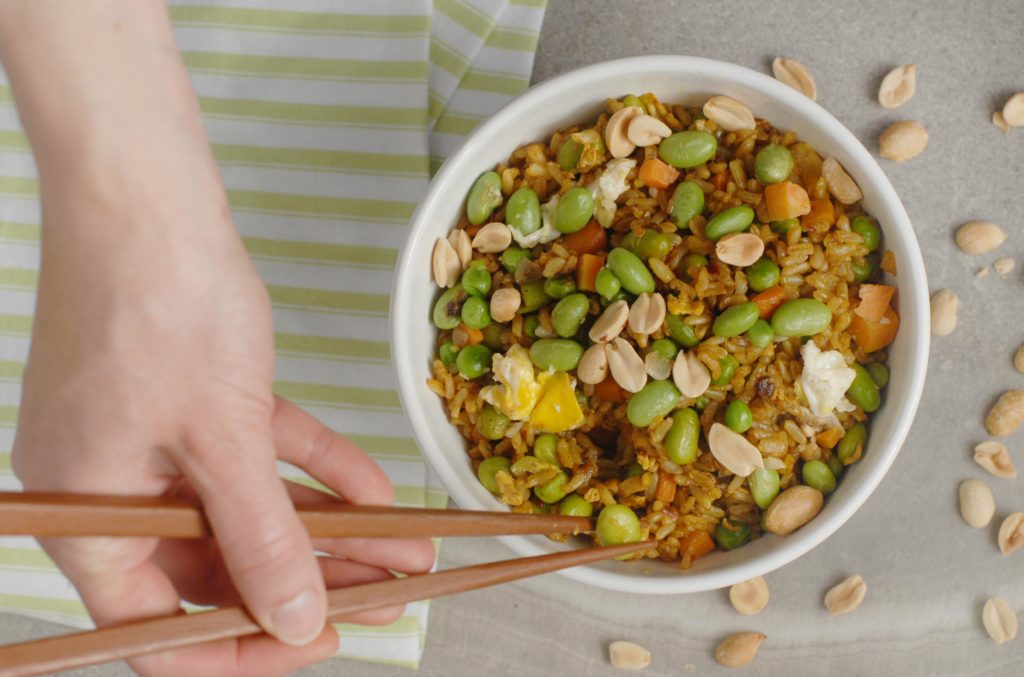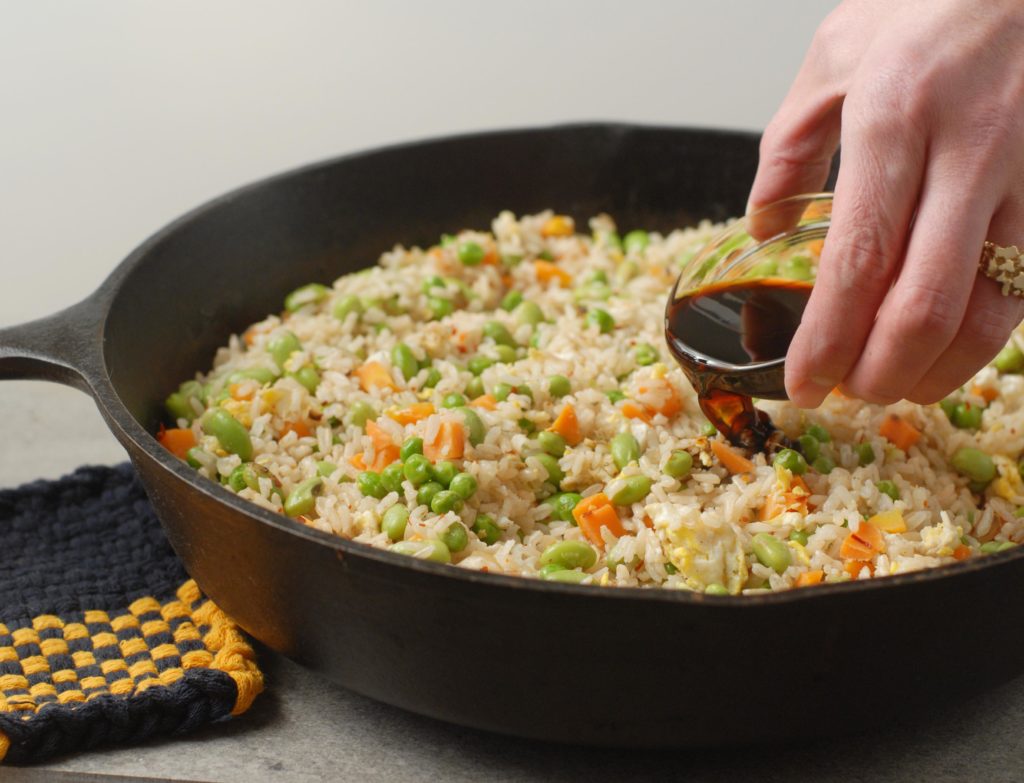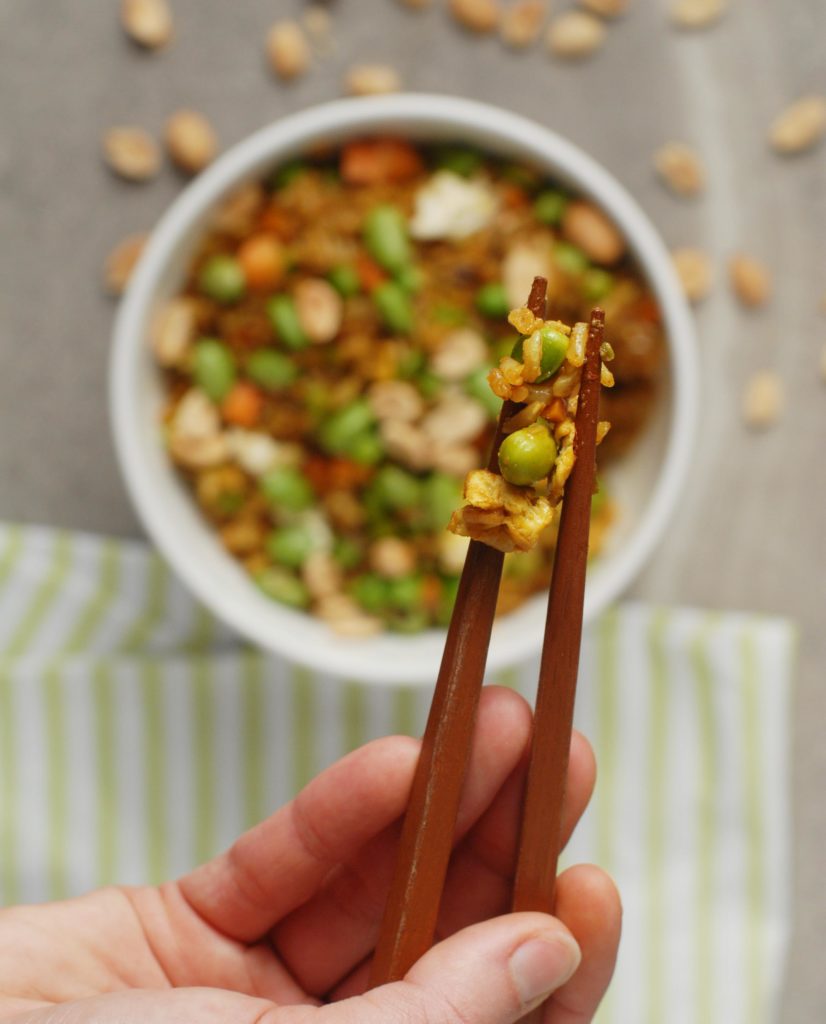 I love fried rice because it it easy to make, goes together quickly, and lasts well as leftovers.  Turmeric paired very well with the other flavors in this dish.  I used edamame as my protein because it is easy to keep in the freezer as a pantry staple.  I have made this recipe so many times because I always have the ingredients on hand, which is key for my busy schedule!
Variations to the Turmeric Fried Rice with Edamame recipe:
If you want to reduce carbohydrates in this recipe, try mixing in some cauliflower rice in place of brown rice.  Or try steel cut oats (31 g carbs) or quinoa (32 g) in place of the rice (37 g).
Through in whatever fresh and seasonal vegetables that you have on hand.  The more the merrier!
If you want to make this fried rice vegan, simply omit the eggs.  It will be just as good without them!
I don't recommend adding more soy sauce or salt to this dish because there are already 4 servings.  If your palate really wants more, try a sprinkle of sea salt flakes on your plate, and don't mix them in.  The flakes will hit your tongue first giving you that salty satisfaction.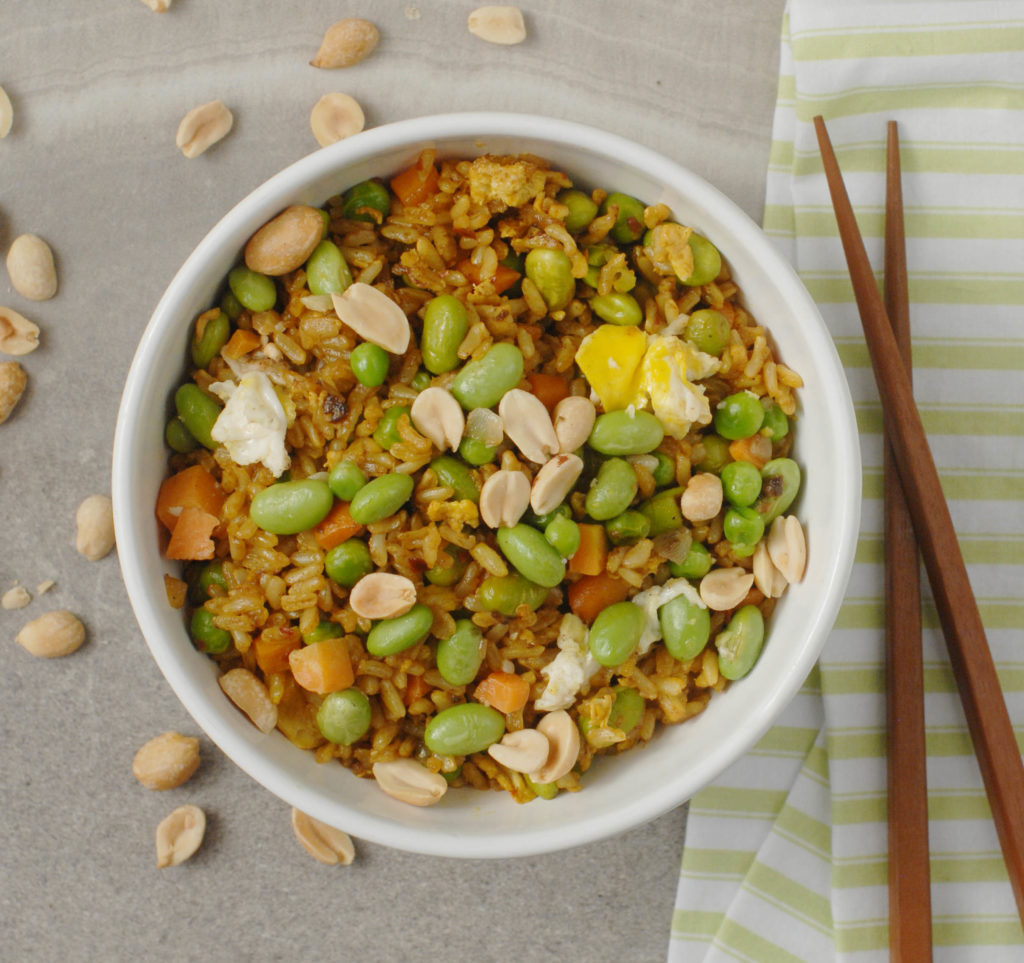 Turmeric Fried Rice with Edamame
Increase your turmeric intake with my turmeric fried rice with edamame recipe! It is gluten free and easily vegan, a recipe every will enjoy!
Author:
Alison's Allspice
Ingredients
4 cups cooked brown rice, day old preferred
½ cup onion, diced
1 TBS olive oil, divided
4 garlic cloves, minced
2 large eggs (optional)
12 oz frozen package peas and carrots
12 oz frozen package shelled edamame
1 tsp red pepper flake
1 tsp ground turmeric
¼ cup reduced sodium tamari (gluten free) or soy sauce
Unsalted peanuts, for garnish
Instructions
Combine half the olive oil and the onion in a large skillet over medium high heat. Saute until the onion is tender, about 3-5 minutes. Add garlic and saute until fragrant, about 30 seconds. Remove from the pan, or slide to the side.
Add eggs (optional), stirring to scramble, and cook until opaque, breaking them up with a spatula. Remove from the pan, or slide to the side with the onions if there is space.
Add peas and carrots, and shelled edamame. Heat until thawed through.
Add remaining oil to pan and pour in rice. Mix everything together, adding any ingredients back that were removed. Stir in red pepper flake, turmeric, and soy sauce. Heat until the rice is heated through and starting to crisp, stirring frequently.
Top any servings that will be eaten with peanuts. Store peanuts separately from any leftovers.
This recipe was shared at the
Meat Free Link Up
,
Healthy Vegan Fridays
,
The Weekend Potluck
,
This is How We Roll Link Up
,
Tasty Tuesdays
, and the
Plant Based Potluck
!