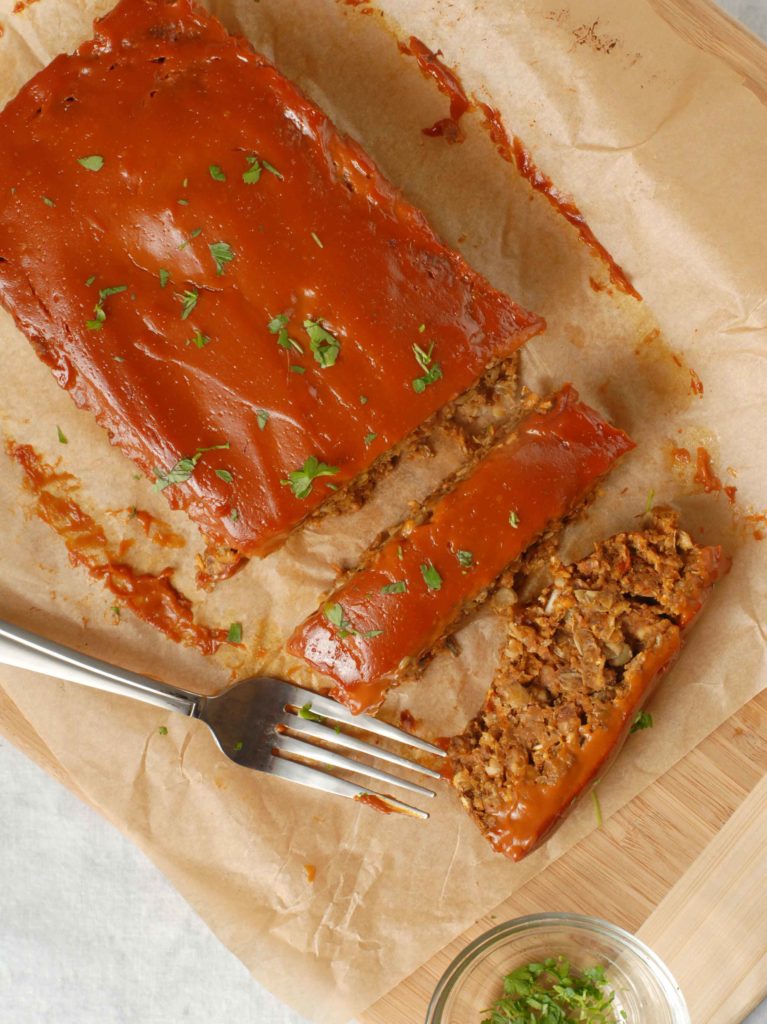 Meatloaf was my favorite meal as a kid, especially mom's recipe.  I would even help out in the kitchen to get some of mom's meatloaf!  When I turned to a mostly vegetarian diet, I didn't expect any kind of loaf in my future.  Meat imitations often times fail.  They simply don't, and won't, taste like the real thing.  I was hesitant to try a loaf recipe, however, my love for lentils has grown exponentially in the last few years.  I decided to give a lentil loaf a try and we found another keeper for the rotation!  My vegetarian lentil loaf with tomato glaze tastes nothing like meat (and shouldn't), but is delicious on it's own accord. It's hearty, wholesome, and healthy!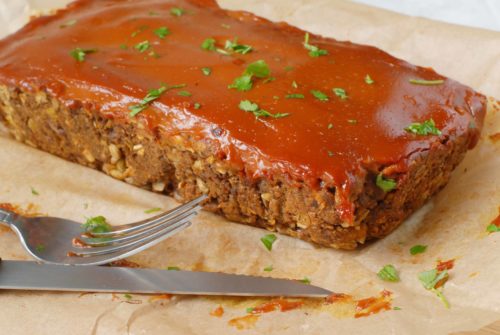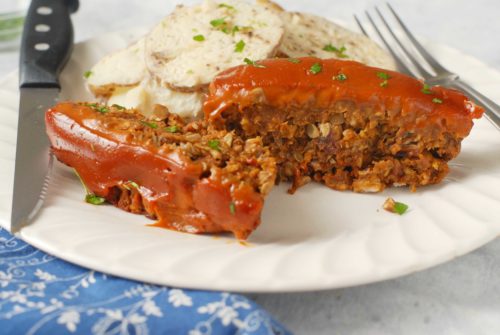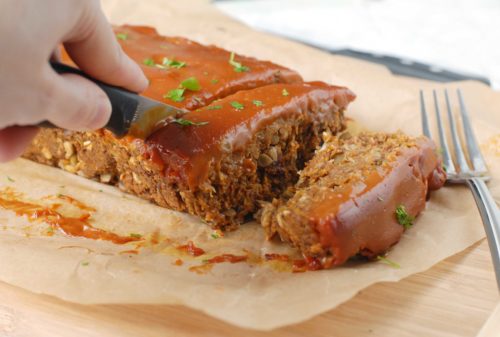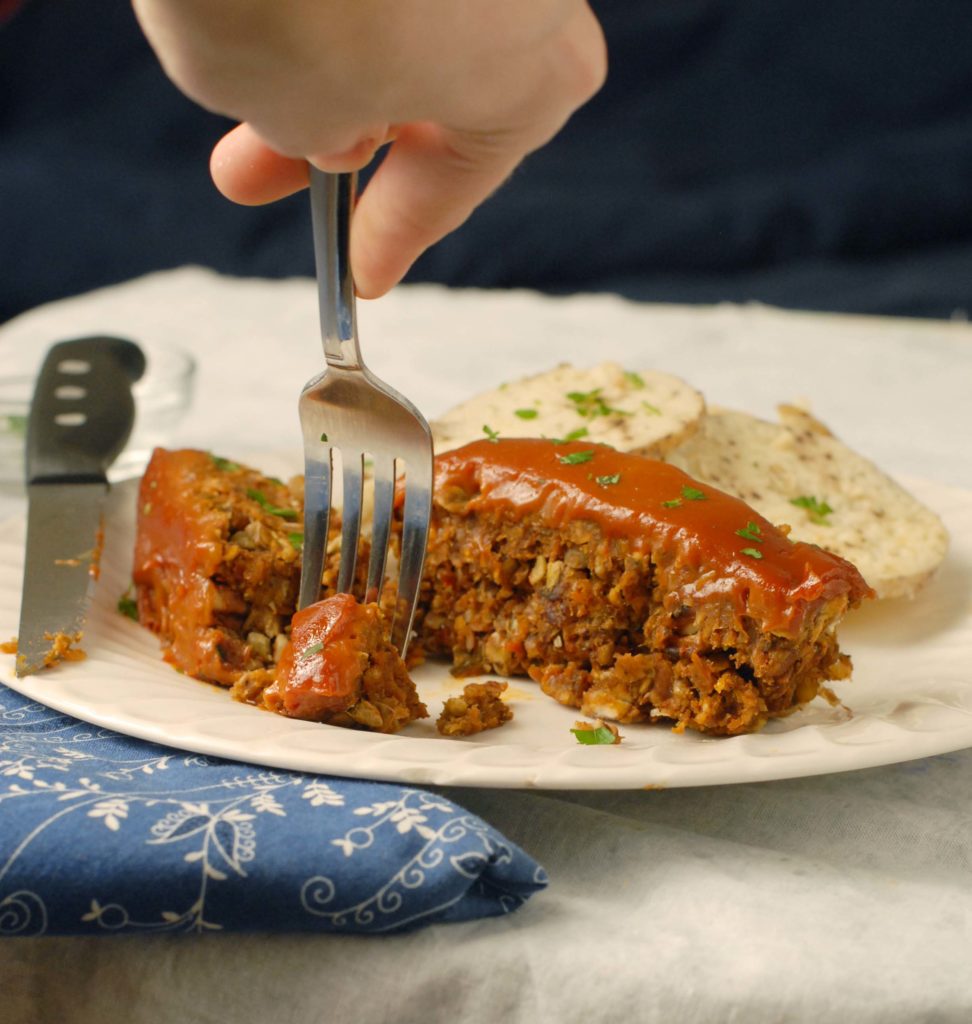 The tomato glaze recipe was my mom's recipe, and I still love it just as much as when I was a kid. It is made with 3 simple ingredients, ketchup, yellow mustard, and brown sugar.  You can easily swap maple syrup for the brown sugar if you prefer.  I use organic ketchup and mustard to avoid unwanted additives.  Even picky eaters will love this sauce on top of your lentil loaf!
Variations to the Vegetarian Lentil Loaf with Tomato Glaze:
Celery is a great addition to the onion and carrot if you have some on hand, or would  like to swap it in!
I use brown lentils because they are inexpensive.  Most lentil varieties would make do in this recipe, however. Stick to larger lentils for texture.  Varieties such as red lentils would become too mushy.
Use certified gluten free oats to keep this recipe gluten free.
Do you have a nut allergy?  Try sunflower seeds instead of the pecans.
Vegetarian Lentil Loaf with Tomato Glaze
Author:
Alison's Allspice
Ingredients
½ cup lentils
1 bay leaf
½ cup pecans
1 small onion, diced
2 large carrots, diced
3 garlic cloves minced
splash olive oil
1 cup rolled oats
3 TBS soy sauce
3 TBS tomato paste
2 TBS flax seed meal
1 TBS nutritional yeast
1 TBS cider vinegar
1 tsp chives and rosemary each
½ tsp thyme, basil, and black pepper, each
¼ tsp red pepper flake and salt each
parchment paper
Glaze
¼ cup ketchup
2 TBS yellow mustard
1 TBS brown sugar
Instructions
Preheat oven to 375°F.
In a medium saucepan cover lentils and bay leaf with water. Bring to a boil and simmer for 20 minutes.
Meanwhile, toast pecans in a skillet over medium heat. Stir often and cook until browned and fragrant. Remove from skillet.
In the skillet, combine diced onion, carrots, and garlic in a skillet with a splash of olive oil. Cook for about 10 minutes, or until the carrots are soft.
Drain lentils and reserve ½ cup of cooked lentils. Place remaining lentils in a food processor with toasted pecans and sauted veggies. Add remaining ingredients and pulse until the mixture is well combined. Be sure to stop processing before the mixture becomes a paste, some texture is always good. Stir in reserved lentils.
Prepare a 9x5 inch loaf pan by lining it with parchment paper. Press the loaf mixture into the pan.
Mix together all ingredients for the glaze until smooth. Spread the glaze over the lentil loaf.
Cover the loaf pan with aluminium foil and bake loaf in the preheated oven for 25 minutes. Remove the foil and bake 10 more minutes. Cut into slices and serve.
Notes
Makes 4 large servings or 8 small servings.
Recipe adapted from
Eating Bird Food
. This recipe was shared at the
Plant Based Potluck Party
!