"I received free samples of Wonderful Pistachios mentioned in this post. By posting this recipe I am entering a recipe contest sponsored by Wonderful Pistachios and am eligible to win prizes associated with the contest. I was not compensated for my time, and as always, all thoughts are my own."  Thank you for supporting brands that support Alison's Allspice.
Does anyone have a guess what my favorite nut is?  You got it!  Pistachios!  I was so excited when Wonderful Pistachios offered samples of their product for the Recipe Redux sponsorship this month because I adore them.  Also, they are absolutely delicious in my new recipe, pistachio caper gremolata pasta with shrimp.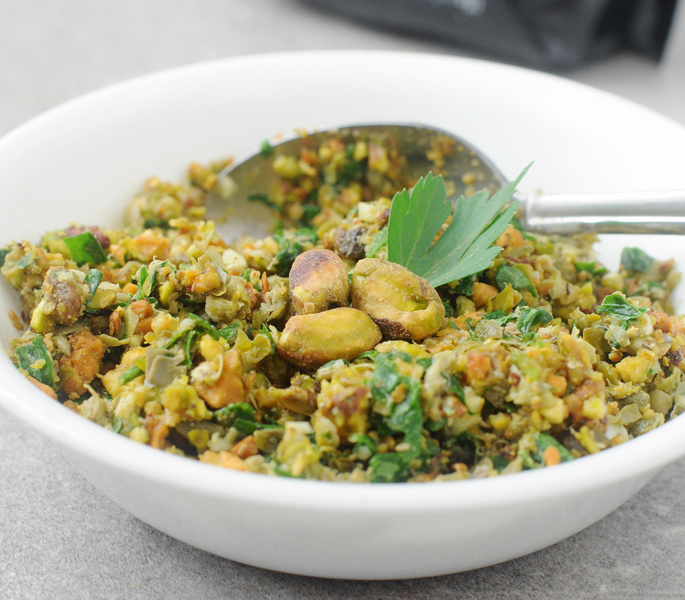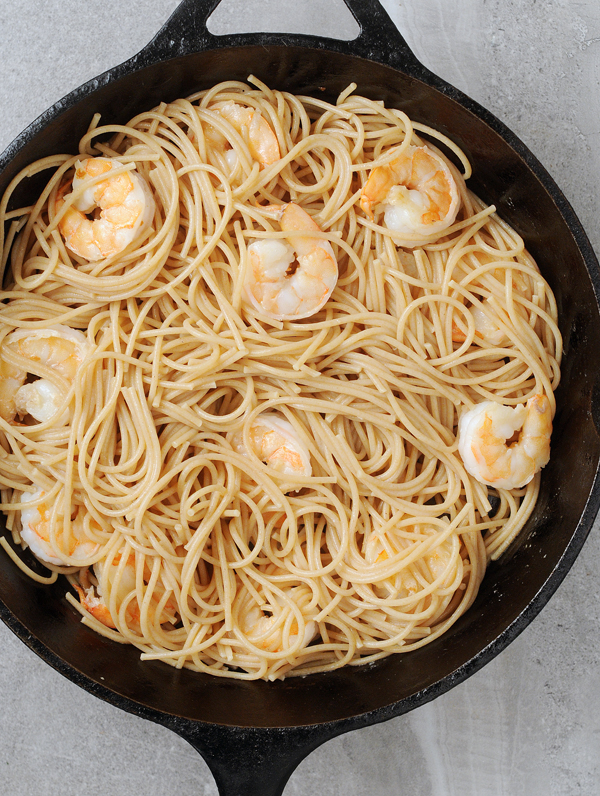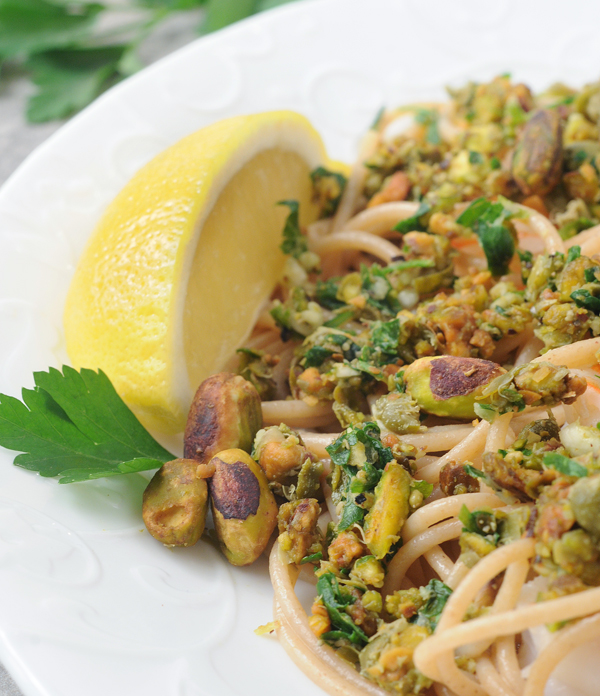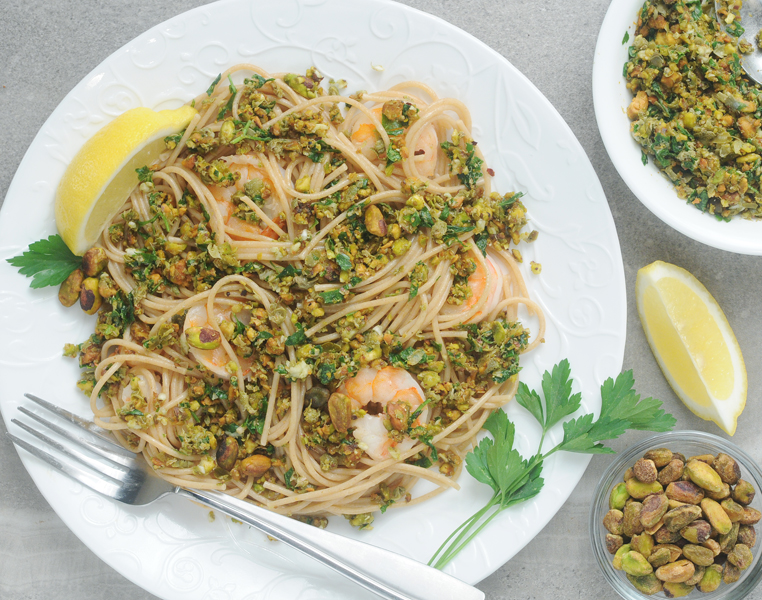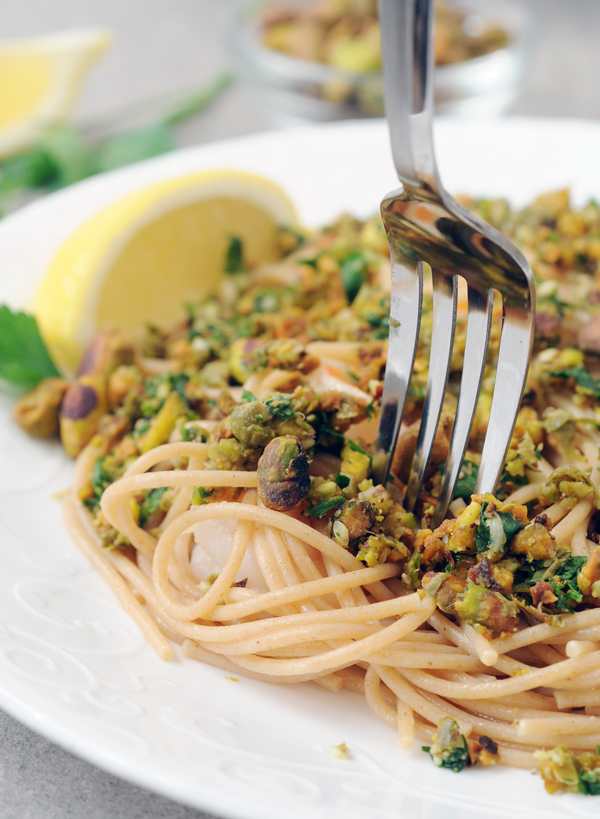 Why do I love pistachios?  Beyond offering great taste, they are healthy for you, too.  Let me break it down for you.
As a snacking nut goes, pistachios are one of the highest in protein and fiber, and lowest in calories and fat!
Scientific evidence suggests (but does not prove) that eating 1.5 ounces per day of most nuts, such as pistachios, as part of a diet low in saturated fat and cholesterol may reduce the risk of heart disease.
The leftover shells as you enjoy your pistachios act as a visual cue of proportion (at least for me). Those shells help you "fool yourself full" and know when to stop, which is so helpful when trying to keep proportions in check!
One preliminary behavioral study found that participants who consumed in-shell pistachios ate 41-percent fewer calories compared to those who consumed pistachios without the shell. Those who chose the "no shells" pistachios consumed an average of 211 calories, while those who chose the in-shell variety consumed an average of 125 calories, suggesting that empty shells may provide a visual cue for portions, potentially helping curb intake.
Pistachios' green and red-purple hues come from antioxidants.
Did I mention, they taste great and they are good for you?  What's not to love?!
Gremolata is a classic Italian condiment made from parsley, lemon and garlic.  In my recipe, I added Wonderful pistachios for color and crunch, and because they pair so well with the citrus flavors of gremolata.  The capers pair well with the pistachios, and increase the savory profile of the dish, as well!
Tips and Tricks for the Pistachio Caper Gremolata Pasta with Shrimp recipe:
Soaking the shrimp in brine (salted water) is a technique I use to keep the shrimp tender and increase that salty ocean flavor.  You can omit this step if you are short on time.
I love Wonderful Pistachios lighty salted, shelled pistachios for this recipe.  They are quick and easy to use (no shelling!), and help keep sodium levels in check for this recipe!
If you want a smaller proportion, try cooking only 2 ounces of whole wheat pasta per serving.
Pistachio Caper Gremolata Pasta with Shrimp
My pistachio caper gremolata pasta with shrimp recipe is an easy, simple meal for two. Pick up a bag of Wonderful Pistachios for your next date night. You will impress your date with a homemade meal that is delicious and good for you!
Author:
Alison's Allspice
Ingredients
Shrimp (or protein of choice)
½ lb shrimp, peeled and devined
water to cover
¼ tsp salt
1 TBS unsalted butter
Gremolata
2 oz lightly salted Wonderful Pistachios (heaping ⅓ cup, shelled)
⅓ cup flat leaf parsley, loosely packed
2 garlic cloves
2 TBS capers with brine
⅛ tsp salt and pepper, each
Pasta
5 oz whole wheat spaghetti
1 tsp olive oil
2 lemon wedges (1/3 of a large lemon)
Instructions
Cover shrimp with water and sprinkle in salt. Let the shrimp brine for 30 minutes.
Meanwhile, bring a pot of water to boil for the pasta.
Pulse pistachios in a mini food processor until there are no pieces larger than a pea. Place in a small bowl and set aside.
Add parsley and garlic to the mini processor. Pulse until well chopped. Add capers and pulse until combined. Add parsley mixture to the pistachios and mix in salt and pepper. Stir to combine.
Cook pasta according to package directions.
Meanwhile, heat a skillet over medium high heat. When hot, melt butter and add shrimp. Cook until opaque, stirring at least once (about 3 minutes).
Toss cooked pasta with shrimp in the skillet. Mix in 1 tsp olive oil.
Distribute the shrimp and pasta evenly across 2 plates. Top with the pistachio gremolata and squeeze a fresh lemon wedge over each plate.
Recipe inspired by
Food and Wine
.