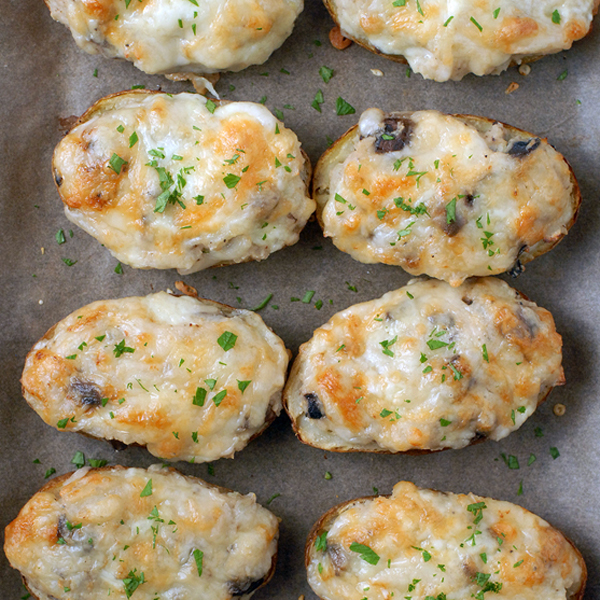 It is really cold this week.  When the temperatures drop like this, I love to find meals that have my oven on for a long time to heat up the house!  Mushroom Swiss twice baked potatoes do the trick with not one, but two oven bakes!
This twice baked potato recipe is also a creamy, cozy, comfort food perfect for cold winter days!  Check out my suggestions for variations to find some healthy mix-ins!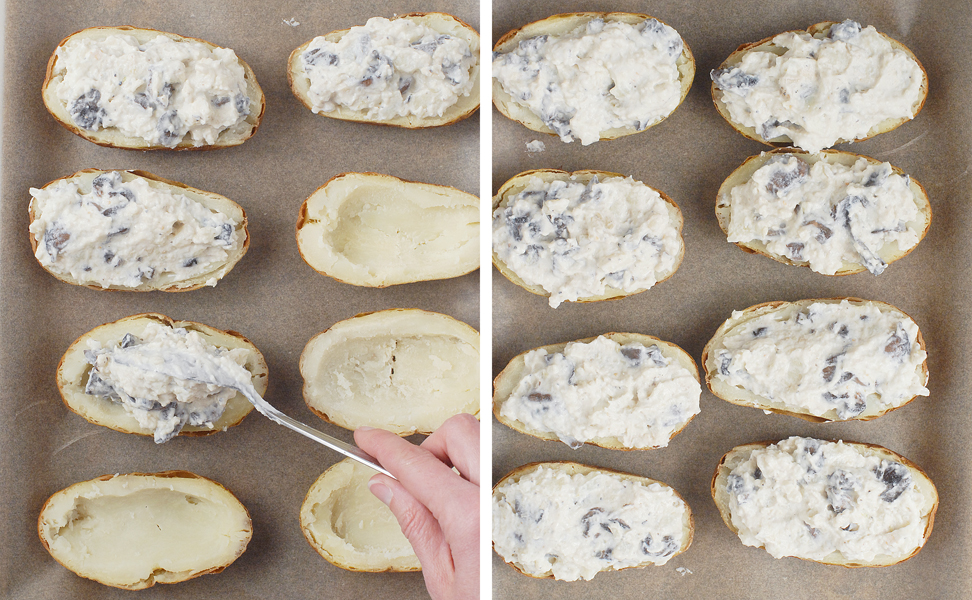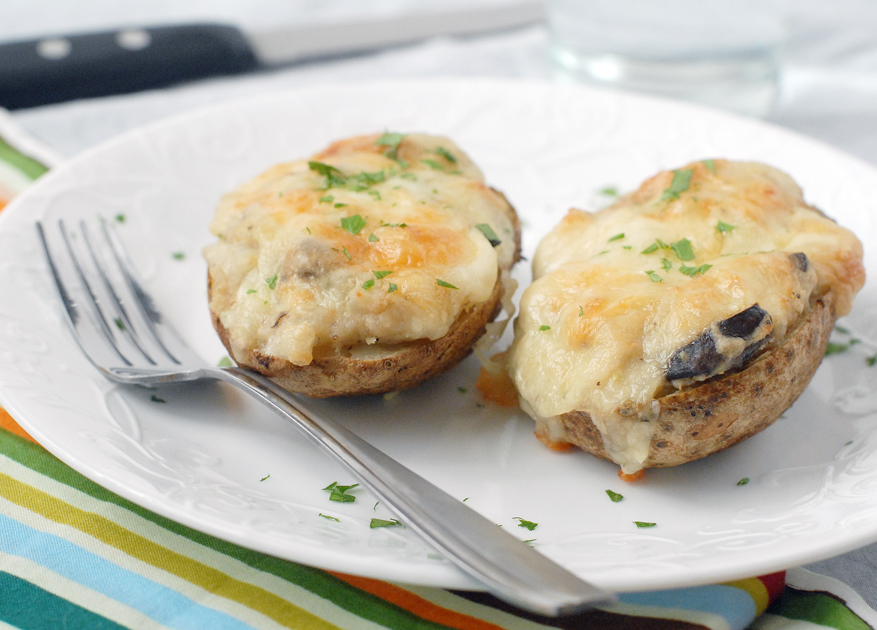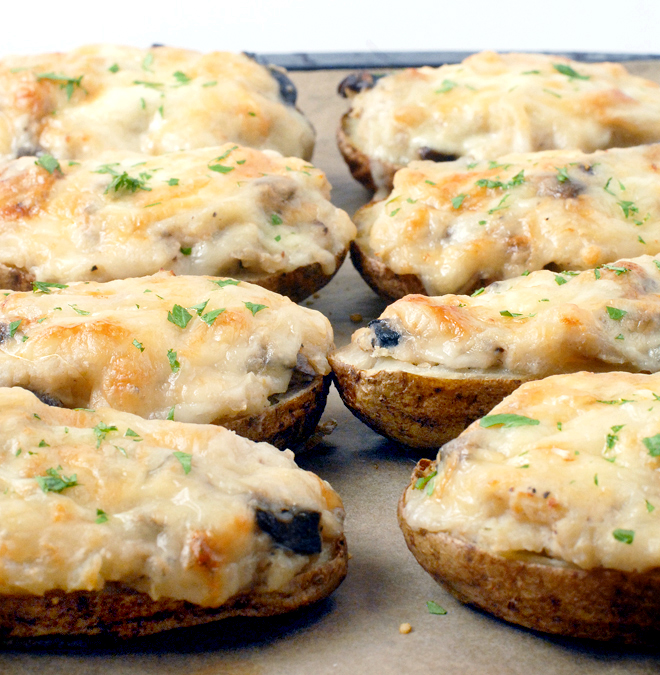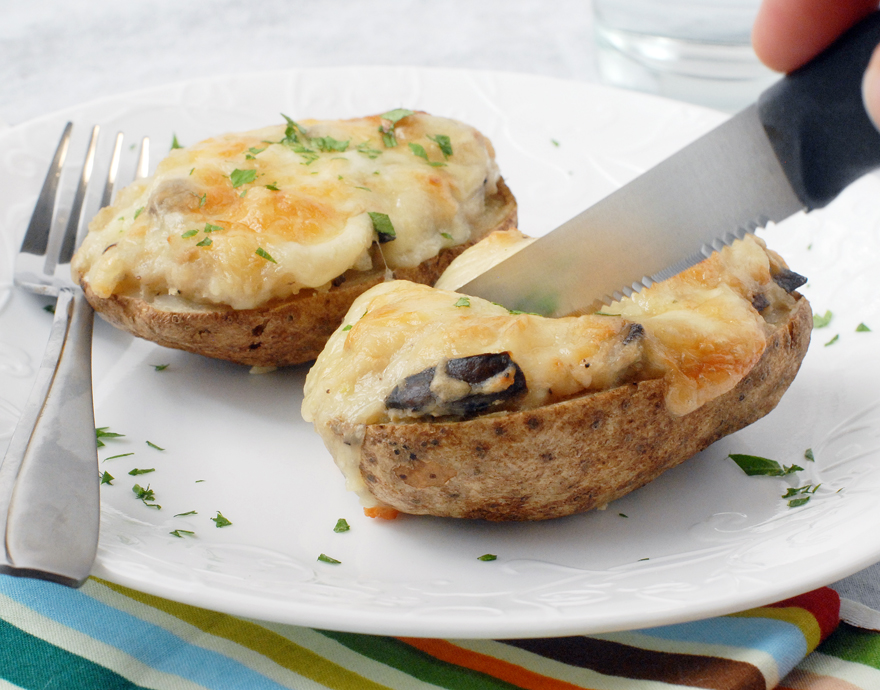 Another great reason to try these potatoes: they make really great leftovers!  Just zap them in the microwave until hot. Easy peasy.
I love having leftover for lunches.  With these potatoes, you can have a light lunch by only enjoying a half a potato with small salad, or a leftover vegetable side.
Variations to the Mushroom Swiss Twice Baked Potatoes recipe:
Healthy mix-ins: Try spinach or white beans (or both!) if you want to increase the fiber and nutrients in this recipe.
I added green salsa for just a hint of acidity and spice to elevate flavors.  1-2 tsp lemon juice would do the trick too.  Taste test and increase onion powder as needed.
If you want to reduce cooking time, try microwaving the potatoes for about 5 minutes before baking.  This should reduce baking time by about 15 minutes.
Mushroom Swiss Twice Baked Potatoes
These mushroom Swiss twice baked potatoes area a creamy cozy comfort food perfect for winter. I love making them when it's cold out because two runs through the oven heats up the house! Try them for your next meatless Monday!
Author:
Alison's Allspice
Ingredients
4 medium russet potatoes or 2 jumbos
2 splashes olive oil, divided
6 oz sliced mushrooms
2 garlic cloves, minced
½ cup sour cream
2 TBS green salsa
¼ tsp each: salt, black pepper, and onion powder
1 cup shredded Swiss cheese, divided
Instructions
Preheat oven to 425 F.
Pierce potatoes all over with a fork. Rub with a splash of olive oil and place on a parchment lined baking sheet. Bake potatoes in the preheated oven for 50 minutes for medium potatoes, and 1 hr 10 minutes for jumbos, turning halfway through cooking.
In a large skillet, saute mushrooms in a splash of olive oil until their liquid is released and starting to evaporate. Remove from heat.
When potatoes are just cool enough to handle, cut in half and scoop out the potato leaving a half inch shell.
Mix the potato with mushrooms, garlic, sour cream, salsa, salt, pepper, onion powder, and ¼ cup Swiss cheese.
Fill each potato shell with the mushroom mixture and place on a parchment lined baking sheet. Top evenly with remaining cheese.
Bake in the preheated oven for 15 minutes, or until cheese is melted and starting to brown.