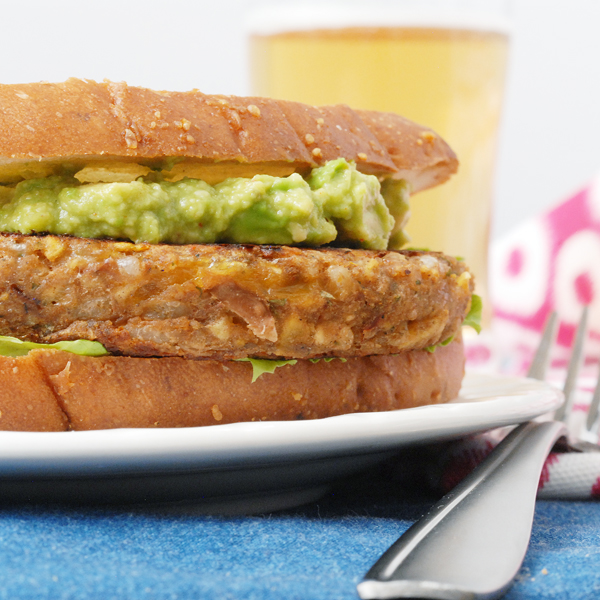 Ever since my trip to Puerto Rico in 2014, I have been in love with plantains.  While there, I had tostones with a garlic vinaigrette that were fantastic.  Someday I will share my recreation of that recipe too. This is only the second recipe I have shared on the blog using plantains.  The first was my plantain black bean rice bowls with cilantro pesto.  This time a transformed the plantain into veggie burgers. These Jamaican jerk plantain veggie burgers are loaded with flavor.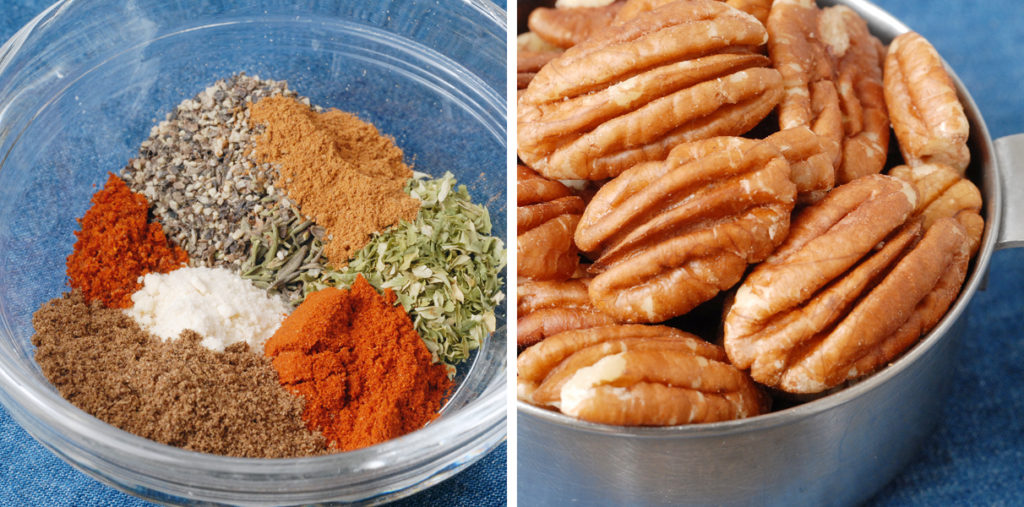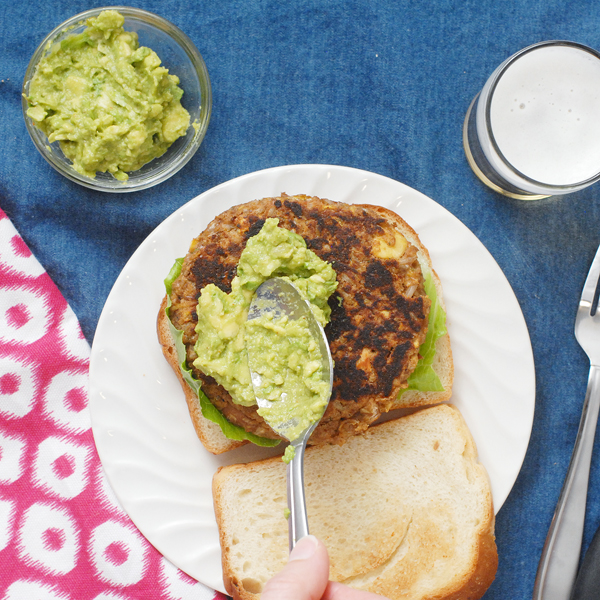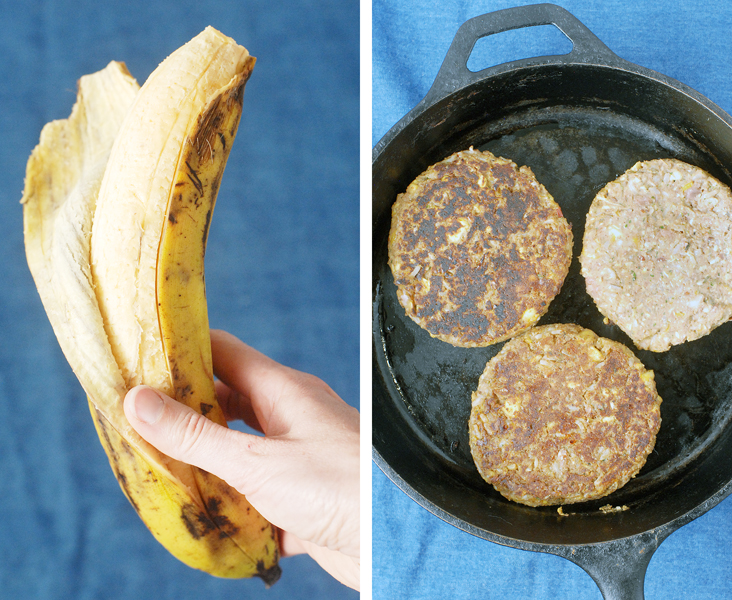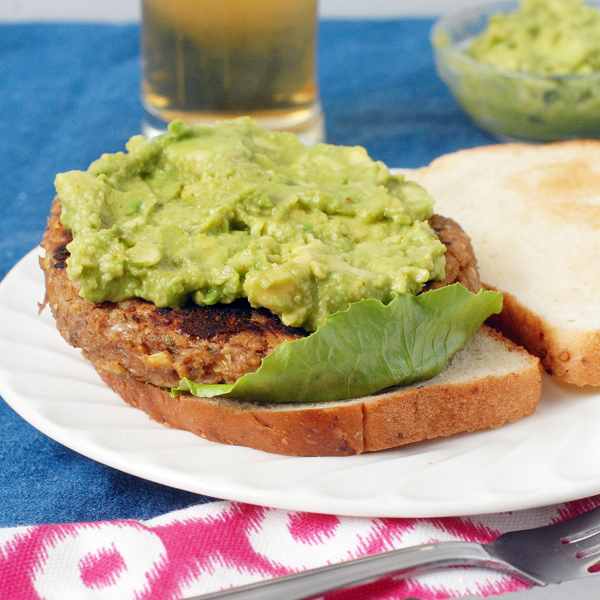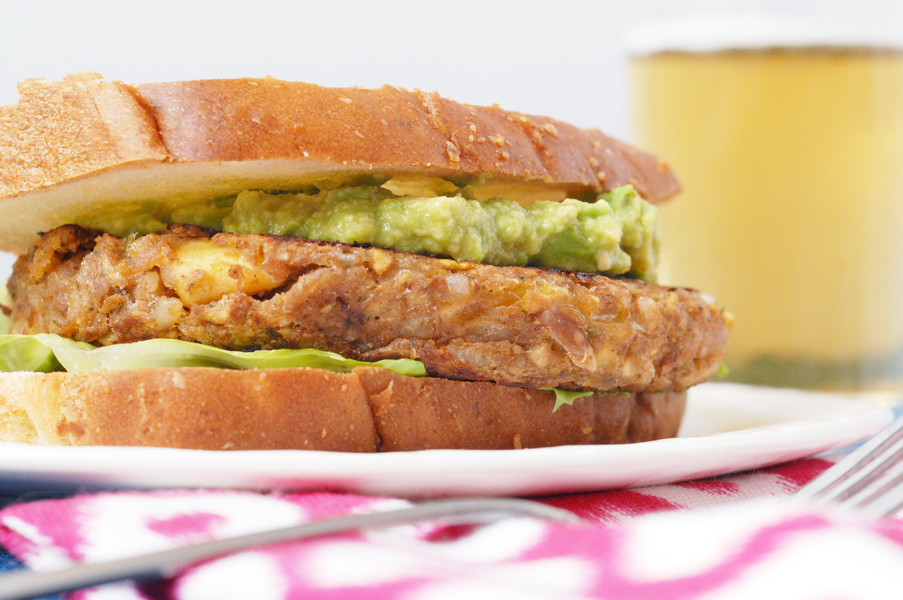 When creating this recipe, I knew I wanted to season it with something strong, to balance the natural sweetness of the plantain to make a savory burger.  I chose Jamaican jerk seasoning because it is not only spicy, but loaded with all kinds of other flavors, like allspice, that compliment the sweetness as well.  I decided to top the burger with guacamole to bring together lots of Caribbean flavors, and make a unique veggie burger that is totally awesome.
Variations to the Jamaican Jerk Plantain Veggie Burgers:
 Vegan – Omit the cheese and these will still be delicious!  Increase the salt slightly to compensate.
I keep a well stocked spice pantry so I mixed up my own seasoning for this burger.  You can use a pre-made Jamaican jerk seasoning in place of the spices if you have it on hand.  Taste test and season with salt accordingly.
I made these burgers in a skillet, but you could make them in the oven as well.  Try 350 for 30 minutes, flipping half way.
You will need a food processor to make easy work of the hard green plantain (my potato masher wouldn't do the trick!). This is the one I have and love.  Worth every penny.
Jamaican Jerk Plantain Veggie Burgers with Guacamole
Take your taste buds on a trip with these Jamaican Jerk Plantain Veggie Burgers. These gluten free burgers will put you on island time in only 30 minutes!
Author:
Alison's Allspice
Ingredients
1 green plantain, peeled
1½ cups cooked pinto beans (or 1 can rinsed and drained)
½ cup pecan halves
15 cilantro stems
3 garlic cloves
1 cup cooked brown rice
1 tsp onion powder
½ tsp salt
¼ tsp each: cayenne pepper, parsley, smoked paprika, allspice, black pepper, crushed red pepper, and cinnamon
½ cup cheddar cheese (optional)
1 TBS ketchup
1½ tsp reduced sodium tamari or soy sauce
Splash olive oil
Burgers
Romaine lettuce
8 toasted burger buns or 16 bread slices
2 cups guacamole
Instructions
Cut plantain into 4 sections. Place in a food processor and process until finely chopped, but not mushy. Remove and place in a large bowl.
Add pinto beans, pecans, cilantro, and garlic to the food processor. Pulse until finely chopped. Add them to the bowl with the plantains.
Add rice, spices, cheese (optional), ketchup and tamari to the plantain mixture. Stir well to combine.
Heat a splash of olive oil in a large heavy bottomed skillet.
Shape plantain mixture into 3 inch wide patties. I had enough for 8 patties. Place as many as will fit into the skillet (3-4 in a 10 inch skillet). Cook until golden brown on each side, about 10-15 minutes. Cook in batches until all the patties are cooked.
Place burgers on buns with romaine lettuce. Top with guacamole and serve.
Notes
Leftover patties can be individually wrapped and frozen for later. Reheat frozen in the oven for best results, 350 F for 15-20 minutes or until hot.
I shared this recipe with
Cook Once Eat Twice
!