Follow my blog with Bloglovin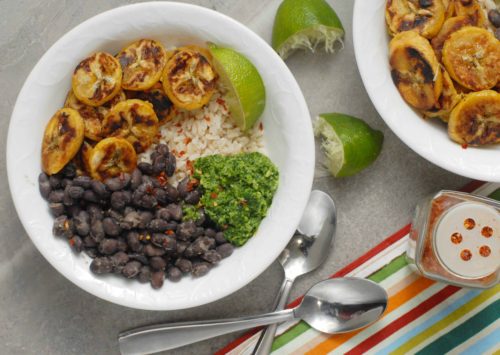 A few years ago I took a trip to Puerto Rico and had plantains for the first time.  I had always assumed that they were just like bananas, but the truth is that they are pretty different.  A plantain is more well suited for cooking because it has a firm texture.  Banana's are usually reserved for baked goods because they are soft while plantains will hold up to the cooking process. My favorite part about plantains is that they add a hint of sweetness to dishes like my plantain black bean rice bowls with cilantro pesto.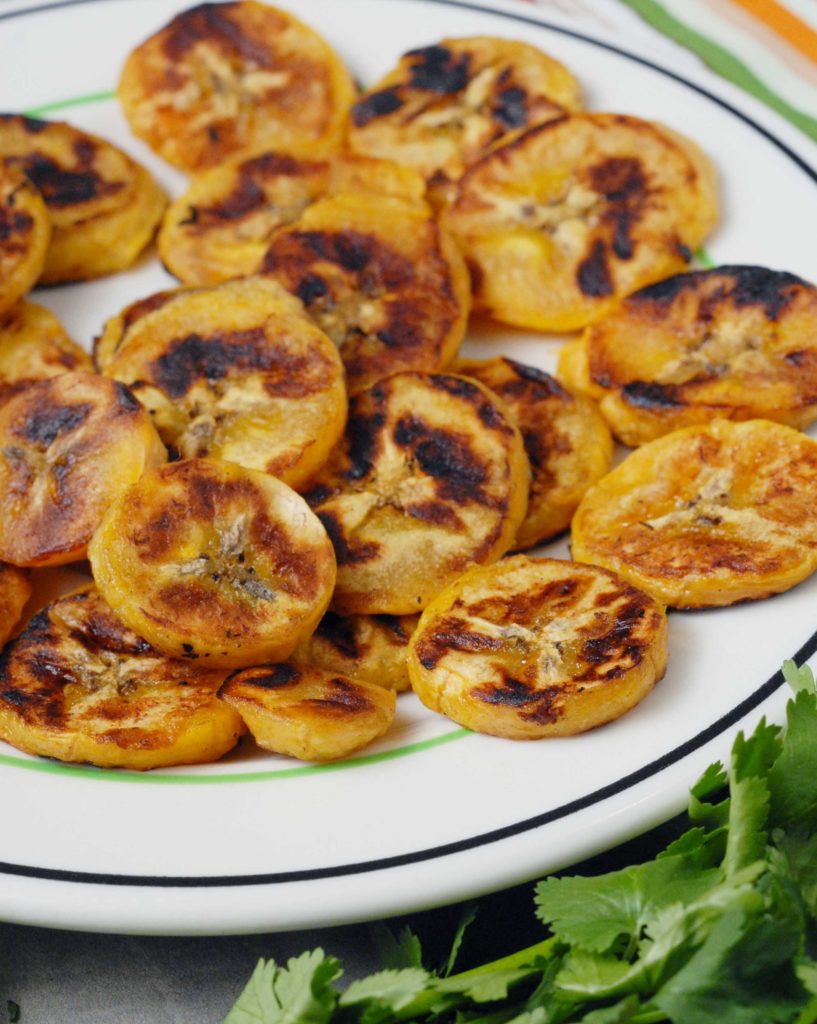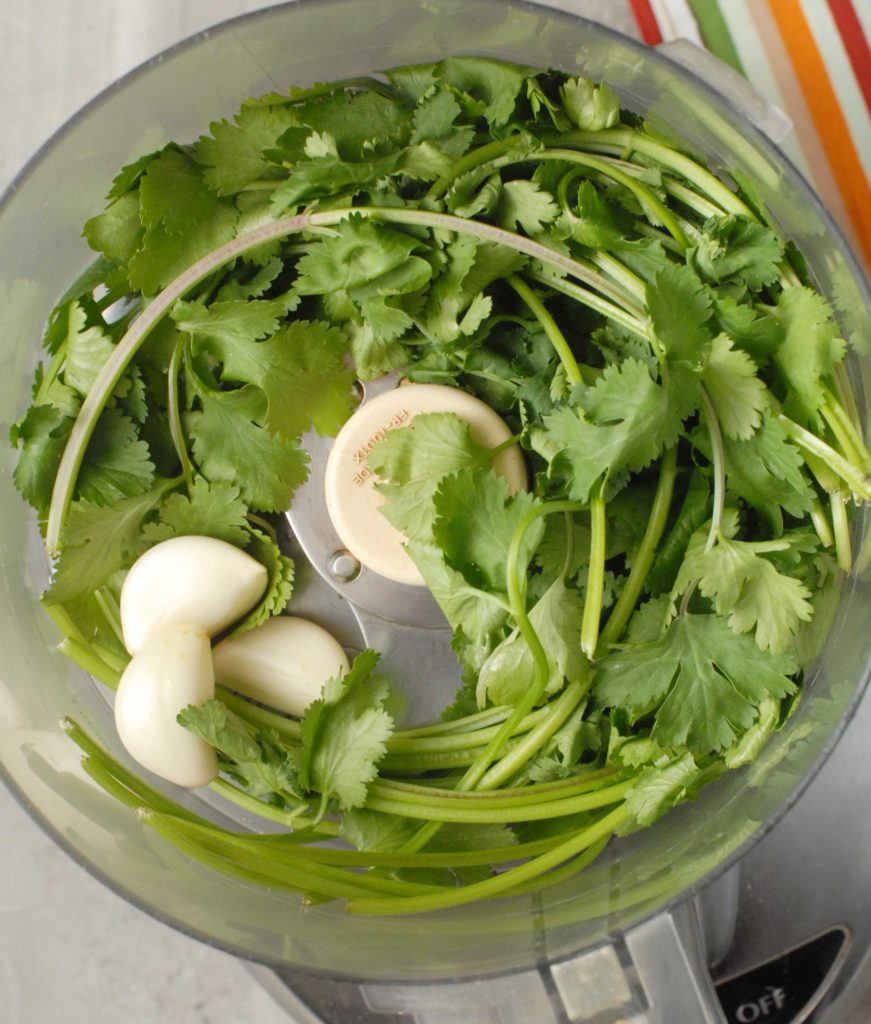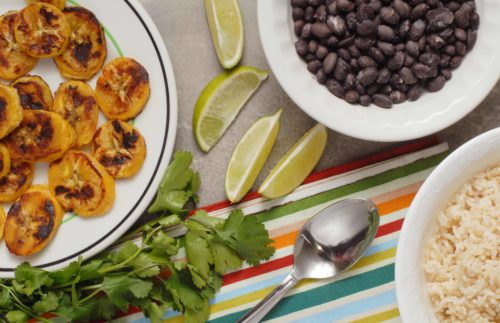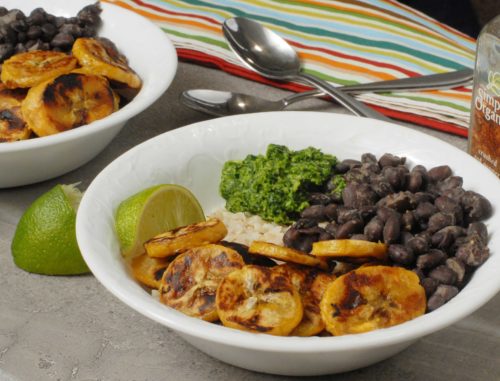 Green plantains are not ripened and therefore are not sweet like a yellow plantain.  One of the dishes I had in Puerto Rico was tostones, which are twice fried green plantains.  It is hard for me to find green plantains in Illinois, so I made this recipe using yellow plantains so that I can reminisce about those delicious plantains in Puerto Rico.
Variations to the Plantain Black Bean Rice Bowls with Cilantro Pesto:
Instead of rice, you could make these bowls with any grains.  Some other ideas include quinoa, millet, Bulgar,  wheat berries, or even cauliflower "rice."
If you want to add a creamy texture to the bowl, try adding diced avocado, or put the avocado into the cilantro pesto!
To make this recipe more kid friendly, use a milder sauce in place of the cilantro pesto. A mild peanut sauce or honey yogurt sauce would work well.
Plantain Black Bean Rice Bowls with Cilantro Pesto
Author:
Alison's Allspice
Ingredients
Black Beans
1 cup black beans
1 TBS water
1 tsp olive oil
¼ tsp cumin, onion powder, salt, and black pepper, each
Cilantro Pesto
½ bunch of cilantro (including both stems and leaves)
Juice of 1 lime
¼ tsp salt
3 garlic cloves
2 TBS olive oil
1 TBS water (or more to thin)
Bowls
1 ripe yellow plantain
1 TBS olive oil
1½ cups cooked brown rice
Red pepper flake, for garnish (optional)
Instructions
Black beans
In a bowl combine the black beans with water, olive oil, and seasonings. Stir well and microwave for 1-2 minutes or until hot. Let rest while you prepare the rest of the ingredients.
Cilantro Pesto
In a food processor, combine all of the pesto ingredients. Process until smooth, adding more water to thin the sauce to your liking.
Bowls
Slice the plantain into ¼ inch slices. Heat a heavy bottomed skillet over medium high heat with 1 TBS olive oil. Be careful not to let the oil smoke. Add the plantain slices and fry until golden brown on both sides. Drain on a paper towel lined plate.
Split the rice between 2 medium sized bowls. Top with fried plantains, seasoned black beans, and cilantro lime pesto.
Garnish with red pepper flake, if desired.
Notes
The rice is made in advance to make this a quick easy meal. Quinoa, millet or Bulgar are fast cooking grains to try if you forget to cook the rice in advance.
This recipe was shared at Meatless Monday with
Confessions of a Mother Runner
and
The Fit Foodie Mamma
 as well as the
Meat Free Link Up
, and the
Plant Based Potluck
.