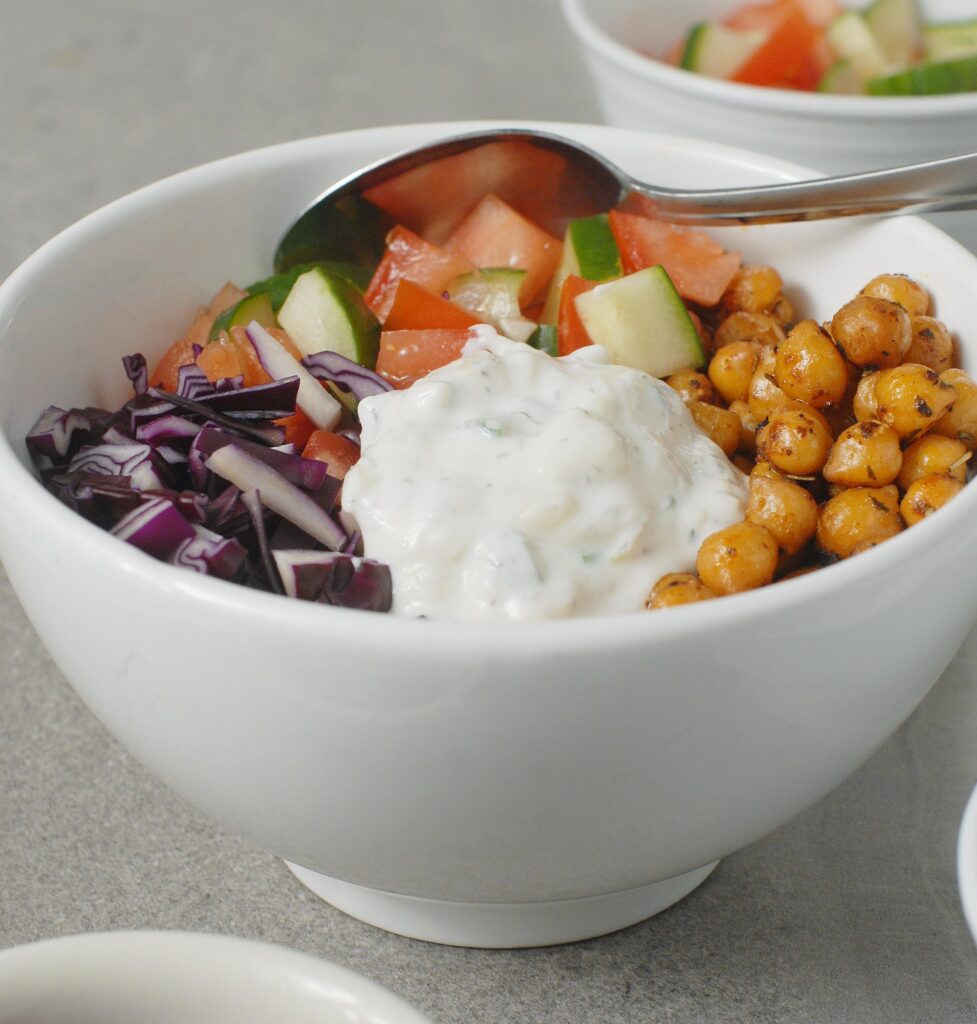 The first time I had heard about fried chickpeas, I was reading over at Naturally Ella (an amazing vegetarian blog).  I knew immediately that I would have to try the technique.  A quick pan fry has the ability to add texture and depth of flavor that you wouldn't normally find in a chickpea.  These fried chickpea gyro bowls with tzatziki sauce are exploding with flavor, and come together quickly for an easy weeknight meal!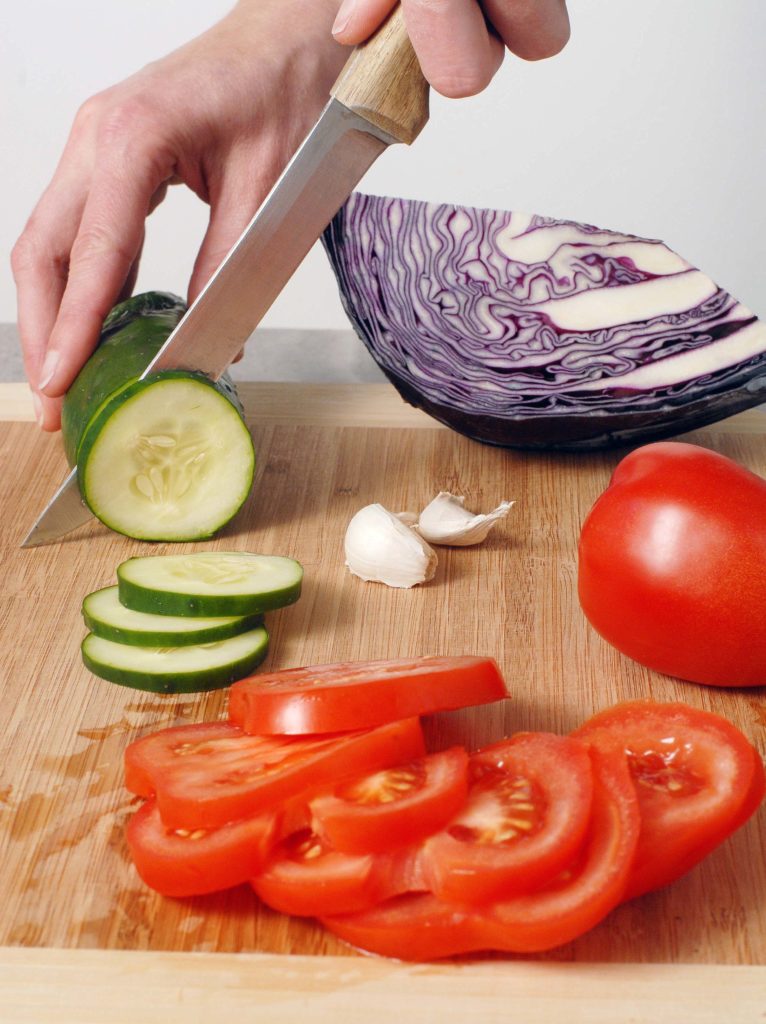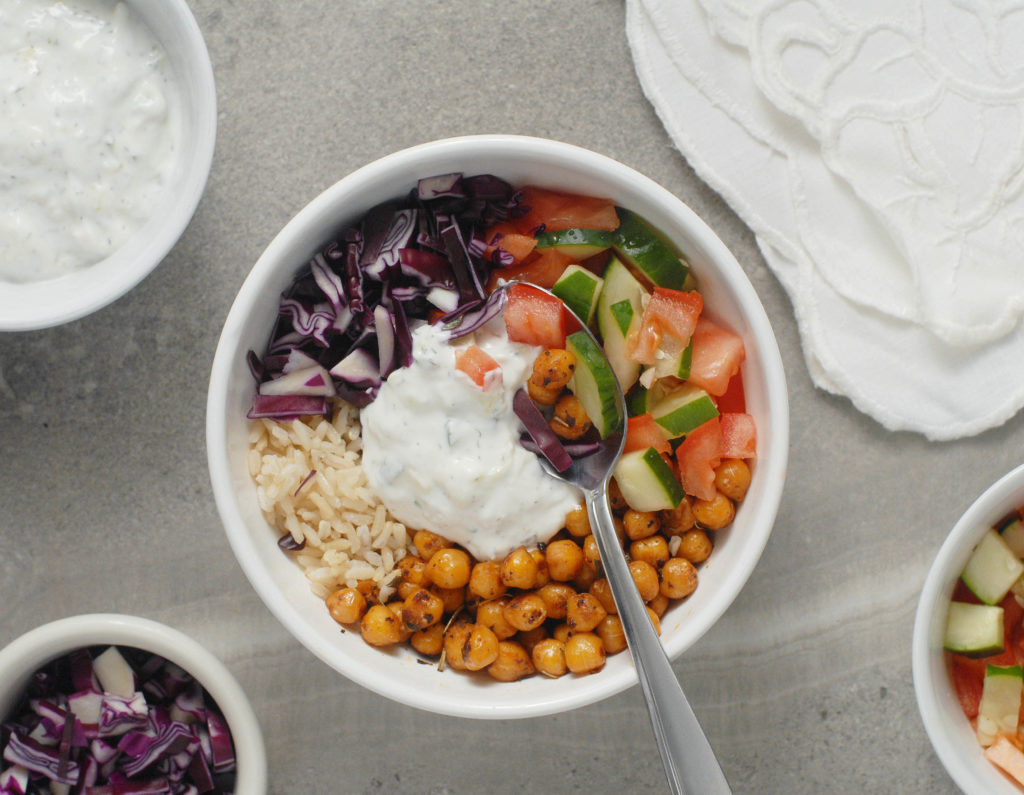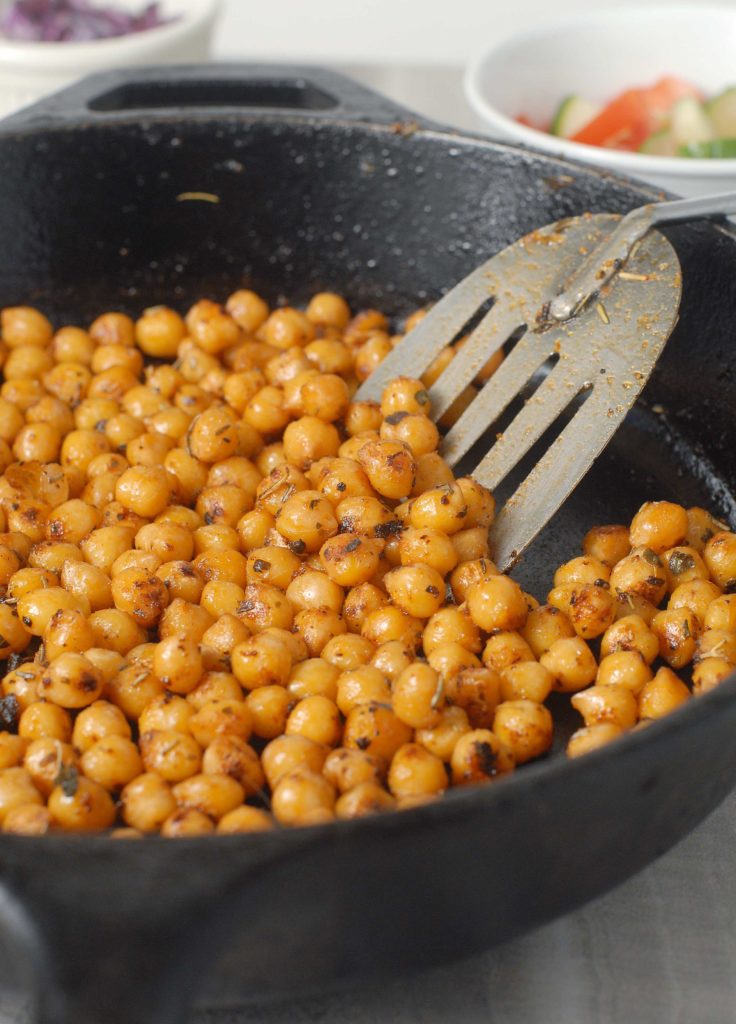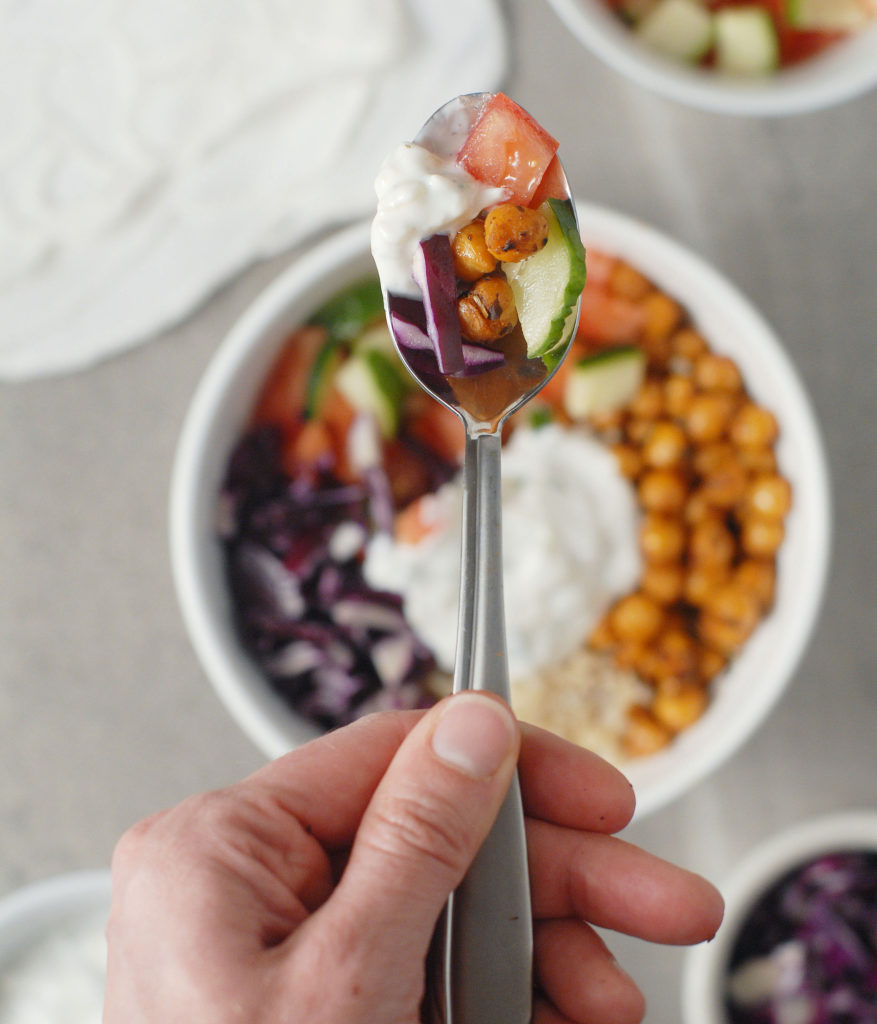 I wanted my fried chickpeas to have a gyro style flavor for this dish, so I marinated them in a sauce very similar to my tempeh gyros.  The flavor gets cooked in when you fry the chickpeas in the skillet and it is amazing!  I loved them so much I made a second batch to put on top of salads.  Seriously, they are that good!
Variations to the Fried Chickpea Gyro Bowls with Tzatziki Sauce recipe:
I loved the color that red cabbage added to these bowls.  However, red cabbage is not a traditional gyro vegetable.  Try adding what ever seasonal vegetables you love and have on hand.
In the chickpea marinade, tomato paste could be used instead of ketchup, and white wine vinegar instead of lemon juice.
Brown rice is a pantry staple for me and I use it all the time.   This dish would also be great with quinoa or millet.  You could also serve it over a bed of fresh greens like spinach or arugula.
Fried Chickpea Gyro Bowls with Tzatziki Sauce
These fried chickpea gyro bowls with tzatziki sauce are exploding with flavor! Marinading and frying the chickpeas adds huge flavor to this vegetarian dish!
Author:
Alison's Allspice
Ingredients
Chickpeas
1½ cups cooked chickpeas, or 1 can rinsed and drained
2 tsp lemon juice, tamari sauce, and ketchup each
1 tsp sesame oil
½ tsp onion powder, garlic powder, oregano, and rosemary each
¼ tsp salt and pepper each
1 TBS olive oil, for frying
Gyro Bowls
2 cups cooked brown rice
1 large cucumber divided
1 large tomato, diced
¾ cup sliced red cabbage
Tzatziki Sauce
⅓ cup grated packed cucumber (from the large cucumber for the bowl)
1 cup plain greek yogurt
3 garlic cloves, minced
1 TBS red wine vinegar
½ tsp dried dill
¼ tsp salt
⅛ tsp pepper
Instructions
In a medium bowl, mix together chickpeas through salt and pepper. Let it rest while you prepare the tzatziki sauce and gyro bowl, about 15 minutes.
Tzatziki Sauce
Grated cucumber and gently press out extra moisture until you have ⅓ cup. Save the rest of the cucumber for the gyro bowl.
Combine cucumber with yogurt, garlic, vinegar, dill, salt and pepper. Stir until smooth and set aside.
Gyro Bowls
Dice remaining cucumber an mix it with the diced tomato.
Slice the cabbage.
Divide rice evenly among 3 bowls. Top with ⅓ the tomato mixture, ⅓ the red cabbage, and ⅓ of the tzatziki sauce, each.
Fried Chickpeas
Heat a large heavy bottomed skillet over medium high heat. Add 1 TBS olive oil and swirl to coat. Poor in chickpeas and any remaining sauce. Fry stirring frequently until the sauce is absorbed and the chickpeas are starting to brown, 5-10 minutes.
Serve over top of the gyro bowl.
This recipe was inspired by
Naturally Ella
,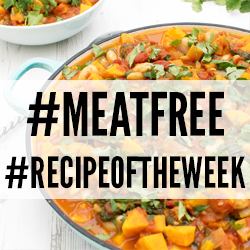 and adapted from my
Tempeh Gyros with Cucumber Tzatziki Sauce
. I shared this recipe at the
Meatfree Link Up
, Meatless Mondays with
Confessions of a Mother Runner
, 
Tasty Tuesday
, and
What's Cookin Wednesday
.
This recipe was featured by the Meat Free Link Up!