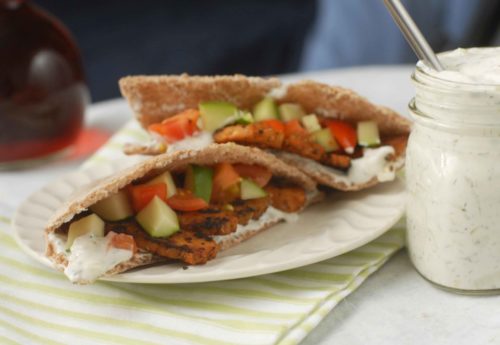 When I first started trying meatless meals, I loved tofu, and disliked tempeh.  There are lots of folks out there that don't like tofu, but I wasn't never one of them.  Tempeh has taken some time for me to figure out how to prepare properly.  Tempeh is a fermented soybean cake that has a unique flavor, unlike tofu which must be flavored.    The nutty flavor of tempeh works well in these tempeh gyros with cucumber tzatziki.  This recipes has completely changed my mind on tempeh!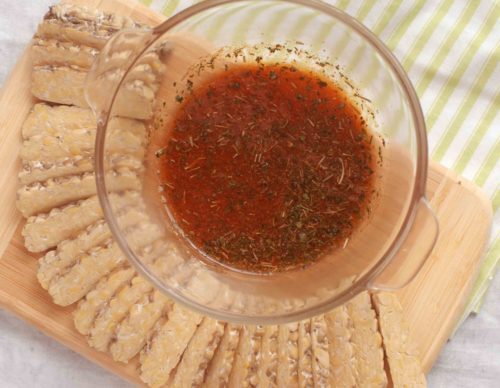 Tzatziki is a creamy yogurt sauce that is used in Greek dishes, and most often served as a condiment on gyros.  Cucumber keeps the sauce light, and fresh garlic and dill give the sauce depth and bold flavor.  Even if you're not into tempeh gyros, the tzatziki sauce is worth trying!  Smear it onto your favorite sandwich, or use it as a dressing for your next pasta salad.  Enjoy!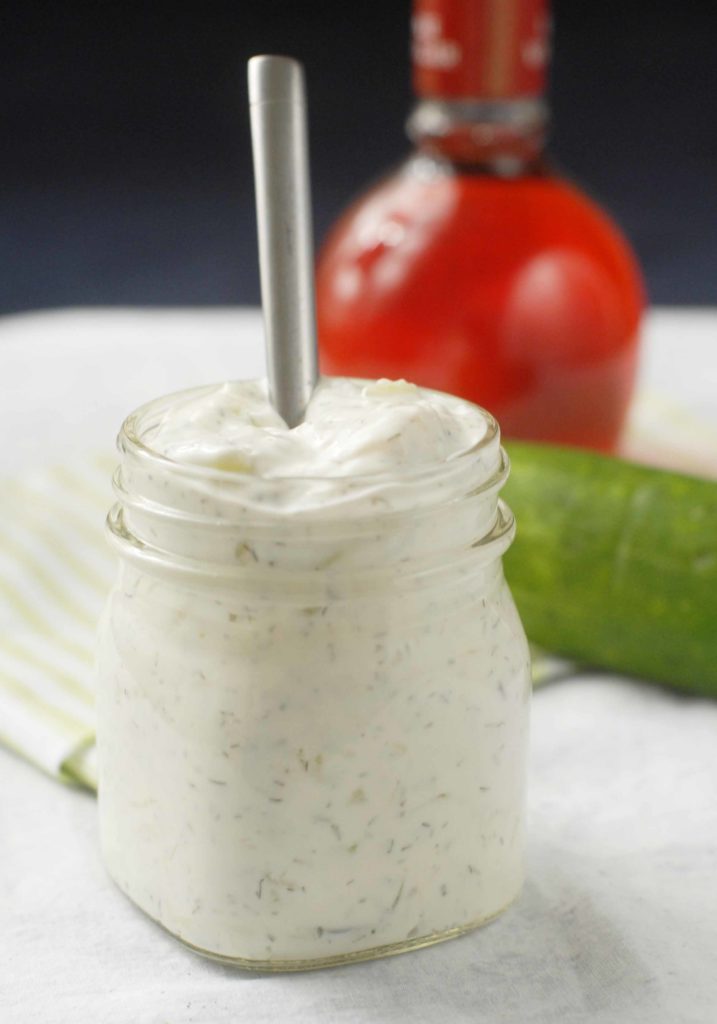 Variations on the Tempeh Gyros with Cucumber Tzatziki recipe:
I like to use greek yogurt for the tzatziki sauce to get a little extra protein.  Regular plain yogurt will be just fine as well.
I like to top the gyros with something crunchy.  In the recipe and photos I used diced tomato and cucumber.  Red cabbage is another favorite topping I have tried.
Pita pockets are easy to stuff with tempeh and cucumber tzatzkik, but greek flatbreads may be more traditional.  Use whatever you can find locally.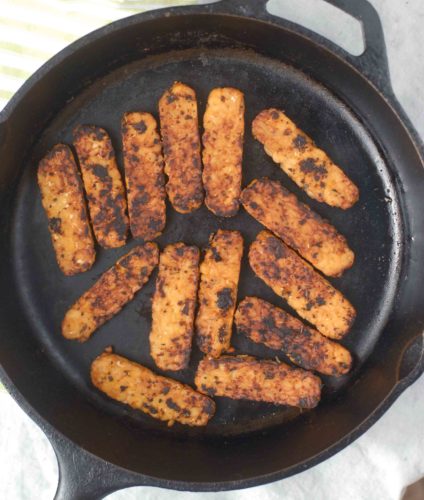 Tempeh Gyros with Cucumber Tzatziki
Prep time is used to marinate the tempeh. Hands on time is only about 35 minutes!
Author:
Alison's Allspice
Ingredients
8 oz block original tempeh
Tempeh Marinade:
1 TBS soy sauce, ketchup, and lemon juice, each
1½ tsp sesame oil
1 tsp liquid smoke
1 tsp oregano
½ tsp onion and garlic powder, each
¼ tsp salt, pepper, and rosemary, each
Tzatziki
12 oz plain Greek yogurt
1 small cucumber, peeled and shredded (1/3-1/2 cup)
3 garlic cloves, minced
1 tsp dried dill
1 TBS red wine vinegar
¼ tsp salt
⅛ tsp pepper
Gyros
3 whole wheat pita breads
¼ cup cucumber, diced
¼ cup tomato, diced
Instructions
Slice tempeh into thin, short strips. I ended up with 30 strips.
Mix together marinade ingredients. Add tempeh and stir gently to coat. Let sit for 2-4 hours.
In a medium bowl, combine all ingredients for the Tzatzkiki sauce. Set aside.
Using a splash of olive oil, pan sear marinated tempeh until golden and crispy.
Mix together diced cucumber and tomato for the garnish.
To assemble gyros, cut pita bread into two halves. Spread tzatziki sauce inside both pockets generously. Slide in the tempeh slices, and garnish with the cucumber and tomato relish.
Tzatziki recipe inspired by
Cooking Light
. This recipe was shared at
Meatless Mondays
.