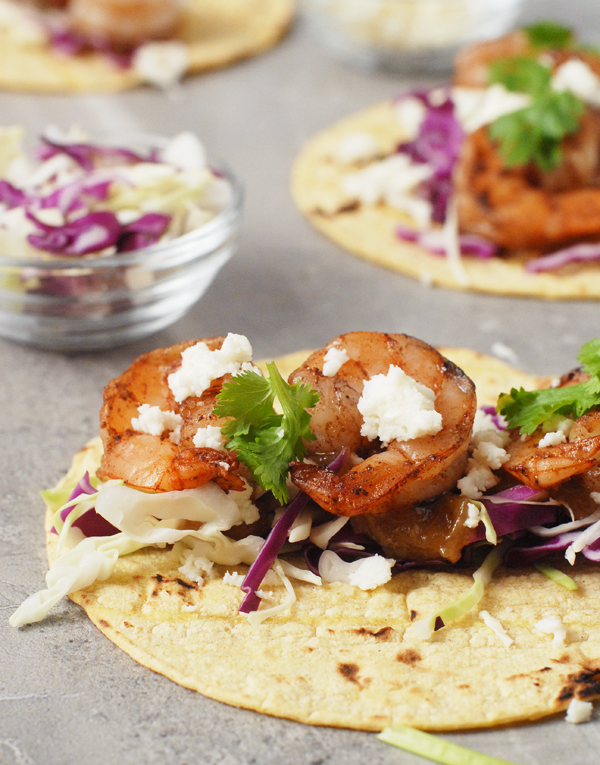 Have you guys tried chinese 5-spice powder yet?  It's been a popular up-and-coming spice for a while now, and I'm just now getting on board.  Chinese five-spice is a blend of Szechwan pepper, star anise, cinnamon, cloves, and fennel.  It has a wonderfully warming characteristic that pairs perfectly with other Asian flavors, such as ginger, and is not spicy.  My five spice shrimp tacos with rhubarb ginger sauce are an amazing twist between Asian and Mexican cuisines!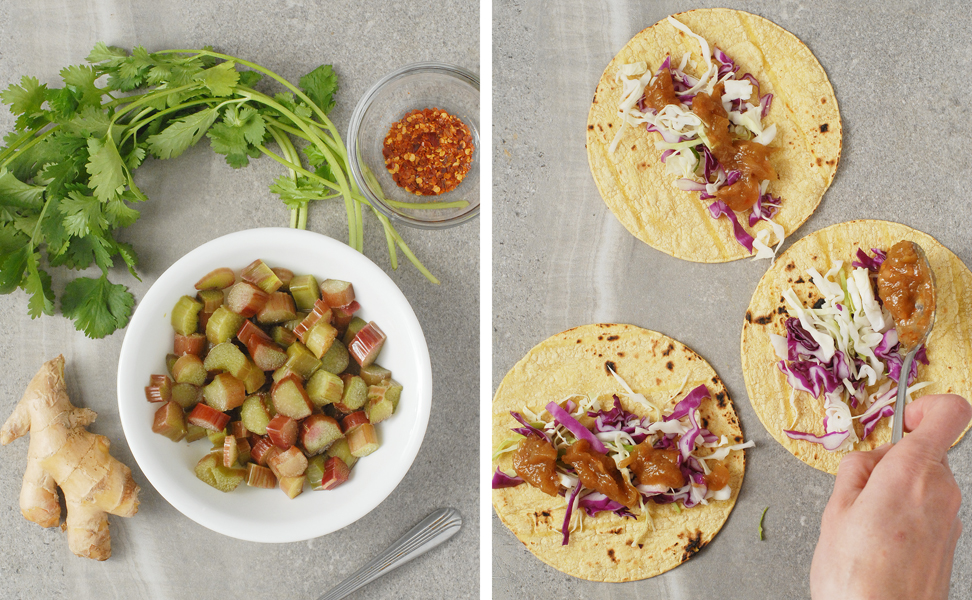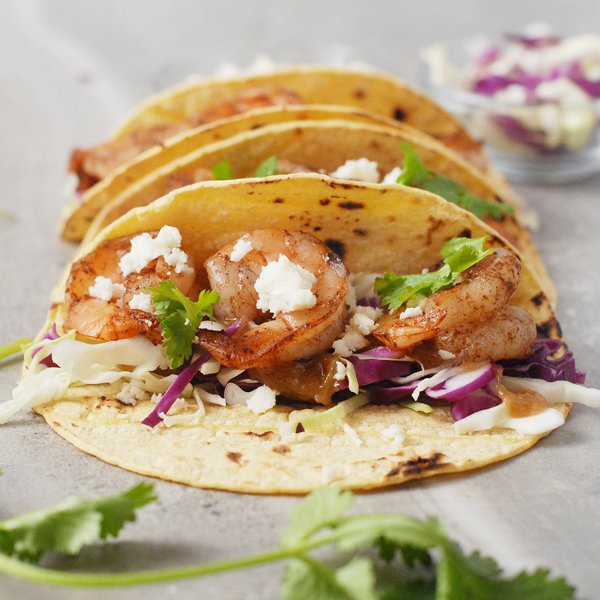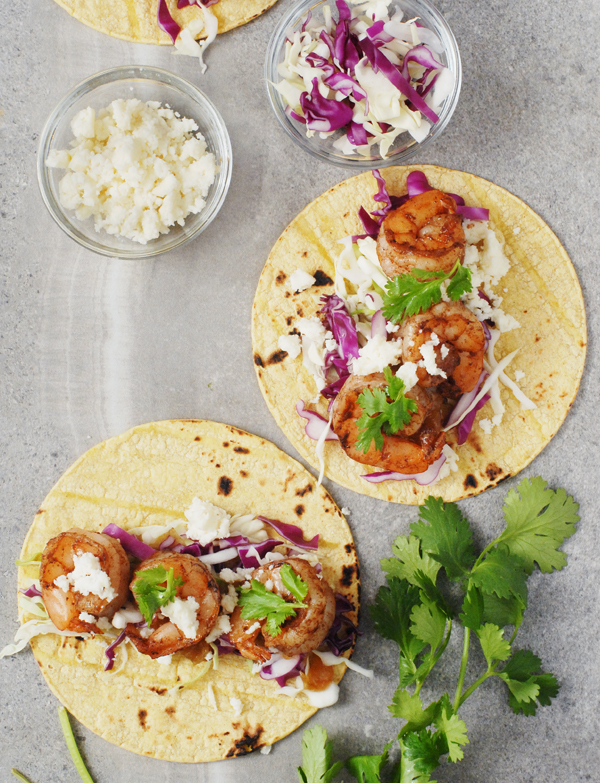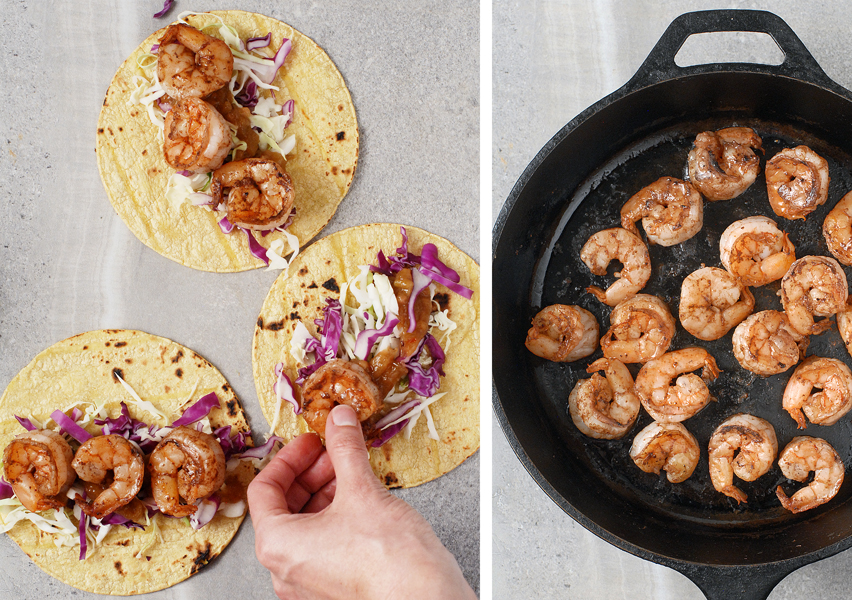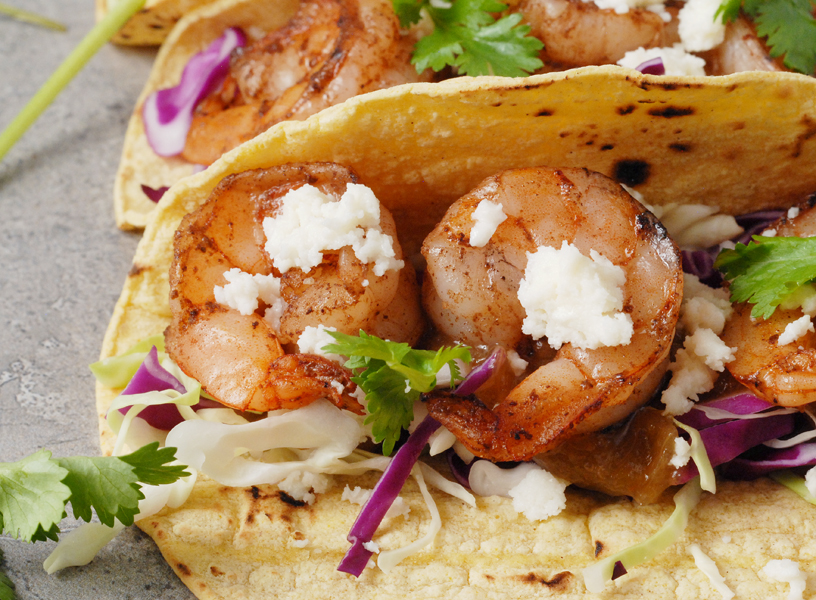 I love making savory dishes with rhubarb, like my rhubarb tagine.  In this dish, rhubarb makes a perfect base for a tangy taco sauce, paired with ginger.  I chose not to make these tacos spicy because I wanted to be able to taste all the immense flavors going on. I usually love to add a splash of hot sauce to my tacos, but you really don't need it.  Without it you can better taste all the flavors of the five-spice, the succulent shrimp, and the rhubarb ginger sauce.
Variations to the Five Spice Shrimp Tacos with Rhubarb Ginger Sauce recipe:
Vegetarian: try tofu, chickpeas, or cauliflower in place of the shrimp if you do not eat meat.
If you're in a hurry, you can skip brining the shrimp (soaking them in salt water), and simply add a little salt in with the five spice powder.
If you don't like cilantro, try scallions as a garnish.
Five Spice Shrimp Tacos with Rhubarb Ginger Sauce
My five spice shrimp tacos with rhubarb ginger sauce are an amazing twist between Asian and Mexican cuisines! Try them on your next taco Tuesday!
Author:
Alison's Allspice
Ingredients
Rhubarb ginger sauce
1 cup diced rhubarb (fresh or frozen)
1 TBS fresh ginger, minced
3 TBS water
1 TBS honey
⅛ tsp red pepper flake
pinch of sea salt
Shrimp
18 medium shrimp (about ⅔ lb)
1 tsp salt
water, to cover
½ tsp Chinese 5 spice powder
splash olive oil
Tacos
6 corn tortillas
2 cups shredded cabbage (green, red, or both)
2-3 oz crumbled queso fresco
Cilantro leaves, for garnish (optional)
Instructions
Rhubarb Ginger Sauce
Combine all ingredients for the rhubarb ginger sauce in a small sauce pan. Bring to a boil and reduce heat to a simmer. Use the back of a spoon to break up the rhubarb as it cooks. Simmer for about 10 minutes, or until the rhubarb is broken down and the sauce is thick.
Shrimp
Peel and devine all the shrimp. Toss shrimp with salt in a large bowl and add enough water to cover. Stir gently to dissolve some of the salt. Let the shrimp brine in the salt water for 15-20 minutes.
Drain off salt water and pat shrimp dry with a paper towel. Toss with the 5 spice powder.
Heat oil in a large heavy bottomed skillet until water sizzles on contact. Add shrimp and cook for 2 minutes, covered. Flip shrimp and cook until they are completely opaque, about 1 more minute.
Tacos
Heat corn tortillas according to package directions. (I like to char mine over an open flame.)
Place ⅓ cup cabbage on top of each tortilla. Spoon rhubarb sauce over the cabbage (1-2 TBS each). Top with 3 shrimp, queso fresco, and cilantro leaves, if using. Serve immediately.
Notes
Makes 2 large servings, or 3 small servings.
I was inspired by an
Eating Well recipe
to make this dish. Please visit my s
haring page
to see what link parties I share at.
Please Pin if you liked this recipe!