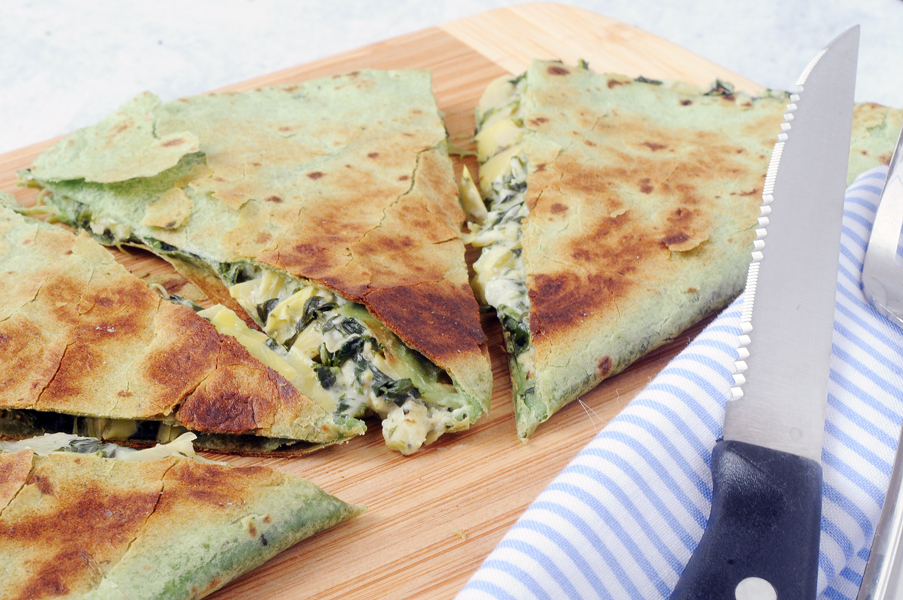 This week has been a very busy week for me (stories to come!), and has left me with little time to do my usual menu planning.  When dinner time came around the other night, I was scrounging through the fridge trying to come up with a plan.  I always start by looking at what vegetables I have, because I try to center my eating habits around getting plenty of veggies.  When I realized the best combo I had was spinach and artichoke, all I needed was cheese and a delivery system to make a meal.  I used my leftover spinach tortillas from my Zombie Burritos recipe to make these creamy spinach artichoke quesadillas!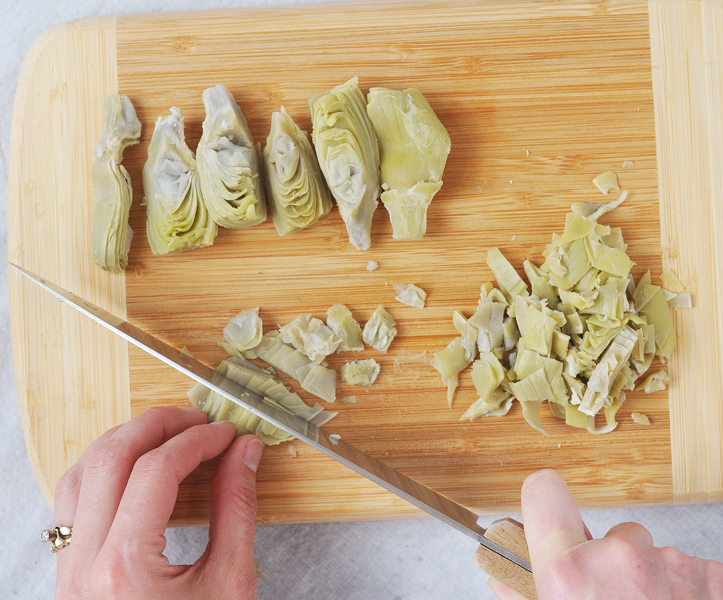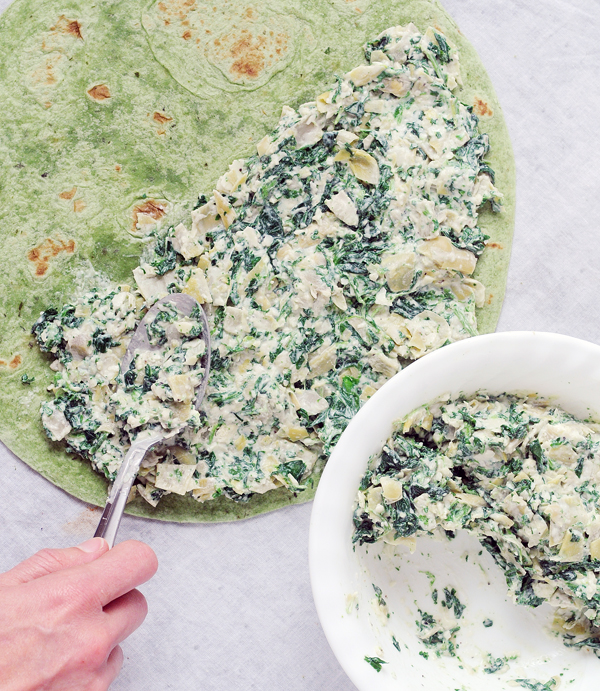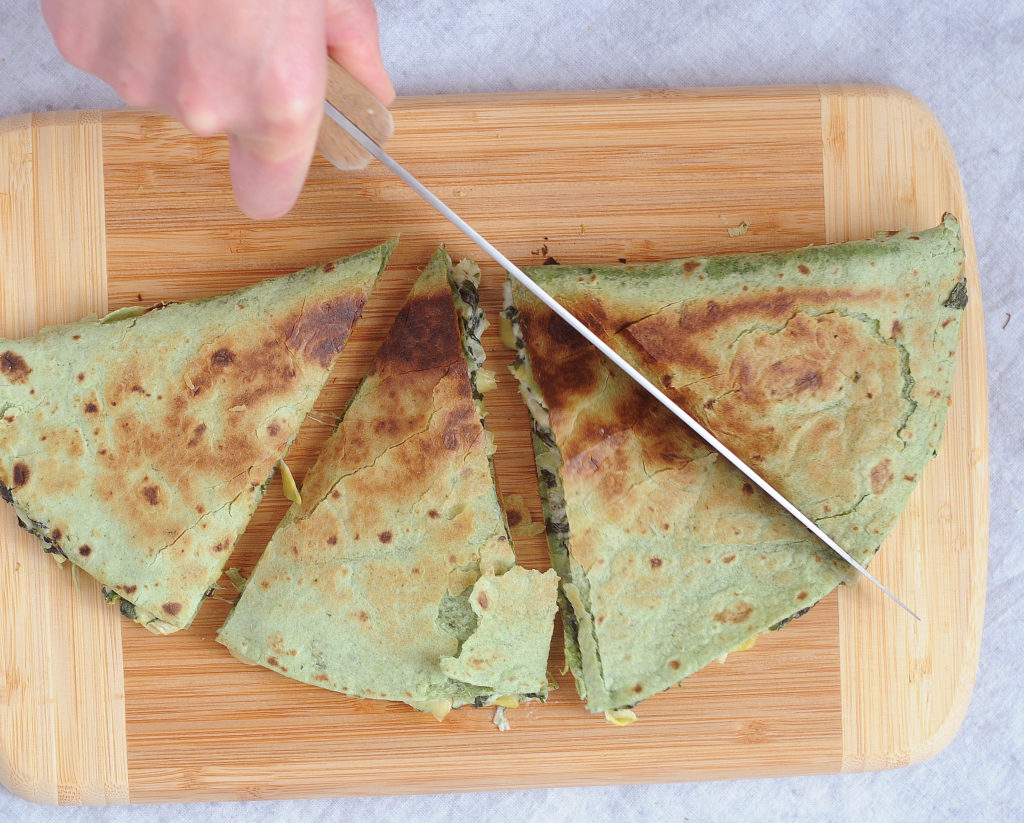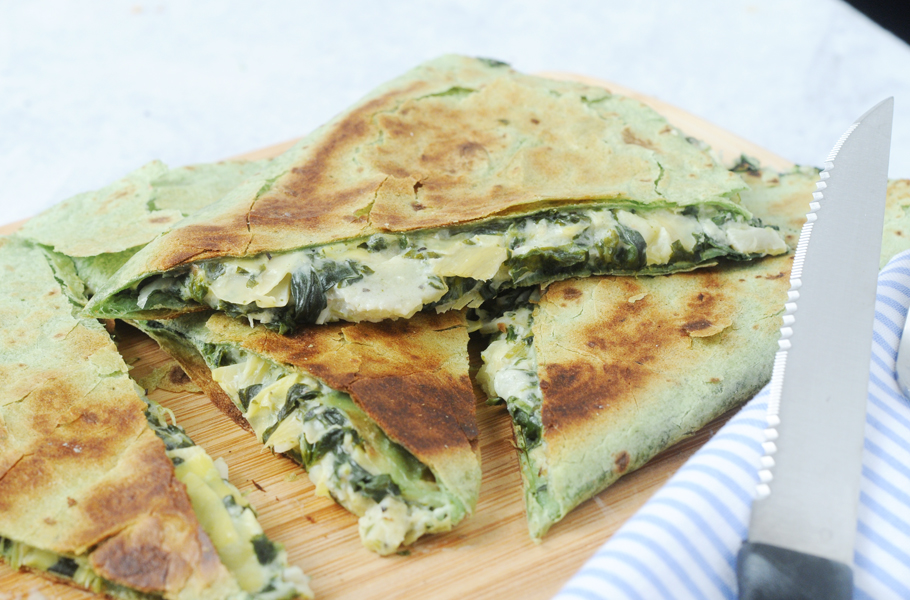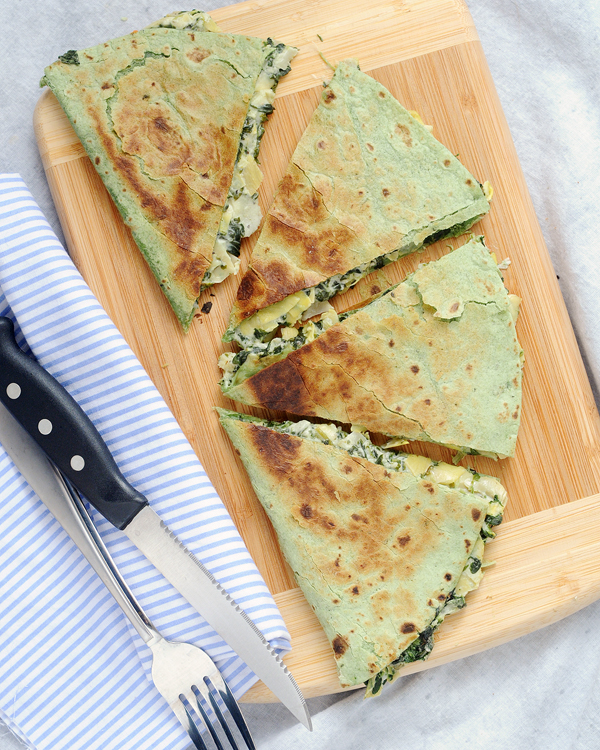 I am a crazy menu planner, I always have a plan for dinner, and a back-up plan!  Not having time to make a plan is new for me, and I'm trying to find ways to cope with the changes.  I know that things will calm down, and I'll find time to plan again, but for now I have been making grocery lists while munching on breakfast cereal.  Those lists feel like a far cry from a plan, they feel more like a safety net full of my favorite kitchen staples.  I always say, you can't go wrong with quality ingredients, and I do love to be spontaneous and try new things!  I'll fill you all in on the new stories and life changes next week!
Variations to the Creamy Spinach Artichoke Quesadillas recipe:
I used cream cheese and Parmesan because that's what I had on hand.  Mozzarella or Monterrey jack would also be good choices!
Your can make these with any kind of tortilla you stock.  I usually use whole wheat, but had spinach available, and I loved the additional color they added!
The filling for these quesadillas is very moist.  To keep the tortilla crispy, serve immediately, or they will become soft and not crispy!
Creamy Spinach Artichoke Quesadillas
If you need a super-fast and delicious meal with limited clean up, try my creamy spinach artichoke quesadillas. They are easy to make, and tasty as well!
Author:
Alison's Allspice
Ingredients
6 oz frozen artichoke hearts, chopped
4 oz frozen cut leaf spinach
3 oz neufchatel cheese (low fat cream cheese)
⅓ cup shaved Parmesan
¼ tsp black pepper, onion powder, each
2 garlic cloves, minced
⅛ tsp salt
2 12 inch tortillas
Instructions
In a medium bowl, thaw artichokes and spinach using a microwave. Drain off any additional moisture after thawing.
Mix in cheeses, pepper, onion powder, garlic, and salt.
Heat a large skillet over medium heat. Use half of the spinach mixture and cover half of a tortilla. Fold it closed and repeat with the remaining tortilla.
Place the quesadillas into the hot skillet and cook until browned, 3-4 minutes. Flip and brown the other side. Serve immediately.