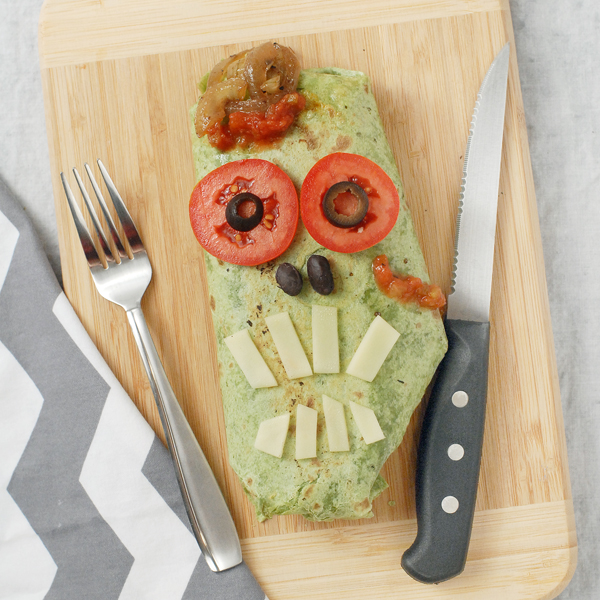 If you have been following me on pinterest lately, you have probably seen that I have been all about Halloween recently!  More specifically, Halloween foods!  Most Halloween foods are sweet treats, mimicking candy corn and the like.   This spook-tacular recipe is a dinner recipe, perfect for sharing with family and friends as the holiday approaches.  Especially kids will love these Halloween zombie burritos!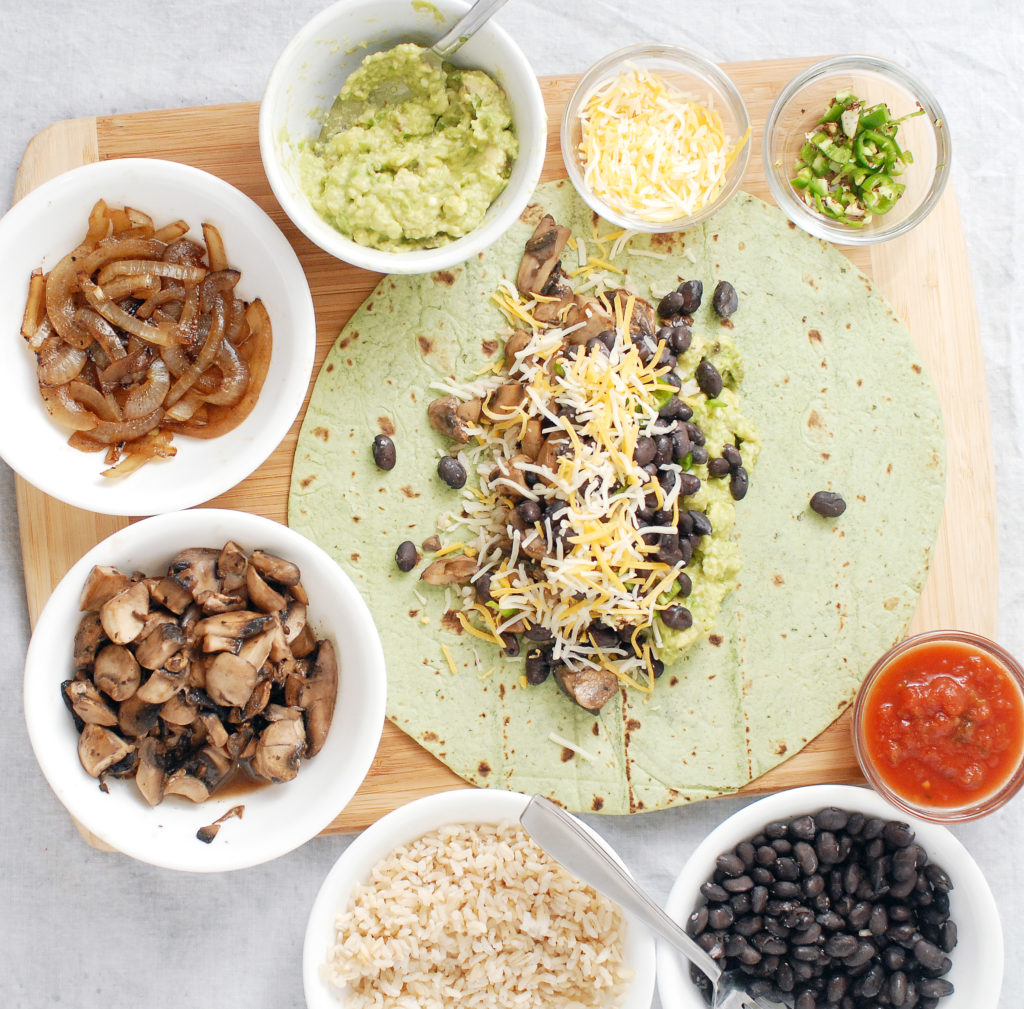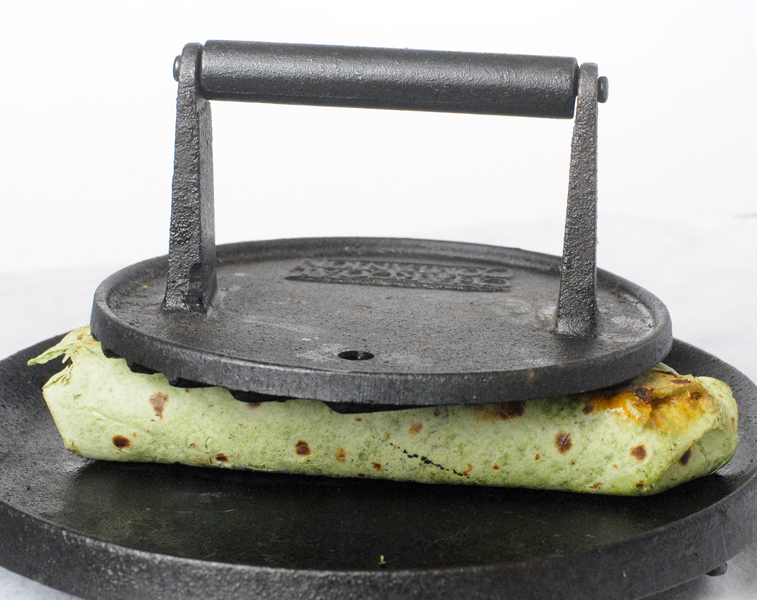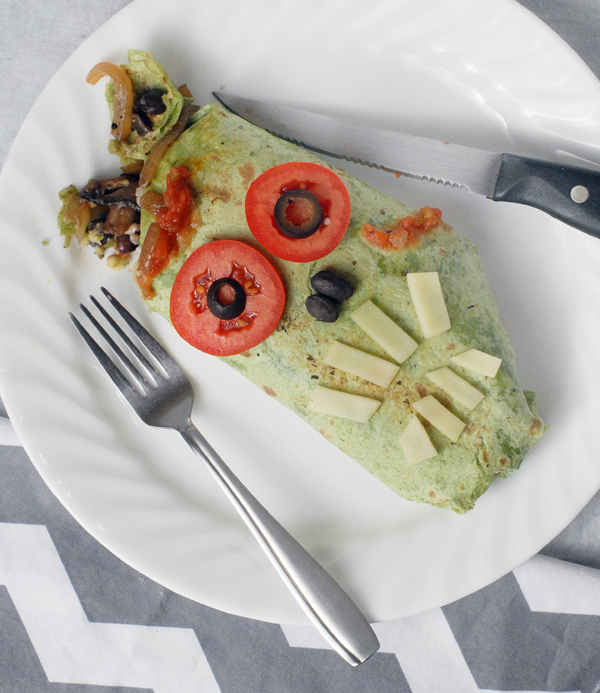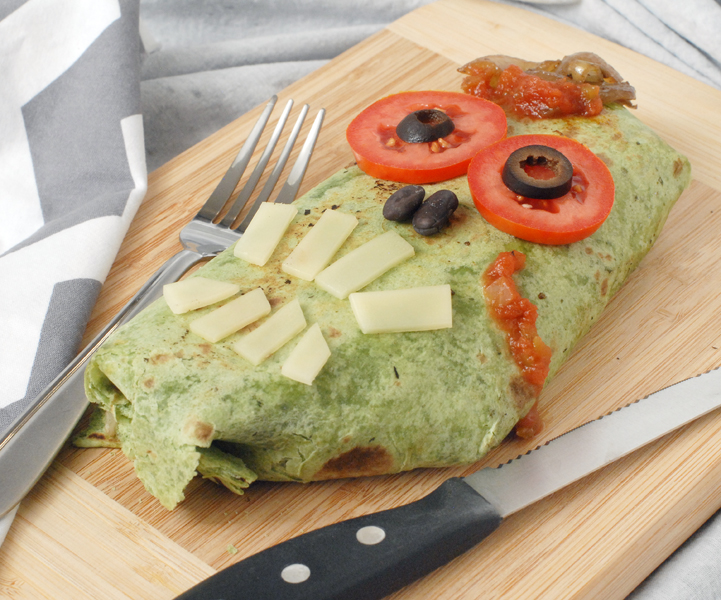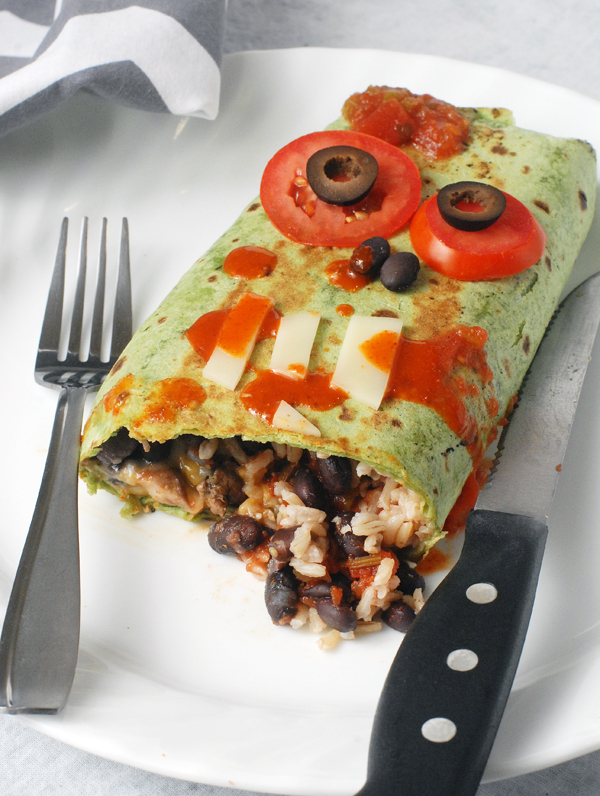 For this recipe, you can stuff your burritos any way you like.  I have given directions below for a black bean and rice burrito, but you can certainly add and subtract ingredients as you like.  The fun part of this recipe was creating the zombie faces!  You can get creative with your own designs, adding splashes of salsa or hot sauce for a dramatic effect.  Finally, when you start to dig into your burrito, you can make specific cuts for effects.  Make the zombie brains fall out, or make it look like the head was chopped off.  Happy Halloween!
Variations to the Halloween Zombie Burritos recipe:
I used 12 inch spinach wraps so the faces were green.  To make these gluten free, try making a corn tortilla quesadilla instead of a burrito.
Use the filling in the recipe as a guide to building a burrito you and your family will love.  You want about 2 cups of filling material total for a 12 inch tortilla.
For the grilled vegetables, use any cooked (grilled, sauted or roasted) vegetables that you enjoy.  They simply add texture and bulk to the burrito without adding many calories.
Not into zombies?  Try any sort of face you and your kids like.  Jack-o-lanterns, monsters, bats, and vampires will all work!
I recommend a cast iron grill press (pictured) to make burritos. The extra weight on top while cooking helps the burrito hold together while eating!
Halloween Zombie Burritos on Spinach Wraps
These Halloween zombie burritos are a spook-tacular dinner recipe that is fun for kids and adults alike! Customize the burrito filling, and the zombie face!
Author:
Alison's Allspice
Ingredients
Burrito Filling
1 spinach tortilla/wrap (12 inches)
½ cup cooked black beans
½ cup cooked brown rice
½ cup grilled veggies (I used mushrooms and onions)
¼ cup shredded cheese
3 TBS salsa
3 TBS guacamole (optional)
Hot sauce or diced jalapenos (optional)
Zombie Face
2 slices roma tomato
2 slices black olive
2 cooked black beans
½ oz slice of white cheese (I used provolone slices)
1 TBS sauted onion
Salsa/hot sauce
Instructions
Burritos
Heat tortilla according to package directions (microwave for 5-10 seconds).
Preheat a large heavy bottomed skillet over medium heat.
Place all ingredients you are using for the filling into the center of the burrito.
Fold on side of the tortilla over and tuck it into the filing. Tuck in the end and roll the burrito so it sits on top of the seam.
Place burrito seam side down in the hot skillet and top with a cast iron grill press. Cook for 2-3 minutes, or until the tortilla is starting to brown and the seam is sealed shut. Flip over and brown on the other side.
Faces
Place the burrito seam side down on a plate, with the head end furthest from you.
Use the tomato slices as eyes, and the olive slices as pupils in the eyes.
Place 2 black beans vertically to represent the nose.
Cut the cheese into blocks and place on the burrito to make teeth.
Place 1 TBS sauted onions on top of the head, like brains sticking out.
Garnish the face with additional salsa or hot sauce for dramatic effect.
Notes
Choose a really thick salsa for the filling. A thin, runny salsa will make a messy burrito if you try to eat it by hand.