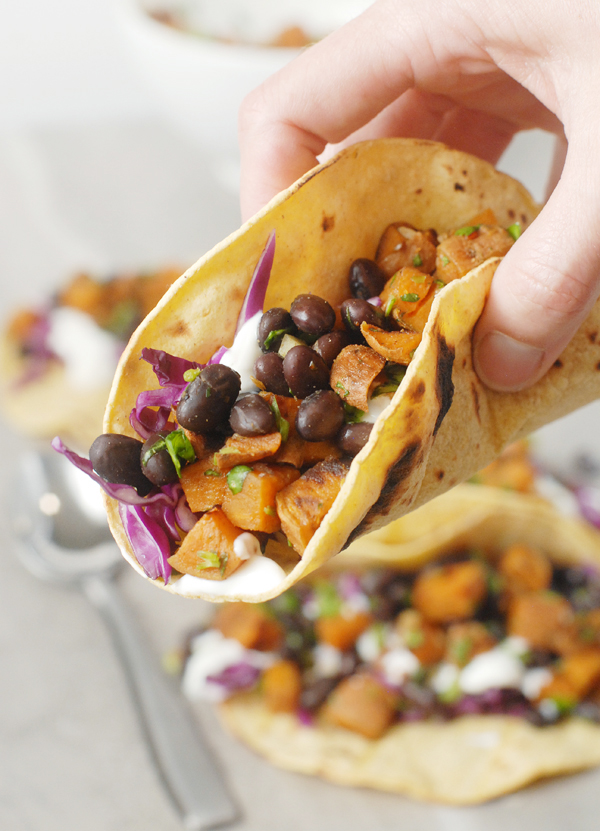 This fall has been unseasonably cool for us here in southern Illinois.  I have been enjoying the cool temps, and hoping for a long fall.  My slippers and sweatshirts have been dusted off and are getting some use, especially in the mornings.  The cats love to sit in the windows and have been enjoying this early fall as well.  I am usually one that takes a long time to get into the swing of fall, but I am already craving warm comfort foods.  These cilantro lime sweet potato black bean tacos are hearty and filling, while staying fresh and light!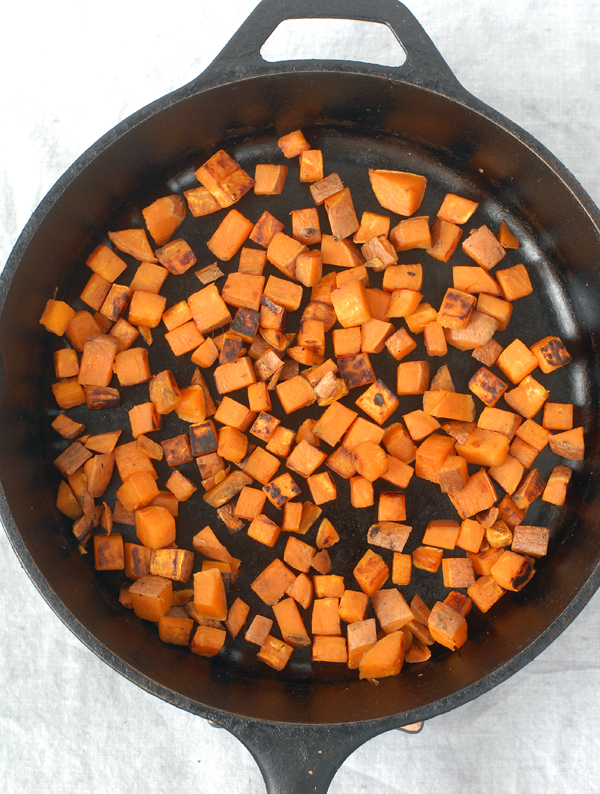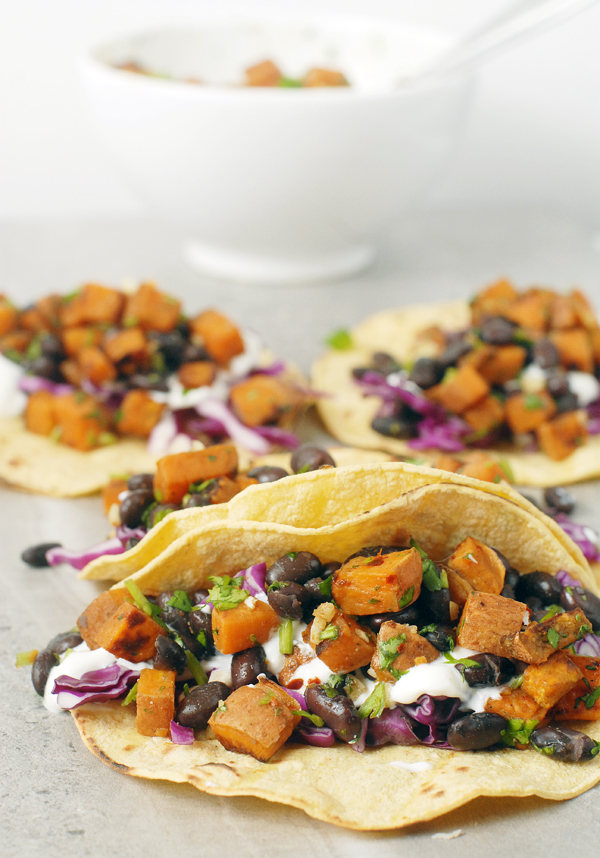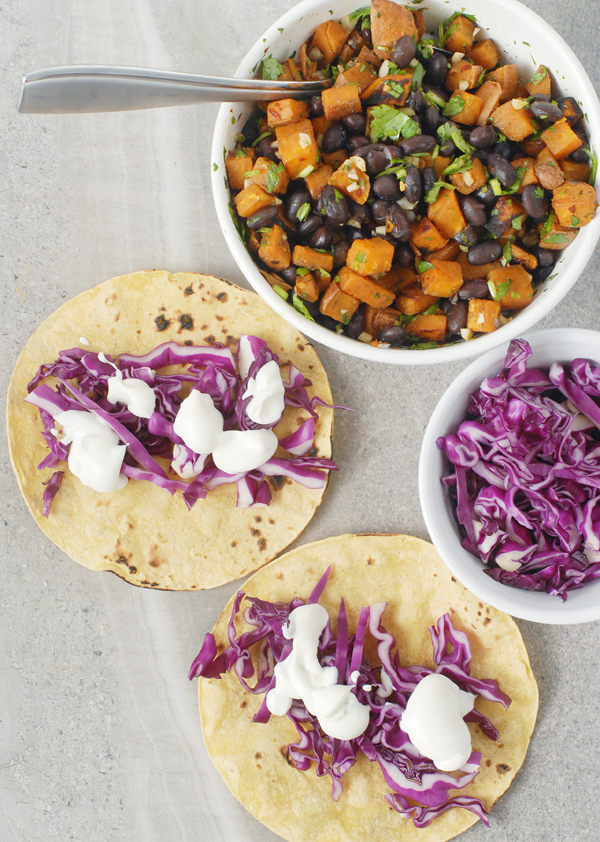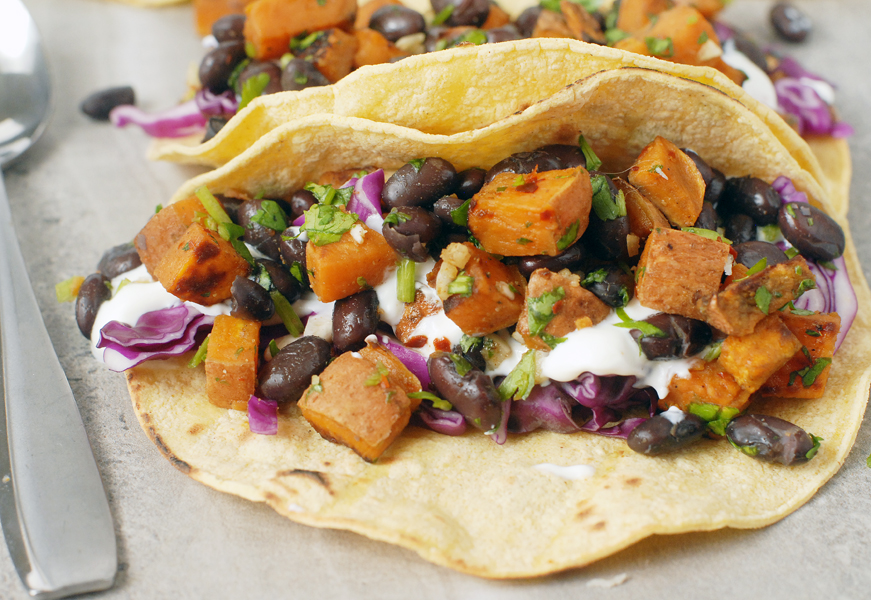 I developed this taco off of one of my favorite salads, cilantro lime black bean salad.  I love the spices and dressing so much, and I wanted to recreate them into a husband approved dinner.  Tacos are always a winner, and sweet potatoes are a favorite hearty fall food.  I added some slaw for crunch, and sour cream for moisture and creaminess.  Dinner is made!
Variations to the Cilantro Lime Sweet Potato Black Bean Tacos recipe:
Skip the tortilla, and make these into a taco bowl/salad recipe.  Use your favorite grain or lettuce/greens with the slaw and sweet potato mixture.
I opted for sour cream instead of cheese on these tacos.  You can use both, or pick the one that you happen to have on hand.
If you are not a sweet potato lover, try another root vegetable.  Carrots or parsnips would be fun!
Cilantro Lime Sweet Potato Black Bean Tacos
These cilantro lime sweet potato black bean tacos are hearty and filling, while fresh and full of veggies! Try them for your next taco Tuesday!
Author:
Alison's Allspice
Serves:
8 tacos, or 2 large servings
Ingredients
1 lb sweet potato, diced
splash of olive oil
1½ cups cooked black beans (or 1 can, rinsed and drained)
2 large garlic cloves, minced
½ cup minced cilantro (stems and leaves)
½ tsp cumin and red pepper flake, each
¼ tsp salt and pepper, each
1 TBS lime juice
8 corn tortillas
2 cups red cabbage, sliced
½ cup sour cream
Instructions
Heat a large heavy bottomed skillet over medium heat. Add sweet potatoes and a splash of olive oil. Cover and cook stirring occasionally until the sweet potatoes are tender and starting to brown, about 15 minutes.
Combine cooked sweet potatoes with black beans, garlic, cilantro, cumin, red pepper flake, salt, pepper, and lime juice. Stir to combine.
Heat tortillas according to package instructions. I prefer to char them over an open flame.
Top tortillas with shredded cabbage, a tablespoon of sour cream and ⅛th of the sweet potato mixture. Serve.