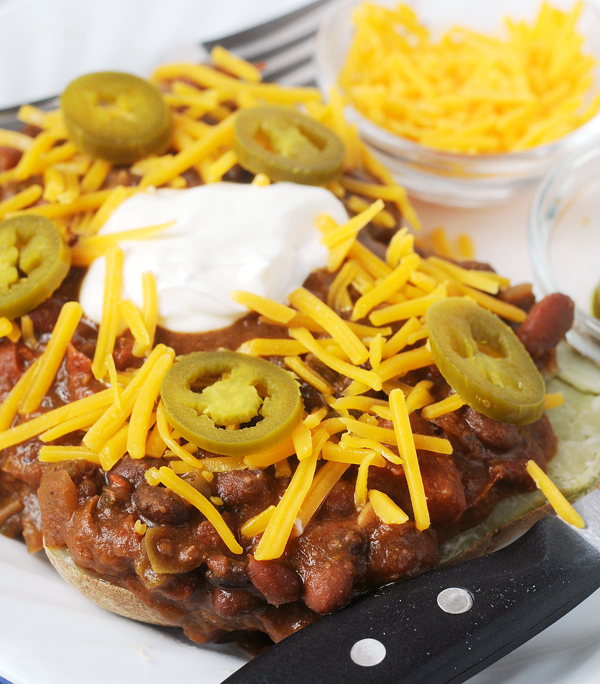 These chili & cheddar loaded baked potatoes are a total comfort food classic for me.  When ever I make chili, I always make a huge batch so there are plenty of leftovers for other meals.  This is my favorite chili recipe, and the recipe I used for the photos.  I also love white chili, has anyone ever tried white chili over a potato?  I am crazy enough I might just have to try it, and report back!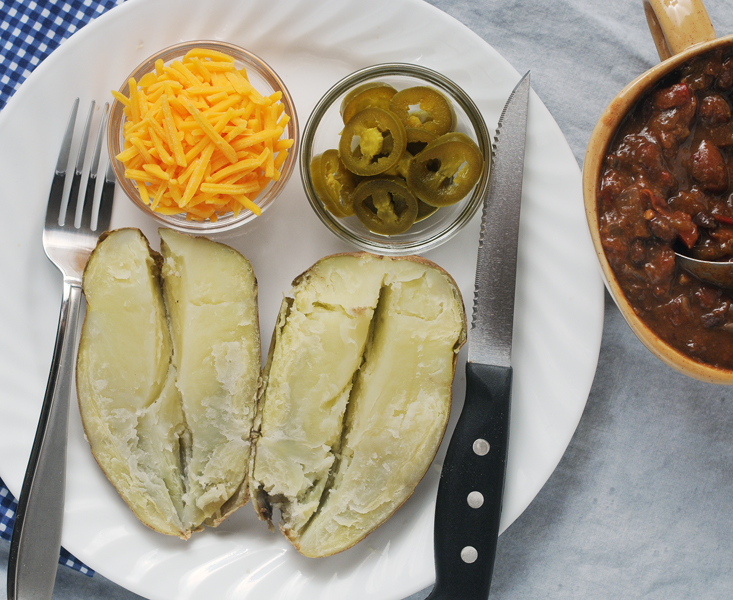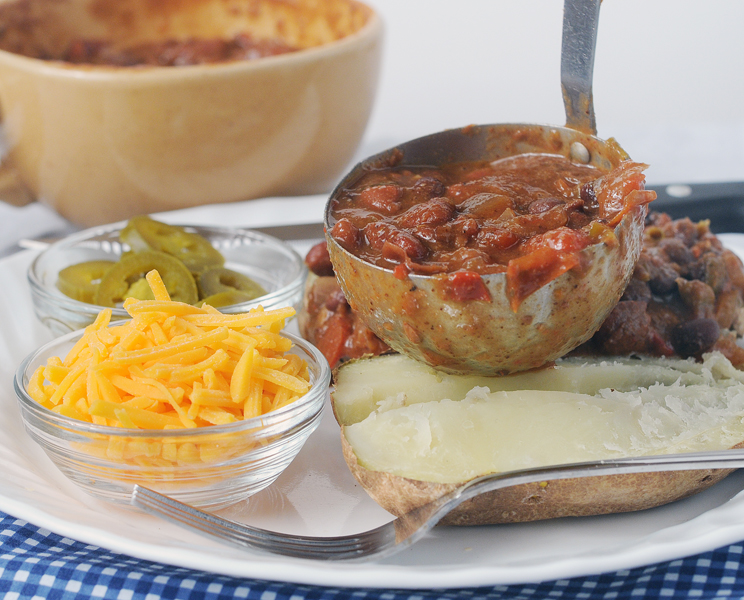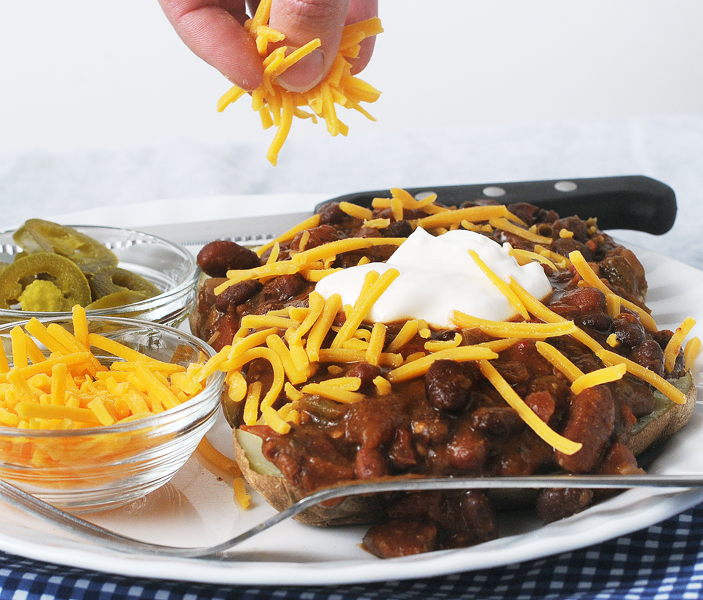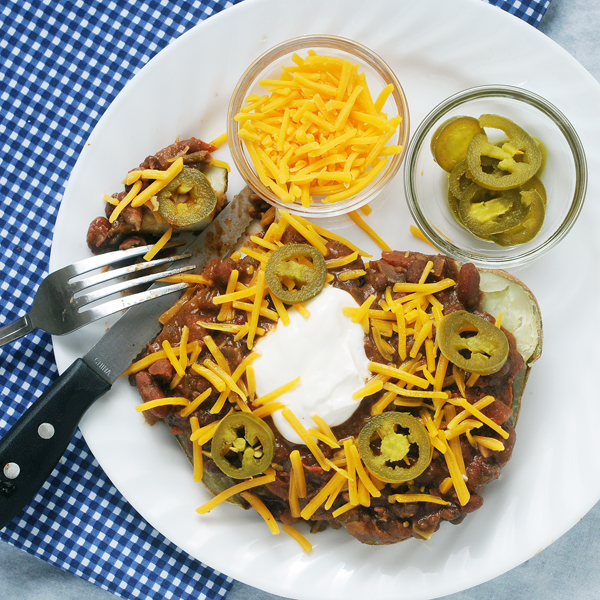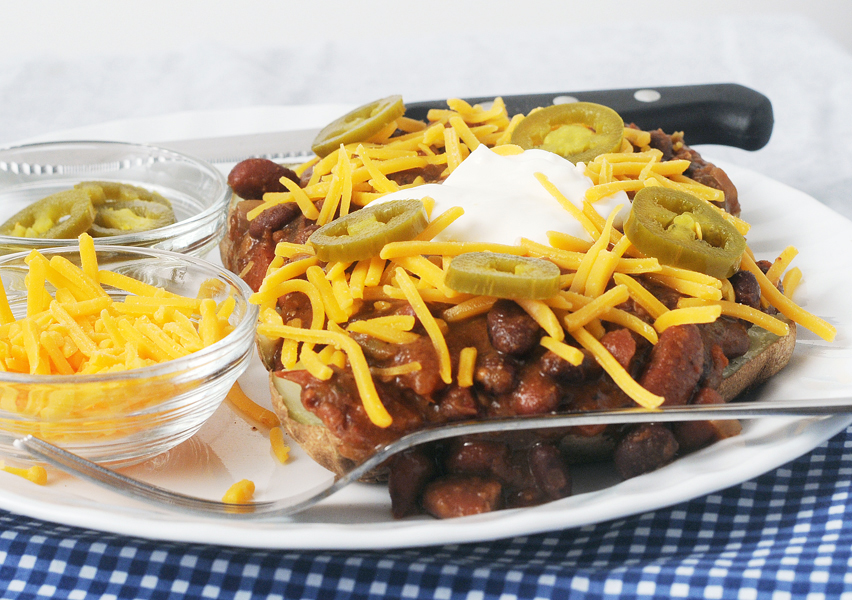 Often times I microwave bake potatoes to make this a super-fast meal.  Baking a potato in the oven takes so long, and when you smother it in chili and cheese, I don't feel like I'm missing the crispy skins.  Have you ever tried slow cooker baked potatoes?  I am curious, but have yet to try the technique. This slow-cooker
 is the one I recently got as a gift and have been loving it.  It's big enough to do anything you can think of!  It will come in handy during the holidays when the oven's to-do list gets longer than mine!
Variations to the Chili & Cheddar Loaded Baked Potatoes recipe:
Use your favorite chili recipe, or in a pinch, get a can of chili to build these loaded tators!
If you are particular about having crispy skins on your baked potatoes, you should stick to oven baking them, which will take longer than written in the recipe.
If you love sweet potatoes, try them in place of russets.  I also love purple potatoes, for extra antioxidants!
Chili & Cheddar Loaded Baked Potatoes
These chili & cheddar loaded baked potatoes are a total comfort food classic for me. Using leftover chili, they come together in only 15 minutes!
Author:
Alison's Allspice
Ingredients
4 large russet potatoes
4 cups of your favorite chili
1⅓ cups shredded cheddar cheese
½ cup sour cream
jalapenos, to taste (optional)
Instructions
Thoroughly wash potatoes and pierce them all over with a fork. Place on a plate and microwave 8-12 minutes (depending on your microwave), turning a few times during cooking.
Split potatoes in half and give them a slit down the center of each half for the chili to run into.
Heat your chili in the microwave. Laddle about ½ cup over each potato half.
Sprinkle with cheddar (1/3 cup each potato), and top with a dollop of sour cream (2 TBS each). Serve with jalapenos.