Last week I was all about savoring summer.  I even picked up a few zucchinis at the farmers market this weekend because I don't want to let go!  I finally have realized however, that I must embrace fall because those bone chilling days of winter will come shortly after.  Nothing says fall to me like chili.  This chili recipe is great for this time of year when you can still get locally grown peppers.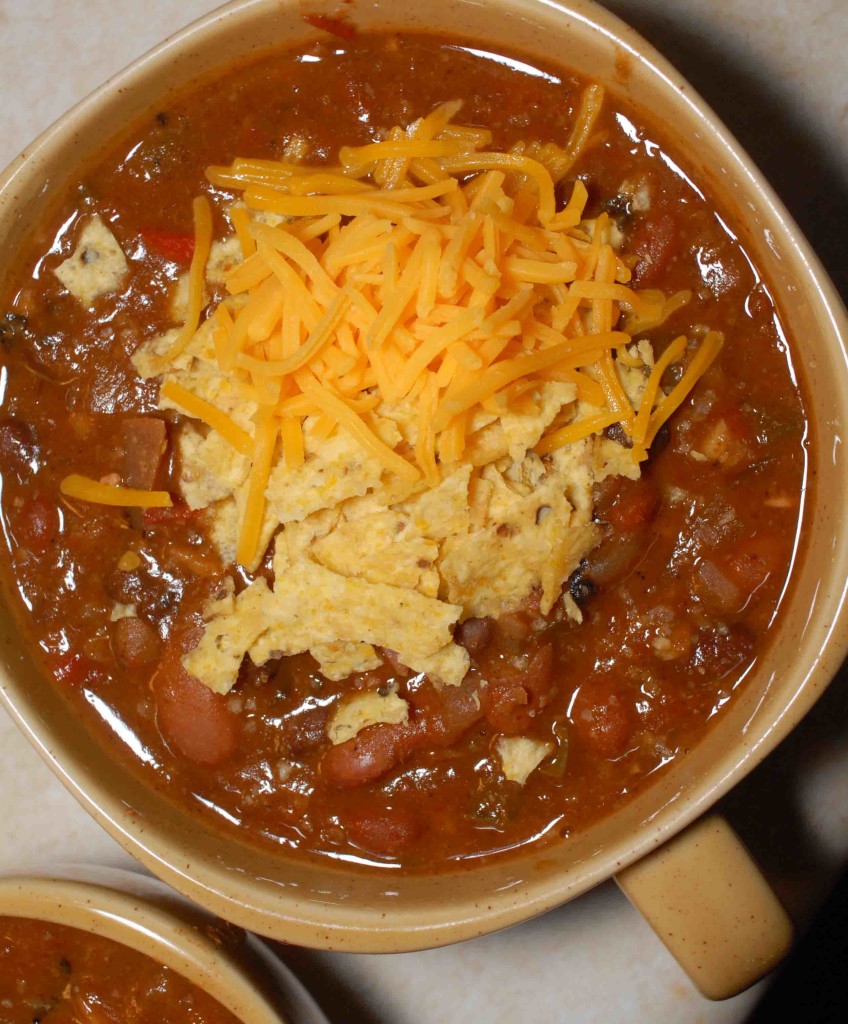 A great chili can be made in so many ways.  No two chili recipes are the same.  Chili can even be the type of dish that you just whip up without a recipe.  A good base of tomatoes, peppers, onions, and beans is all you need to be off to a great start. When ever I am whipping up a dish in the kitchen, I always record what I use so that I can repeat it and improve upon it.  This chili has been made many times and is our favorite classic chili recipe.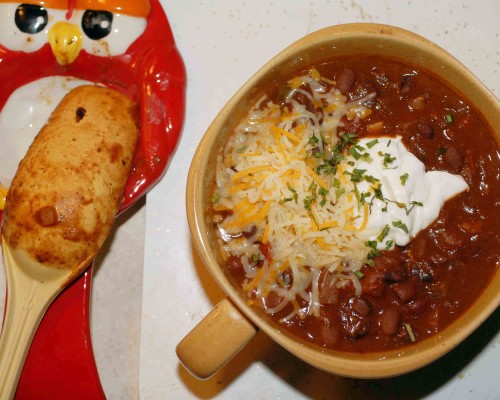 There are a special list of ingredients that make this chili so rich and filling.  I like to use three types of peppers and fire roasted tomatoes for the base.  The unique seasonings include cinnamon and cocoa.  They add great warmness and depth of flavor.  I also include coriander to brighten all the flavors.  I use two types of whole beans, black and kidney, and refried pinto beans.  The refried beans make it thick and creamy.  So delicious!  Enjoy!

Three Bean Chili
This three bean chili is warm and cozy. Try it with black beans, kidney beans, and refried beans!
Author:
Alison's Allspice
Serves:
12 cups or 6 bowls
Ingredients
1 large onion, chopped
½ large green bell pepper, chopped
½ large red bell pepper, chopped
1 TBS olive oil
2-3 jalapenos, minced (increase jalapenos to make it more spicy)
6 garlic cloves
28 oz can fire roasted diced tomatoes, such as Muir Glen
3 cups cooked black beans, or 2 cans rinsed and drained
3 cups cooked kidney beans, or 2 cans rinsed and drained
3 cups veggie broth
2 TBS chili powder
4 tsp cumin
2 tsp oregano, dried
1 tsp cocoa powder
½ tsp cinnamon
½ tsp coriander
¼ tsp cayenne pepper
1 cup refried beans (remember not all canned refried beans are vegetarian!)
Optional Garnishes
Cheese
Sour cream
Crushed tortilla chips
Chives, minced
Soup crackers
Instructions
Saute onion and bell pepper in olive oil for about 5 minutes, or until softened. Stir in garlic and jalapenos, saute 3 more minutes.
Stir in tomatoes through cayenne pepper. Bring to a boil and simmer for 1 hour. Stir occasionally
Stir in refried beans until smooth and heat until it starts to bubble again. Serve with garnishes of your choice.
Notes
I found that the refried beans made the chili stick to the bottom of the pot. Stir them in last to prevent sticking.