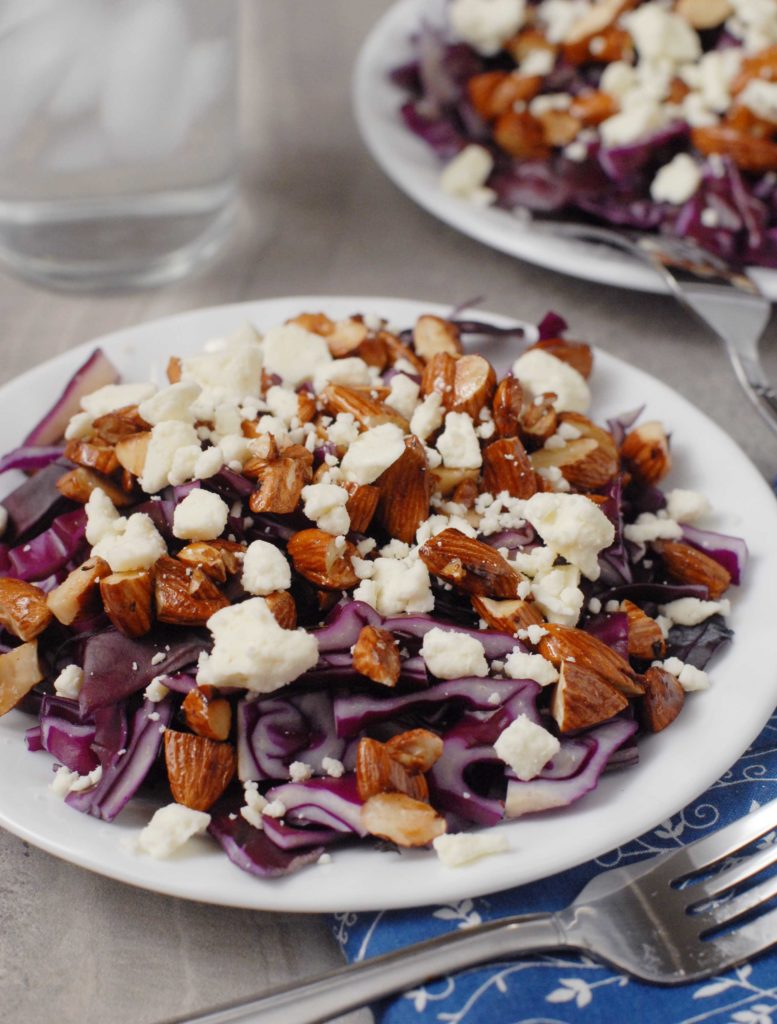 Yes, that is right.  We are making slaw with cheese and nuts today.  This red cabbage feta and candied almond slaw is almost more like a salad.  It has a sharp and savory vinaigrette like a salad, but the red cabbage really eats more like a slaw.  Whether you think it should be called a slaw or a salad is up to you.  Once you try this recipe, you will be hooked!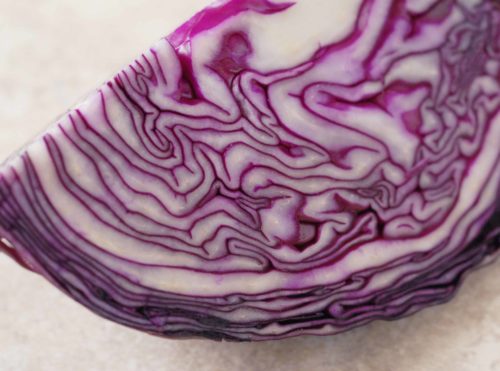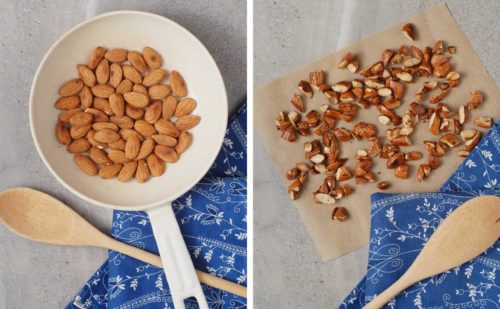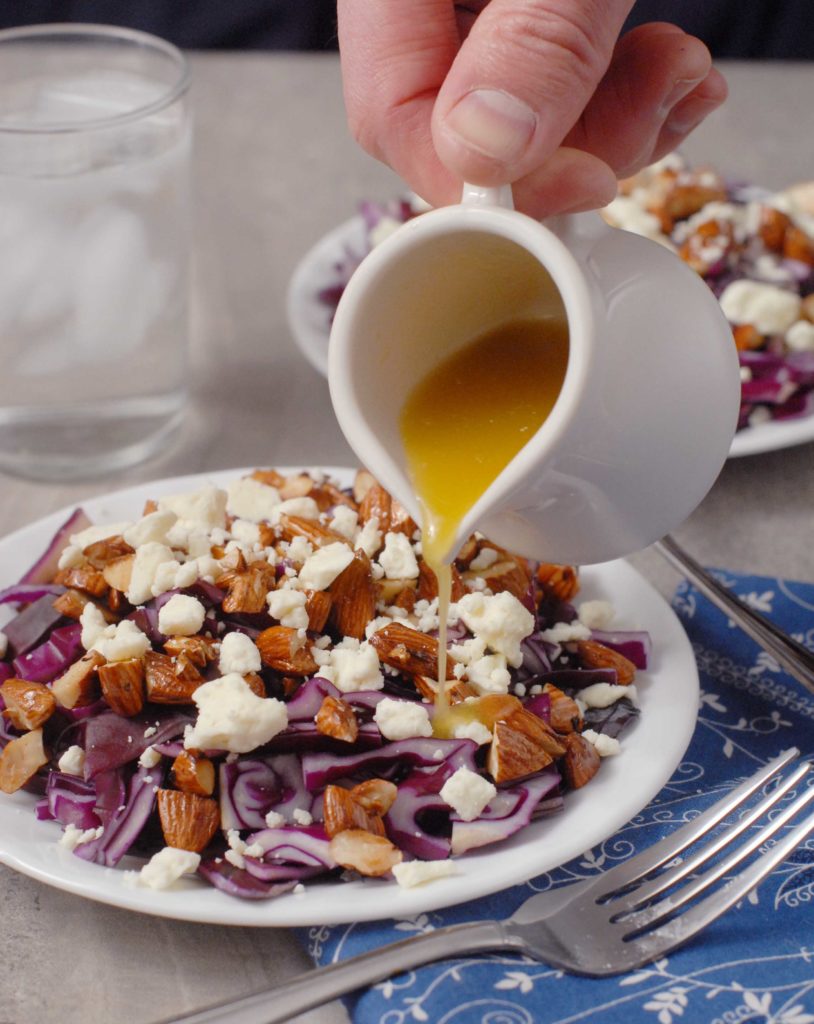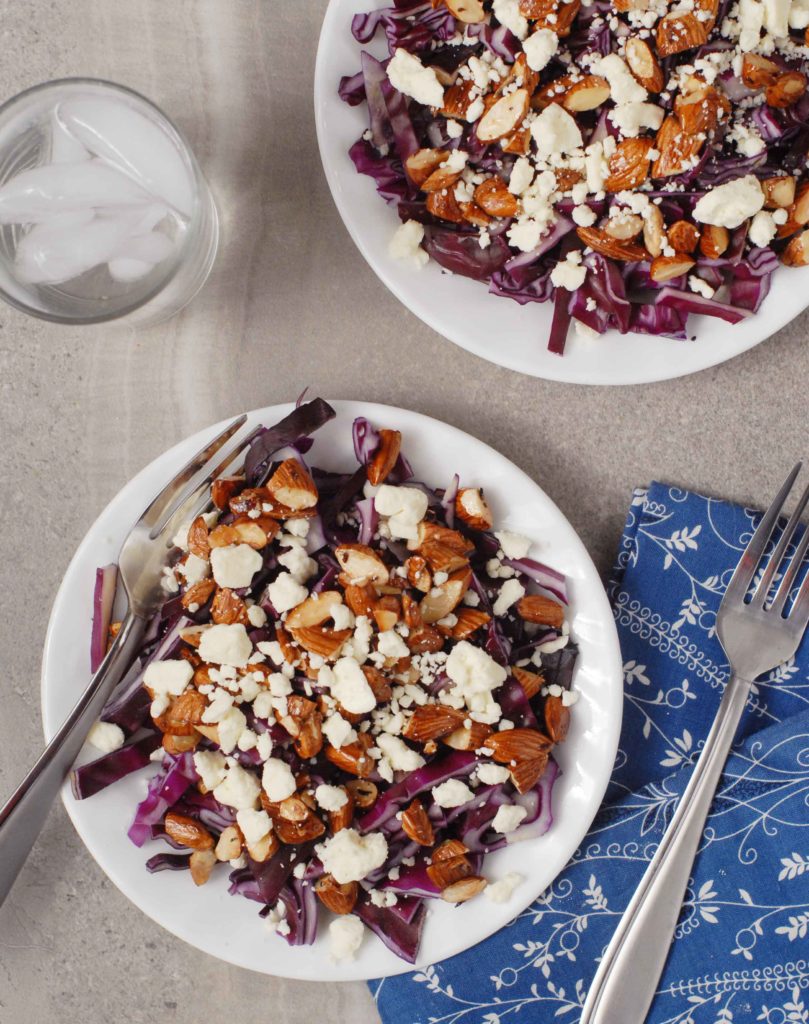 I love cabbage.  I tend to reach for red cabbage more because it has a little more flavor, and that color!  It just looks healthier because of its color.  I think red cabbage is better for slaws, like this slaw side dish, or like the slaw on these black bean tacos with garlic red cabbage slaw.  However, I prefer green cabbage for roasting, like this Dijion thyme roasted cabbage.  What is your favorite cabbage recipe?  Share with us in the comments!
Hints and Tips for the Red Cabbage Feta and Candied Almond Slaw:
Cut the red cabbage according to your preference for salad/slaw.  I prefer a 1/4 inch slice over finely shredded cabbage.
I tried this recipe with blue cheese as well, and did not find it appealing (even though I love blue cheese!).  If you want to try a different cheese, venture cautiously.  Pick something salty, as well.
I thought this recipe would be faster and easier with honey roasted peanuts instead of making candied nuts.  However, they just didn't have the flavor profile of the toasted, maple-candied almonds.  Making your own candied nuts isn't really that time consuming, so go for it!
I tried toasting the almonds chopped instead of whole, and the unequally sized pieces did not cook evenly (some burned!).  Keep the almonds (or nut of choice) whole until after they are toasted.
Red Cabbage Feta and Candied Almond Slaw
Author:
Alison's Allspice
Ingredients
1½ cups red cabbage, sliced/shredded
¼ cup crumbled feta cheese
Candied Almonds
⅓ cup whole almonds
Dash salt and pepper
2 tsp maple syrup
Vinaigrette
1 TBS olive oil
1 TBS red wine vinegar
½ tsp dijion mustard
1 small garlic clove, minced
Instructions
Candied almonds
In a small sauce pan, toast the almonds over medium heat until fragrant and just staring to turn brown. Remove from the pan and give them a rough chop.
Prep a small piece of parchment paper to poor the candied nuts onto when they are cooked.
Add the nuts back to the pan and increase heat to high. Season with salt and pepper and stir to coat. After a minute, poor in the maple syrup stirring continuously and immediately remove from the heat (* See Note). Poor the nuts onto the parchment and spread them out so they are not sticking together. Let the nuts cool while you make the rest of dinner.
Vinaigrette
Whisk together all ingredients for the dressing.
Slaw
In a serving bowl, or on two individual salad plates/bowls, layer with red cabbage, feta, and candied almonds. Finally, poor the dressing over top and serve.
Notes
* If your pan wasn't hot enough, your maple syrup may not immediately caramelize (if you pan is too hot, it may burn!). That's ok, just keep stirring until it is thick and sticky before you poor the nuts onto the parchment.
Recipe adapted from 
Eating Well
. This recipe was shared at the
Weekend Potluck
, the
Sugar and Spice Link Up
,
Tasty Tuesdays
,
Tickle my Tastebuds link up
, and the
Healthy Living Link Party
!