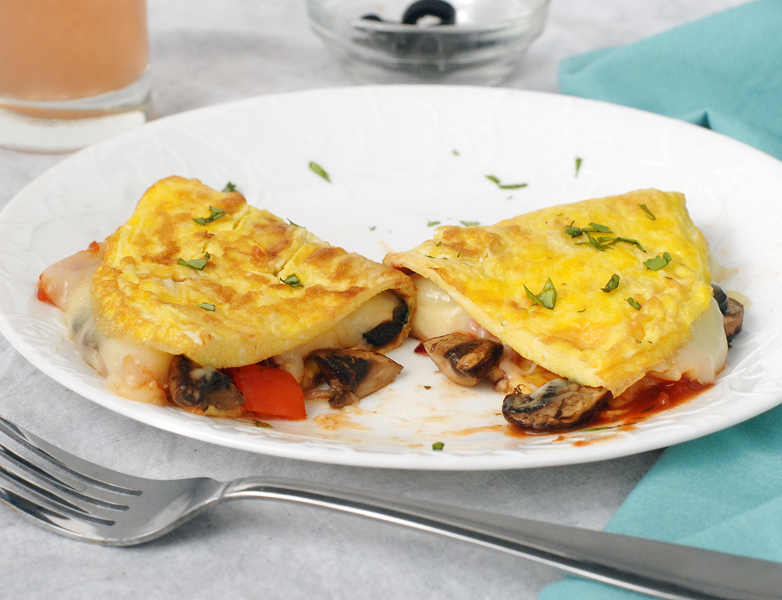 This month the recipe redux challenged us to make dinner-inspired dishes for breakfast!  My favorite savory breakfasts always include eggs, like this sweet potato mushroom hash!  I knew I wanted to use eggs in my recipe, but eggs are so versatile!  The recipe ideas were endless! Therefore, I put on my thinking cap and turned to my favorite dinner ideas.  Pizza is always a favorite, and I developed it into a fast protein packed breakfast.  Try my quick veggie pizza omelet for breakfast or for dinner!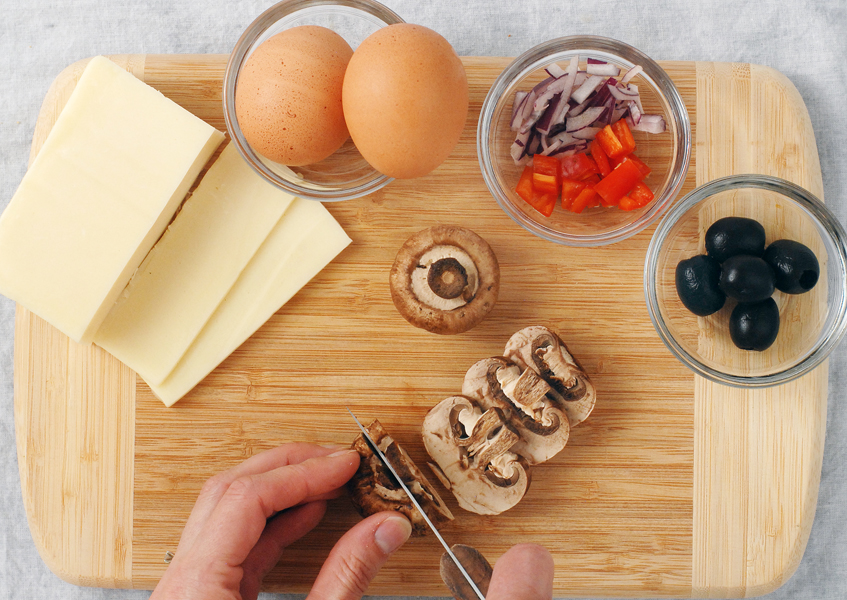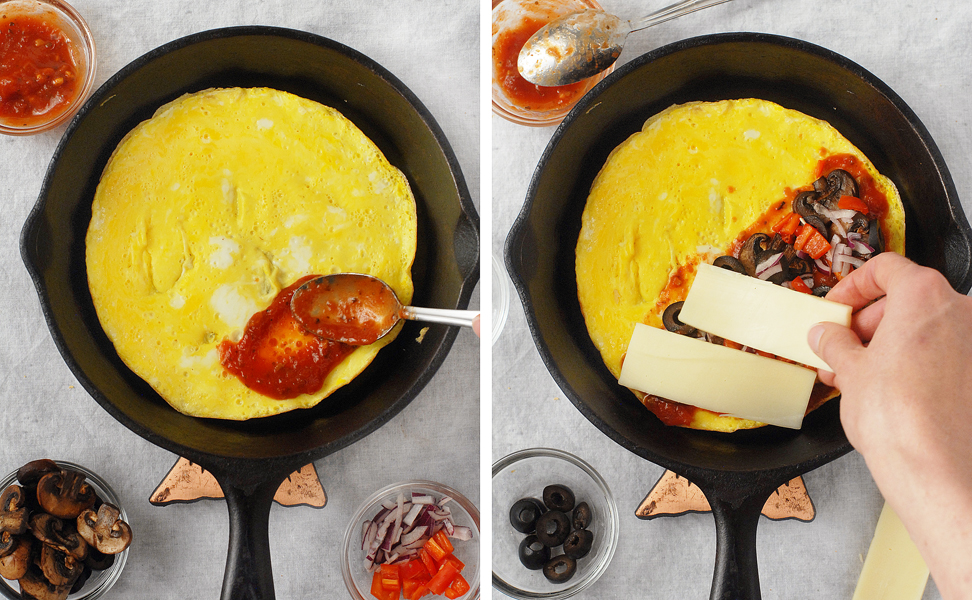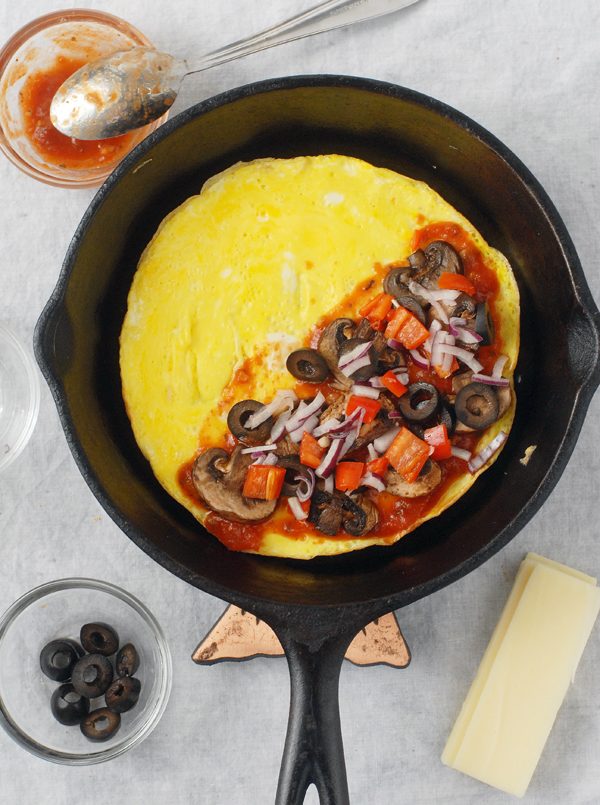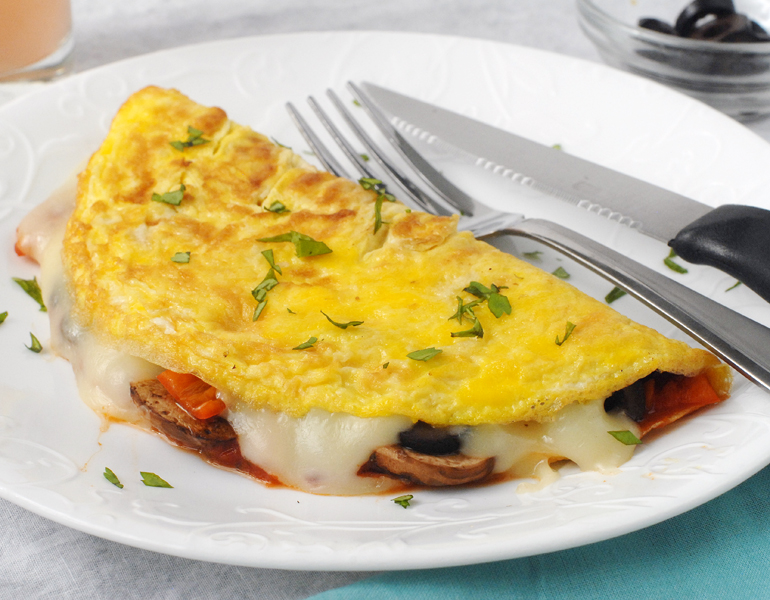 My family made omelets regularly for breakfast as a kid.  My dad would get 2 skillets going to pump out omelets quickly for the whole family.  He always let me put in the fillings in on top of the eggs.  There are multiple ways you can cook your eggs and fold in your fillings, but a small cast iron is my favorite, because that's how dad taught me to do it!
Tips and Tricks for the Quick Veggie Pizza Omelet recipe:
I picked traditional veggie pizza toppings to use in my omelet.  Pick any and all of your favorite veggies!
I wrote the recipe to make 2 servings, but you can easily cut it in half for one, or multiple it for a crowd!
These omelets cook quickly!  Prep all your veggies before you heat the skillet, and don't walk away from the eggs while they are cooking!
Quick Veggie Pizza Omelet (for Breakfast or Dinner!)
Author:
Alison's Allspice
Ingredients
4 large eggs
splash olive oil for the pan
⅓ cup marinara sauce
¼ cup diced onion
¼ cup diced pepper
3 large button mushrooms, sliced
6 black olives, sliced
4 oz sliced mozzarella cheese (6 thin slices off the block)
Instructions
Heat a small cast iron skillet (8 in) over medium low heat with a splash of olive oil.
Crack 2 eggs into a cup and beat them with a fork. Pour them into the skillet when hot.
Just as soon as the eggs start to set, spread half of the marinara over one half of the eggs. Top the sauce with veggies and cheese.
Cover the skillet with a lid until the cheese starts to melt.
Flip the egg on top of the side with the toppings to close the omelet. Carefully remove from the skillet.
Repeat with remaining ingredients to make the second omelet.