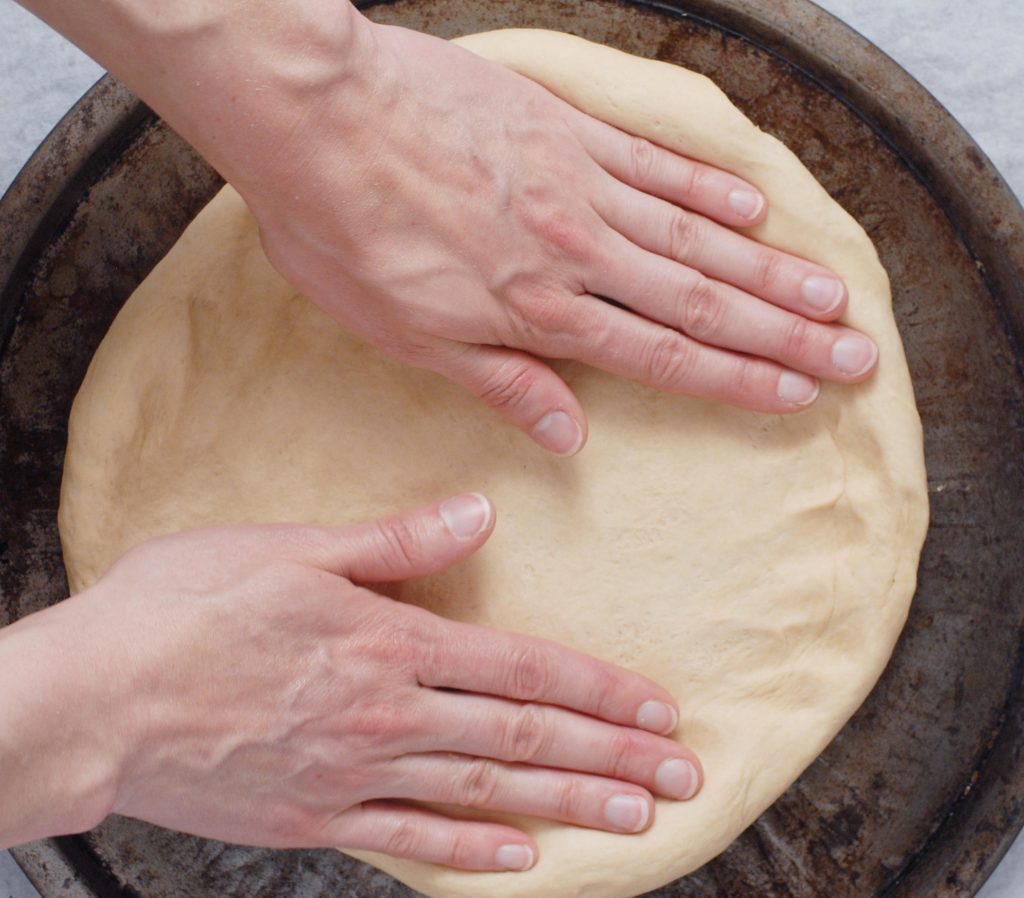 A good pizza dough recipe is a must for any home cook.  Some dough recipes can call for hours to rise, and they are delicious recipes.  However, I don't have time to make pizza like that often.  I love this quick homemade whole wheat pizza dough because I can make it easily on a weeknight.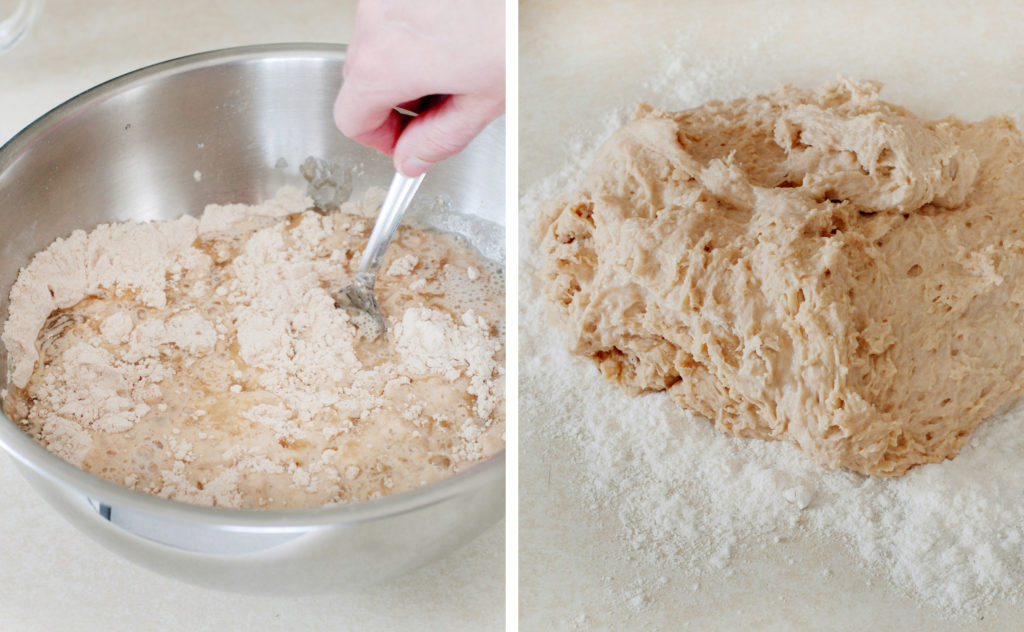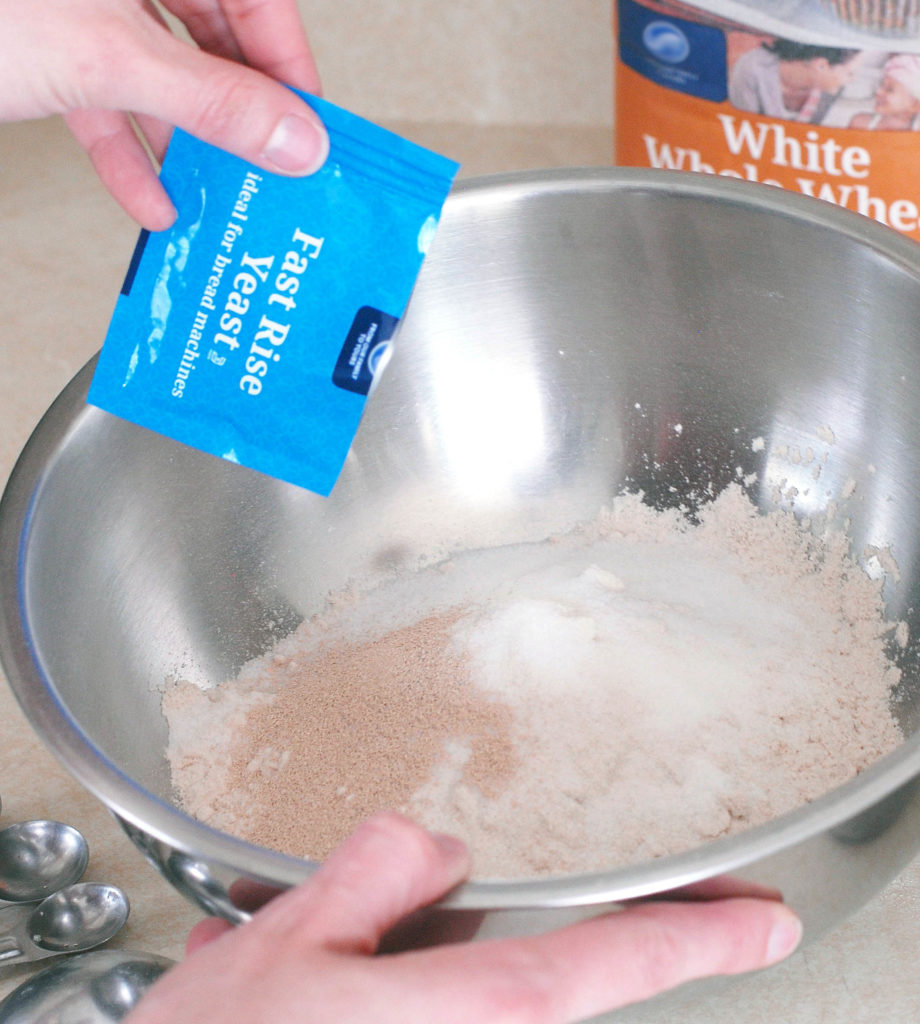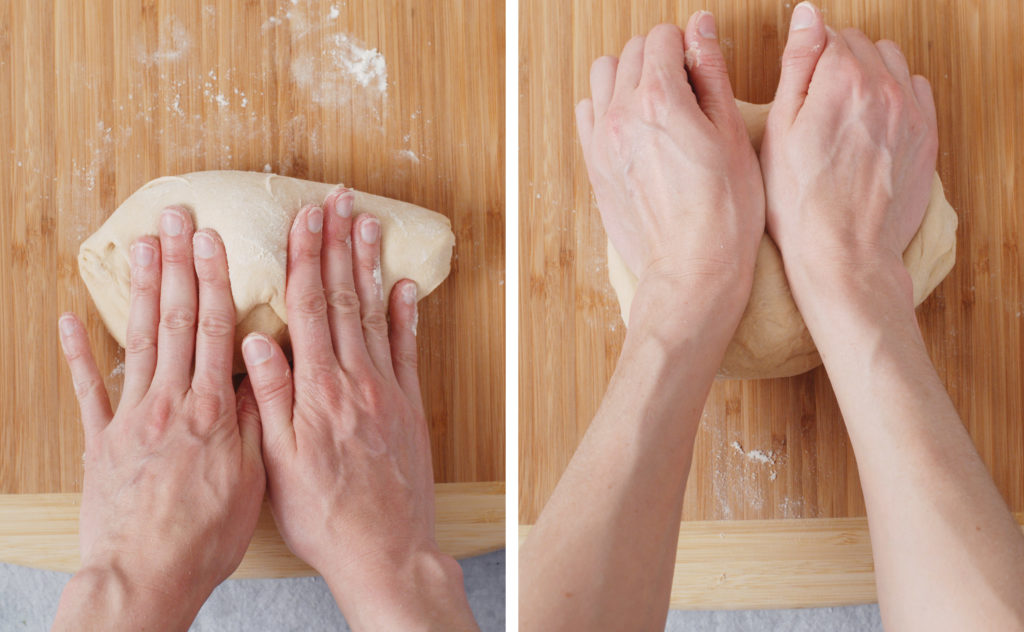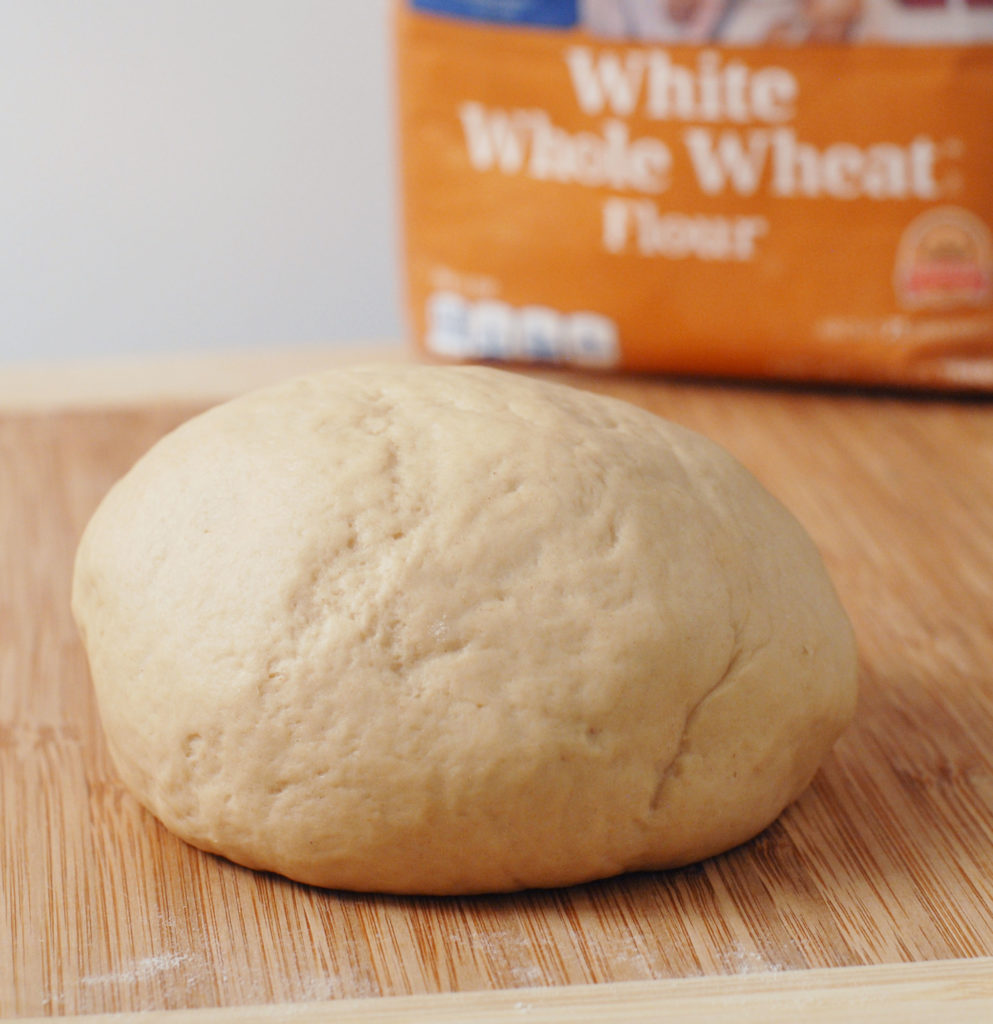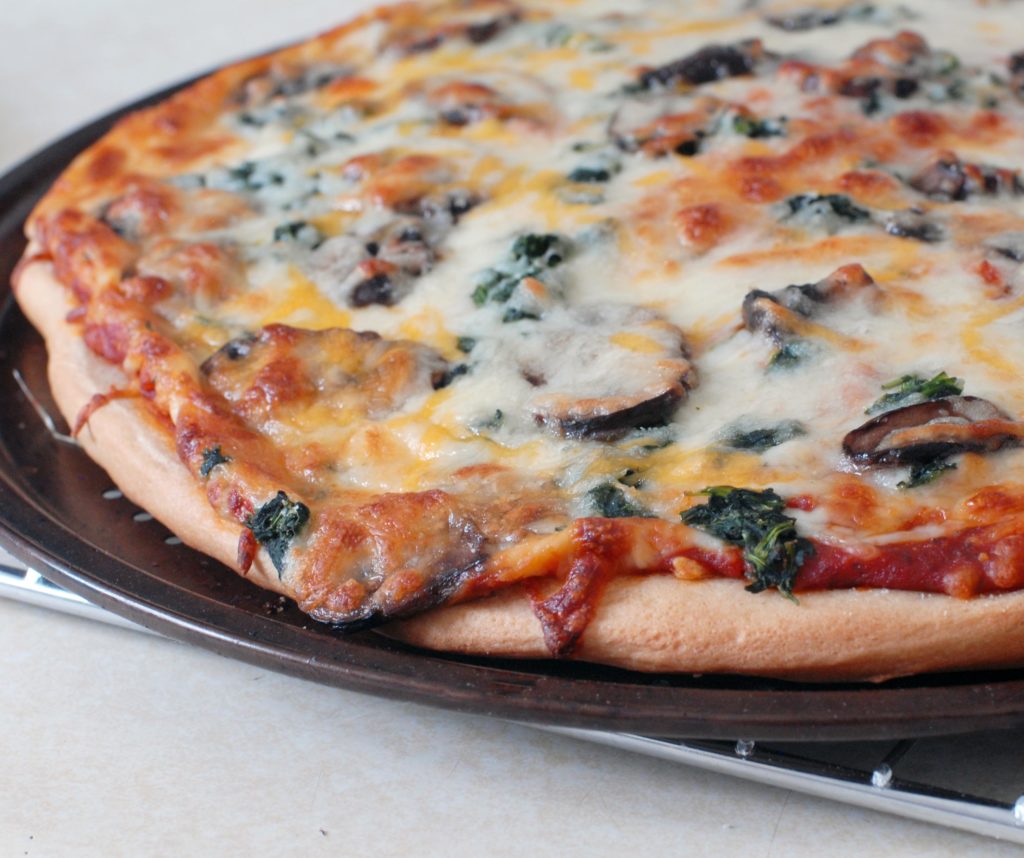 This recipe still requires a little kneading, so I chose not to call it easy.  Is kneading an easy still for beginners?  I grew up watching my mom knead bread, so I knew the motion and work of kneading.  What I had to learn when I first started to make bread and other dough's like this pizza crust was how long to knead and how it should feel when it's done.  I knead my pizza dough half as long as I do bread because it doesn't have to hold up to slicing, so you can get away with a little less work.  When finished the dough will feel sticky, but won't actually stick to your hands or the counter much anymore.  Enjoy!
Variations to the Quick Homemade Whole Wheat Pizza Dough recipe:
If you use regular, not white, whole wheat flour, you will only need about 1/2 cup all purpose flour because regular whole wheat flour absorbs more moisture than the white whole wheat flour does.
Fat choice: I didn't prefer the flavor of olive oil in this crust, so I chose butter.  You could also try any neutral flavored oil that you like to cook with.
 If you are making this recipe vegan with oil and sugar, you may also want to increase the salt. I use very little salt in my recipe because I just don't think you need more if  you are topping with cheese.
Choose a thin or thick crust by pressing your circle out before or after rising.
I use fast rise yeast to make this recipe quick. If you use active dry yeast, and not fast rise yeast, it will take about 45-60 minutes for the dough to rise properly.
Quick Homemade Whole Wheat Pizza Dough
This quick homemade whole wheat pizza dough is easy enough to be made on weeknights. Use fast rising yeast for a 15 minute rise while the oven preheats!
Author:
Alison's Allspice
Ingredients
1 cup white whole wheat flour
2¼ tsp fast rise yeast (or 1 packet)
1½ tsp honey or sugar
¼ tsp salt
⅔ cup water
2 TBS melted butter or neutral oil
¾ cup all purpose flour, divided
Required equipment
Instructions
Combine white whole wheat flour, yeast, honey or sugar, and salt in a medium bowl. Mix until combined.
In a microwave safe measuring cup, heat water in the microwave until it reaches 120-130 degrees F. If the water is too hot, it will kill the yeast, and it will not rise and if it is not warm enough, the yeast will not become activated, and the dough will not rise. If the water gets too hot, let it cool on the counter, or add enough cold water to bring the temperature down and poor off the excess water.
Pour water and melted butter or oil over the flour mixture. Stir until well combined.
Add ½ cup all purpose flour to the bowl. Stir until the dough forms a shaggy dough.
Dust a clean counter top work area with about 2 TBS flour. Dump the dough onto the prepped work area and roll it to cover with flour. Knead the dough using the palm of your hand, pressing it forward and into the counter. Fold it back over and repeat this kneading process adding more flour as necessary to keep the dough from sticking to your hands or the counter. You may need to use more extra flour than the remaining 2 TBS, and that is fine. When finished, the dough should be smooth and elastic, and hand kneading should take about 5 minutes.
Preheat oven with a pizza stone (optional) to 425 F.
Prep your toppings, such as veggies, sauce and cheese so you can work quickly when topping the pizza.
For a thick crust
Press the dough into a 12 inch circle (I press it out on a pizza pan). Let rest in a warm area (on top of the preheating oven) for 15-20 minutes, or until it is visibly risen. If it is cold, this make take more time (ex- during the winter months).
For a thin chewy crust
Let the dough ball rest for 15-20 minutes. Press the dough into a 12 inch circle just before you're ready to bake the pizza.
Bake the Pizza!
Place the dough directly onto the preheated pizza stone (I take the stone out of the oven for this). You can bake the pizza on a pizza sheet, however, the crust won't get as chewy. You can also top your pizza and use a pizza peel to place it in the oven on top of the stone (I don't have a peel, so I simply remove the stone).
Working quickly, top with your favorite toppings. Because the pizza is already on the hot stone, you don't want to take very much time, 3-4 minutes is good. Bake in the preheated oven for 12 minutes.
Cut into 6-8 slices and let cool 3-5 minutes before serving.
This recipe was adapted from
Fleischmann's Yeast
.  I shared this post at
Tasty Tuesday
,
CookBlogShare
, and
What's Cookin Wednesday
.