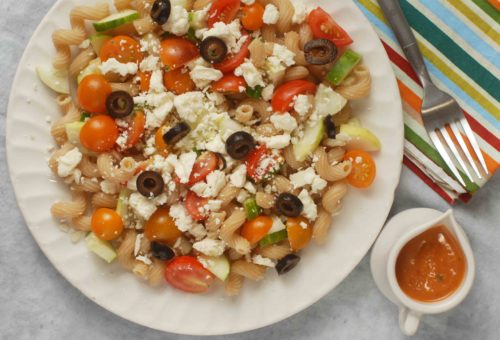 Every year when summer rolls around, I can't wait for the fresh produce to start filling my plate.  However when fall gets here, I seem to have a hard time giving up summer.  I love fall vegetables, like butternut squash, but I'm just not over summer yet… Even though it's almost the end of September.  This Mediterranean Pasta Plate with Sun Dried Tomato Sauce is fresh and fast!  It's a great way to use the tomatoes and cucumber that I'm still getting in my CSA!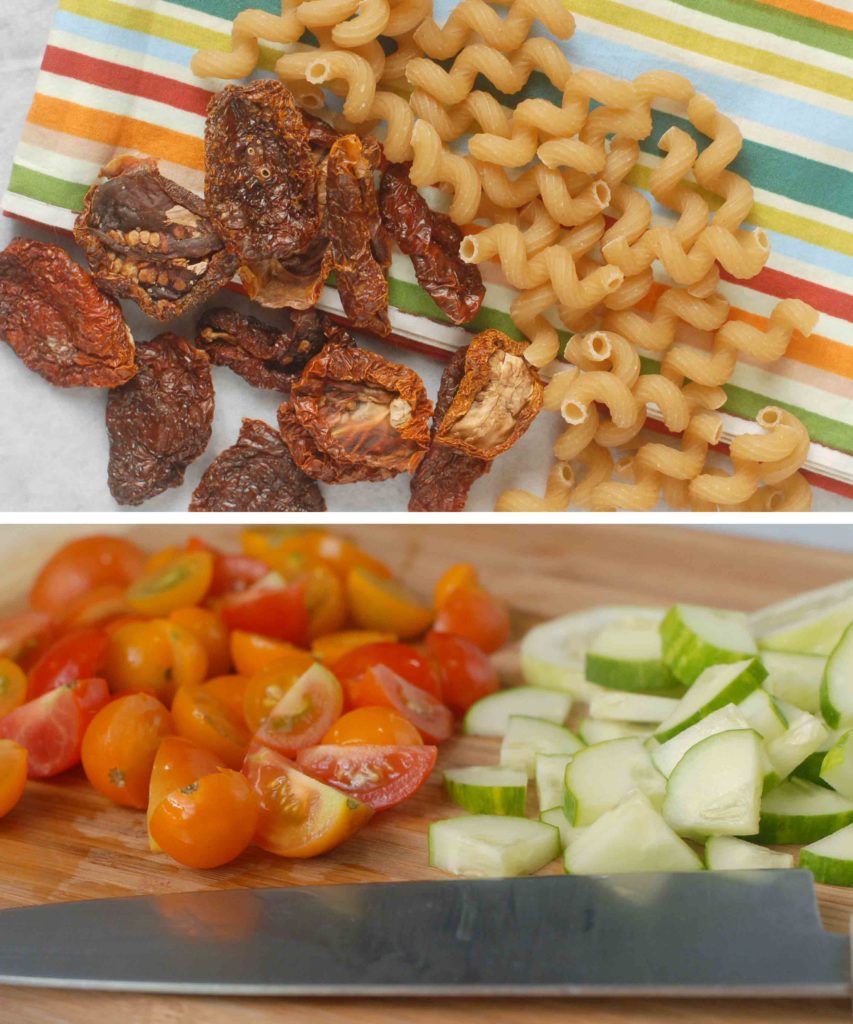 The CSA that I joined has a few more weeks until the end of the season.  We are starting to transition into cooler weather crops, and getting the last of our summer favorites.  As a review of my CSA experience, there have been times that I was given more produce than I could use. In these instances, my freezer was my best friend!  I have 3 ice cub trays of frozen pesto, and about 4 quarts of tomatoes!  Soup season is almost here again, and it a great way to use up those frozen leftovers.  I would definitely recommend trying a CSA if you love to experiment with new foods. I have found so many new favorites!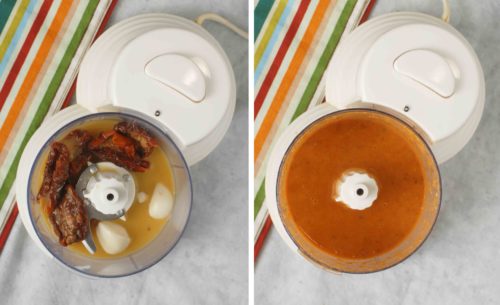 Variations on the Mediterranean Pasta Plate with Sun Dried Tomato Sauce recipe:
If you don't have cherry tomatoes, try dicing a large tomato.
The sauce in this dish is very bold. If you want something softer, try using white wine vinegar in place of red wine vinegar, and try apple juice in place of orange juice.
Chickpeas are a great choice to add more protein to the plate.  You may want to use a smaller pasta style with the chickpeas, to make everything easier to fork!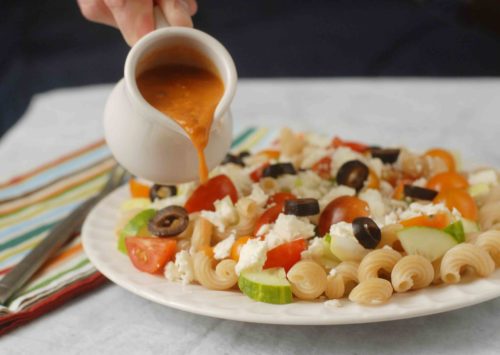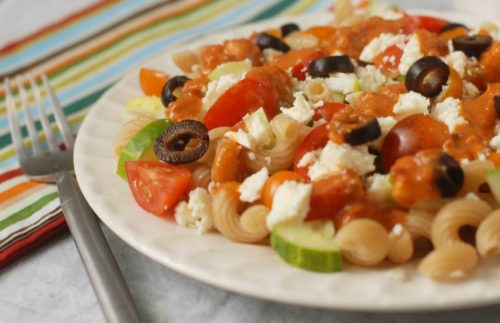 Mediterranean Pasta Plate
This recipe can be easily doubled. The Sun-dried Tomato sauce is very bold. Check out the recipe variations to see how to make it mellow.
Author:
Alison's Allspice
Ingredients
5 oz whole wheat pasta (I used Gobetti)
1 cup cherry tomatoes, halved
1 small cucumber, diced
3 oz crumbled feta cheese
8 black olives, sliced
Sun-dried tomato sauce
5 sun dried tomato halves (~1/4 cup)
2 garlic cloves
¼ cup orange juice
2 TBS red wine vinegar
2 TBS olive oil
1 TBS water
¼ tsp stone ground mustard
¼ tsp dried oregano
¼ tsp salt
Instructions
Cook pasta according to package directions.
Toss with veggies and cheese.
Sun-dried Tomato Sauce
Combine sun-dried tomatoes with orange juice and let sit 20-30 minutes. (I do this while the pasta is cooking.)
In a mini food processor, combine the tomato and orange juice mixture with the rest of the ingredients. Process until smooth.
Drizzle sauce over pasta a veggies. Serve immediately.
Notes
The sauce can be doubled and frozen for later use. The pasta will absorb the liquid, and should not be stored with the sauce.
The sauce recipe was adapted from the
FoodNetwork
 and shared at
What's Cooking Wednesday
 and
This is How We Roll
!