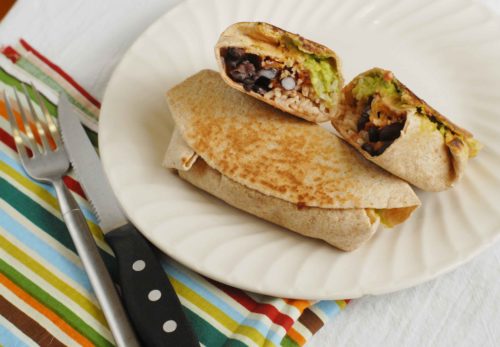 Every spring there seems to be a desire for quick and easy meals.  When the weather warms, spending your free hours in the kitchen is not the goal.  Perhaps working near the stove or oven is no longer appealing because of the warming temperatures.  Maybe you just want to get outside and enjoy the fresh air!  Guacamole black bean burritos are quick, easily adapted, and addicting!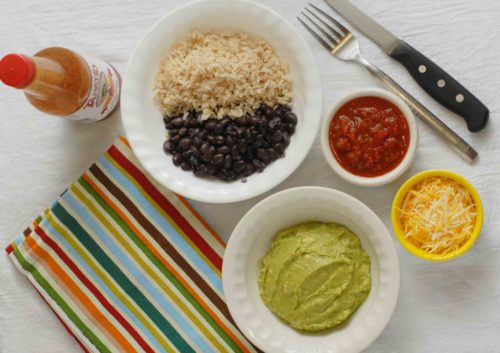 In our quest for quick meals, we should not have to sacrifice healthy foods, or great flavor!  In this burrito recipe, I use store bought whole wheat tortillas, to keep it quick and simple, but also nutritious.  If you have time make your own Whole Wheat Tortillas. Guacamole is another item you could purchase pre-made to keep this recipe quick, but I prefer to make my own Easy Guacamole because it only takes an additional 5 minutes.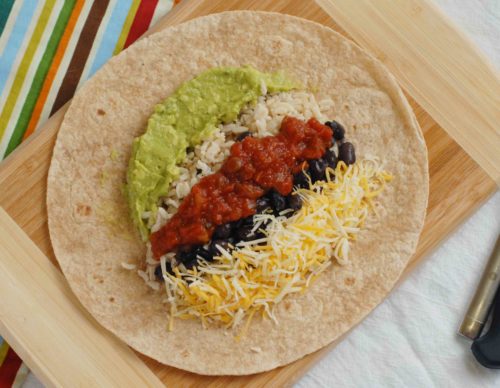 Variations on the Guacamole Black Bean Burritos recipe:
This recipe calls for pre-cooked rice.  I don't like buying shelf stable packages of cooked rice because of the preservatives.  I cook up extra rice every time I make it and freeze the extra so I always have some on hand.  You could also try a fast cooking grain, such as quinoa.
Don't have black beans on hand?  Try pinto or refried beans instead.
Try your favorite kind of salsa in your burrito. Individualize burritos by using different salsas and hot sauces.  I have tried raspberry salsa, salsa verde, corn salsa, and restraunt style salsa.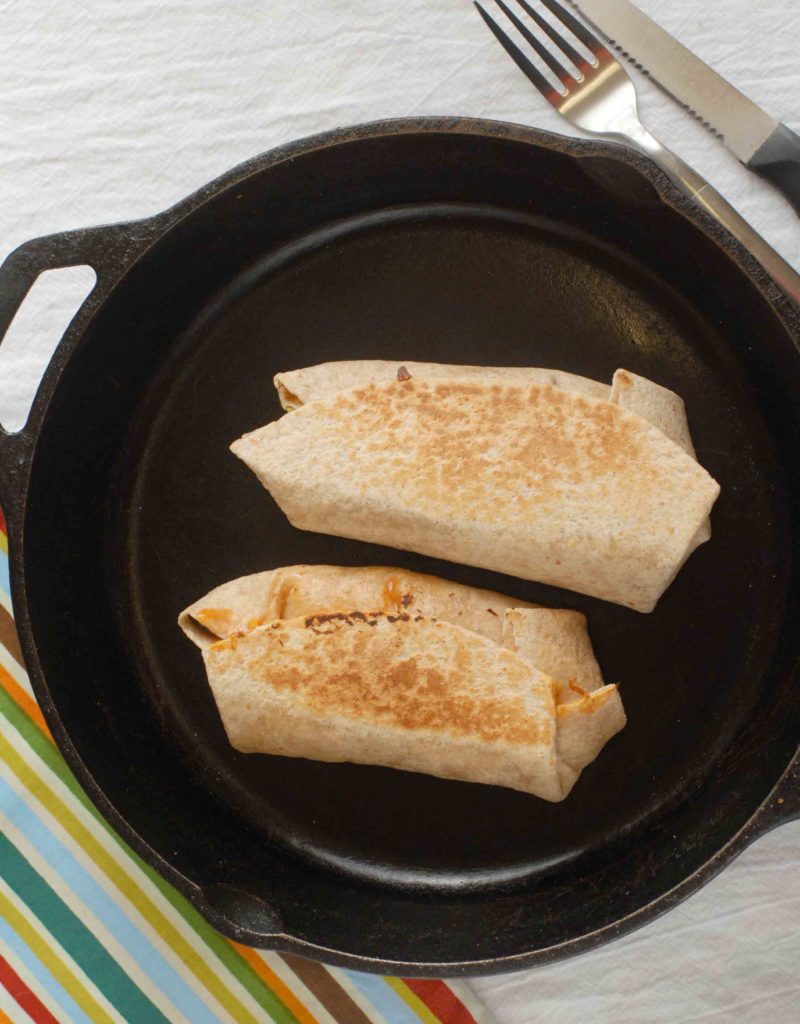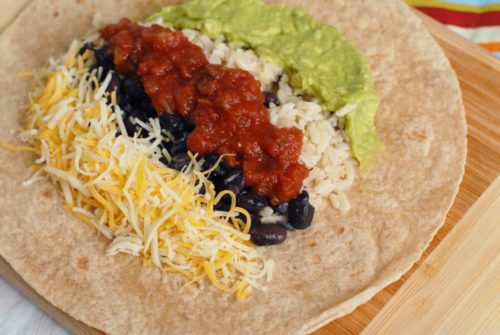 Guacamole Black Bean Burritos
Quick and easy meals should never make you sacrifice on quality. Try these Guacamole Black Bean Burritos made with whole wheat tortillas.
Author:
Alison's Allspice
Serves:
4 servings, or 8 hand sized burritos
Ingredients
8 8-inch whole wheat tortillas
2 cups cooked brown rice
2 cups cooked black beans, or from a can, drained and rinsed
1 cup salsa of your choice
2 cups shredded mexican blend cheese
1 cup guacamole, made from 1 avocado
Hot sauce, optional
Instructions
Warm the tortillas according to package directions. I like to use my microwave, for 10 seconds per tortilla.
Heat a large heavy bottomed skillet over medium low heat (I prefer cast iron).
Working with a single tortilla, spoon ¼ cup rice and beans each down the center in a line. Spread 2 TBS guacamole next to the rice and beans. Top with 2 TBS salsa and ¼ cup cheese. Add a splash of hot sauce, if using.
To roll the tortilla, place it so that the line of rice and beans is parallel to you. Fold in the sides, and flip the top closest to you over the sides, using your thumbs. Roll the burrito forward until the seams meet.
Place the burrito seam side down in the hot skillet. Use cooking spay on the skillet if it seems like the tortillas are sticking. Cook 1 minute on each side or until golden brown.
Repeat with remaining tortillas and filling. Turn down the heat on the stove if the burritos are cooking faster than you can roll them. A 10 inch skillet is the perfect size to cook 2 burritos at a time.
Notes
If your rice or beans are coming cold out of the fridge or freezer, heat them in the microwave before adding to the burrito. This will promote even heating so the center of your burrito will not be cold.
If you have trouble rolling the burritos, try using a little less filling.