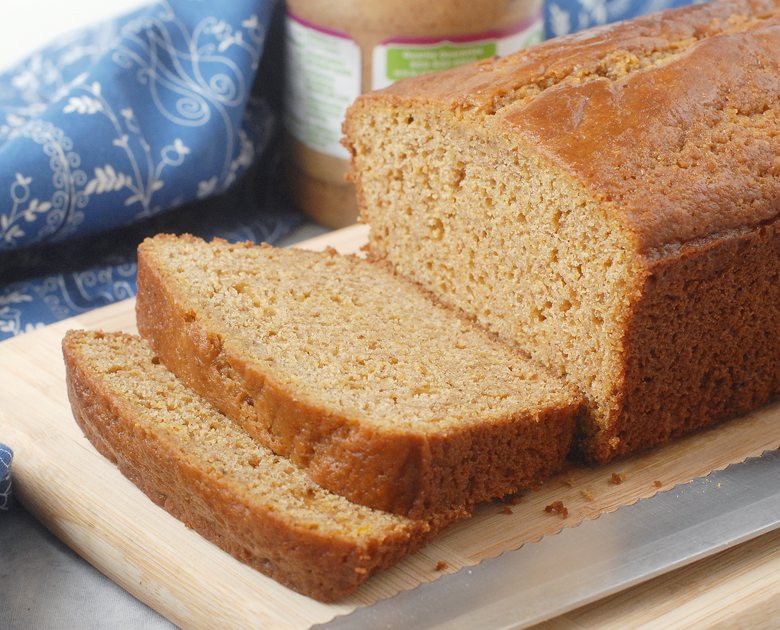 Did you get your fill of all things pumpkin back in October?  I hope not because pumpkin flavors are warming and perfect for Christmas!  This Greek yogurt spelt flour pumpkin bread recipe is moist and fluffy while being rich and flavorful!  If you have never baked with whole grain spelt flour, this recipe is a must try!  Spelt flour is quickly becoming my favorite new flour for whole grain baking!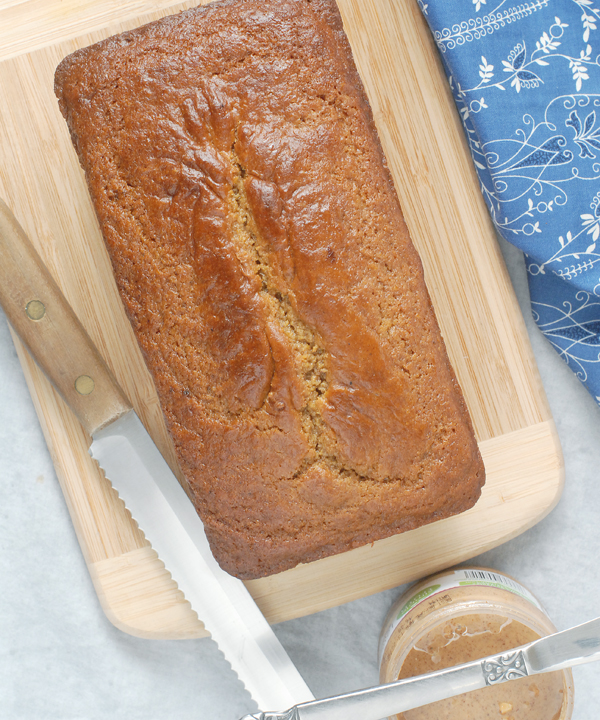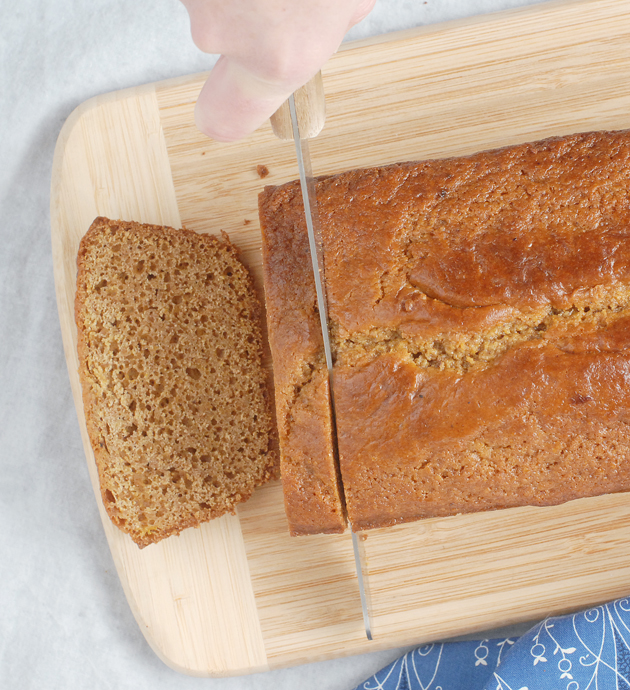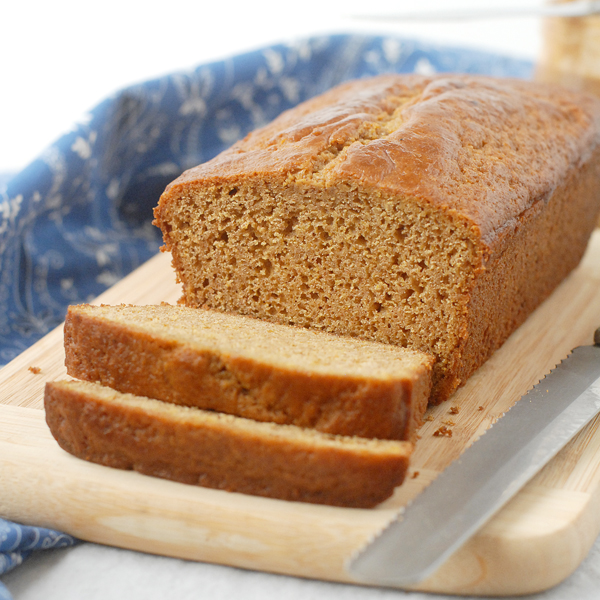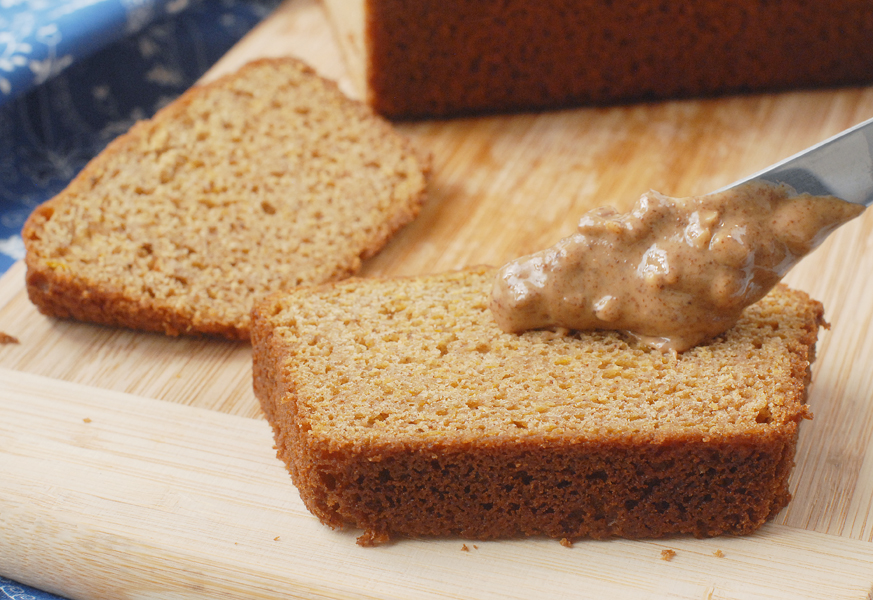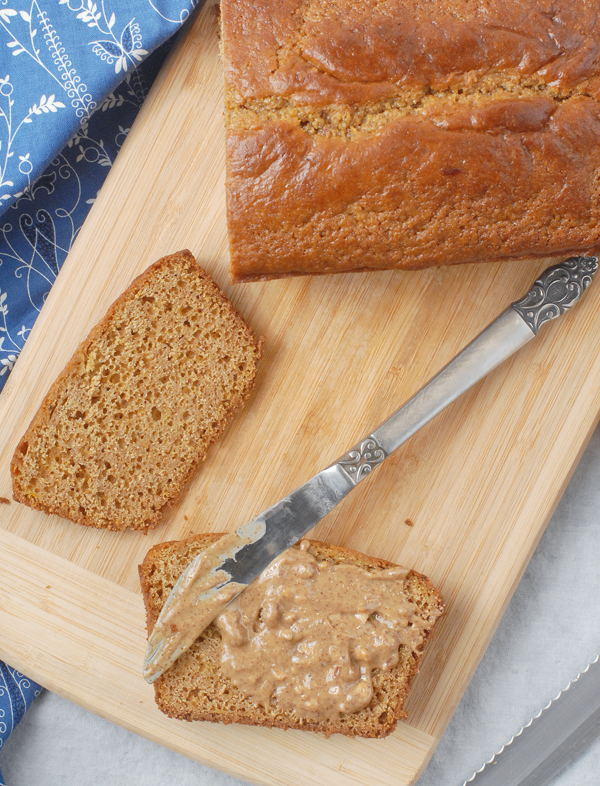 My husband requested pumpkin bread for the holidays, which I haven't made in years.  I flipped through my recipes book to find the old recipe I used to make.  It was loaded with oil and sugar, and contained no whole grain flour.  This was typical of how I used to cook before I started choosing whole foods.  While this recipe is not 100% whole, it is better than the classic version without sacrificing any flavor or texture!
Tips and tricks for the Greek Yogurt Spelt Flour Pumpkin Bread recipe:
Spelt is an ancient variety of wheat.  Spelt flour is sweeter and softer in texture than whole wheat flour making it a great choice for baked goods.
Fat helps your body to metabolize vitamins and nutrients, but a little is all you need.  I used fat free greek yogurt to keep the loaf rich while using only a little butter.
The best pairing for this bread was almond butter!  The almonds complement the spelt perfectly!
Greek Yogurt Spelt Flour Pumpkin Bread
Greek yogurt spelt flour pumpkin bread is healthier than classic pumpkin bread without sacrificing texture or flavor! Spelt flour is surprisingly fluffy!
Author:
Alison's Allspice
Serves:
2 loaves pumpkin bread
Ingredients
2 cups whole grain spelt flour
1½ cups all purpose flour
1 cup white sugar
½ cup brown sugar
2 tsp baking soda
1 tsp salt
2 tsp cinnamon
½ tsp each: ginger powder, nutmeg, and cloves
15 oz can pumpkin puree
1 cup non-fat Greek yogurt
½ cup melted butter
4 eggs, beaten
1 tsp vanilla
Instructions
Preheat oven to 350 F.
In a large bowl whisk together dry ingredients including flours, sugars, baking soda, salt, cinnamon, ginger, nutmeg, and cloves.
In another bowl, mix together wet ingredients including pumpkin, yogurt, melted butter, eggs, and vanilla.
Gently fold the wet ingredients into the dry ingredients until just combined.
Butter well or line 2 9x5 inch loaf pans with parchment. Divide batter between the pans.
Bake in the preheated oven until a toothpick comes out clean, 50-60 minutes.
Adapted from the
Lemon Bowl
.