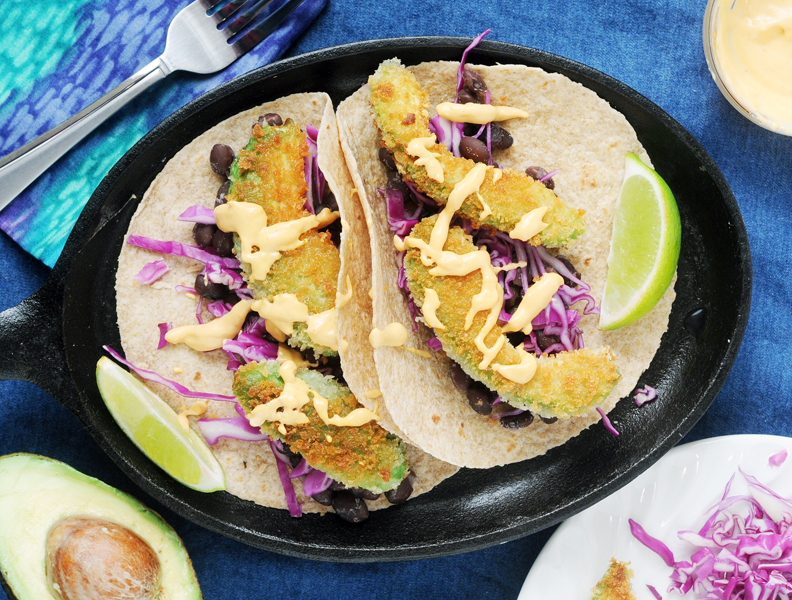 Avocado's have been a little pricey here recently.  I have a serious love for avocados, so when I saw them on sale last week, I couldn't resist!  I am usually good about not buying things I don't have a plan for (because if I don't have a plan, they don't get used).  Therefore, I set out to make a plan for the avo's I had brought home.  I had some leftover tortillas, so tacos were the obvious choice.  When I googled avocado tacos, I couldn't believe that I had never heard of this deliciousness!  Fried avocado black bean tacos are my favorite new way to enjoy my beloved avocado!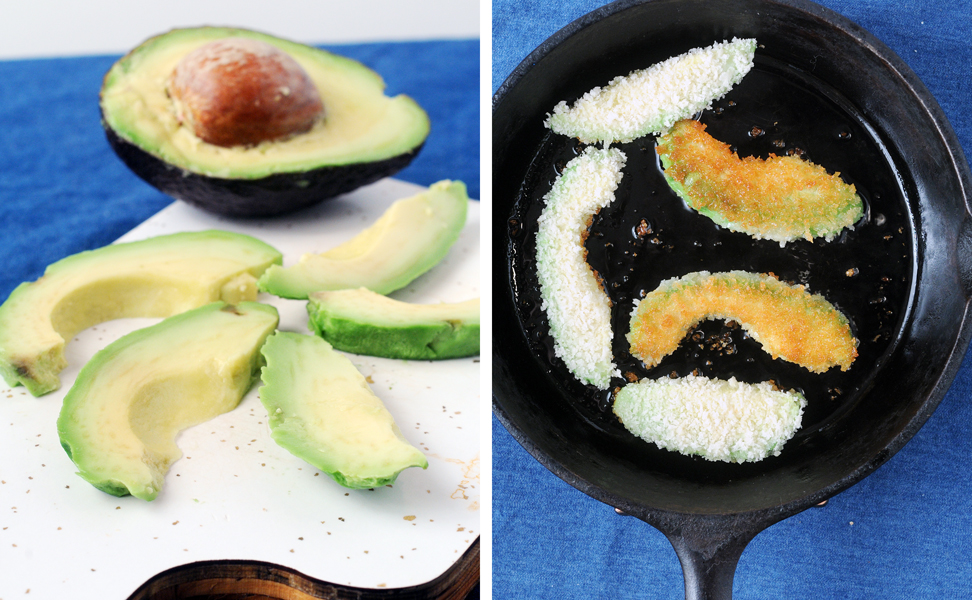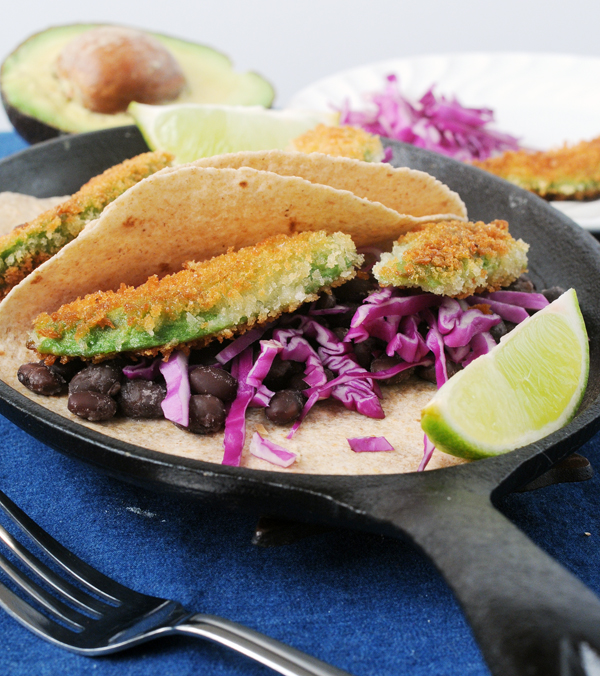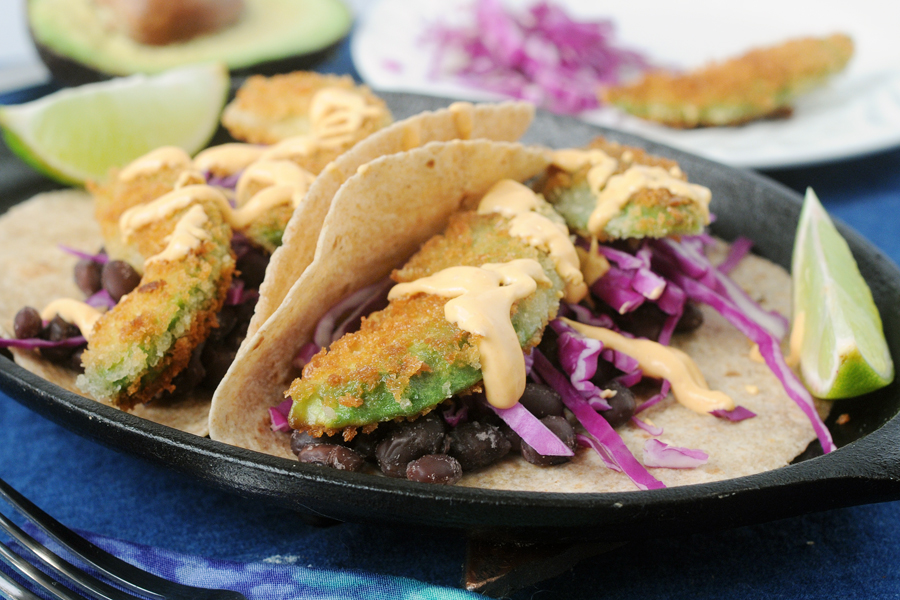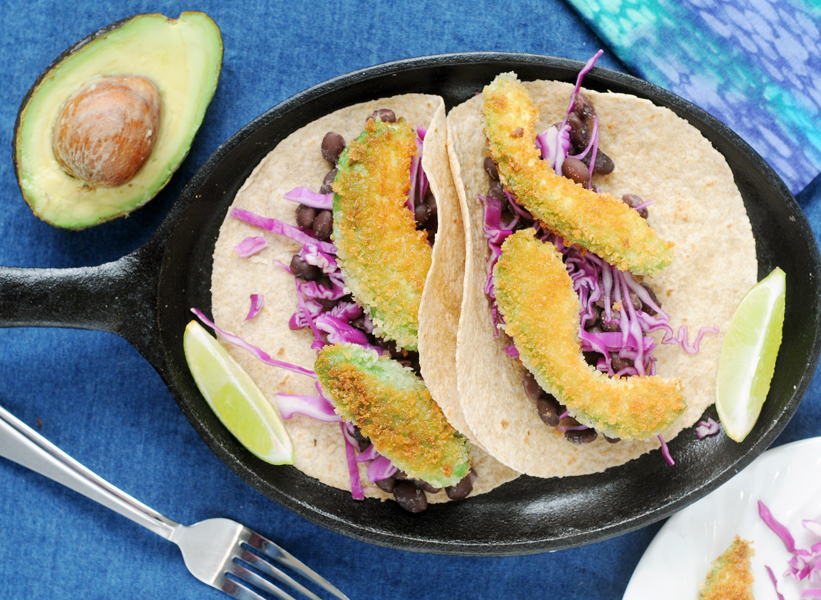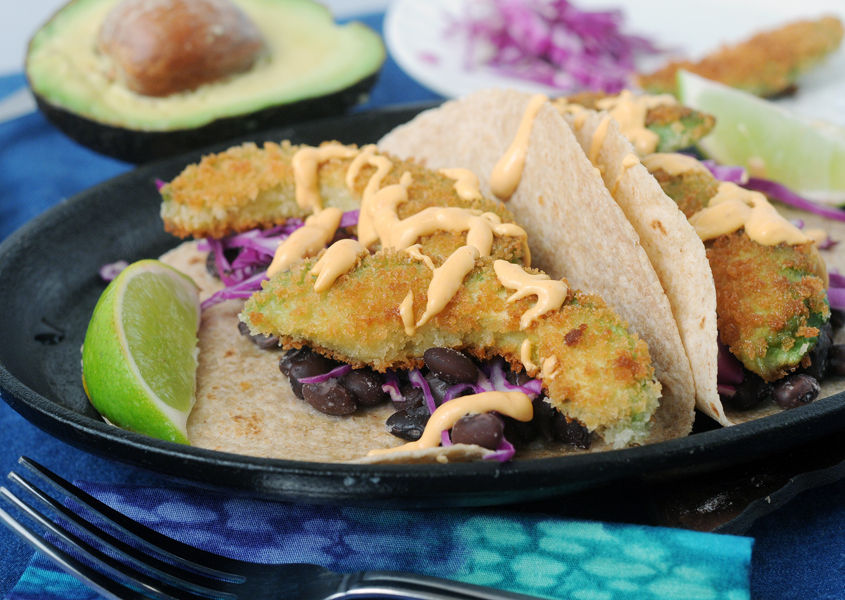 Seriously, isn't everything better when it's fried?  There are lots of recipes out there for baking the avocado, but I simply couldn't justify heating the oven to bake 10 slices for only a few minutes.  If you have a toaster oven, that would definitely be the way to go if you don't want to fry them.  I'll be honest, I ate way to many of these tacos for lunch and completely spoiled my dinner.  They were so good!  You have to put this recipe on your list to try if you are an avocado lover like me!
Variations to the Fried Avocado Black Bean Tacos recipe
I have better success breading things when using milk instead of eggs.  Use whatever you prefer or have on hand.
This recipe will still work with a ripen avocado, you just have to be careful while breading it.  The firmer under-ripened fruit is easier to work with.  Do note however that you don't want an unripened fruit, which is so firm it's difficult to eat.
I love red cabbage on tacos and keep it on hand regularly.  You could also try lettuce and tomato, or any of your favorite taco toppings.
Fried Avocado Black Bean Tacos
In my fried avocado black bean tacos, the avocado is coated in panko and lightly fried for crispy yet creamy taco topper! Serve over seasoned black beans!
Author:
Alison's Allspice
Ingredients
1 avocado (underripe is best)
2 TBS avocado oil
3 TBS milk of choice
¼ tsp vinegar of choice
1½ TBS flour
½ cup panko
Black Beans
1 cup cooked black beans
⅓ cup water
¼ tsp each: garlic powder, onion powder, cumin, black pepper, and salt
1 bay leaf
Tacos
2 TBS mayo
2 tsp sriracha
5 small whole wheat or corn tortillas
1½ cups red cabbage, sliced
lime wedges, for garnish
Instructions
Cut avocado into 10 wedges.
Heat avocado oil in a small cast iron skillet.
Mix together milk of choice and vinegar. Set up a dredging station.
Dredge avocado slices in flour, dip in milk, and dredge in panko. Place in the hot skillet and repeat.
Cook until golden brown on each side, 5-6 minutes total.
Black Beans
Meanwhile combine beans, water, and seasonings in a small pan. Cover and bring to a boil. Simmer for 5-10 minutes, or until liquid is almost evaporated (some should remain or the beans will be dry).
Tacos
Mix together mayo and sriracha.
Heat tortillas according to package directions.
Spoon black beans down the center of a tortilla. Top with about ¼ cup red cabbage. Top with 2 slices fried avocado, and drizzle with sriracha mayo.
Repeat with remaining ingredients. Serve immediately with lime wedges.
Recipe inspired by
Simply Made Recipes
, and adapted from my
Black bean and garlic slaw tacos
recipe.