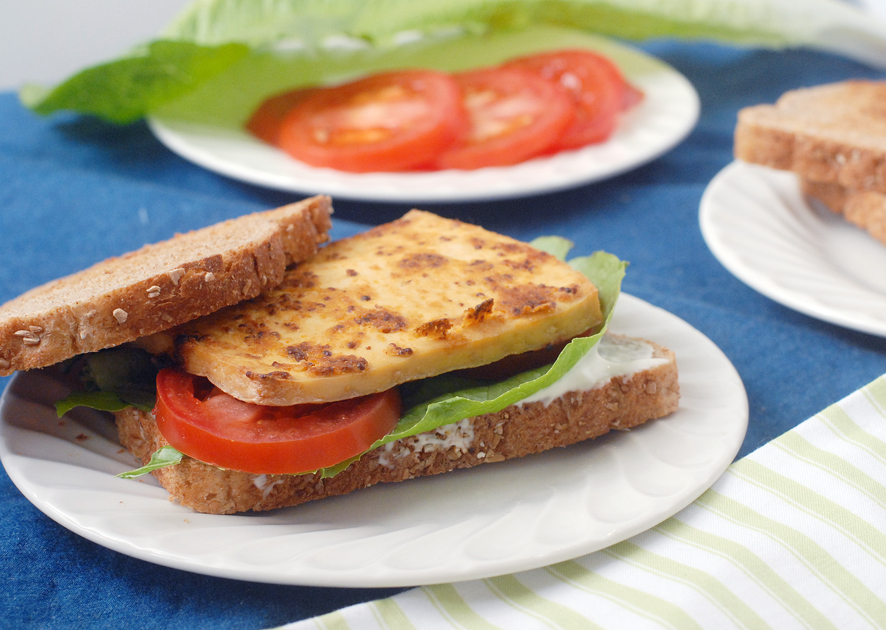 It's redux time again!  This month's theme was: Grab your nearest cookbook and ReDux the recipe on page 201, 17, 217 – or any combination of the number '2017.'   I chose to redux Chinese Mustard Baked Tofu Sandwiches from the Moosewood cookbook.
I don't have a large collection of cookbooks, but I do love the moosewood cookbook. The recipe I chose was from page 120 for a grilled Chinese mustard sandwich with sauted peppers and onions.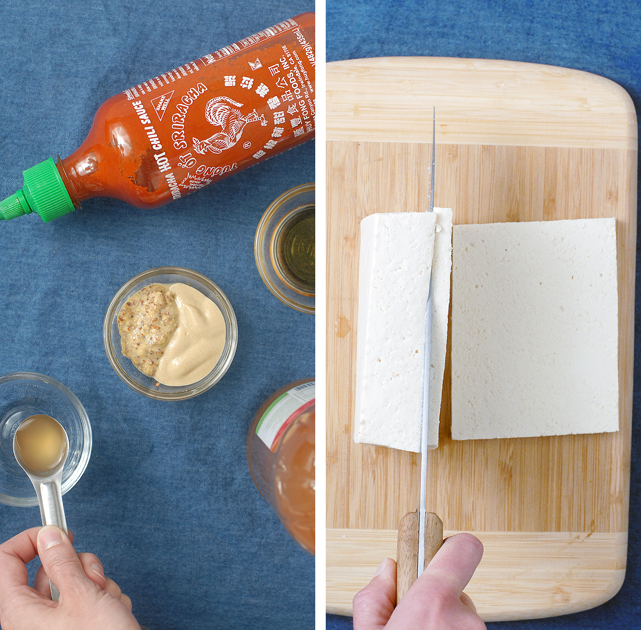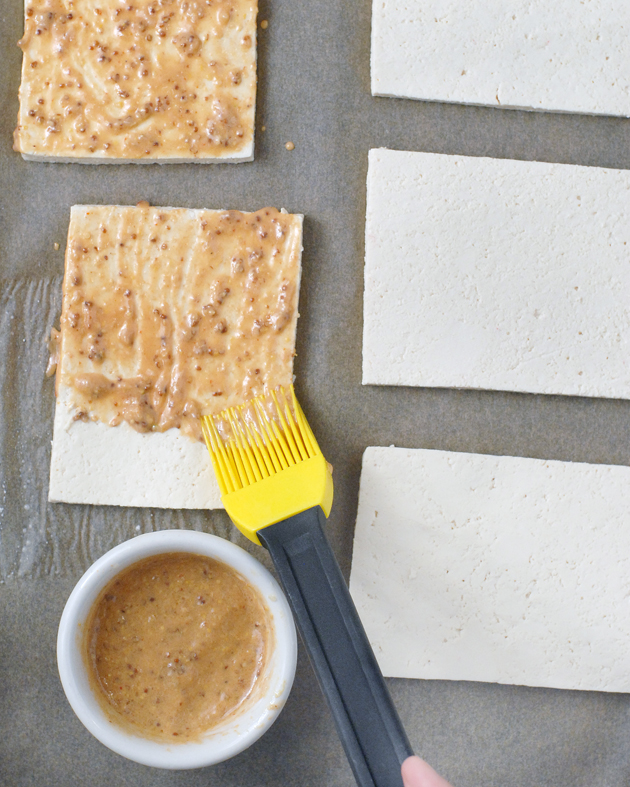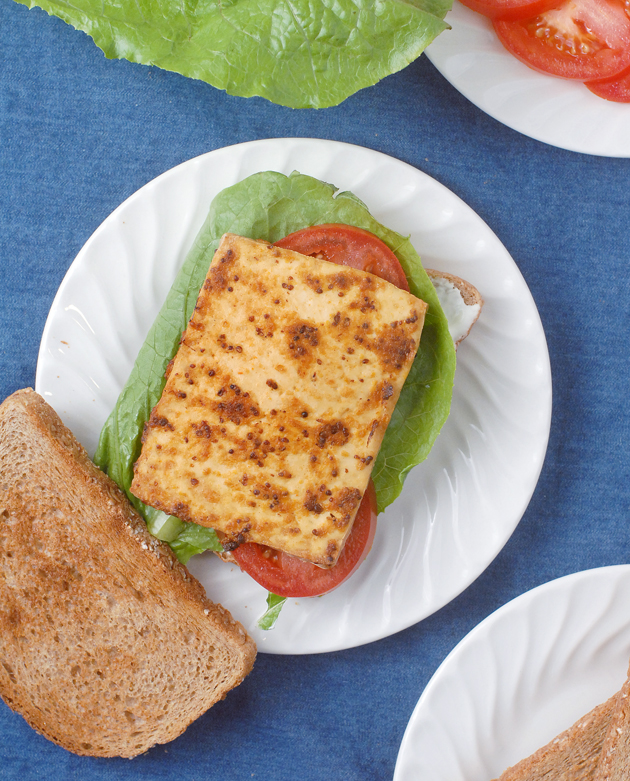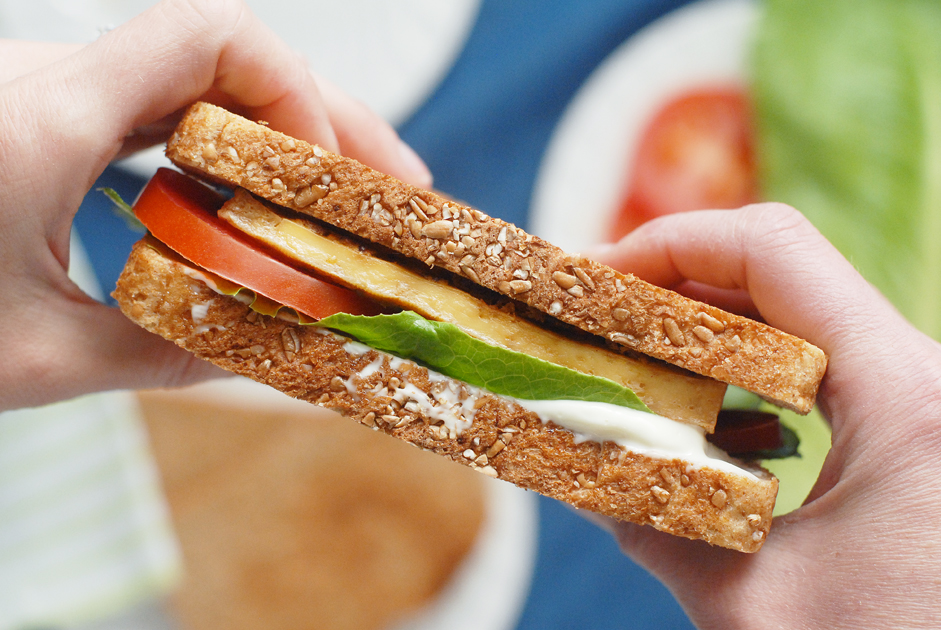 The recipe called for a slab of tofu in the grilled sandwich.  I decided I wanted to bake the tofu to make it chewier.  Therefore, I doubled the mustard sauce recipe to use in two ways.  Fresh on the sandwich, and as a sauce on the baked tofu!
I also opted for lettuce and tomato instead of peppers and onions, so everyone in my house would eat it.  I added mayo for a little creaminess and viola!  A sandwich is born.
Variations to the Chinese Mustard Baked Tofu Sandwiches recipe:
I loved the chinese mustard recipe from the cookbook, but in reality you could use any sauce you like.  Try barbecue sauce or sriracha ketchup!
Use your favorite sandwich veggies.   Lettuce and tomato are classics, but anything will work.
Not into tofu?  Use your favorite protein, or simply use the Chinese mustard as a spread!
Chinese Mustard Baked Tofu Sandwiches
My Chinese mustard baked tofu sandwiches recipe is perfect to prep your lunches for the entire week! Cut tofu into 5 slices, brush with Chinese mustard, and bake for five delicious sandwiches!
Author:
Alison's Allspice
Ingredients
Chinese Mustard
¼ cup Dijon mustard
¼ cup whole grain mustard
1 TBS sesame oil
1 TBS apple cider vinegar
2 tsp sriracha
2 garlic cloves, grated
Sandwiches
16 oz block tofu, pressed to expel water
10 slices whole wheat bread
Lettuce, tomato, and mayo, for serving
Instructions
Mix together all ingredients for the Chinese Mustard. Divide in half and set aside.
Preheat oven to 375 F.
Slice tofu along its longest edge into 5 pieces. Lay pieces on a parchment lined baking sheet. Brush the tops with about 3 TBS of the Chinese mustard. Bake in the preheated oven for 25 minutes.
Flip the tofu over, brush the other side with another 3 TBS of the Chinese mustard and bake for another 20 minutes.
Meanwhile, use a toaster to toast all the slices of bread. Slice any tomatoes and chop any lettuce you will use.
Assemble 5 sandwiches each with 1 piece of baked tofu, a smear of Chinese mustard, mayo, lettuce and tomato.
Recipe adapted from page 120 of the
Moosewood Cookbook
.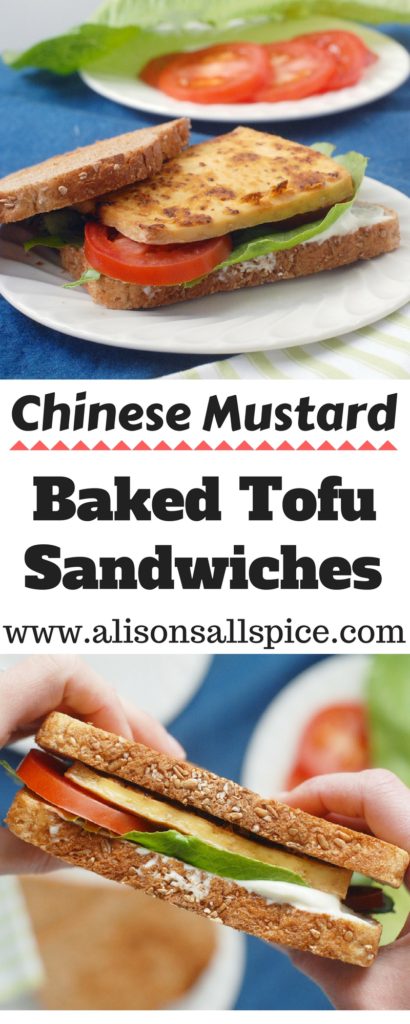 More from Alison's Allspice