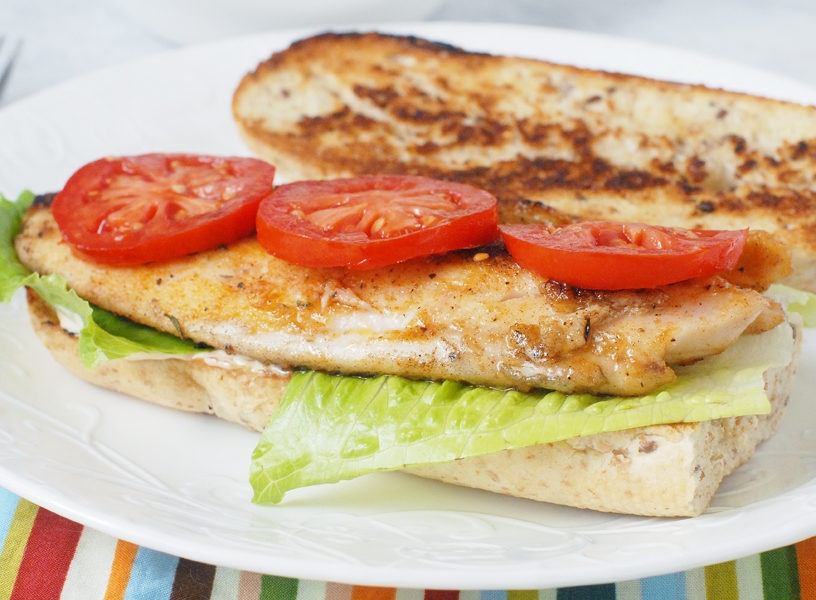 Do you ever try a dish at a restaurant and just know that you have to recreate it at home?  Well, there is a local cafe that puts catfish poboys on their specials menu.  It has everything going for it.  Creamy, spicy, and salty with plenty of texture.  Because it's not on the regular menu, I had to make my own version to enjoy on a moments notice!  This recipe is my take on spicy catfish poboys with creamy cajun spread.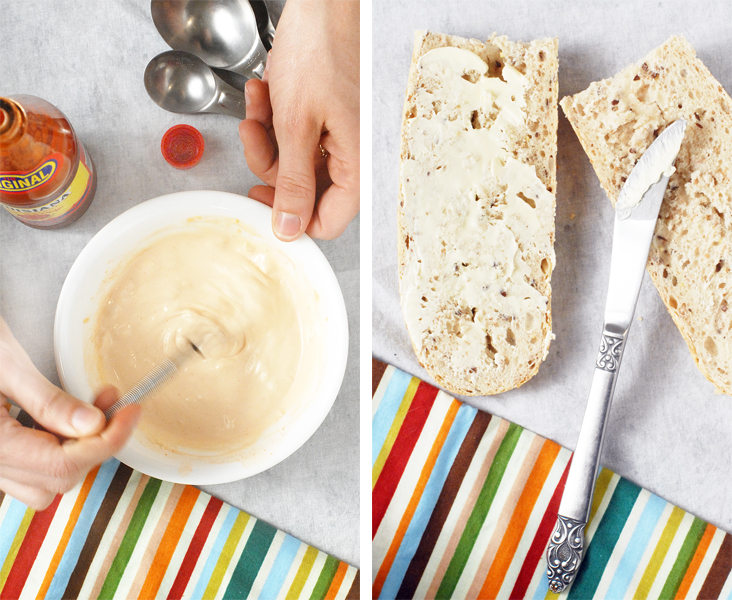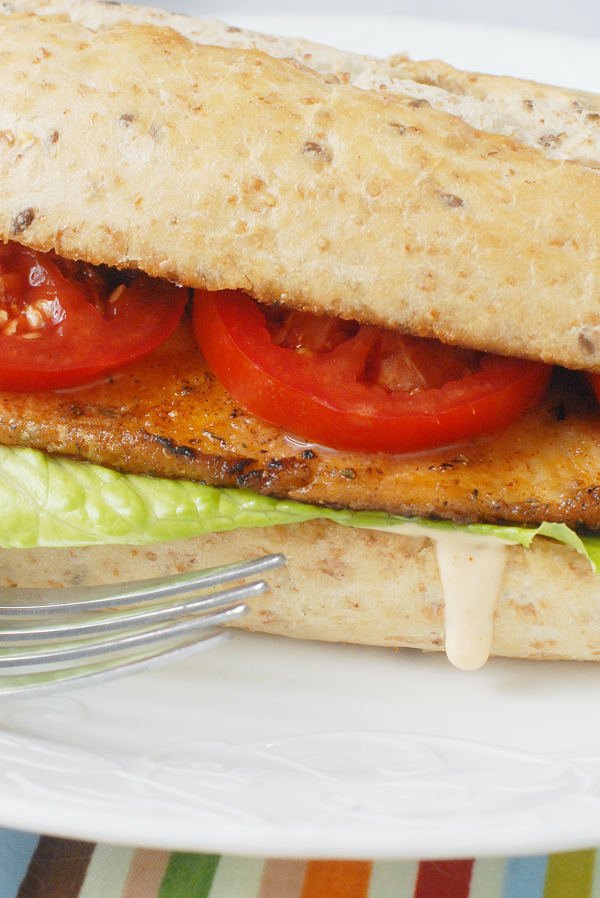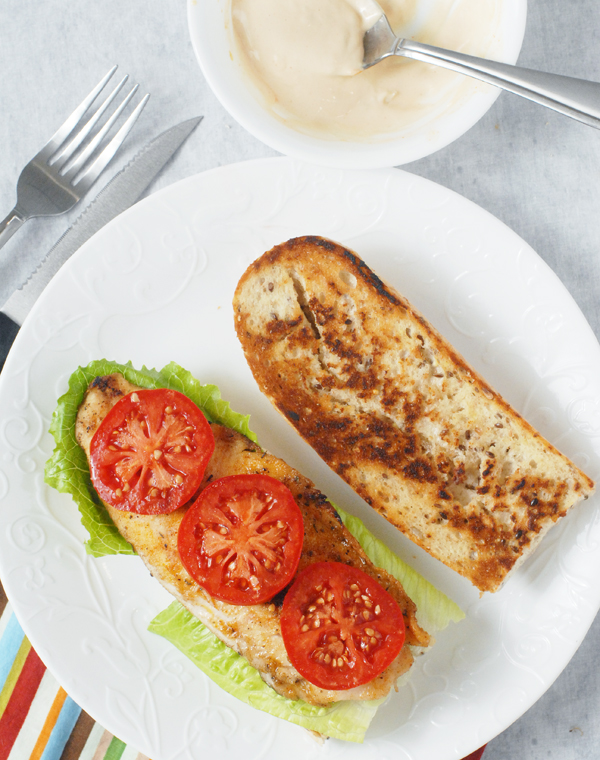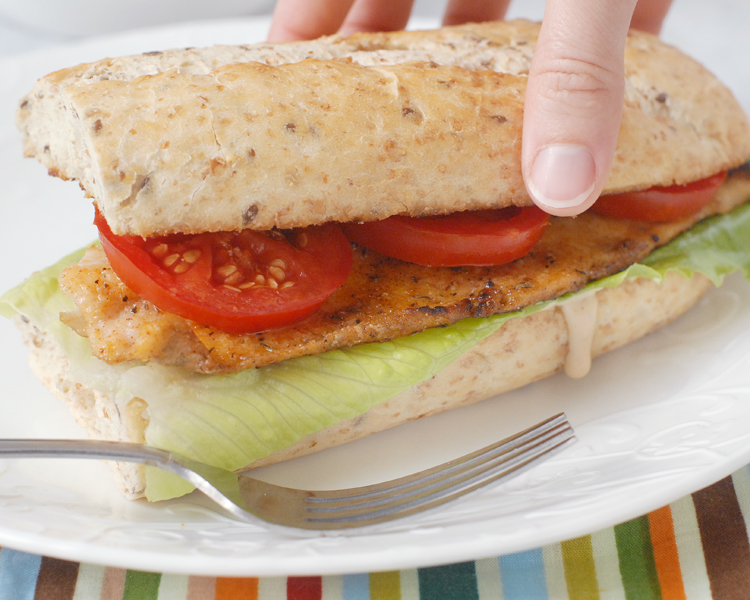 The seasonings and the bread are what really make this simple sandwich come together.  Fish is delicate, and a crusty, hearty bread adds a lot of chew that you desire in a good sandwich.  The fish is seasoned simply, while the sauce is bold with spice and fresh lemon!  In some bites, you get  simple and tasty fish, others are loaded with that spread that just makes your taste buds say wow!  This dichotomy, along with fresh veggies and good bread, is important to make each bite unique and special.
Variations to the Spicy Catfish PoBoys with Creamy Cajun Spread:
I used less oil and salt than the restaurant versions did.  You can use more if you like, but this version is a little healthier.
Try this sandwich with any type of fish that you enjoy.  I have tried trout and tilapia as well and loved them all!
 Vegetarian swap:  Try thinly sliced tofu or tempeh in place of the fish if you are looking for a vegetarian option.
Spicy Catfish PoBoys with Creamy Cajun Spread
There are three components that make these spicy catfish poboys with creamy cajun spread great! Good bread, quality fish seasoned simply, and a bold spread!
Author:
Alison's Allspice
Ingredients
12 inch multigrain batard or french bread
1 TBS butter
2 catfish fillets (about ½ lb)
1 TBS flour (I used white whole wheat)
¼ tsp salt and sugar, each
⅛ tsp paprika, black pepper, and thyme, each
Splash avocado oil
1 medium tomato, sliced
2 romaine lettuce leaves
Cajun Spread
3 TBS mayo
1 tsp lemon juice and louisana style hot sauce, each
½ tsp dijon mustard
¼ tsp lemon rind
1 garlic clove, minced
Instructions
Cut bread into 2 six inch sections. Cut each section in half to make a sandwich. Spread butter on the inside of each slice.
Mix together flour, salt, sugar, paprika, black pepper, and thyme.
Heat a large skillet over medium high heat. Place bread, buttered side down and cook until browned, 2-3 minutes. Remove from pan.
Place a splash of avocado oil, or other high heat oil, into the skillet.
Dredge fish in the flour mixture and cook in a hot skillet until opaque and cooked through.
Cajun spread
Combine all ingredients. Set aside
Sandwiches
Smear the toasted bread with the cajun spread. Top with lettuce, fish and tomato slices. Serve.