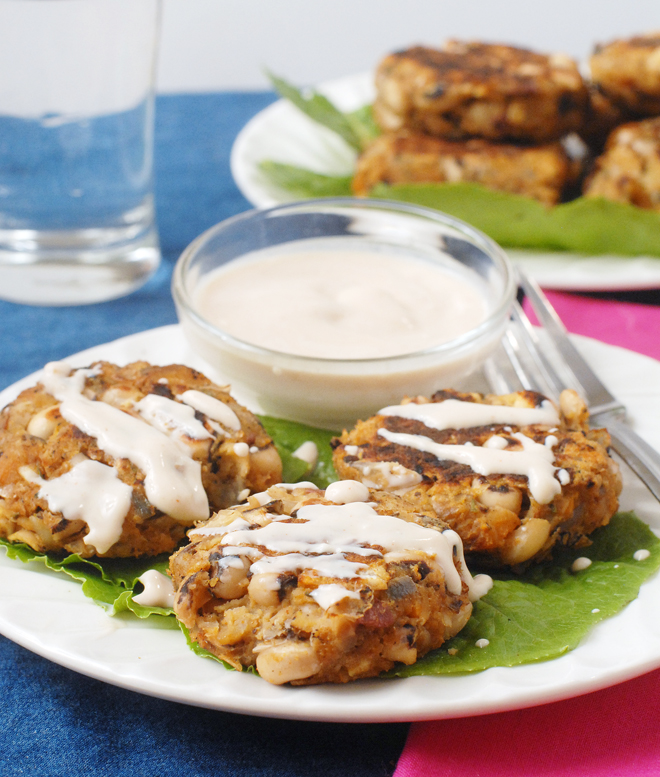 So, black eyed peas have not always been my favorite food.  However, they are said to bring good luck to those who eat them on New Years Day!  I love to partake in fun traditions, therefore I decided to experiment with black eyed peas to find a delicious way to eat them.
The tradition comes from the southern United States, so I figured Cajun flavors would work well.  I love these Cajun black eyed pea sweet potato cakes, and plan to enjoy them for good luck in the new year!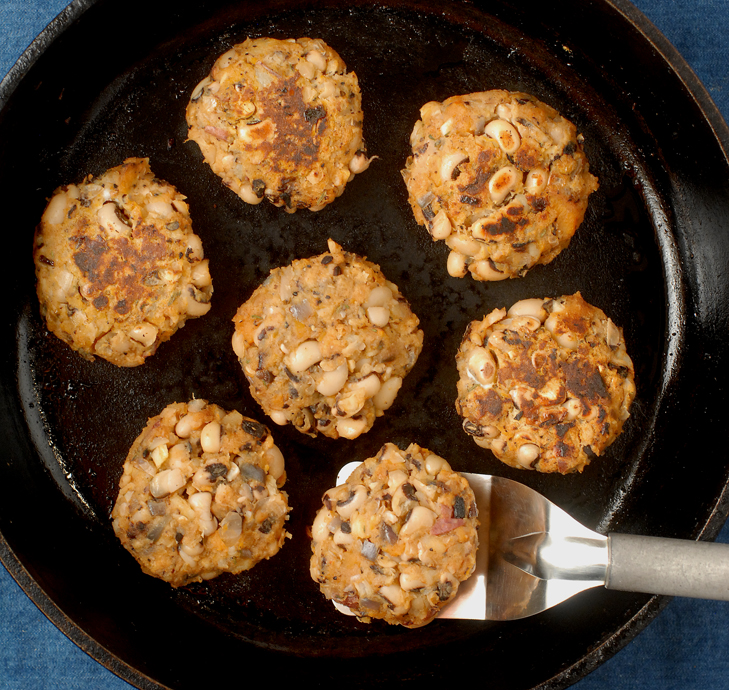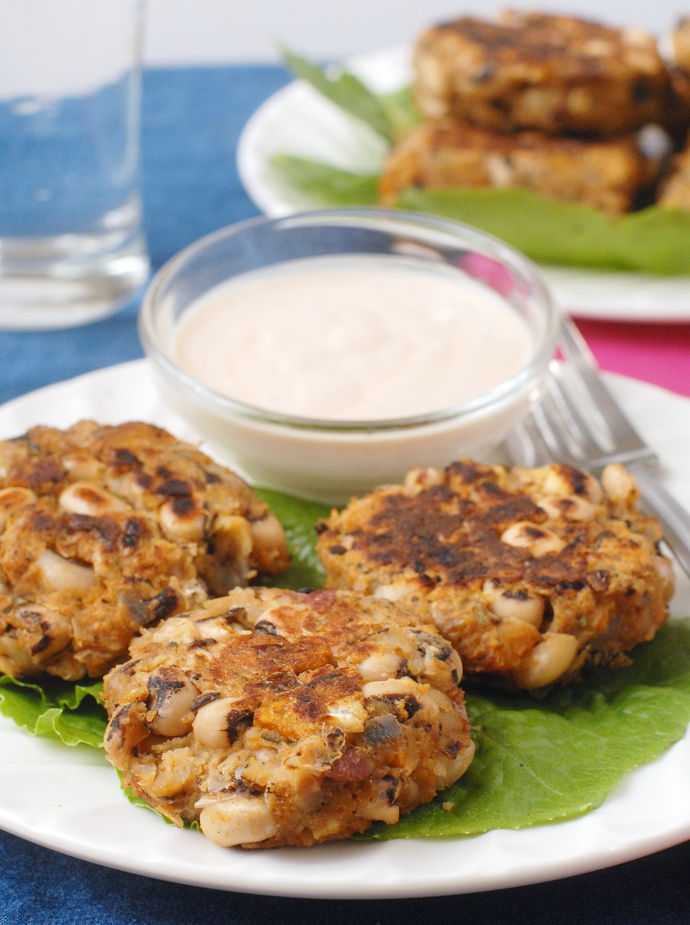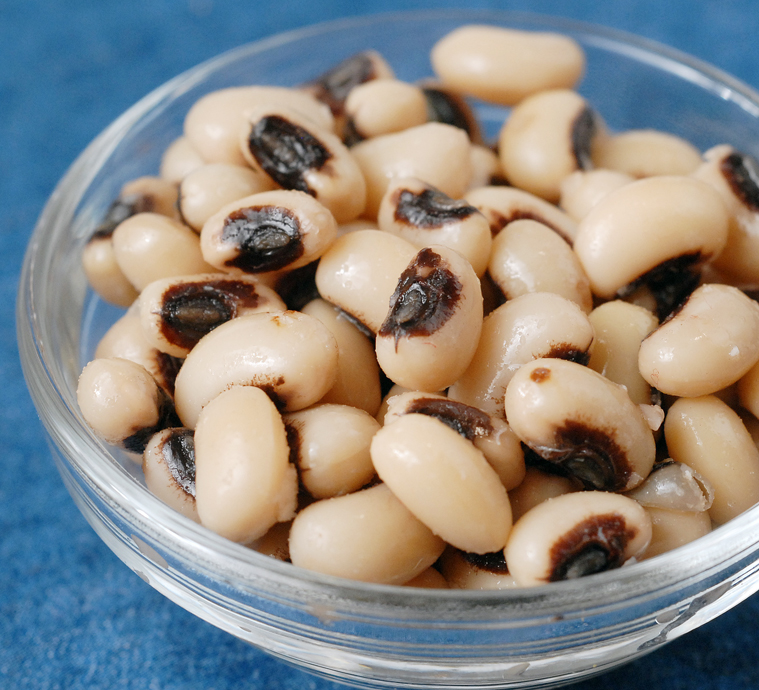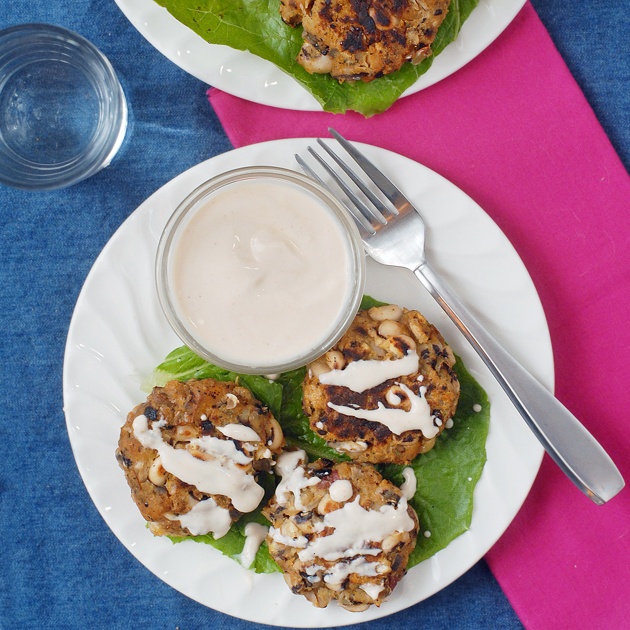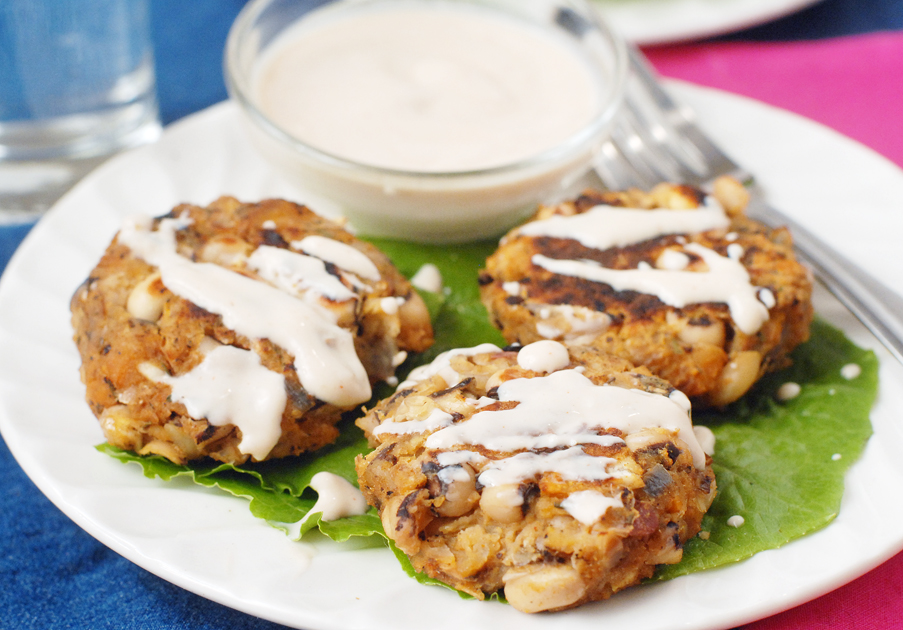 I love to serve spicy flavors with cool and creamy components.  They have a wonderful ying and yang, where the opposite flavors are totally complimentary.
The creamy yogurt dipping sauce adds moisture to the cakes, and delivers some relief from any heat.  I did not make these cakes very spicy, but you could always increase the cayenne if you want a really spicy cake!
Variations to the Cajun Black Eyed Pea Sweet Potato Cakes recipe:
I serve these cakes as a stand alone piece like you would a crab cake.  They would also be excellent as sliders or stuffed in a pita with lettuce!
If you're not enjoying these for luck on new years, try any of your favorite types of beans.  Black beans would be excellent!
If you don't have yogurt on hand, try sour cream instead.  The flavor will be similar, and still complement the cake.
Not a fan of sweet potatoes?  Use all red potato instead, or simply use more black eyed peas if you love them.
Cajun Black Eyed Pea Sweet Potato Cakes
Try these Cajun black eyed pea sweet potato cakes for good luck on new year's day! Cooked sweet potatoes and black eyed peas are seasoned with Cajun flavors and pan fried into delicious cakes. Serve them with a creamy yogurt dipping sauce!
Author:
Alison's Allspice
Recipe type:
Main or Appetizer
Ingredients
¾ cup sweet potato, diced (half a small)
¾ cup red potato, diced (one small)
⅔ cup red onion, diced (half a medium)
Splash olive oil
1½ cups cooked black eyed peas or 15 oz can rinsed and drained
1 large garlic clove, minced
½ cup breadcrumbs
½ tsp each: salt, black pepper, thyme, and smoked paprika
⅛ tsp cayenne (or more to taste)
1 large egg, beaten
Sauce
½ cup plain yogurt
2 tsp Louisiana style hot sauce
1 tsp each: vegan Worcestershire sauce and Dijion mustard
1 garlic clove, grated
pinch salt
Instructions
In a large skillet over medium heat, combine sweet potato, red potato, onion, and a splash of olive oil. Cook stirring occasionally until the potatoes are soft and cooked through, 15-20 minutes.
Combine cooked potatoes with black eyed peas and coarsely mash with a potato masher. Add garlic, bread crumbs, and seasonings (through cayenne). Taste test the mixture and increase salt and spices as necessary. Mix in egg.
Divide the black eyed pea mixture into 12 portions. Shape each portion into a patty. Place as many patties as will fit into a hot skillet over medium low heat. Cook until golden brown on each side and firm, about 5 minutes per batch.
Mix together all ingredients for the sauce.
Serve sauce with hot cakes.
Recipe Adapted from
Baked In
.