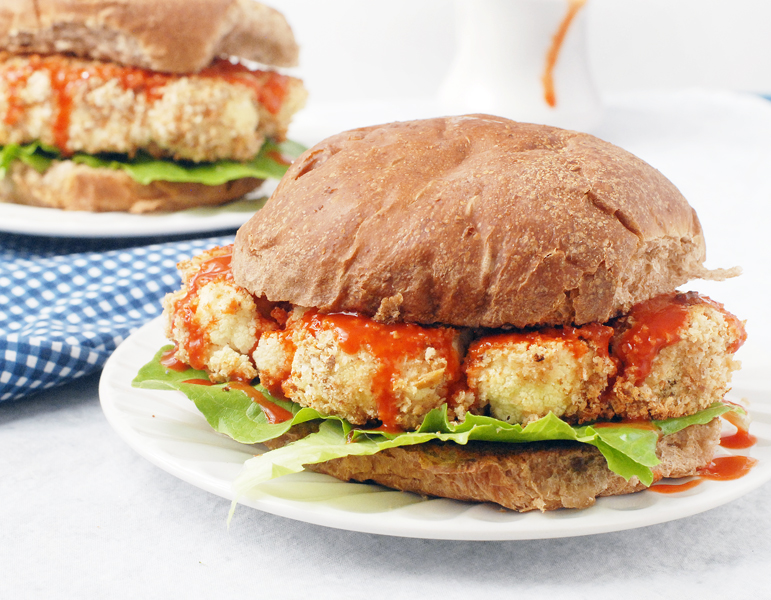 When I first started eating more meatless meals, buffalo chicken was the thing I missed most.  I tried so many recipes to find something that I could substitute, but so few of them worked out.  Cauliflower, however, has been my favorite food to transform into the spicy buffalo flavor that I was missing.  The flavor of cauliflower is light, which makes it perfect to lather in spicy buffalo sauce.  My breaded buffalo cauliflower sandwiches are light, but have loads of flavor, so you don't feel like you're missing a thing!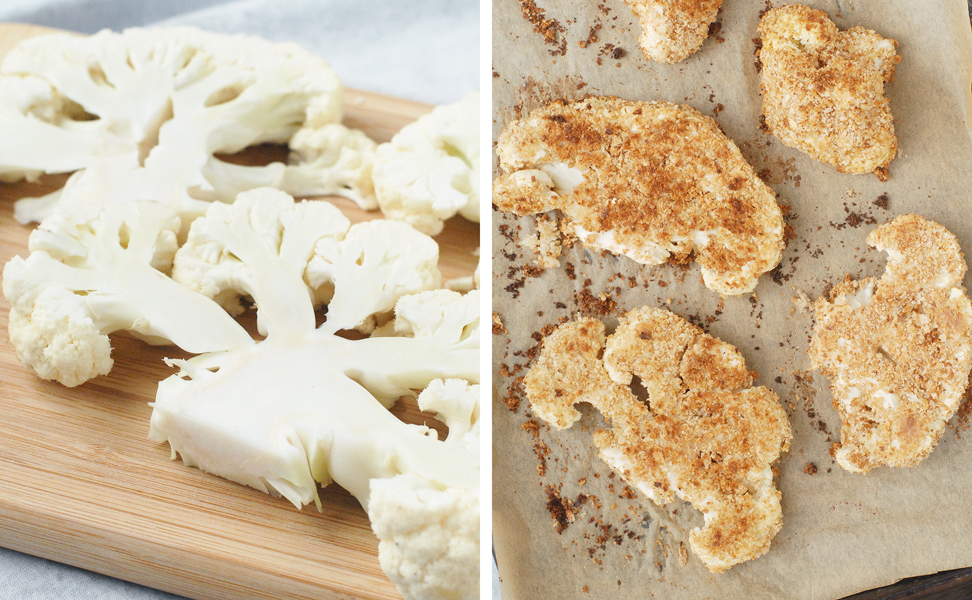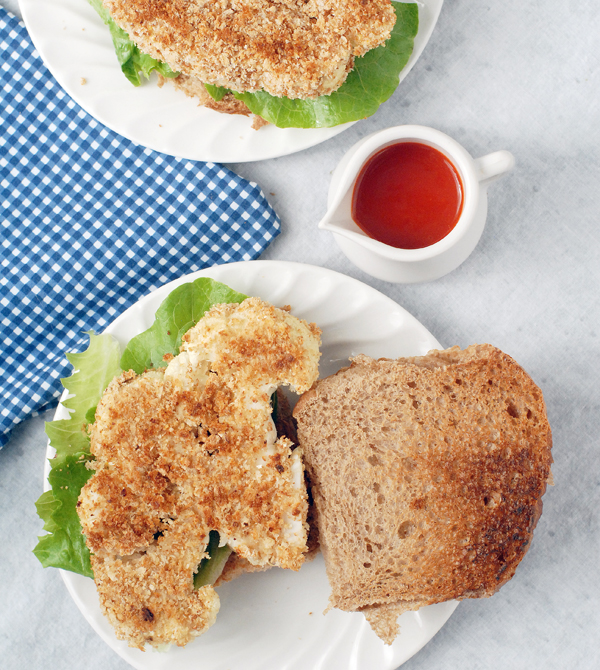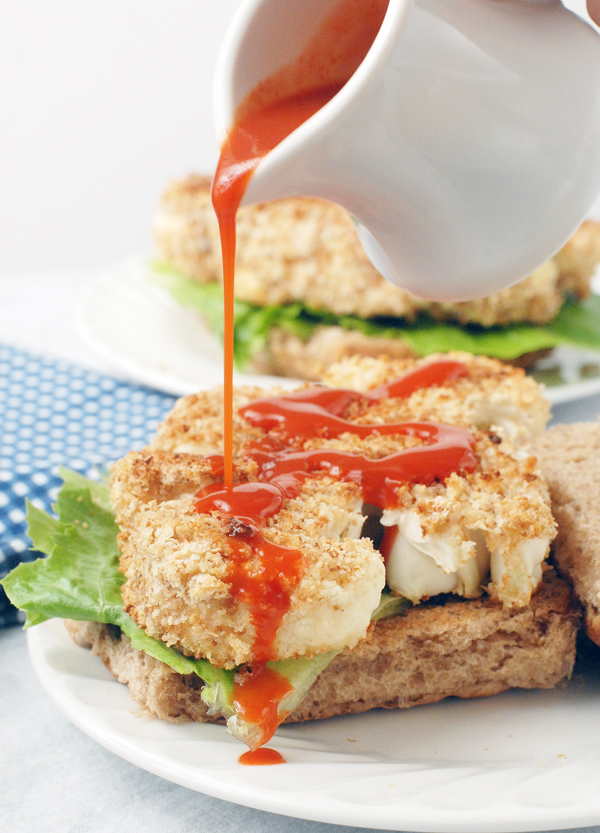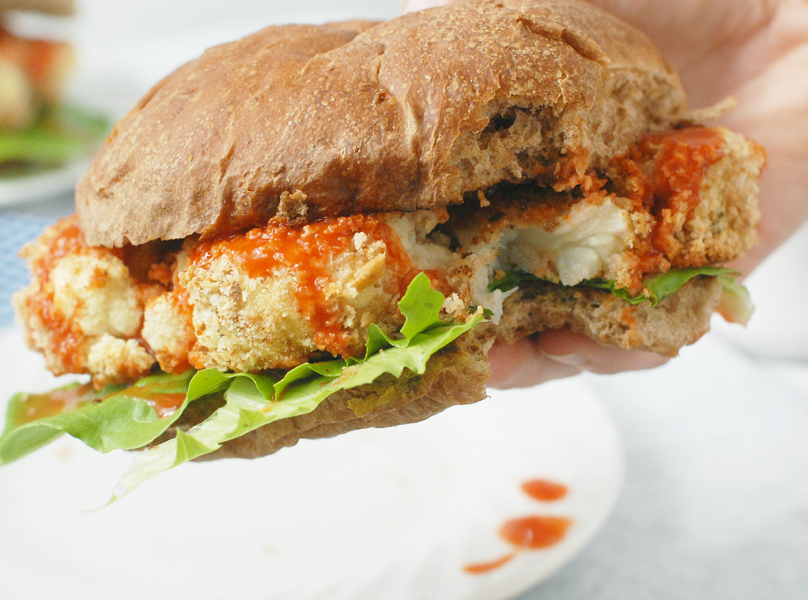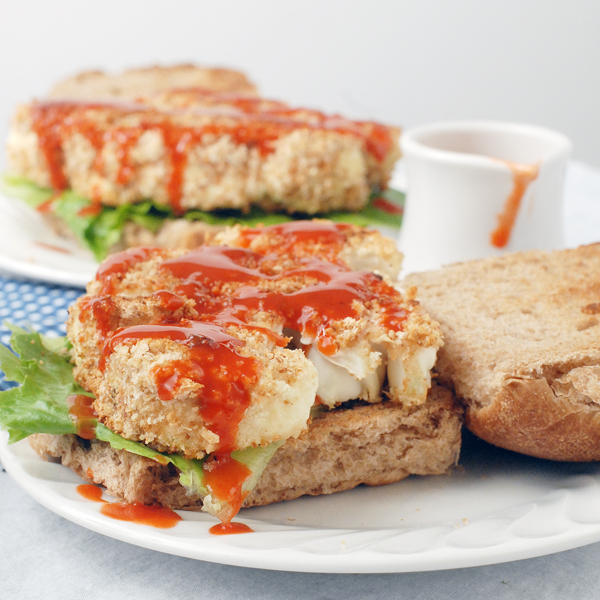 If you are into buffalo cauliflower, check out my beer-battered buffalo cauliflower bites as well.  These sandwiches (and the bites) are one of my favorite foods to enjoy during Sunday football games!  Football food is a real treat at our house because I don't have time to make special food for every game.  Do you have a favorite food to enjoy watching the game?  Share with us in the comments!
Variations to the Breaded Buffalo Cauliflower Sandwiches recipe:
Panko is a great crunchy coating that will also work on these sandwiches.  I use breadcrumbs only because I can find them in whole wheat more often.
I like to drizzle on the buffalo sauce so that you can control the amount you get on the sandwich.  If you try to coat the cauliflower steaks in sauce, it's going to be really hot!
I oven-baked these to keep them light.  To make a really indulgent treat, you can deep fry or pan fry the breaded cauliflower.
Breaded Buffalo Cauliflower Sandwiches
These breaded buffalo cauliflower sandwiches are oven baked, keeping them light, but still exploding with flavor! Try them for your next game day!
Author:
Alison's Allspice
Ingredients
1 large head cauliflower
3 TBS white whole wheat flour or all purpose flour
¼ tsp each: garlic powder and salt
½ cup soymilk
1 tsp apple cider vinegar
2 cups whole wheat bread crumbs
5 whole wheat burger buns
⅔ cup hot sauce (such as Franks)
Romaine Lettuce, for serving
Ranch dressing, for serving (optional)
Instructions
Preheat the oven to 400 F.
Remove any green leafy parts from the steam of the cauliflower. Slice the head into 1 inch slabs. I cut the cauliflower in half and worked my way outward, producing 5 cauliflower steaks. Reserve any florets that fall off for another use.
Set up your breading station. Combine flour, salt, and garlic powder on a plate, soymilk and vinegar on another plate (whisking to combine), and breadcrumbs on a third plate. Line a baking sheet with parchment paper. Dredge both sides of the cauliflower steaks in the flour mixture. Coat in the soymilk mixture, and press into the breadcrumbs. Place on the baking sheet and continue with remaining cauliflower until finished.
Bake in the preheated oven for 10 minutes. Flip cauliflower over, and bake another 10 minutes.
Top buns with lettuce and a cauliflower steak. Drizzle each with about 2 TBS buffalo sauce. Serve with ranch, if desired.
Recipe inspired by
Hot for Food
.