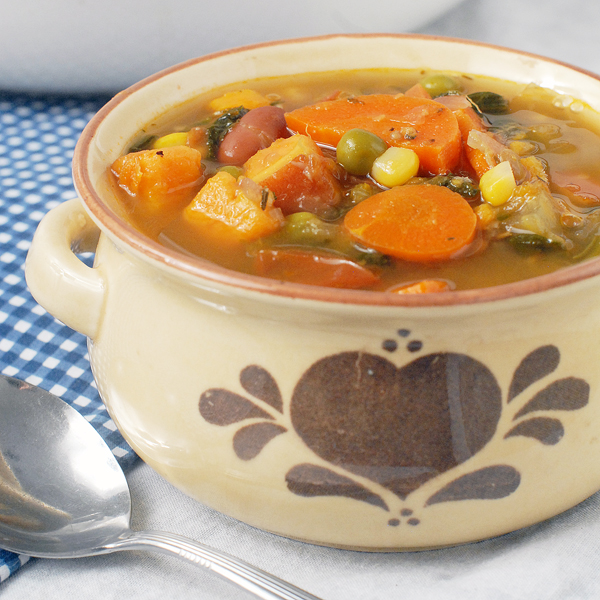 Yes friends, you read correctly, BEST EVER homemade vegetable soup.  And here is why I think it's the best – it's adaptable. Vegetable soup doesn't really need a recipe, but it does need a well thought out plan.  Below, I have outlined for you which pieces of my recipe are necessary and why, and which pieces you can change and still have great success.  I never really liked soup until I started making it at home.  A simple vegetable soup is my favorite because it is light, and yet so flavorful!

What to change, what to keep to make your best ever homemade vegetable soup:
Onions and Celery: Keep. These are your aromatics.  They build the base flavor of your soup and it will be bland without them.  I dislike celery and almost never use it, except for vegetable soup.  It caramelizes with the onion and makes the flavors of the soup outstanding!
Carrots and Tomatoes: Keep. A best ever soup needs to have balance of flavors.  Carrots add a subtle sweetness to the soup, while the tomatoes balance with acidity.  Both are necessary for a full bodied flavor.
Potato: Keep.  I used sweet potatoes (because I love them), but any kind of potato will do here.  They add a few carbs to the soup which helps to make it filling, without overdoing it on the calories.
Corn and Peas: Able to change.  I add corn and peas for added color, and because they are easy to keep in stock (frozen).  You can use what ever kinds of veggies you like in their place.  Examples – edamame, green beans, broccoli, cauliflower etc.
Spinach: Able to change.  Spinach adds a deep green hue that balances with the other colors of the soup, making it look more appealing.  You can use any kind of leafy green in it's place.  Examples – kale, Swiss chard, turnip greens, arugula etc.
Kidney Beans and Lentils: Able to change, slightly.  Adding some protein to the soup helps to keep it filling.  Beans are a great vegetable protein, keeping it in the vegetable soup category.  You can use any kind of beans or lentils you like, but if you switch to a meat based protein, I would have to argue that you're no longer making vegetable soup!
Seasonings: Able to change.  You will definitely need to season the soup with spices and herbs, but you can use your favorites.  I love to add a little red pepper flake for a warming effect, that doesn't make the soup spicy.  Bay leaf and oregano are my favorite herbs that I would never make a vegetable soup without.
Broth: Keep.  Vegetable soup is naturally a brothy soup, which helps to keep it light, but filling.  Broth also adds a lot of flavor, and saltiness that is necessary for tastiness.  Broths can vary a lot, so taste test your soup as you go, and add more salt if your broth is not salty enough. I use this bouillon
 to make broth because it's tasty and easy to keep on hand.
Vinegar. Keep. The vinegar adds brightness to the soup, which helps it to taste fresh.  Don't skip this ingredient.  I love apple cider vinegar, but you could also try white vinegar or white wine vinegar.

Best Ever Homemade Vegetable Soup
Veggie soup doesn't always need a recipe, but it does need a plan. Mine is the best ever homemade vegetable soup because the plan is adaptable (and tasty!).
Author:
Alison's Allspice
Ingredients
1 medium onion, chopped
2 large celery stalks, chopped
2 TBS oilve oil
1 large sweet potato, diced
1 large carrot, sliced/diced
4 cups vegetable broth
4 garlic cloves, minced
½ tsp each: salt, black pepper, oregano, thyme, rosemary
¼ tsp red pepper flake
1 bay leaf
15 ounce can tomatoes, or 2 cups fresh diced tomatoes
1½ cups cooked red kidney beans, or 1 can rinsed and drained
1 cup each: frozen corn and peas
¼ cup dry lentils, rinsed
2 ozs cut leaf spinach (3/4 cup from frozen)
4 cups water
2 TBS apple cider vinegar
Instructions
In a large dutch oven combine onion and celery over medium low heat and sweet the aromatics for 15-20 minutes, or until they just begin to caramelize.
Add sweet potato, carrot, vegetable broth, garlic, and seasonings (through bay leaf). Bring to a simmer and cook 20 minutes.
Add beans, corn, peas, lentils, spinach and water. Taste soup and see if it needs more salt. Simmer for another 20 minutes.
Remove from heat, and stir in vinegar. Serve hot.