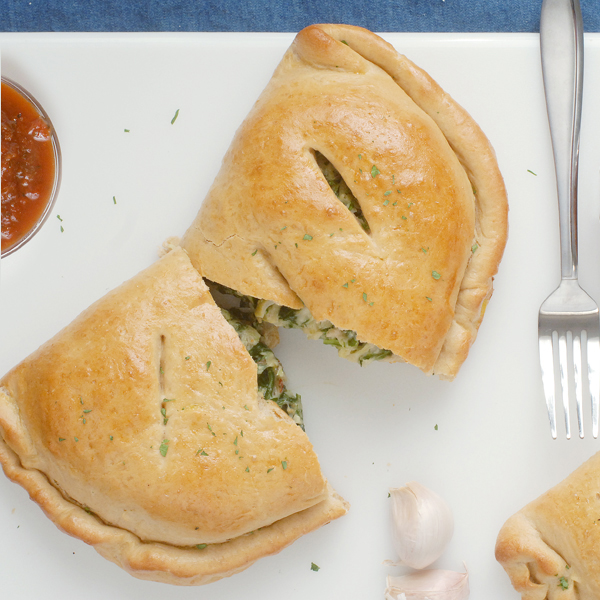 Who's ready for some very veggie spinach artichoke calzones??  Me!  Me, please!
Calzones are usually loaded with (delicious, ooey-gooey, high fat, not good for my waist-line) cheese.  In my version, I loaded them up with veggies for guilt-free satisfaction.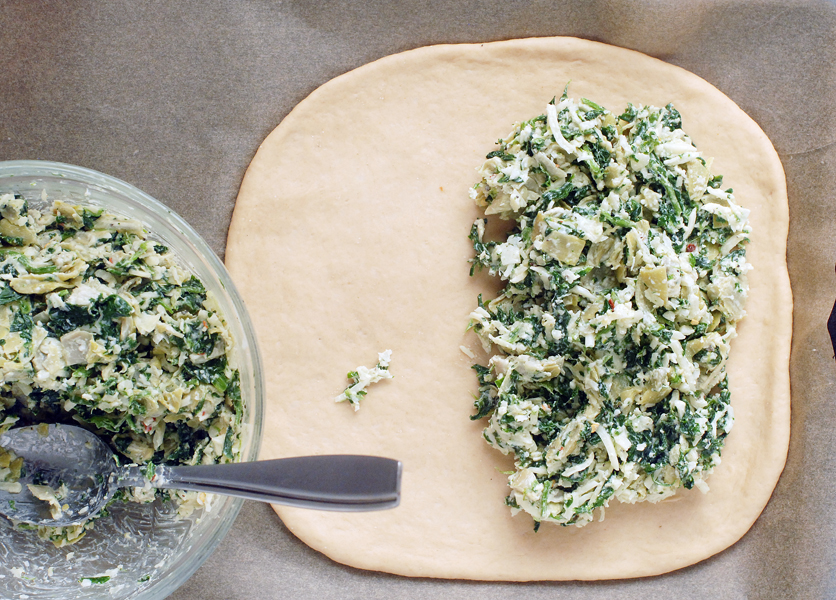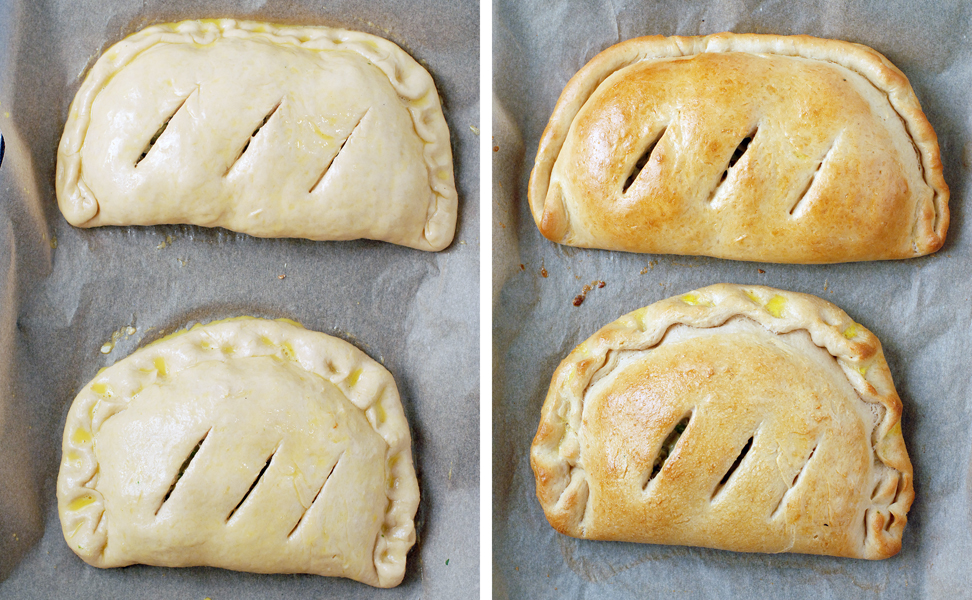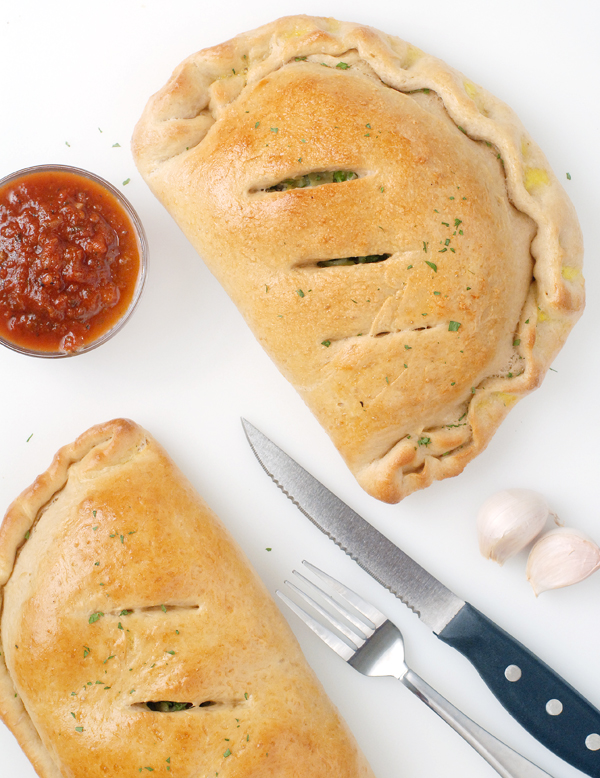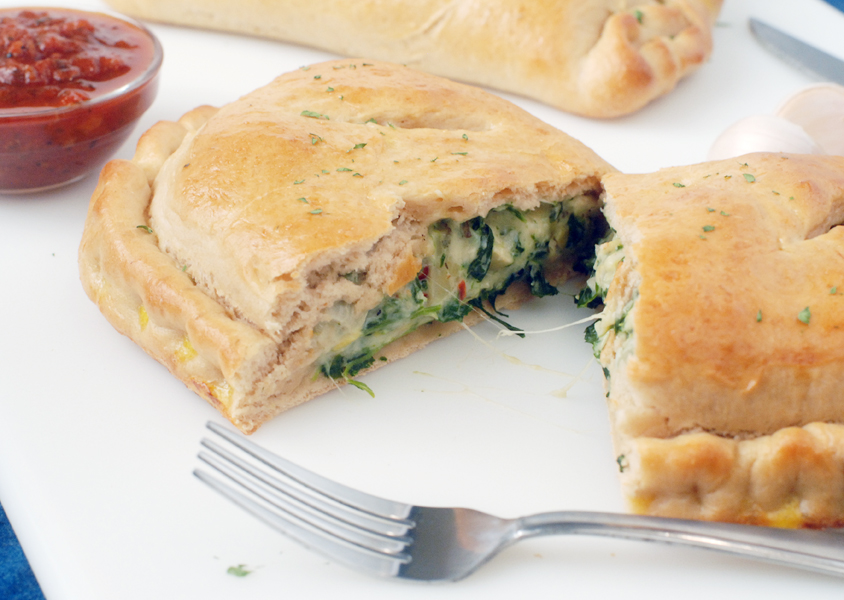 Every serving has a full cup of veggies.  But don't worry, I didn't forget that delicious cheese!
I used cream cheese for a spinach artichoke dip feeling, with Parmesan for full flavor.  Finish them off with a little mozzarella for stringy calzone-like texture and viola!  Healthy (ish), very veggie calzones!
Variations to the Very Veggie Spinach Artichoke Calzones recipe:
If you find cooked spinach to be a strong flavor, try using less of it, and use more aritchoke in it's place.
If you use regular whole wheat flour (not white whole wheat) in the dough, you will need more water.  Try increasing to 3/4 cup water.
The egg wash is important to keep the dough from drying out, but you will have more than you need using a single egg.  I usually microwave the extra and eat it instead of throwing it out and wasting it!
Very Veggie Spinach Artichoke Calzones
These very veggie spinach artichoke calzones are a healthy version that has one cup of vegetables per serving, with some cheese for good measure. I used cream cheese for a spinach artichoke dip feeling, Parmesan for full flavor, and mozzarella for stringy calzone-like texture!
Author:
Alison's Allspince
Ingredients
Dough
1 cup white whole wheat flour
1½ tsp sugar
¼ tsp salt
2¼ tsp rapid rise yeast (1 packet)
½ cup all purpose flour, plus more for kneading
⅔ cup water, heated to 120 F
2 TBS melted butter
Splash olive oil
1 egg, beaten
1-2 tsp water (splash)
Filling
7 oz frozen artichokes hearts (1½ cups), thawed and chopped
4½ oz frozen cut spinach (1½ cups), thawed
1 cup shredded mozzarella
¼ cup cream cheese
¼ cup grated parmesan
3 garlic cloves, minced
¾ tsp onion powder
¼ tsp each: salt and pepper
⅛ tsp red pepper flake
For Serving
Instructions
In a large bowl, mix together white whole wheat flour, sugar, salt, and yeast. Pour in heated water and melted butter. Stir to combine
Add the all purpose flour and stir until a shaggy dough forms. Dust a working surface with flour and knead the dough until smooth (about 5 minutes), adding more flour as needed.
Separate the dough into 3 equal portions. Put a splash of olive oil into the dough bowl and roll each ball in the oil to coat and prevent moisture loss. Let the oven preheat to 375 F while the dough rests on top of the warm stove, about 10 minutes.
Meanwhile, in a large bowl, mix together all ingredients for the filling. Set aside.
Working with one dough portion at a time, roll it into a 7 inch circle/square. Place about ⅓ of the filling onto one half of the dough and fold the dough over the filling, pinching the edges to seal it up. Repeat with remaining dough and filling.
Place calzones on a parchment lined baking sheet. Make a few slits on the top side of the calzone to allow moisture to escape.
Mix together the egg and water to make an egg wash. Brush the egg wash over the top and edges of the calzone until sealed. You will have some extra egg wash.
Bake in the preheated oven for 20 minutes or until golden brown.
Serve with marinara sauce.
Inspired by
Delish
, adapted from
Simply Scratch
.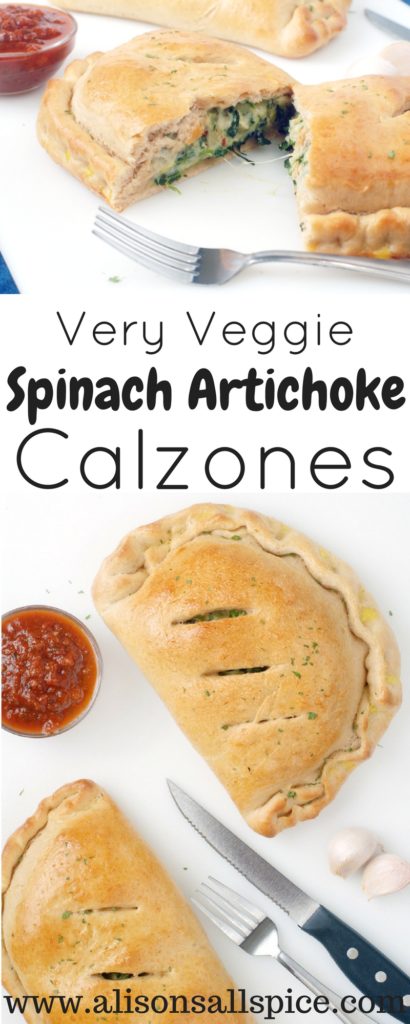 Products I used to make this recipe:

These are affiliate links.  If you choose to purchase through these links, I will earn a small commission at no cost to you.
Thank you for sporting Alison's Allspice!