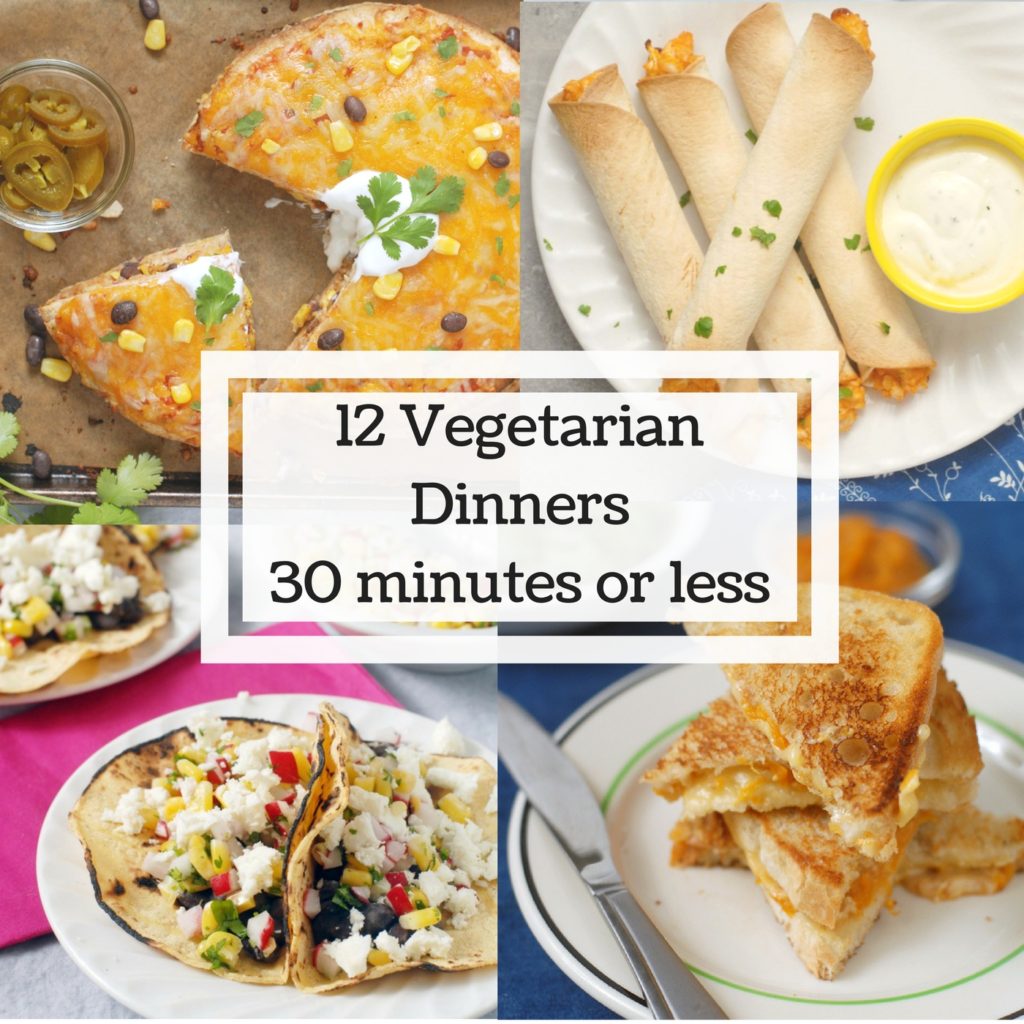 Last week I told you all that there had been some changes at home making life a little crazy and busy.  Her name is Pepper, and she is my 10-week old golden retriever pup!  Today I am sharing a round-up of recipes that take 30 minutes or less because life at home with a puppy leaves little time to cook.   I love too cook, and still want to make nutritious meals to enjoy, so these fast and easy dishes that take less than 30 minutes are a life saver! And guess what?  No salads!  I love salad, but there are many that don't, therefore I specifically excluded salads from this list. Check out these 12 vegetarian dinners in 30 minutes or less.  Which one is your favorite?
12 Vegetarian Dinners in 30 Minutes or Less!
---
1. Creamy Spinach Artichoke Quesadillas
A little cheese and lots of veggies make these indulgent, yet healthy!

---
2. Pesto Parmesan Spaghetti Squash
Cook your spaghetti squash in the microwave to have dinner on the table in a flash!

---
3. Veggie Pizza Omelet
Eggs are full of satiating protein and make a great delivery vehicle for veggie pizza flavor!

---
4. Buffalo Blue Cheese Vegetarian Taquitos
These are perfect for game day as well.  Serve with your favorite creamy dip!

---
5. Chipotle Cauliflower Hummus Tacos
Canned chipotles and simple hummus make these vegan tacos simple and delicious!

---
6. Italian Zucchini Sub Sandwiches
This is my favorite zucchini recipe.  Mushrooms and marinara add richness and body to these baked sandwiches!

---
7. Black Bean, Corn, and Spinach Quesadillas
Frozen veggies make these quesadillas come together in a flash.  Serve with multiple dipping options, like sour cream and salsa!

---
8. Gouda Grilled Cheese with Apricot Ginger Spread
Use canned apricots to make a flavorful spread that will take your next grilled cheese night over the top!

---
9. Enchilada Spaghetti Squash Boats
Enchilada sauce and plenty of veggies are used to fill these boats for a fast, satisfying meal!

---
10. Black Bean Tacos with Radish Corn Salsa
This salsa is so bright and colorful, it wows guests with presentation, and flavor!

---
11. Grilled Mushroom Arugula Sandwiches
Use Swiss cheese and Dijon mustard on these sandwiches to give them lots of flavor.  They are surprisingly filling!

---
12. Tex-Mex Tortilla Pie
Stack your tortillas high and layer with corn, black beans, salsa, and jalapenos!

---
Share with us in the comments, which one is your favorite?