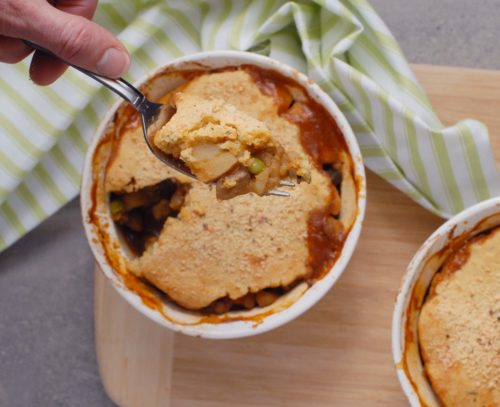 I love comfort foods that are loaded full of veggies.  You can feel like you are treating yourself, while you're getting your quota of veggies for the day.  It's a total win-win scenario.  Pot pies were a favorite meal of mine growing up, therefore this vegetable lentil pot pie fits the best of both worlds for me.  It's a total comfort food, and still very healthy.
The best part of a vegetable lentil pot pie for me is the crust.  Traditionally a pot pie is completely surrounded by a flaky crust, but that flaky crust adds up fast with fat and calories.  My crust gets its texture from cornmeal, and it's topped with a little Parmesan cheese to add richness without much added fat and calories.  It is easier to make as  well because you don't need to roll it out. Simply press into disks and top each pot pie.  Enjoy!
Variations to the Vegetable Lentil Pot Pie Recipe:
I loved the combo of mushrooms, potato, carrots, peas and onions in this pot pie.  Here are some possible substitutions:

Sweet potato for the potato or carrot
Leeks or shallots for the onion
Broccoli or green beans for the peas

To make this recipe vegan try putting 1/4 cup ground pine nuts into the crust recipe instead of topping with cheese, and use coconut oil in place of butter.
I keep my pantry full of different kinds of dried herbs.  If you don't have sage, rosemary and thyme simply use more of what you do have.  Italian seasoning would also work well.
Vegetable Lentil Pot Pie
Author:
Alison's Allspice
Ingredients
½ cup lentils
1 bay leaf
1 medium onion, diced
Splash olive oil
12 oz mushrooms, diced
1 large carrot, diced
1 large potato (10 oz), diced
5 garlic cloves, minced
1 tsp ground sage
1 tsp rosemary
½ tsp thyme
½ tsp black pepper
1 TBS white whole wheat flour
2 cups veggie broth
1 TBS soy sauce
2 TBS tomato paste
1 cup frozen green peas, thawed
Topping
½ cup white whole wheat flour, all purpose flour, and corn meal, each
1 tsp baking powder
½ tsp salt
¼ cup butter, softened
½ cup soymilk (or milk of choice)
1 tsp malt vinegar (or vinegar of choice)
5 TBS Parmesan cheese, grated or shaved
Instructions
In a small sauce pan, combine lentils and bay leaf. Cover with water, and place over medium heat until it boils. Reduce heat to low and simmer for 20 minutes. Drain and remove bay leaf.
Meanwhile, combine onion and a splash of olive oil in a large pot or dutch oven. Cook covered over medium heat until the onion is translucent, about 5 minutes.
Add mushrooms and cook until liquid starts to form, about 5 minutes. Add carrot through tomato paste to the pot. Bring to a simmer and cook 20 minutes.
Preheat oven to 400 F.
Mix lentils and green peas into the pot pie filling. Taste test and add more seasonings as needed. Divide filling into 5 16-oz oven-proof ramekins.
Topping
Combine flours, cornmeal, baking powder and salt. Stir to combine.
Cut butter into flour mixture using a fork.
In a 1 cup liquid measure, combine milk and vinegar with a whisk. Pour over flour mixture and stir until just combined and evenly moist. Do not over stir.
Divide the mixture into 5 portions. Using your hands, shape each into a disk just smaller then the size of the ramekin.
Place each dough disk over the top of each filled ramekin. Sprinkle each with 1 TBS Parmesan cheese.
Bake in the preheated oven for 25 minutes. Remove and let cool 15-20 minutes before serving.
Recipe adapted from
Bon Appetit
. This recipe was shared that the
What's Cookin Wednesday Link Party
, the 
Weekend Potluck
 and
Tickle my tastebuds
.