"Disclosure: I received free samples of Sabra Hummus mentioned in this post. By posting this recipe I am entering a recipe contest sponsored by Sabra and am eligible to win prizes associated with the contest. I was not compensated for my time."
Happy National Hummus Day friends!  I am back today to bring you more hummus filled goodies because today, May 13th, is National Hummus Day!  Earlier this week I posted my Mediterranean Hummus Stuffed Mushrooms.  Today I'm sharing these Vegan Spicy Eggplant Hummus Taquitos which are made with Sabra's Supremely Spicy Hummus. These quick appetizers are crispy on the outside, creamy on the inside, and perfect for dipping!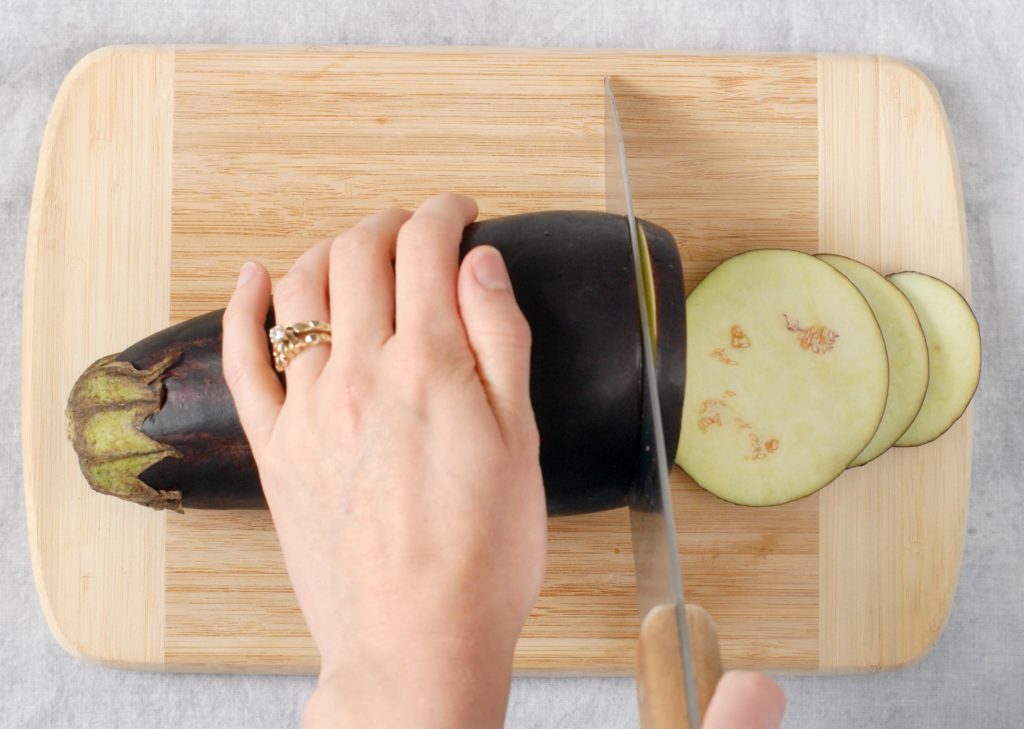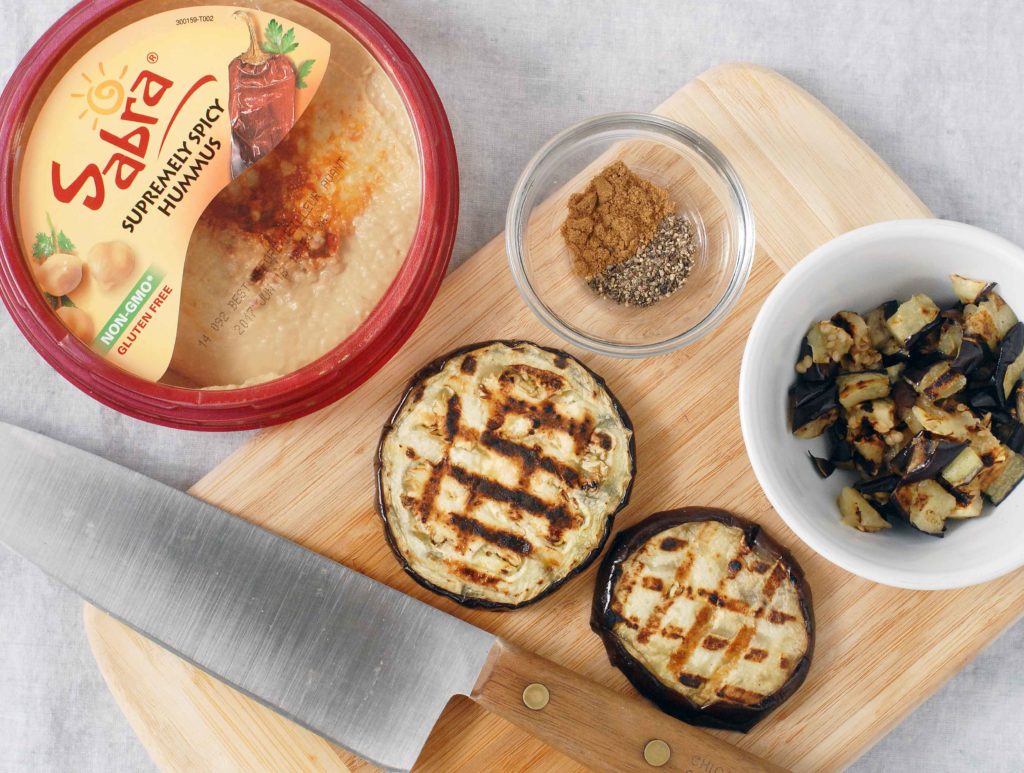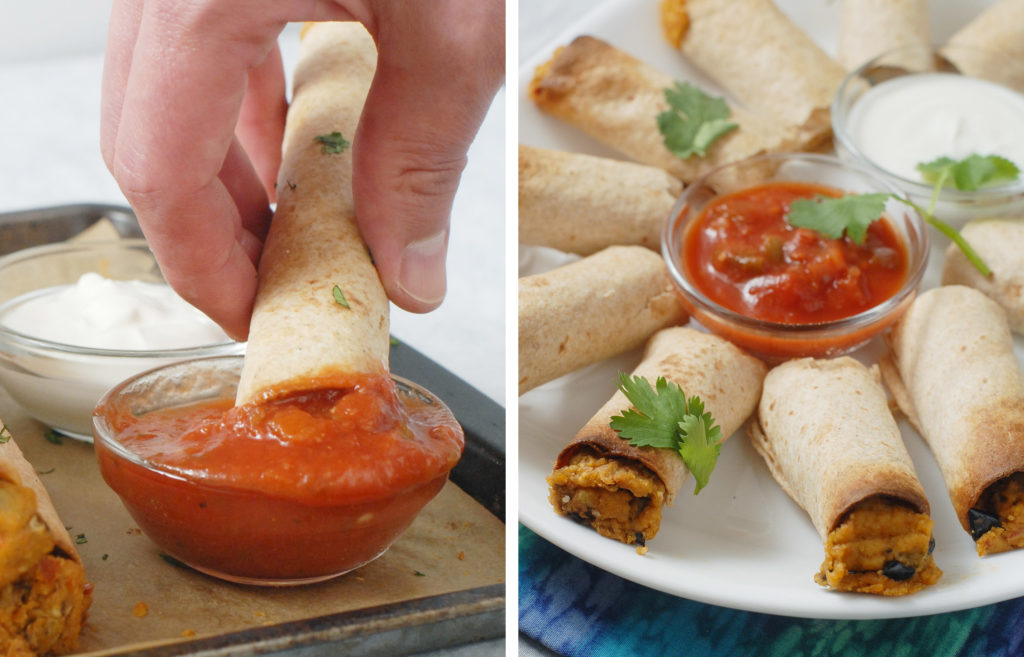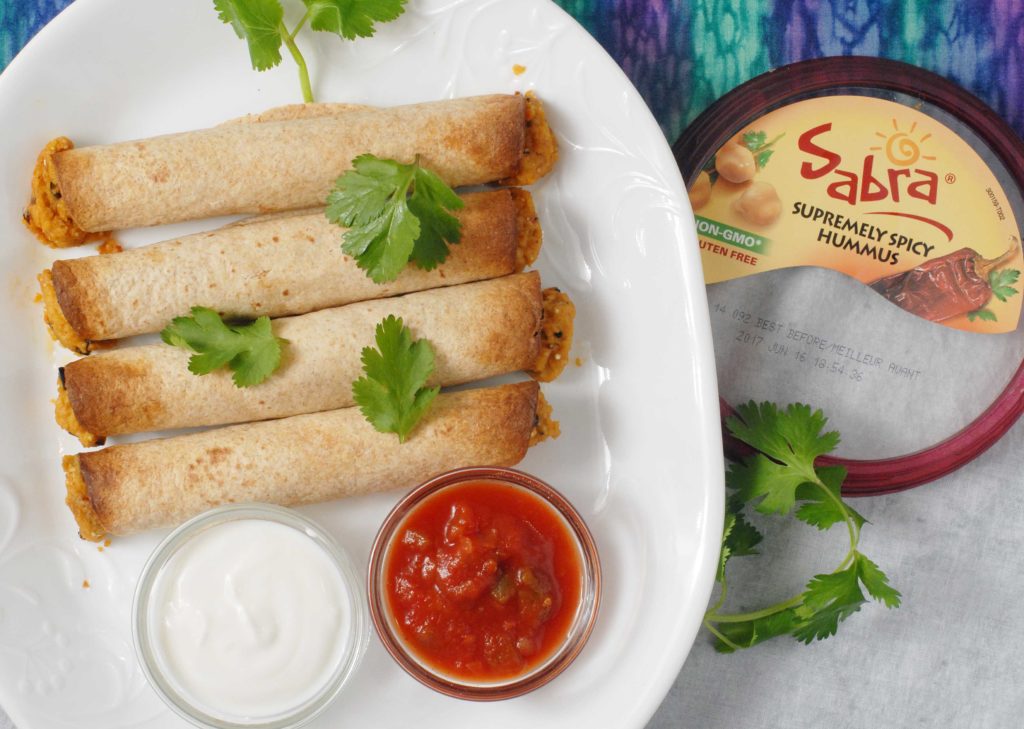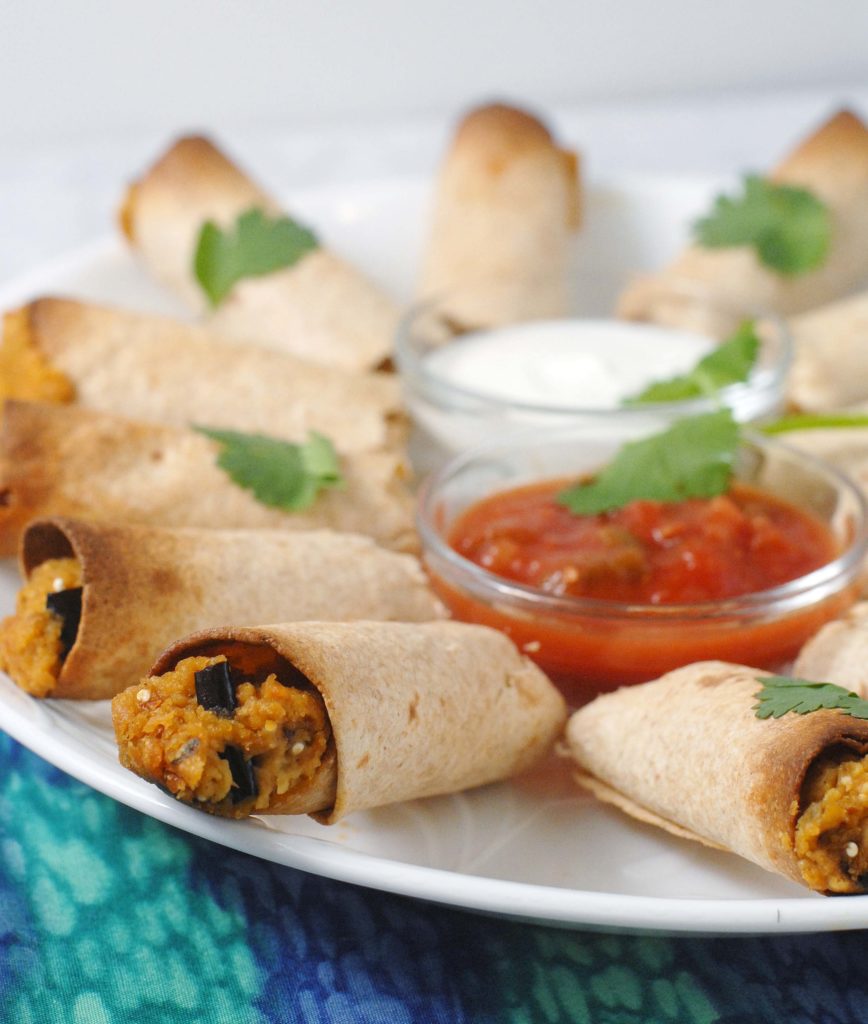 Hummus is a perfect filling for these taquitos, keeping them high in protein, as well as vegan.  I added a secret ingredient that helps to hold these treats together – quinoa!  Hummus is soft and when heated it tended to ooze out of the taquitos.  Just a tablespoon of quinoa did the trick to absorb enough extra moisture to keep most of the hummus inside the crispy shells.
Variations to the Vegan Spicy Eggplant Hummus Taquitos recipe:
I used eggplant to give the filling a little more texture.  You can use whatever veggie you have on hand.  Be sure to cook it first to extract any additional moisture!
The supremely spicy hummus was the perfect amount of heat for me.  If you like less heat, try another of Sabra's awesome flavors.
Gluten Free: Use corn tortillas to make these taquitos gluten free.  I found flour tortillas easier to work with, so be sure to heat your corn tortillas well before rolling to avoid splits!
Try green or red salsa to serve for dipping.  Both were delicious in my opinion.  I preferred Greek yogurt over sour cream for dipping my taquitos, which is your favorite?
Vegan Spicy Eggplant Hummus Taquitos
These taquitos are quick appetizers or a simple main. Crispy on the outside, creamy on the inside, and perfect for dipping!
Author:
Alison's Allspice
Serves:
2 main dish servings, or 16 appetizer pieces
Ingredients
5 oz Eggplant, sliced (half of a small eggplant)
Sea salt (3-4 twists of a grinder)
Spray olive oil
½ tsp cumin and black pepper, each
10 oz Sabra Supremely Spicy Hummus
1 TBS quinoa
8 6-inch whole wheat tortillas
Salsa and Greek yogurt, for serving
Instructions
Sprinkle eggplant sliced with sea salt and let them rest on a plate for 10-15 minutes. Wipe off any extracted moisture and spray both sides with olive oil.
Preheat oven to 400 F.
Heat a grill pan over high heat. Grill eggplant slices until charred and starting to soften, about 1-2 minutes on each side.
Dice eggplant and mix into the hummus container with 1 TBS quinoa.
Heat tortillas according to package directions.
Spoon approximately ¼ cup filling mixture into the center of a tortilla. Tuck the edge over and roll the tortilla gently around the filling. The hummus mixture will expand during cooking, so leaving some space on the edges will give it room to expand within the tortilla. The taquitos should be at least 1 inch in diameter when rolled.
Repeat with remaining filling and tortillas. Place taquitos seam side down on a parchment lined baking sheet. Bake in the preheated oven for 20 minutes, or until the tortillas are golden and crispy.
To serve as an appetizer:
Carefully cut taquitos in half and arrange on a platter with salsa and greek yogurt as dipping sauce.
To serve as a Main:
Divide taquitos between 2 plates. Serve with salsa and greek yogurt for dipping.
Nutrition Information
Serving size:
2 appetizer pieces
Calories:
186
Fat:
11.7g
Sodium:
193mg
Fiber:
9g
Protein:
8.6g
I shared this recipe at
Meatless Mondays
,
Melt in your Mouth Mondays
,
CookBlogShare
and
Tasty Tuesdays
, and
Full Plate Thursday
!