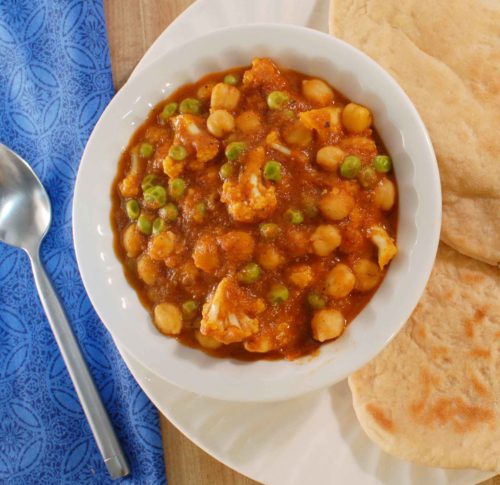 Curry is one of those dishes that can be made in about a million different ways, with so many different ingredients!  It can be hard to narrow down what you want to try when it comes to making a curry recipe.  It can also be difficult to find all the ingredients locally available.  This tomato coconut curry with cauliflower and chickpeas is made with simple ingredients and spices, so it will be easy to make and enjoy!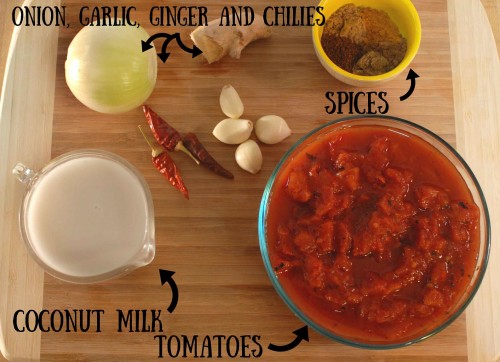 When I first started to make curries, I tried many different ways to achieve the rich and savory characteristics of a good tomato curry.  Some recipes called for loads of tomato paste, others fresh tomatoes.  I found my favorite way to achieve a consistent rich flavor was to use high quality canned tomatoes, and blend them with your aromatics, such as garlic, ginger, and onion. Simply simmer to concentrate!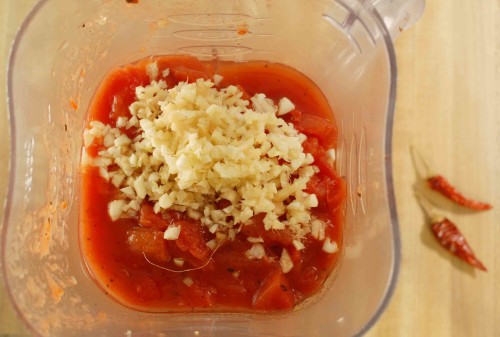 Recommendations for the Tomato Coconut Curry with Cauliflower and Chickpeas recipe:
If you want this dish to be spicier, try dicing the dried red chilies and adding them back to the curry.  If you can't find whole dried chilies, try adding cayenne pepper to taste, starting with 1/8 tsp.  The heat will continue to build the longer the curry sits.
Garam masala is a curry powder blend from north India that has a strong clove flavor.  If you can't find it in stores, try a recipe for the spice blend, such as this recipe from Simply Scratch.
High quality canned tomatoes will make this dish better.  Chose a brand you know and trust, I like Muir Glen.
Steam the cauliflower and cook any brown rice while the spice paste simmers to save time.
Try this recipe for Whole wheat naan bread to serve with the curry.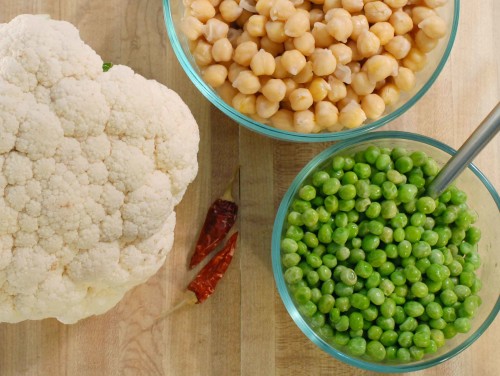 Tomato Coconut Curry with Cauliflower and Chickpeas
Author:
Alison's Allspice
Ingredients
Spice Paste
1 medium onion, diced
4 garlic cloves, minced
1 TBS ginger, minced
28 oz can fired roasted tomatoes
3 dried chilies
1 ½ tsp cumin
1 tsp chili powder
1 tsp coriander
½ tsp turmeric
½ tsp garam masala
Curry
1 cup coconut milk
3 cups cooked chickpeas
3 cups cauliflower florets, steamed
2 cups green peas, frozen and defrosted
Cooked brown rice and/or whole wheat naan, for serving
Instructions
Spice Paste
Place onion through tomatoes in a blender. Process until smooth. Pour into a large pan and add spices. Saute 20-30 minutes to let the flavors combine, stirring often.
Curry
Mix in remaining ingredients, and simmer 10 more minutes.
Serve with Naan or cooked brown rice.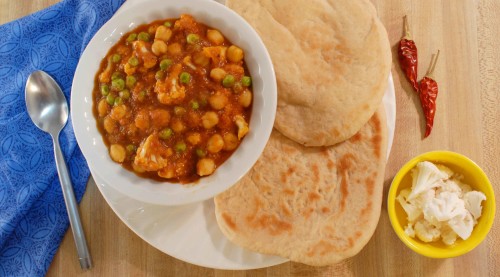 This post is shared at the Plant-Based Potluck Party Link Up!