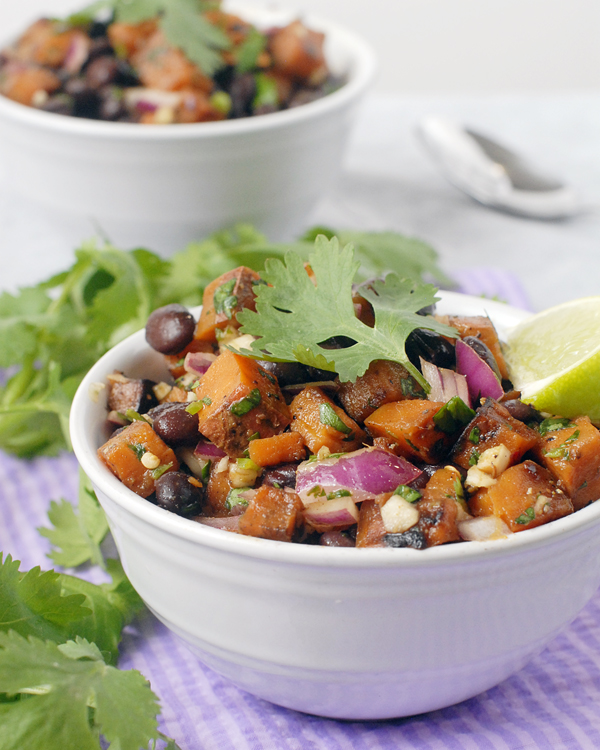 One ingredient I always keep in my fridge for easy nutritious meals is sweet potato.  I like to dice them into small pieces and either roast in the oven, or fry in a skillet.  They can stand alone as a side, or be tossed into salads, soups, stews and bowls.  This sweet potato black bean cilantro salad is my favorite way to use sweet potatoes. Black beans add plenty of protein to help you stay full, and cilantro adds plenty of fresh, bright flavor!  Eat a large serving as a main dish, or a small serving as a side.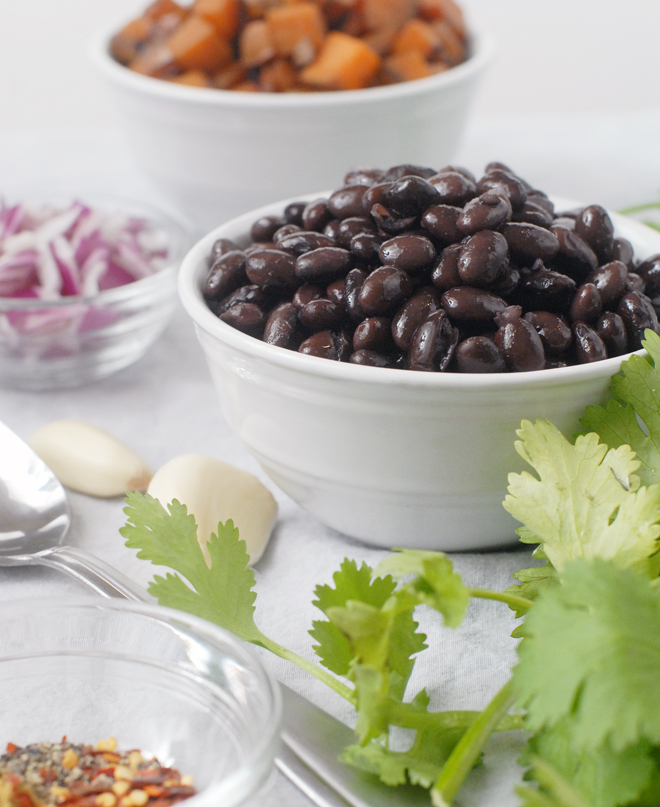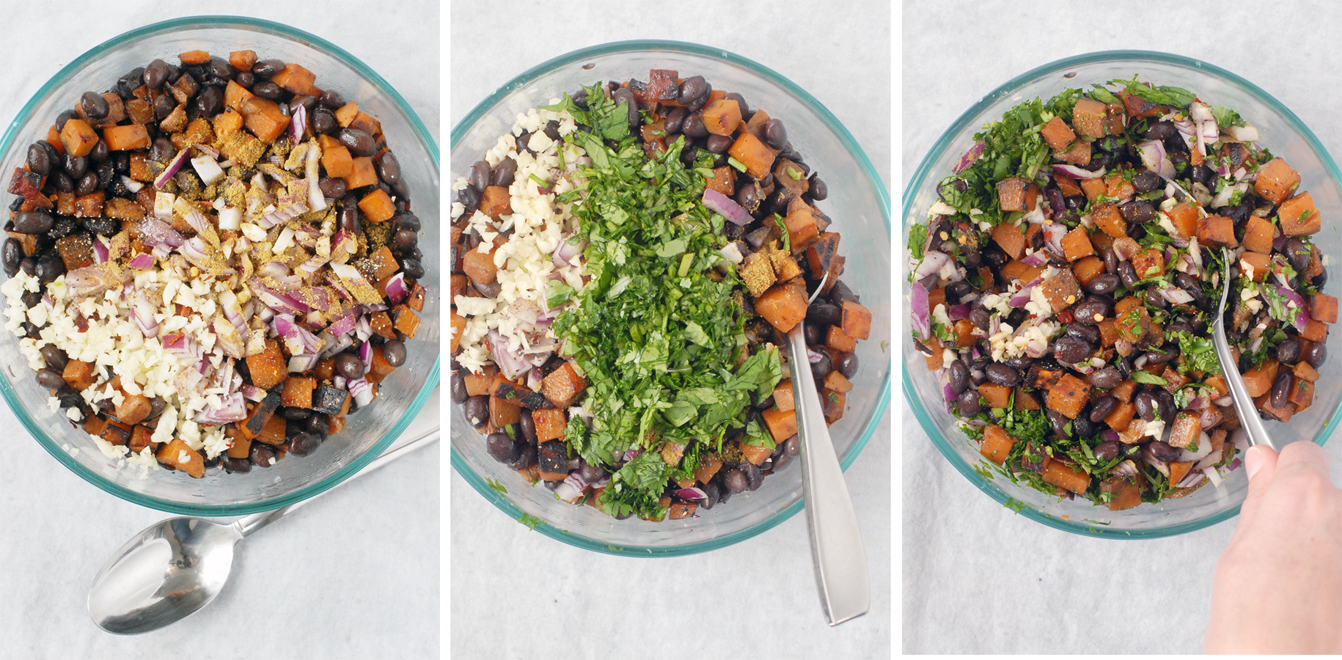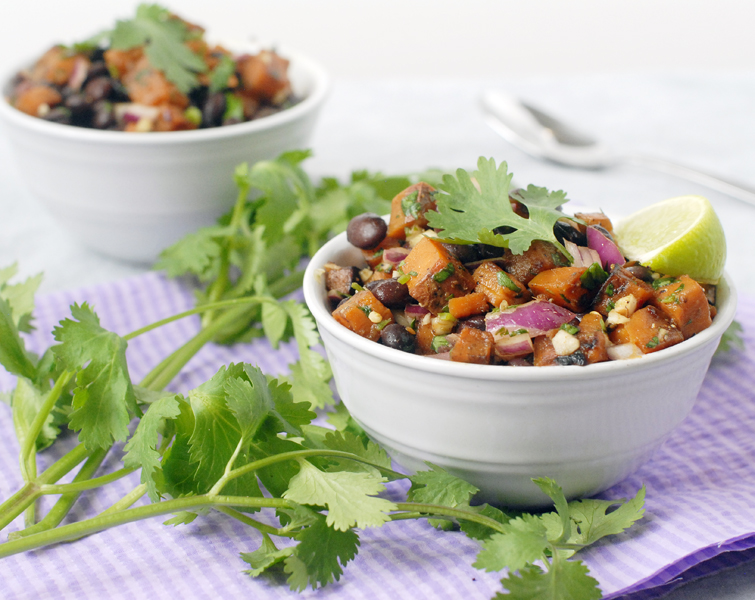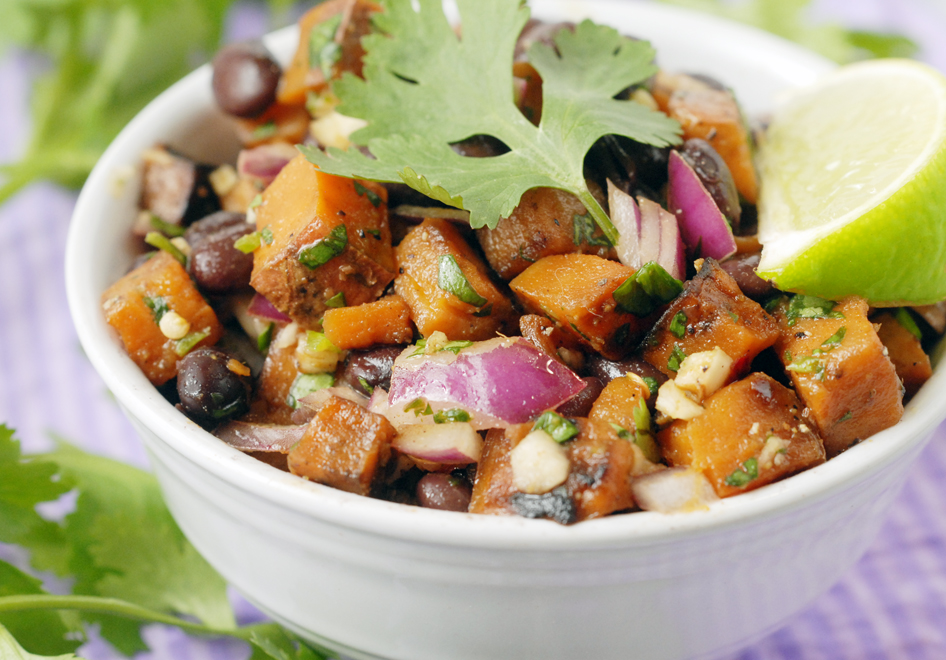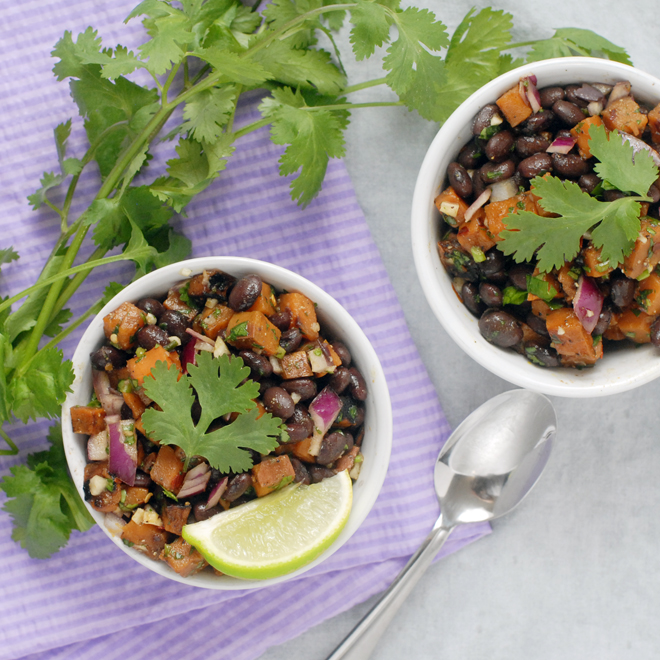 Over thanksgiving I picked up some gigantic sweet potatoes for next to nothing!  At the store, I was loading these football size potatoes into my shopping basket looking around thinking why isn't everyone else doing the same!!  What a great deal, I'll be enjoying these for months.  I'll be using them up in taquitos, tacos, bowls, and curry!  Do you love sweet potatoes too?  What is your favorite way to enjoy them?  Share with us in the comments!
Variations to the Sweet Potato Black Bean Cilantro Salad recipe:
If you don't like raw onion, try adding 1/2 tsp onion powder to the mixture instead.  You'll be missing the depth of flavor without it!
I like to make this salad just a little bit spicy to balance the sweetness of the potatoes.  If you don't like heat, reduce or omit the red pepper flake.
Try roasting the sweet potato instead of pan frying.  Spread onto a parchment lined baking sheet and cook at 425 F for 25-30 minutes flipping half way.  You'll need more time if you use a larger dice.
Sweet Potato Black Bean Cilantro Salad
This vegan and gluten-free sweet potato black bean cilantro salad is nutritious and delicious! The recipe makes 3 entree salads, or 5 side salads!
Author:
Alison's Allspice
Serves:
3 entrees or 5 sides
Ingredients
1 large sweet potato, about 1 lb
Splash olive oil
1 can black beans, rinsed and drained
½ cup minced cilantro leaves and stems
¼ cup red onion, diced
2 garlic cloves, minced
½ tsp cumin and red pepper flake, each
¼ tsp salt and pepper, each
½ a lime, juiced
1 TBS olive oil
Instructions
Dice sweet potato and mix with a splash of olive oil. Fry them in a skillet, stirring occasionally, for 20 minutes, or until tender and starting to brown.
Mix together cooked sweet potato, black beans, cilantro, onion, garlic, cumin, red pepper flake, salt and pepper.
Mix together lime juice and olive oil. Pour over sweet potato mixture and stir to combine.