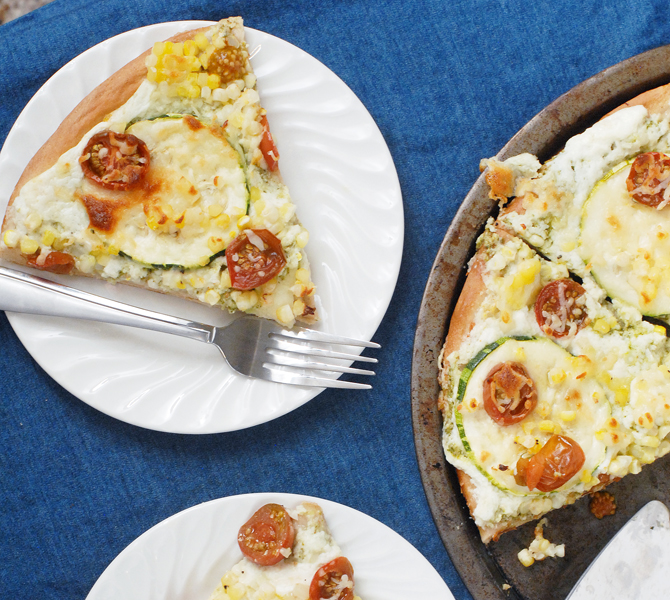 I can't believe  august is over.  This summer has gone by in a flash!  My garden is still pumping out produce like you wouldn't believe as well, so it doesn't fell like fall is on the way.  If you also have loads of summer garden goodies right now , you'll love this summer garden veggie pizza!  It has a wonderfully light and fresh taste and feel that I crave during summer months.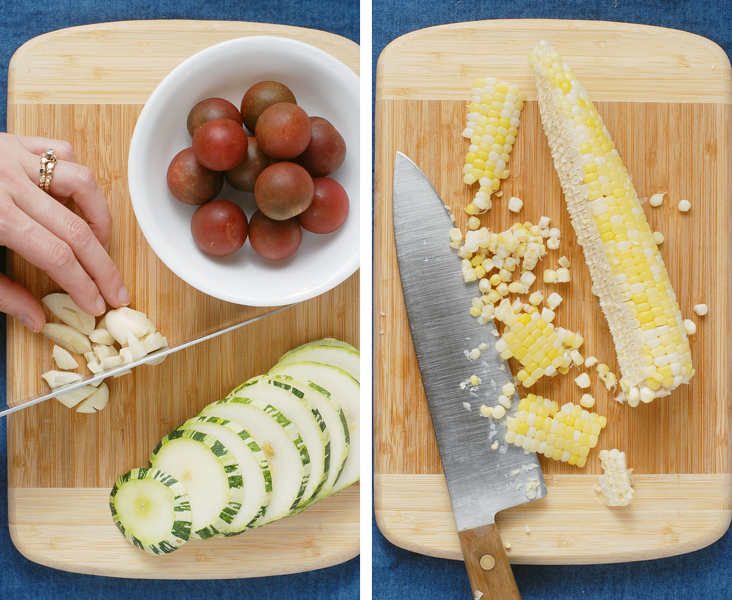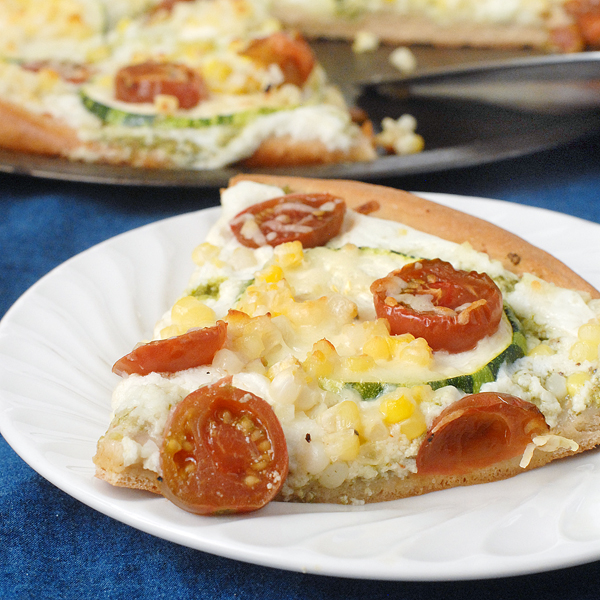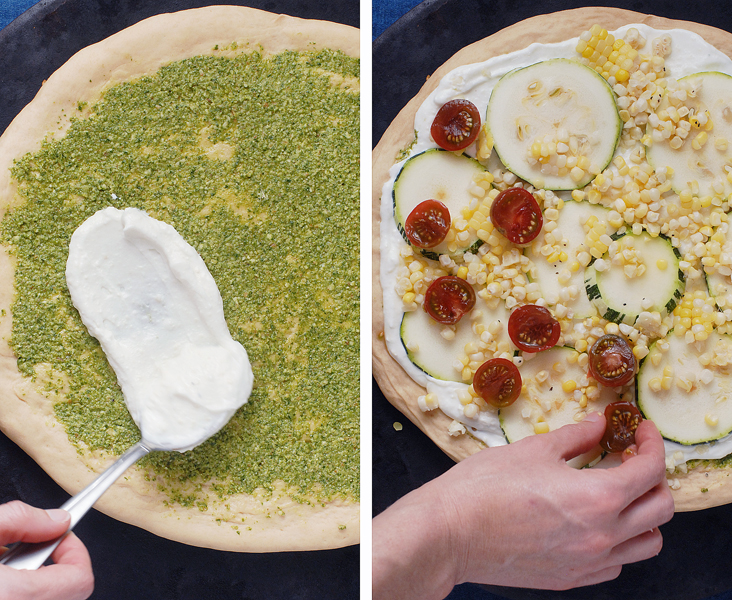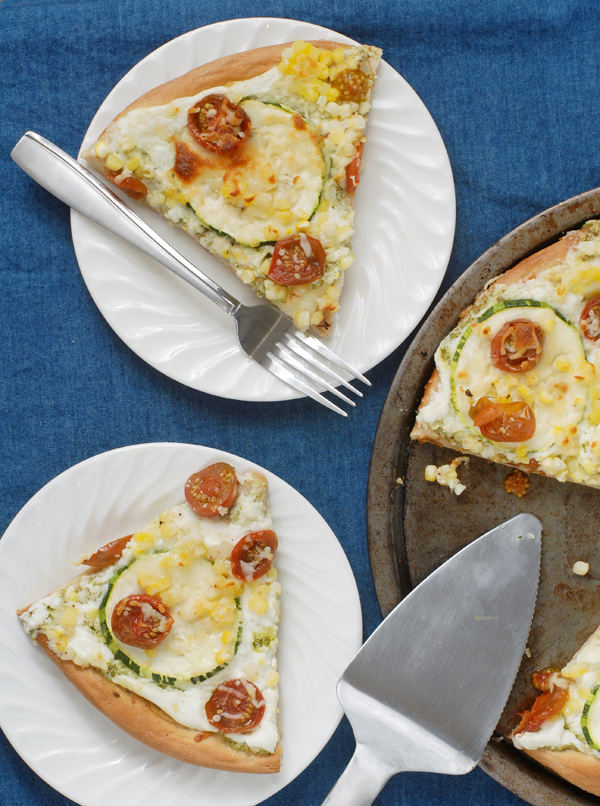 When I started planning this pizza, my husband did not think zucchini would work as a pizza topping.  I love to try new things, so we gave it a go!  I did not use a tomato based sauce, and instead used fresh cherry tomatoes, pesto, and corn right off the cob.  The pizza is light in flavor and texture, and the fresh summer produce really sings without all the heavy, greasy cheese.
Variations to the Summer Garden Veggie Pizza recipe:
I don't like ricotta cheese.  It would be traditional on this type of pizza, but I chose to try cottage cheese instead.  It worked really well!  Use which ever you like most.
You can try any fresh summer veggies to use on this pizza with success.  I recommend keeping tomatoes in the mix because their acidity really brightens the flavors!
I used this whole wheat pizza dough recipe.
This pizza takes longer to cook than others because all the toppings are so moisture rich.  The cheese may look under cooked when you pull it out at 20 minutes because the zucchini released so much moisture, but don't worry.  If you give the pizza 10 minutes to rest, it will firm up as it cools.
Summer Garden Veggie Pizza
This summer garden veggie pizza is topped with fresh zucchini, tomatoes, and sweet corn. It is a light and refreshing take on pizza!
Author:
Alison's Allspice
Ingredients
7 thin slices off the fat end of a medium zucchini
1 ear corn, cooked
7-10 cherry tomatoes, depending on size
1 cup cottage cheese or ricotta
2 TBS grated Parmesan
¼ cup prepared pesto
1 whole wheat pizza dough recipe
¼ cup shredded mozzarella
Instructions
Preheat oven to 425 F.
Cut the corn off the ear of the cob and slice the cherry tomatoes into thirds.
Place the cottage cheese in a food processor and process until smooth.
Mix the cottage cheese, or ricotta, with the Parmesan. Set aside.
Press the pizza dough into a circle. Spread the pesto over the dough, and top with the pureed cottage cheese.
Top with all the veggies, and sprinkle with mozzarella.
Bake in the preheated oven for 20 minutes. Remove and let the pizza set for another 10 minutes to firm up (it may look under cooked when you remove it, but it will set up as it cools). Cut into 6 slices.
Notes
If using ricotta, you don't need to use a food processor in step 3.