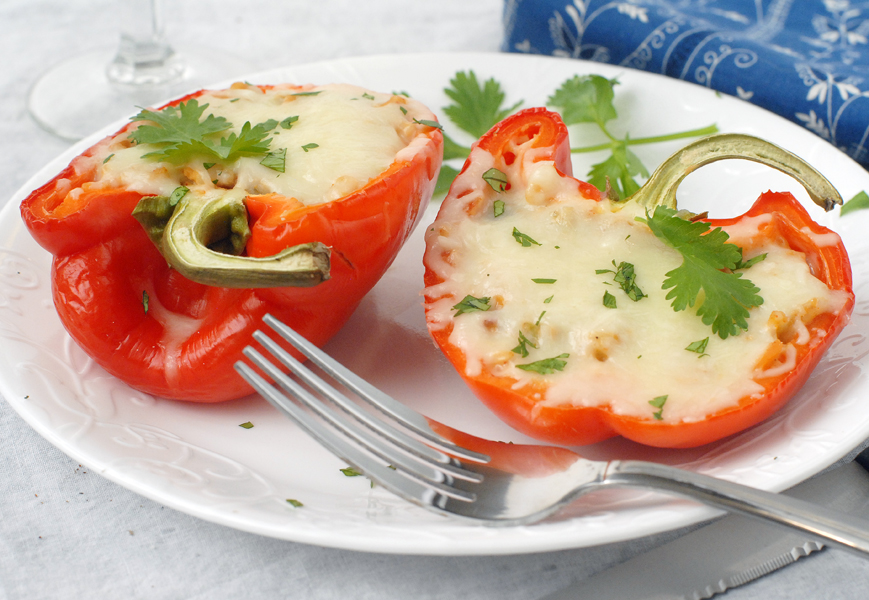 I am always so tempted by all the produce at the farmers market during the summer.  I want to take it all home, but I couldn't possibly eat it all!  At least I get to go back every weekend to reload for the coming week.  Last week I bought a big box of red bell peppers and I really didn't need them all.  To use the the pepper I made spicy hummus and veggie stuffed peppers!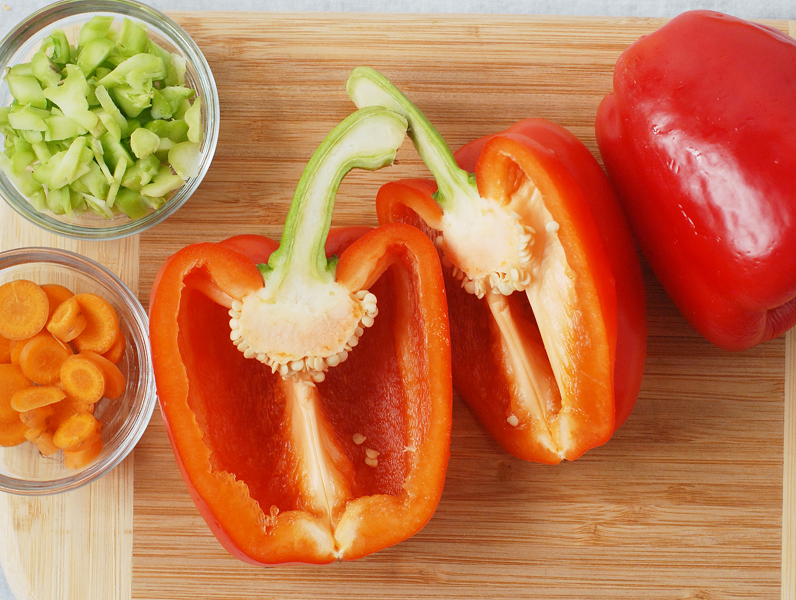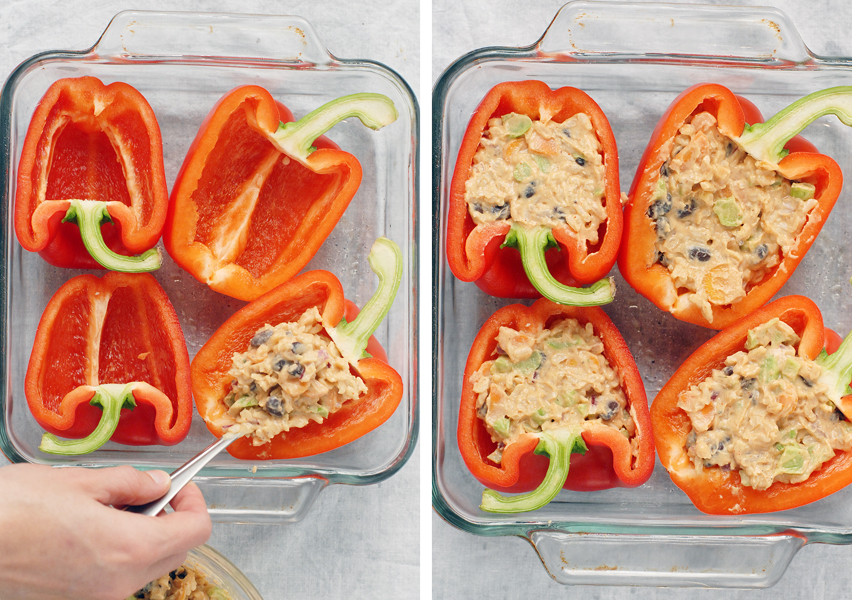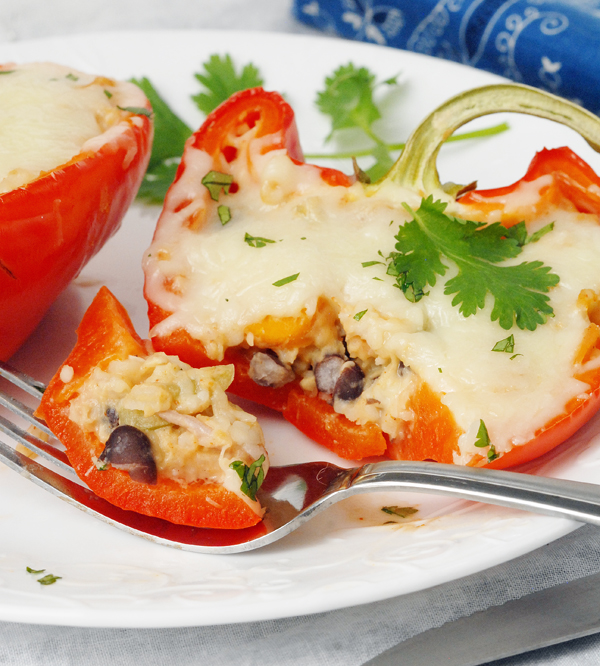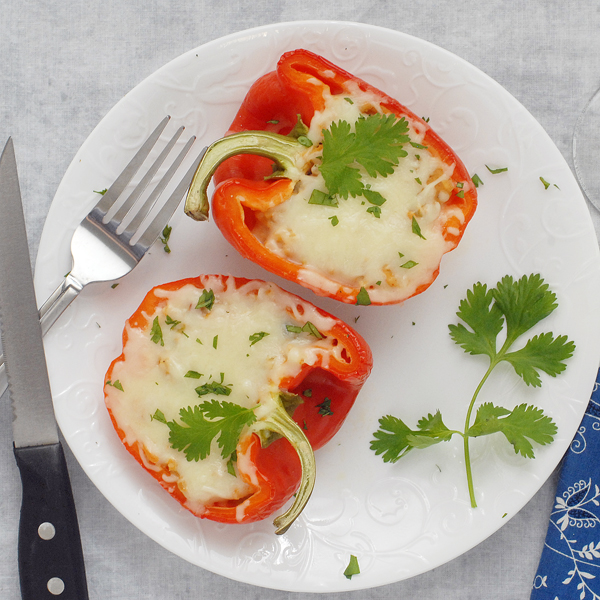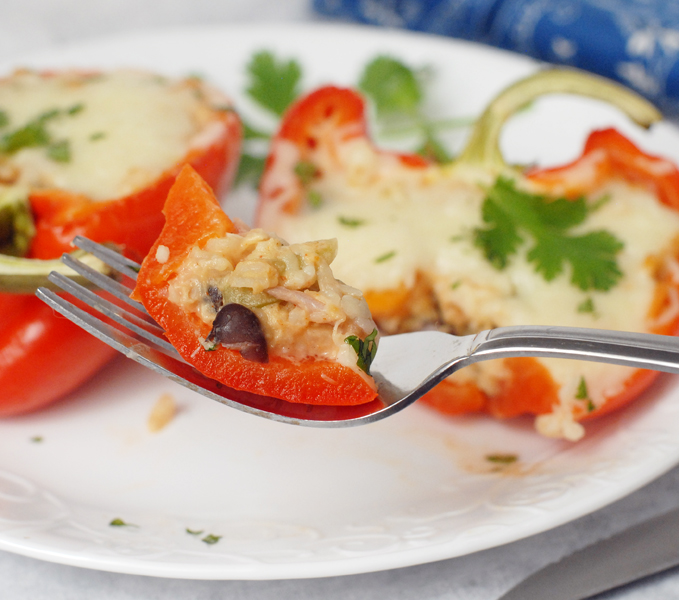 When I was reviewing stuffed bell pepper recipes, I noticed a lot of comments saying that they're peppers tended to dry out during cooking.  I decided to stuff my peppers with hummus to help hold in lots of moisture, and add some healthy protein too.  Enjoy!
Tips and Tricks for the Spicy Hummus and Veggie Stuffed Peppers recipe:
Keeping the peppers covered while in the oven helps to keep them moist.  I only baked mine 50 minutes, but you could go longer to get a softer pepper.  Test the pepper with a fork for texture and keep cooking until they are to your liking.
If you want to shorten the baking time, try microwaving the peppers for a minute or two before stuffing.
I cut my peppers into 2 sides instead of cutting off the top.  My peppers did not want to stand up on end, so laying them down was a safer bet.  If your peppers will stand up on their own, you can try cutting the tops off instead.
Use whatever veggies you have on hand to fill up the pepper.  I used broccoli, carrots, and onions.
Rice swaps: To increase protein, try cooked quinoa. To decrease the carbs, try corn kernels.
Spicy Hummus and Veggie Stuffed Peppers
Hot sauce and hummus keep these vegetarian stuffed peppers moist. Try my spicy hummus and veggie stuffed peppers for your next meatless Monday!
Author:
Alison's Allspice
Ingredients
2 large red bell peppers, cut in half, cores removed
¾ cup diced veggies of choice (I used broccoli stem, carrots, and onion)
½ cup hummus, cooked brown rice, and black beans, each
2 minced garlic cloves
1 TBS hot sauce
¼ tsp ground cumin
Salt and pepper to taste
½ cup shredded mozzarella cheese (optional)
Cilantro, for garnish
Instructions
Preheat your oven to 350 F.
In a medium bowl, combine diced veggies, hummus, rice, black beans, garlic, hot sauce, and cumin. Taste the filling and add salt and pepper as needed (seasoning will vary based on your brand of hummus).
Fill each pepper with the filling and place in a greased 9x9 inch baking dish.
Cover the dish with foil and bake in the preheated oven for 50 minutes.
Remove foil and sprinkle with cheese (if using).
Let the peppers cool for 5 minutes while the cheese melts.
Makes 2 servings as is, or 4 servings with a side dish.
This recipe was shared at
Meatless Monday
.  Please visit my
sharing page
to see all the link parties I participate in.
Please Pin if you liked this recipe!