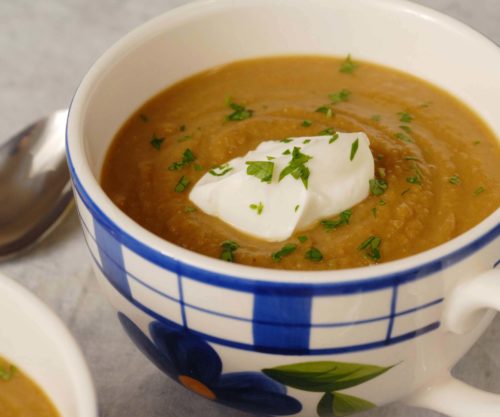 Today we are going to talk about soup.  I despised soup as a young adult.  Afterall, it came out of a can.  When I started to make my own homemade soups, I realized that canned soup did not compare at all in flavor and texture.  Homemade soup is a really easy meal to make as well.  I enjoy eating soups over fall and winter the most because they help to warm you up.  This spiced pumpkin lentil soup is especially warming and filling.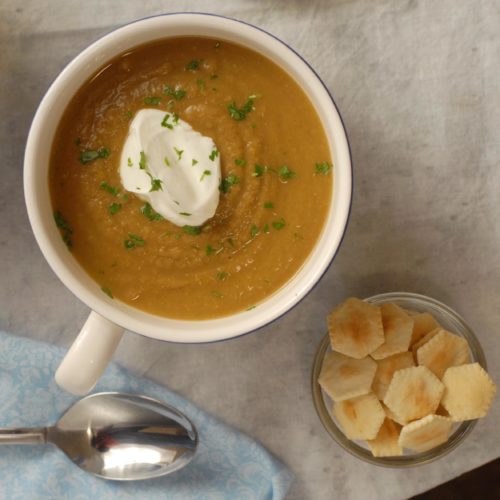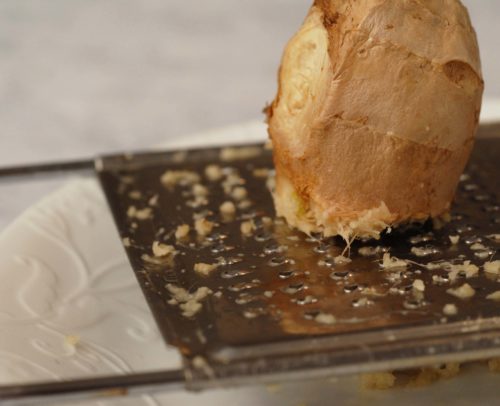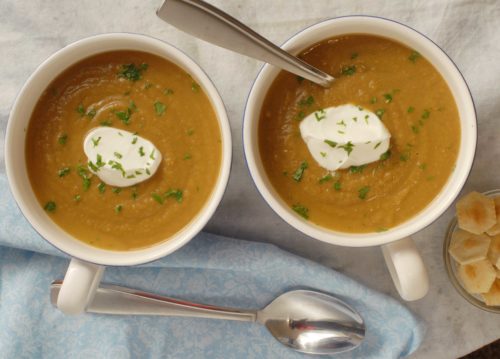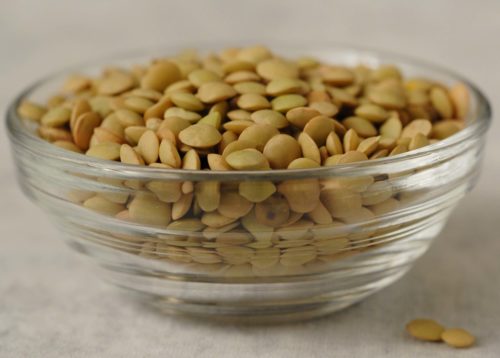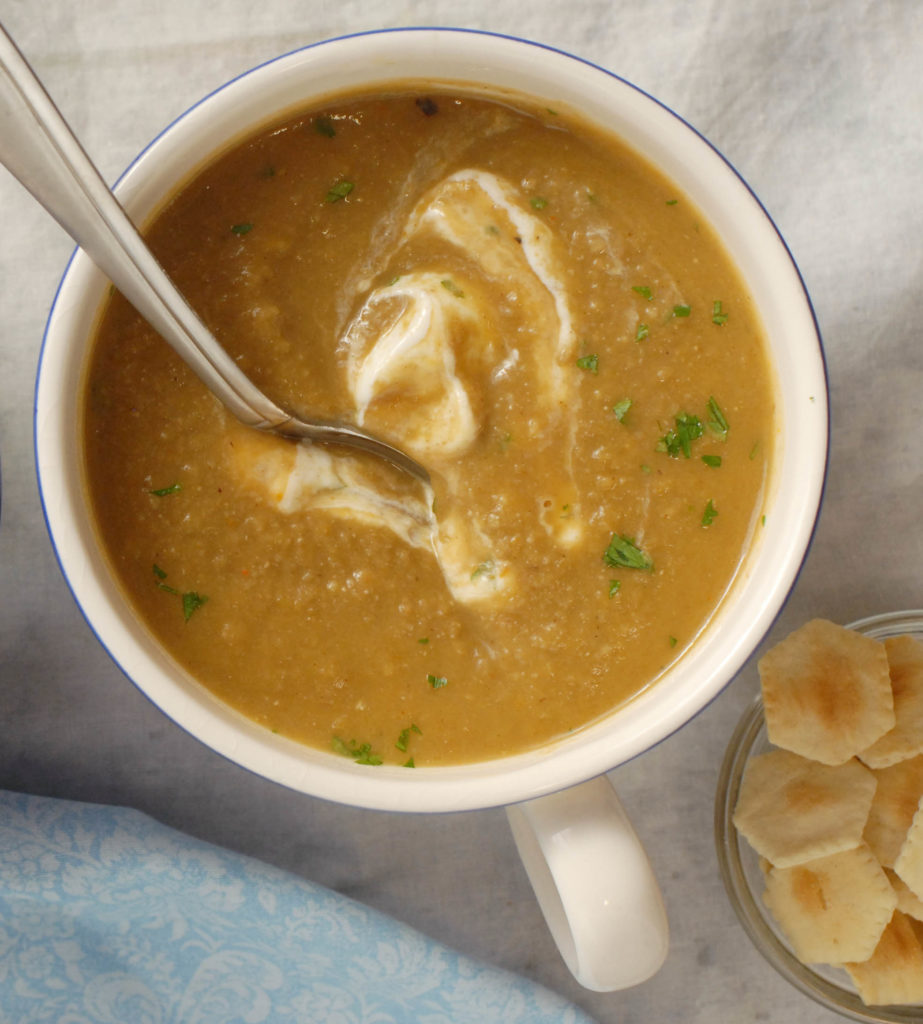 When I have soup, I like to have either a piece of crusty bread or soup crackers.  Brothy soups, like my Wild Rice and Vegetable Soup, are great for crackers.   The crispy crackers hold up better to the broth then bread does.  This spiced pumpkin lentil soup is a perfect example of where to use crusty bread. The soup is thick and creamy so your bread won't get soggy when you dip.  What are your favorite pairings for soup?  Share with us in the comments!
Variations to the Spiced Pumpkin Lentil Soup Recipe:
I use brown lentils in this recipe because I always have them on hand.  Red lentils do add nice color to the dish if you happen to have some!
A dollop of tangy yogurt on this soup add amazing richness and contrasts the spices.  If you are looking for a vegan option, find a vegan yogurt substitute because if you leave it out you will be missing out!
I haven't tried it, but I would guess butternut squash or sweet potato would be excellent substitutes for the pumpkin.
Spiced Pumpkin Lentil Soup
Author:
Alison's Allspice
Ingredients
1 medium onion, diced
Splash olive oil
3 garlic cloves, diced
1 cup brown lentils
3 cups vegetable broth
1 tsp cumin
¼ tsp cinnamon
⅛ tsp cayenne
2 cups water, divided
¾ cup pumpkin puree (from a can)
¼ tsp salt
1 TBS grated ginger
1 TBS lemon juice
¼ cup plain yogurt (I prefer Greek yougurt)
Parsley, for garnish
Instructions
In a soup pot or dutch oven, saute onion in olive oil until soft, about 5 minutes. Add garlic and saute 1 more minute. Stir in broth through cayenne. Bring to a boil and simmer 20 minutes or until lentils are tender.
Transfer to a blender and remove the top center piece of the lid and cover with a paper towel (steam buildup will dislodge the lid otherwise). Add 1 cup water and blend until smooth.
Transfer back to the soup pot and add remaining water, pumpkin and salt. Cook over medium heat until heated through (it will start to simmer slightly when heated).
Remove from heat and stir in ginger and lemon juice. Divide soup among 4 bowls. Top each serving with 1 TBS yogurt and parsley.
Recipe adapted from
Cooking Light
. This recipe was shared at the
What's Cooking Wednesday Link Party
 and the
Meatless Monday Link Up
.