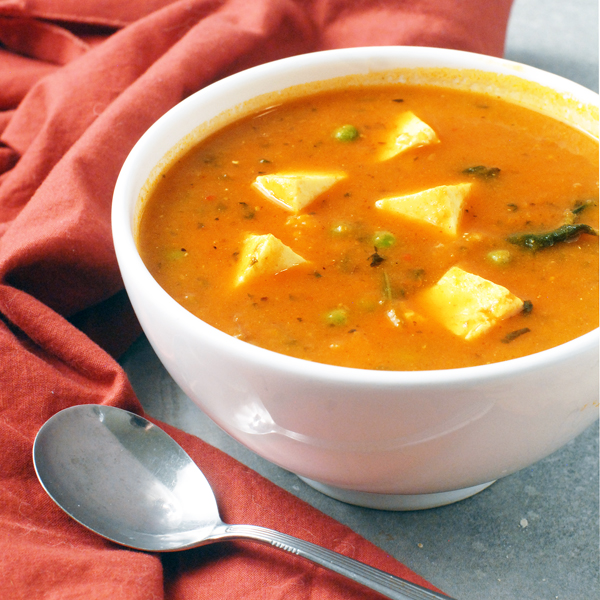 I have a love hate relationship with curry.  On one hand, I absolutely love it.  It's versatile, healthy and easy to make.  However, I don't like most curry powders I have tried, taking curry from love to hate.  Instead, I make my own curry powder.  It requires stocking lots of spices to make my own blend.  The plus side is that I can vary the amount of each spice every time I make a batch so that the flavors vary each time.  No one curry dish will be the same as the next in my kitchen!  Check out my slow cooker sweet potato paneer curry where I tried using more whole spices!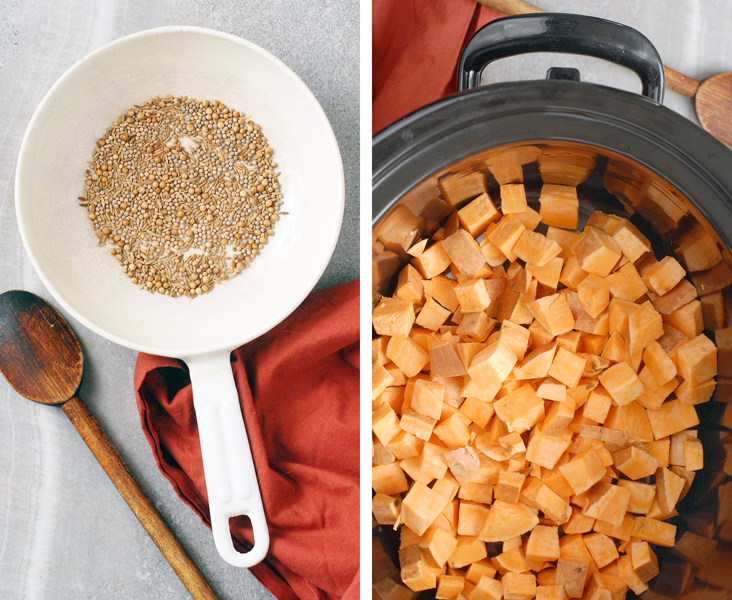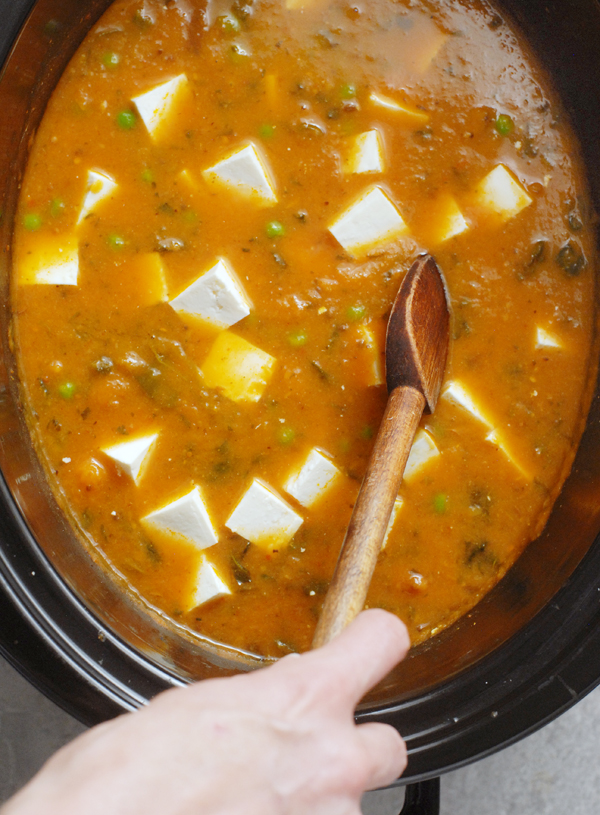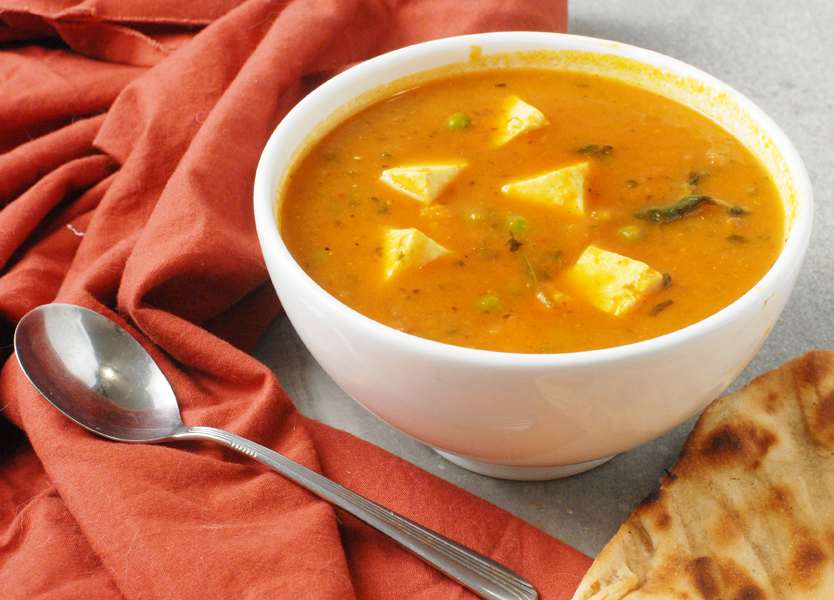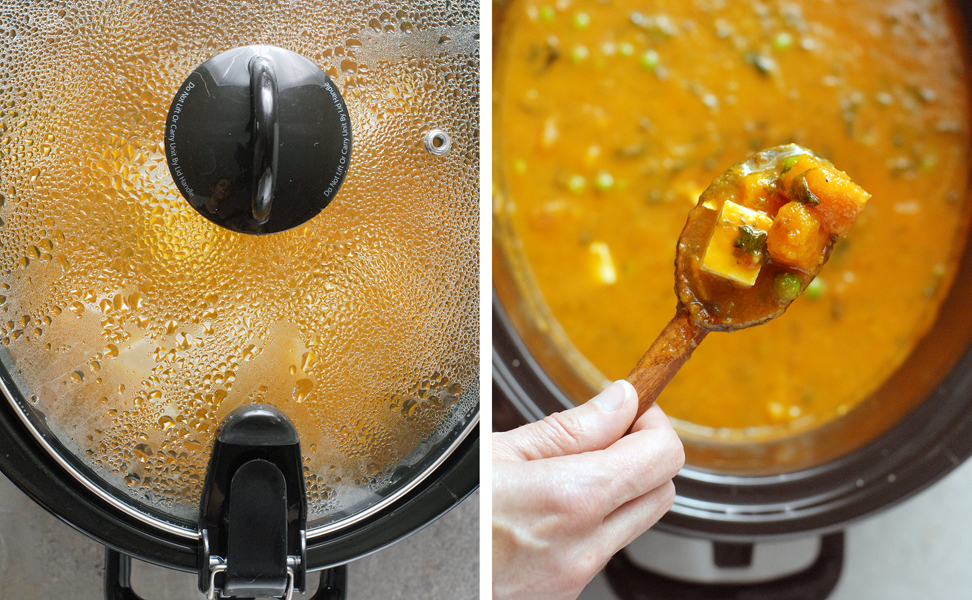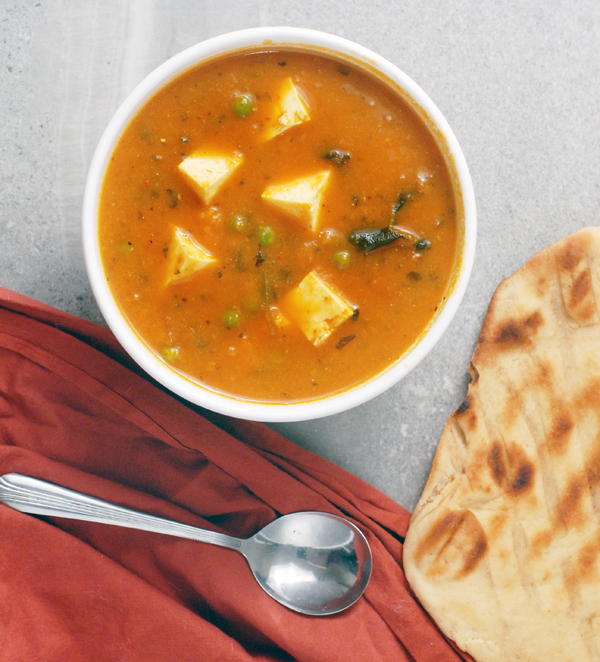 Using whole spices in this curry dish was a fun twist on my regular curry.  Toasting them in the skillet made the house smell heavenly. I used whole cumin seeds
, whole yellow mustard seeds
, and whole coriander seeds
. In the slow cooker, there was a long time for the flavors to dissipate throughout the curry.  My large 6 qt crock pot
 (pictured above) is perfect for making large batches and not heating the house during the summer. I did find, as usual, that it tasted even better the next day!  If you eat gluten free, serve this curry with brown rice or quinoa.  Otherwise I recommend some homemade naan bread!
Variations to the Slow Cooker Sweet Potato Paneer Curry recipe:
Use whatever vegetables you have on hand.  Try kale, butternut squash, cauliflower, russet potato, or green beans!
If you have a curry powder that you love, you can omit all the spices and use your powder to taste.
Stove top method: If you're not using a slow cooker, let the curry simmer on the stove for about 1 hour, stirring regularly and adding more water as needed.
Slow Cooker Sweet Potato Paneer Curry
Try using whole toasted spices in this easy to follow slow cooker sweet potato paneer curry recipe!
Author:
Alison's Allspice
Ingredients
1 tsp mustard seeds, cumin seeds, and coriander seeds, each
14 oz can diced tomatoes
1 small onion, chopped
4 garlic cloves
1 inch piece of ginger, peeled and chopped
1½ cups veggie broth
¾ tsp red pepper flake
½ tsp turmeric
1 bay leaf
14 oz can light coconut milk
1 lb sweet potato, diced (about 1 large)
1 cup frozen peas
3 oz frozen spinach
Salt to taste (1/4-1/2 tsp)
12 oz block paneer, cubed
Instructions
In a small skillet, toast all the seeds until fragrant, about 1 minute. Set aside
In a blender, combine tomatoes, onion, garlic, ginger, and veggie broth. Blend until smooth.
In a large slow cooker, combine tomato mixture, toasted seeds, red pepper flake, turmeric, bay leaf, coconut milk, sweet potatoes, peas, and spinach. Stir to combine.
Set slow cooker to low and cook for 8 hours.
Taste the curry and add any more salt to taste. Stir in paneer cubes and cook another 30 minutes, or until paneer is heated through.
Serve with brown rice or naan bread.
This recipe was inspired from the
Happy Foodie
. This post was shared at
Cook Once Eat Twice
. Please see my
sharing page
to find all the link parties I participate in.
Please Pin if you like this recipe!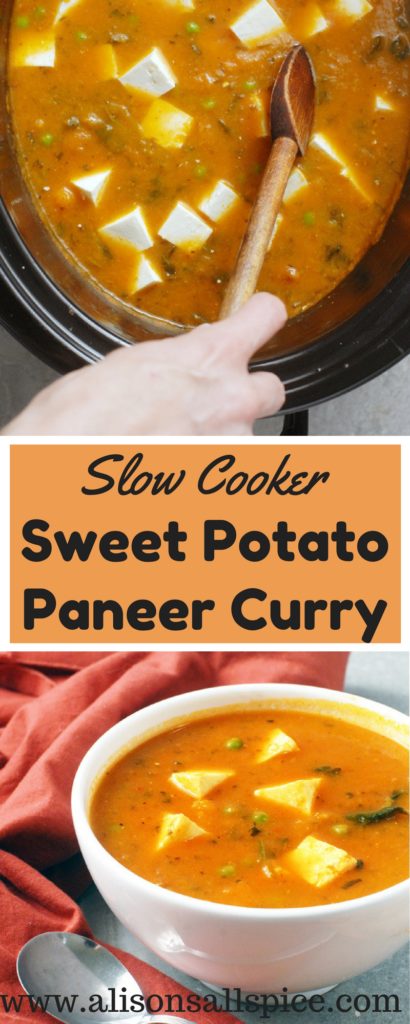 This post contains affiliate links for products I use and recommend. If you purchase through those links, I may earn a commission at no additional cost to you. Thank you for supporting Alison's Allspice.