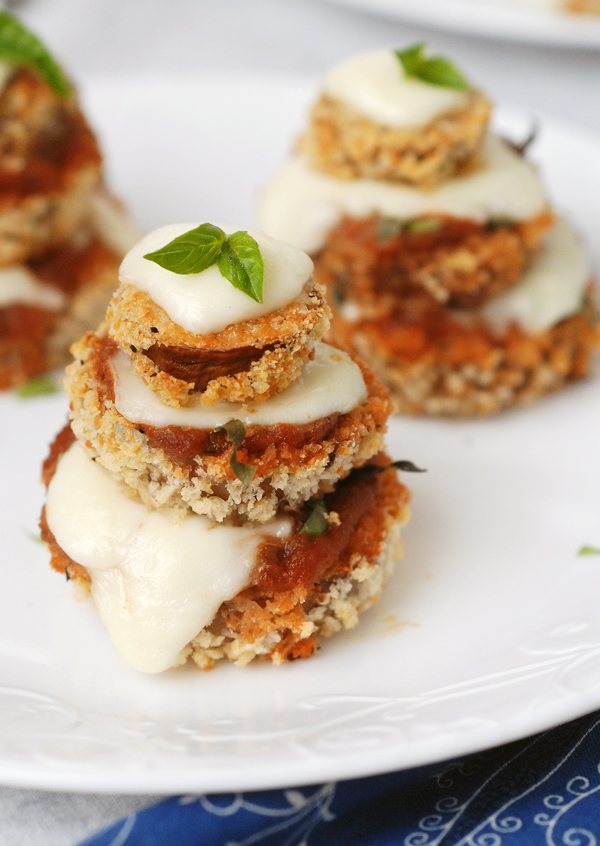 This month's recipe redux challenge was to create a healthy sheet pan meal. If you read here often, you know I don't really do the whole main dish and side dish kind of meals associated with a lot of sheet pan recipes.  I tinkered with ideas of sandwich melts and veggie burgers with fries. However, I have been crazy busy this fall and put off this photo shoot until the last minute and did not have those ingredients in the house.  I had planned to make eggplant Parmesan, so I converted it to sheet pan eggplant Parmesan stacks!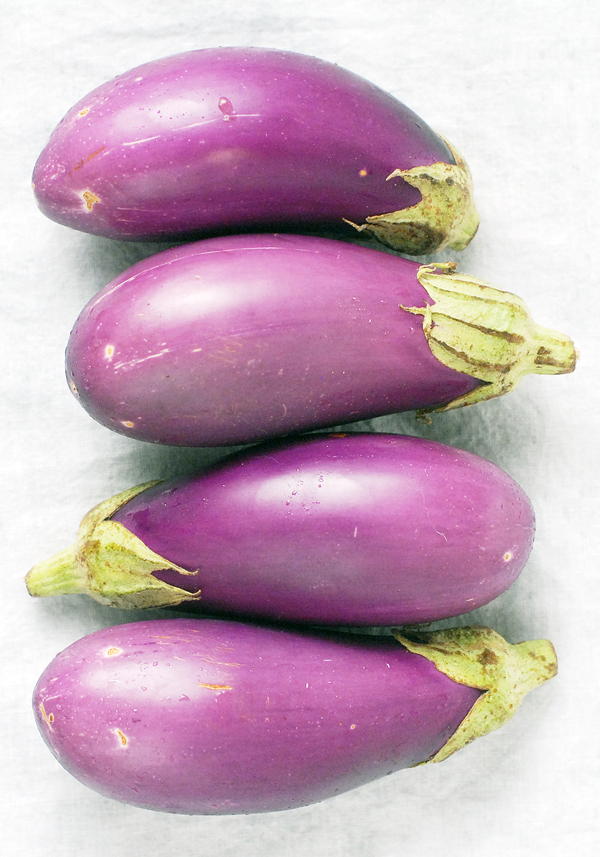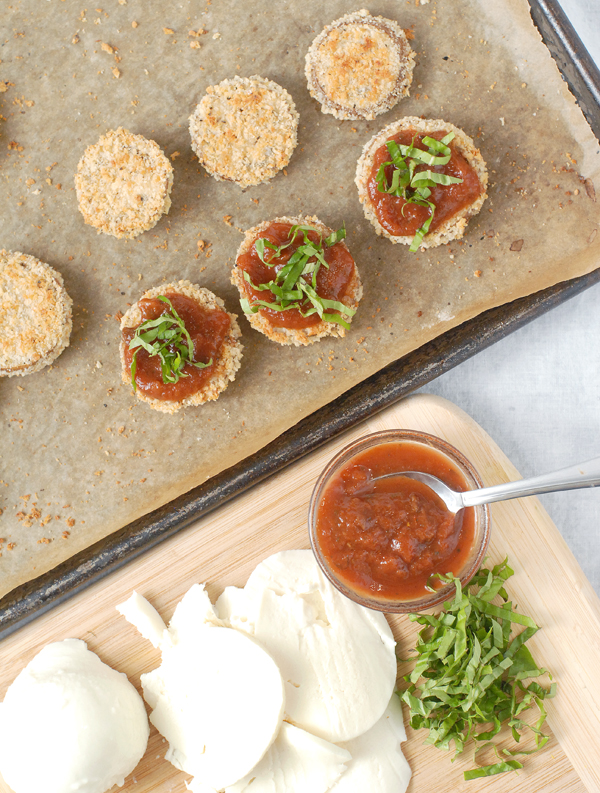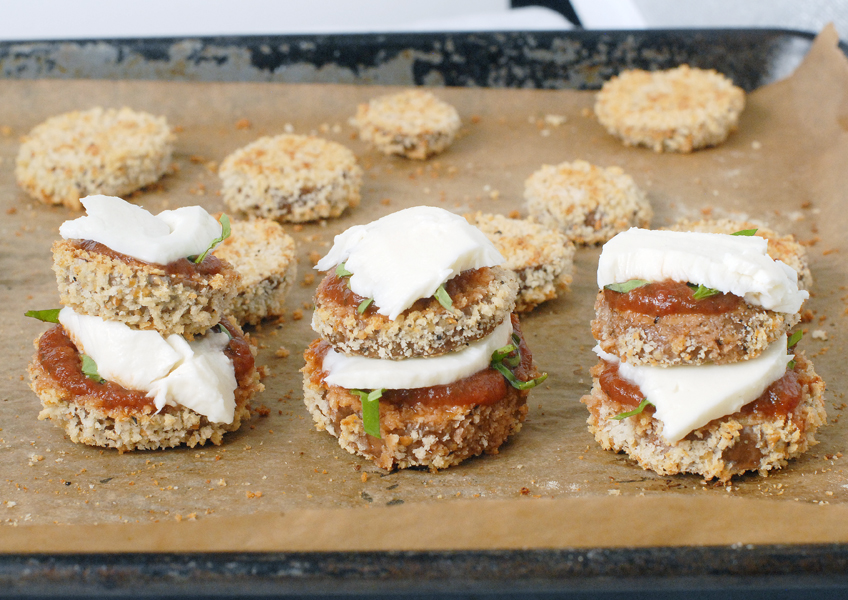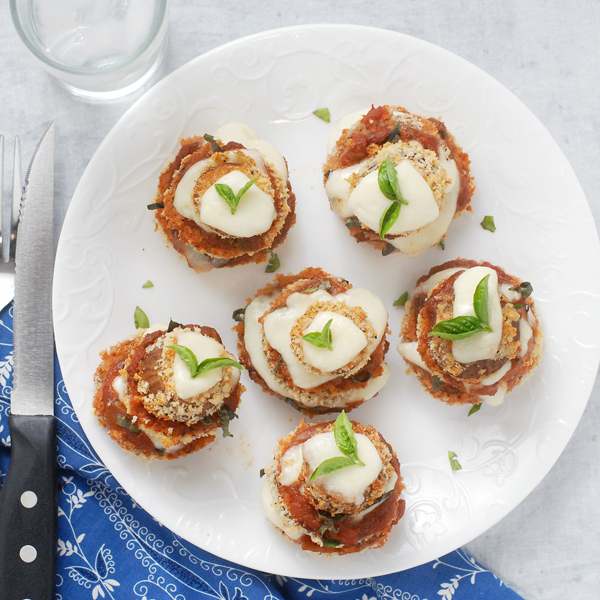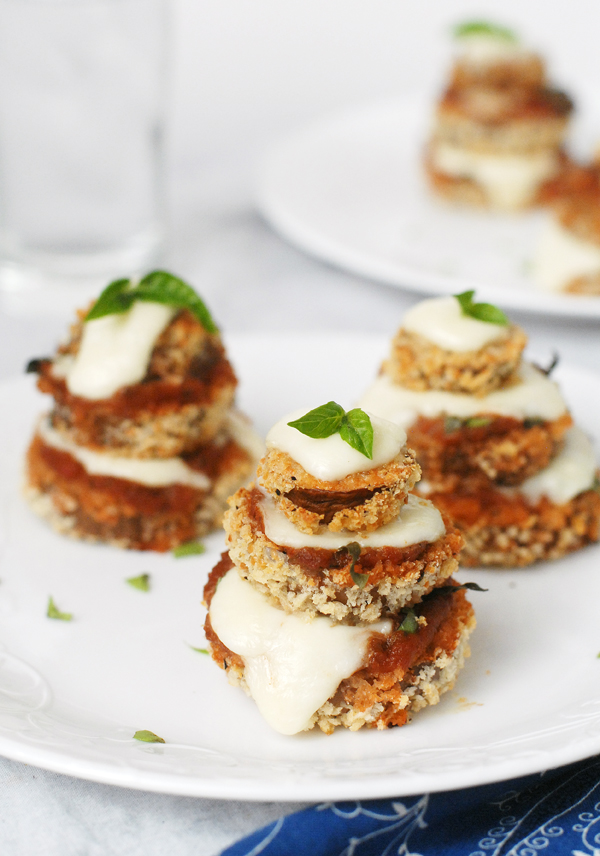 I love eggplant Parmesan, and I make it every fall before the last of the farmers market eggplants disappear. Last fall, I made it to post on the blog, but the recipe never made it here (sigh). Things were going great, right up until I dumped the entire casserole onto the bottom of the oven!!  Don't worry this sheet pan version is better, anyway.  I love how crispy the panko coated eggplant stays on the sheet pan.  Layer in some fresh basil, cheese and little marinara, the stacks are as delicious as they are pretty!
Variations to the Sheet Pan Eggplant Parmesan Stacks recipe:
I used a small eggplant variety, dancer eggplants, because that's what I could find at the farmers market.  They make cute little stacks that would be perfect for appetizers.  You can use a large eggplant to make dinner sized stacks as well.
I prefer panko for this recipe, but breadcrumbs work as well.
I have better success breading the eggplant using buttermilk than using eggs (which is more traditional). Soymilk is what I stock at home, so I use it to make small amounts of mock buttermilk. However,  you can substitute buttermilk or a beaten egg for the soymilk and vinegar mixture.
Sheet Pan Eggplant Parmesan Stacks
These sheet pan eggplant Parmesan stacks are as delicious as they are pretty! Use small eggplants for appetizers, or large eggplants for dinner!
Author:
Alison's Allspice
Ingredients
3 small eggplants, about 12 oz
1 tsp sea salt
2 TBS white whole wheat flour (or all purpose)
½ cup soy milk
¾ tsp apple cider vinegar
1 cup panko (whole wheat if possible)
¼ cup grated Parmesan cheese
½ tsp salt and black pepper, each
¾ cup marinara
10 fresh basil leaves, sliced, plus small leaves for garnish
6 oz fresh mozzarella, sliced
Instructions
Preheat oven to 375 F.
Sprinkle the sea salt over the eggplant slices. Let them rest about 10 minutes, then wipe off any moisture. This helps to remove any bitterness in the eggplant.
Start by setting up your eggplant breading stations. Place flour on a plate.Then, combine the soymilk and apple cider vinegar. It should thicken the milk slightly.
Combine panko, Parmesan, salt, and pepper in a small bowl.
Working with 1-2 eggplant slices at a time, coat with flour, dip in milk mixture, and dredge in panko mixture.
Set eggplant slices on a parchment lined baking sheet. Repeat with remaining eggplant.
Bake in the preheated oven for 35 minutes, flipping over half way through the cooking time.
Layer the eggplant with marinara, fresh sliced basil, and fresh mozzarella, ending with a piece of mozzarella. I made my stacks 3 eggplant slices high.
Bake in the oven for another 5 minutes, or until cheese starts to melt.
Remove from oven and place a pair of small basil leaves on top for garnish. Serve.
Notes
Stretch the serving size by serving with a side salad.